I'd been dying to see the secret Huntington Ranch  for over a year.  Back then, I read an article in the Huntington Library and Garden's monthly newsletter about the development of a new vegetable garden on the property.  I searched and searched each time I went to try and find its secret location to no avail. 
Then an invitation to an all-day symposium for professional garden nerds hit my inbox, and when I saw that the events of the day included a tour of the infamous Huntington Ranch, wild horses couldn't stop me from attending.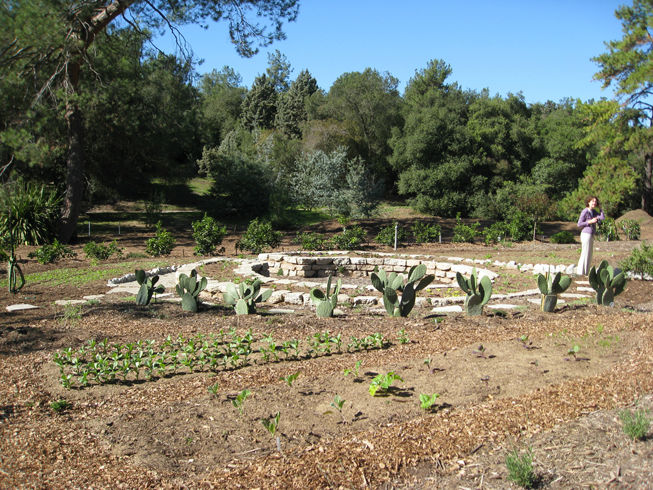 The spiral garden, made from reclaimed concrete, is surrounded by nopales cactus in the foreground, and a soon-to-be hedge of citrus trees in the background.
The garden's focus is to showcase a myriad ways to grow food.  The spiral (above) and keyhole gardens (below) embrace some Permaculture elements, but traditional farm and container gardening methods are also present.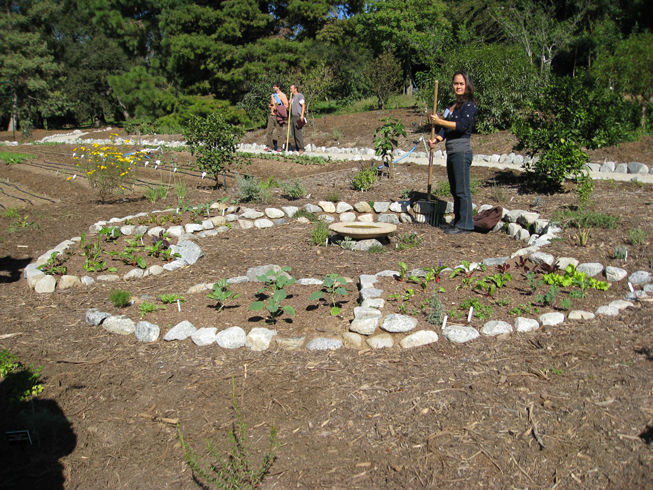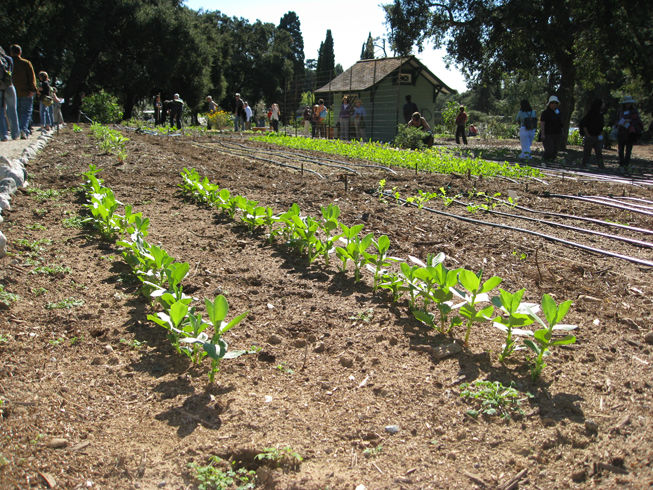 The center of the Ranch features this traditional farm landscape with a garden shed in the background. They use drip irrigation and row planting here.
Interns were present to share their work with the crowd.  They explained how some of the choices were made for locating the different gardens.  A food forest, for example, was tucked away among the existing trees.  They also experimented with different types of container gardening: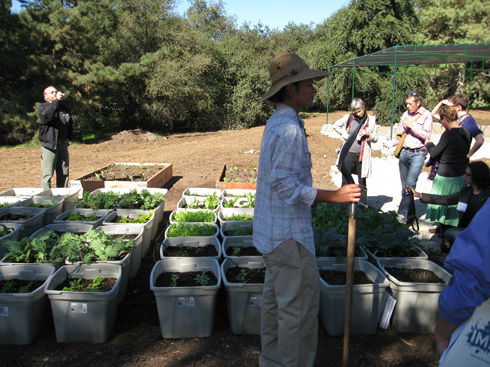 Danny, a fellow gardenerd and Huntington intern, explains how they successfully have grown crops in Rubbermaid bins.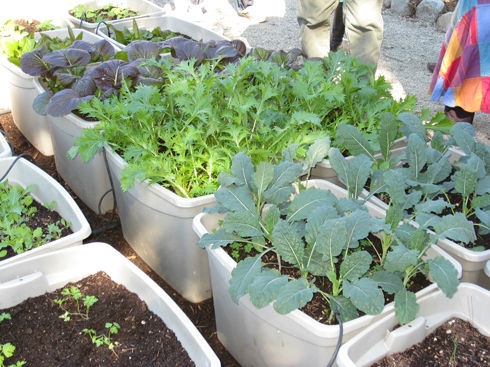 Mustard greens, kale, lettuces and parsley grew well in these containers. Drip tubing waters each tub.

The Huntington was the lucky recipient of some fruit trees that were rescued from the South Central Community Garden that was destroyed several years back. They experimented with planting a cluster of different varieties of peach trees in the same planting hole.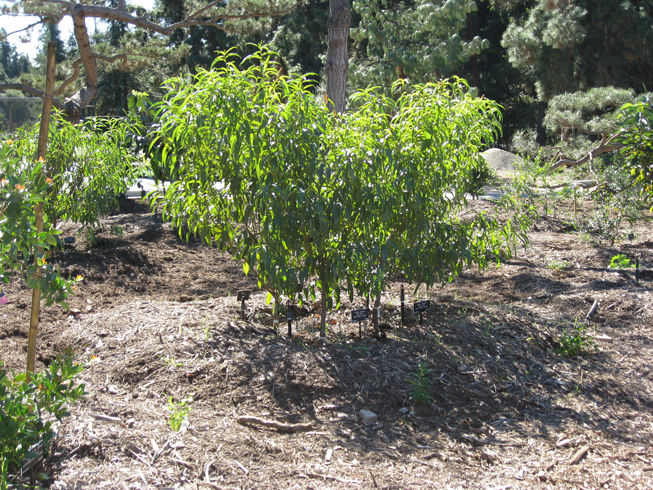 5 peach trees growing within a radius of about 4 feet.  So far, so good.
One of the most exciting parts of the garden was an area dedicated to growing Dragon Fruit. What a fun idea!  Dragon Fruit is a cactus whose fruit is neon pink inside with black seeds.  With flavors that remind me of a cross between kiwi and strawberries, it's one of my favorite exotic fruits.  The cactus requires staking and usually grows tall, with dangling arms.  These are just getting started. I can't want to see them as they grow in: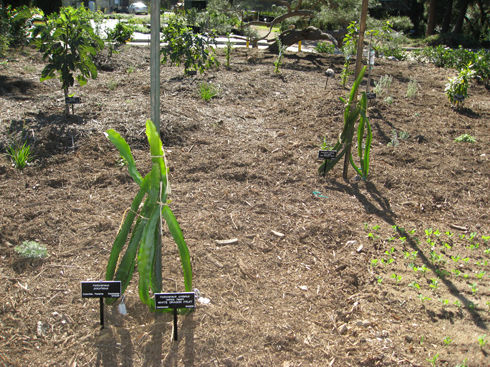 While the Huntington Ranch has clearly been developed with much love, care and thoughtful planning, it is in its infancy.  I hope to be back to see it when the fruit trees have grown in and the crops are more established.   The garden is not open to the public, but they do plan to hold classes and other events as the garden progresses.  So for now, I'll have to sneak a peek or get to know the interns better…