Back in 2010 we attended the grand opening of the Huntington Ranch, a secret garden of sorts outside the normal sites to see at the Huntington Library and Gardens. In its infancy, the Huntington Ranch promised to bring back the original use (and nostalgia) of the early days of the Huntington, when fruit orchards and vegetable gardens were in center focus on the property.
Now, 5 years later, the Ranch is all grown up. Unrecognizable from its early installation days. Fruit trees have matured, brambles and hedges have filled in, and the garden is a bountiful oasis of food forestry.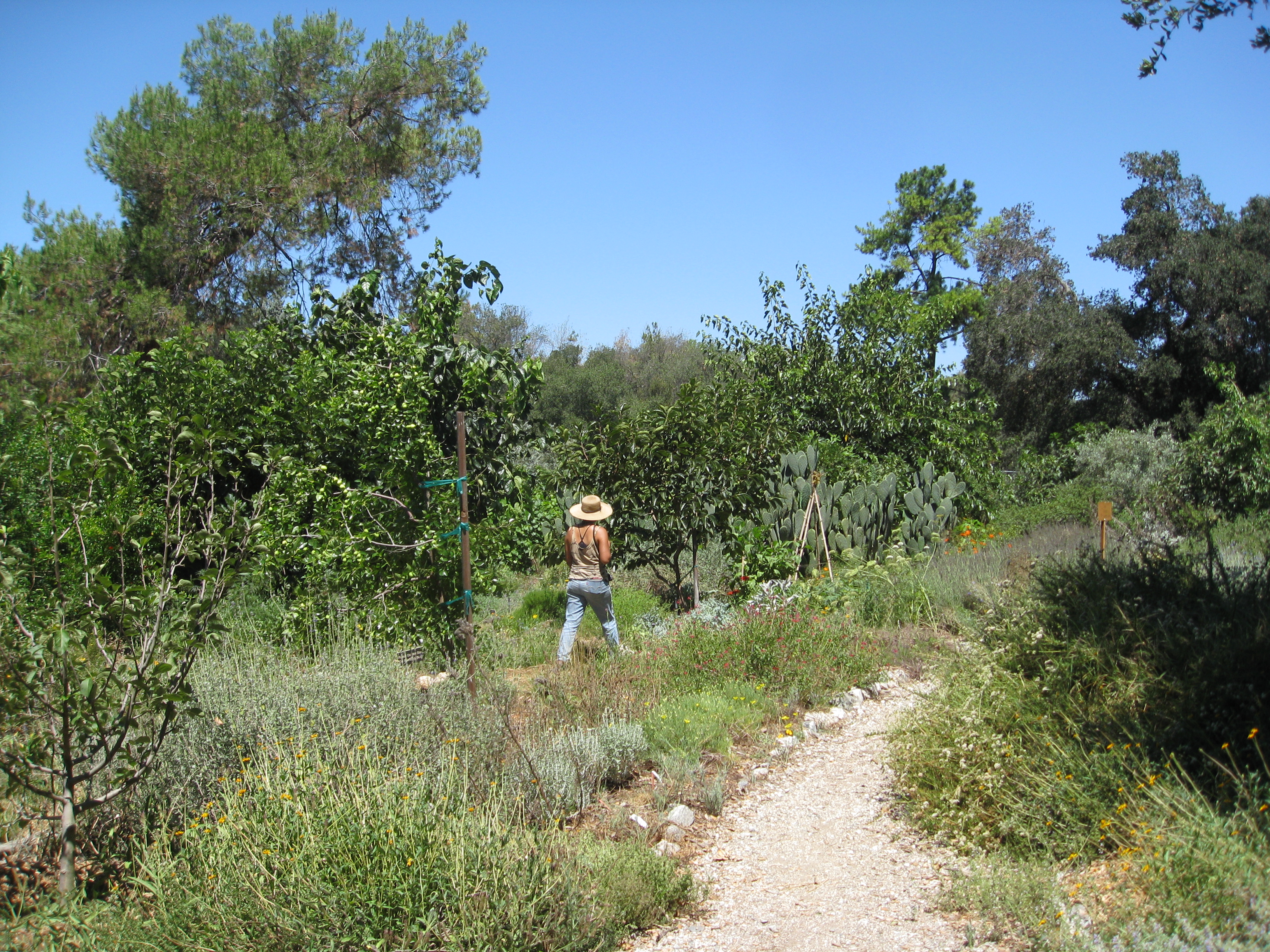 Cactus, succulents, California native plants, and pollinator-friendly flowers fill the space that was once bare soil. Gravel pathways lead visitors through the gardens. You can't even see the storage cottage anymore.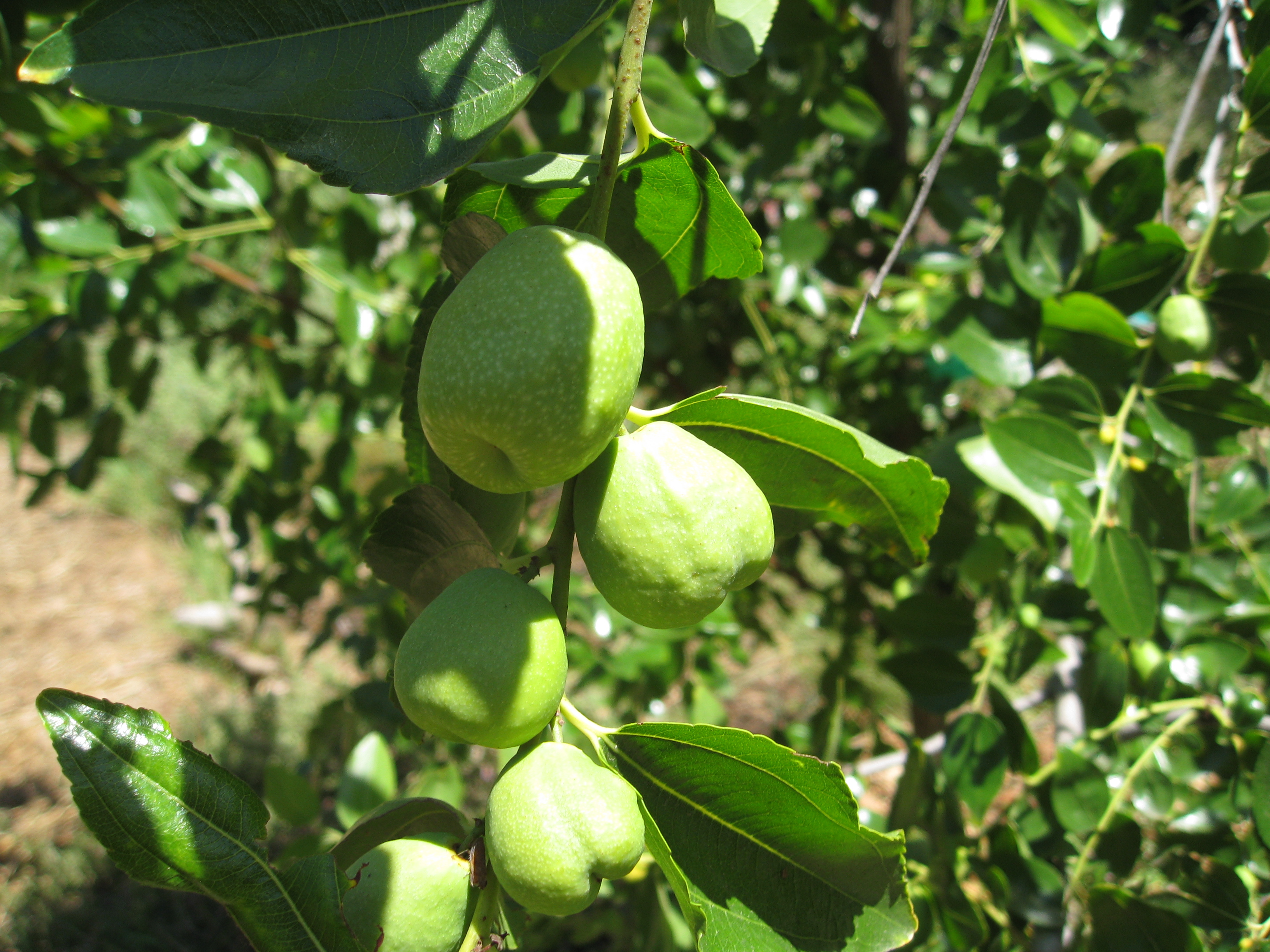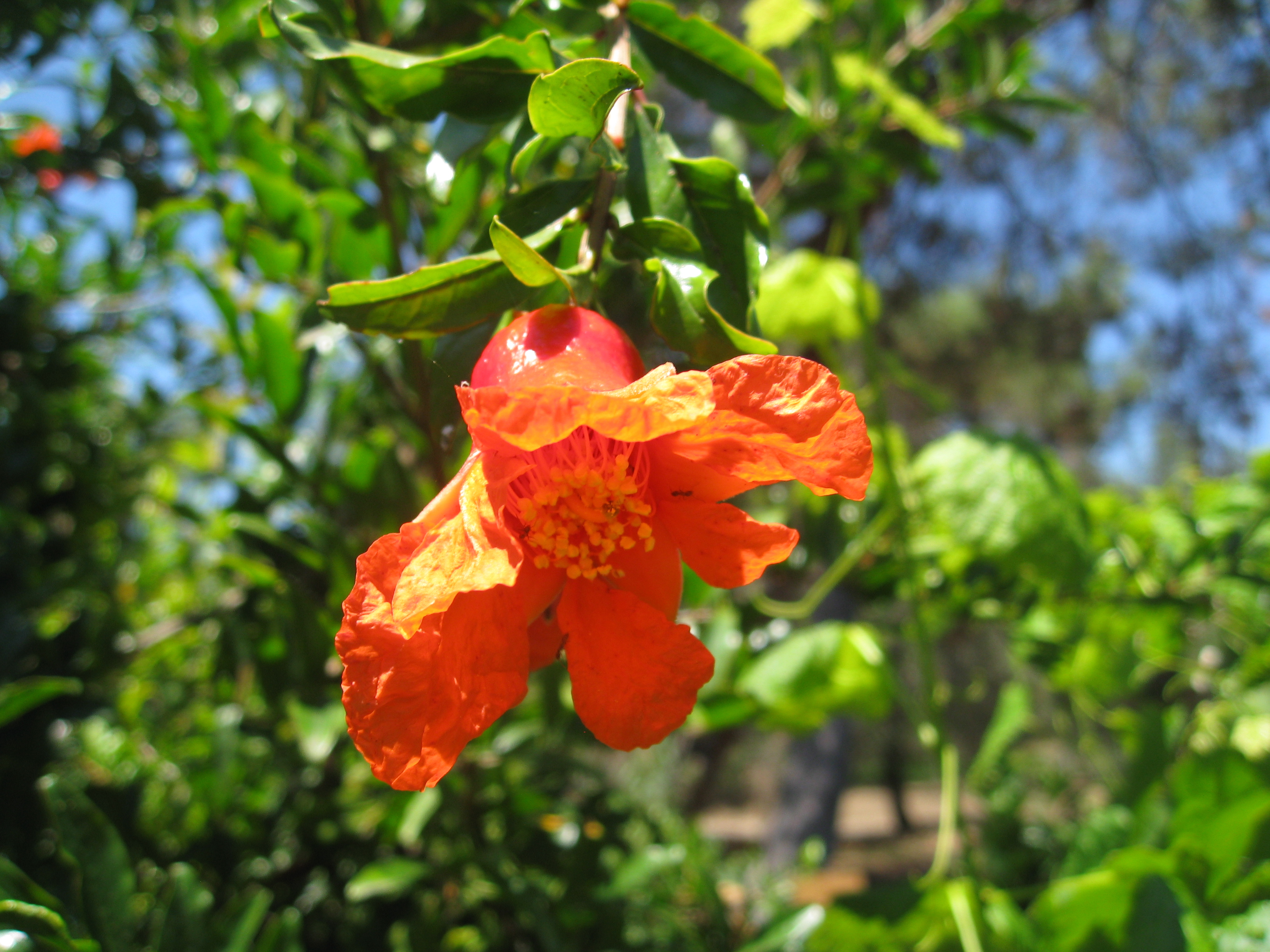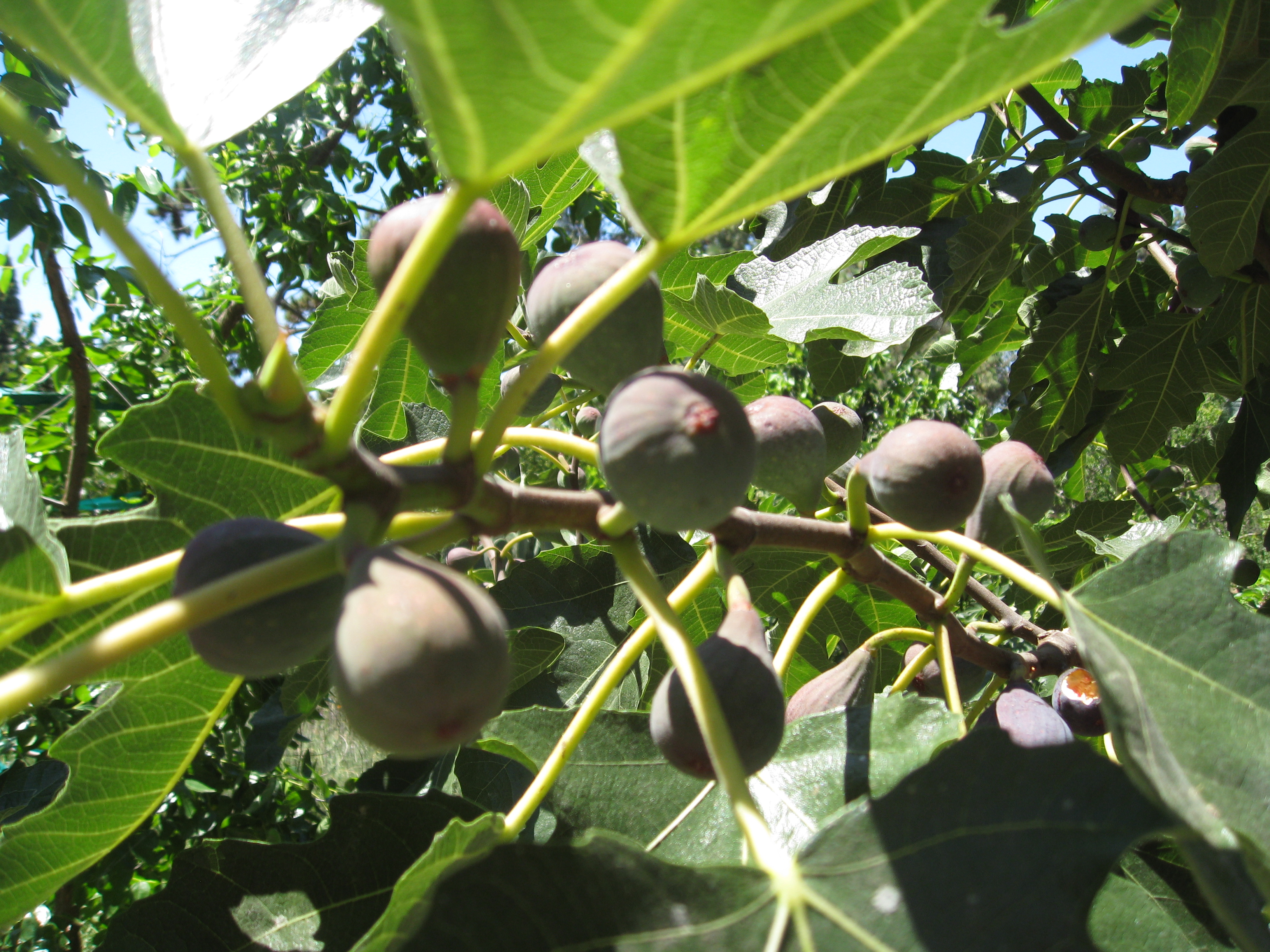 At the grand opening, Scott Kleinrock, the project coordinator of the Ranch, explained several planting experiments in progress at the Ranch. A hedge of citrus trees, an herb circle, and several test areas with both raised beds and container planters – all still in place. Back then, they were even cultivating row crops next to the storage cottage. Those row crops have been replaced with meandering gardens tucked under more fruit trees.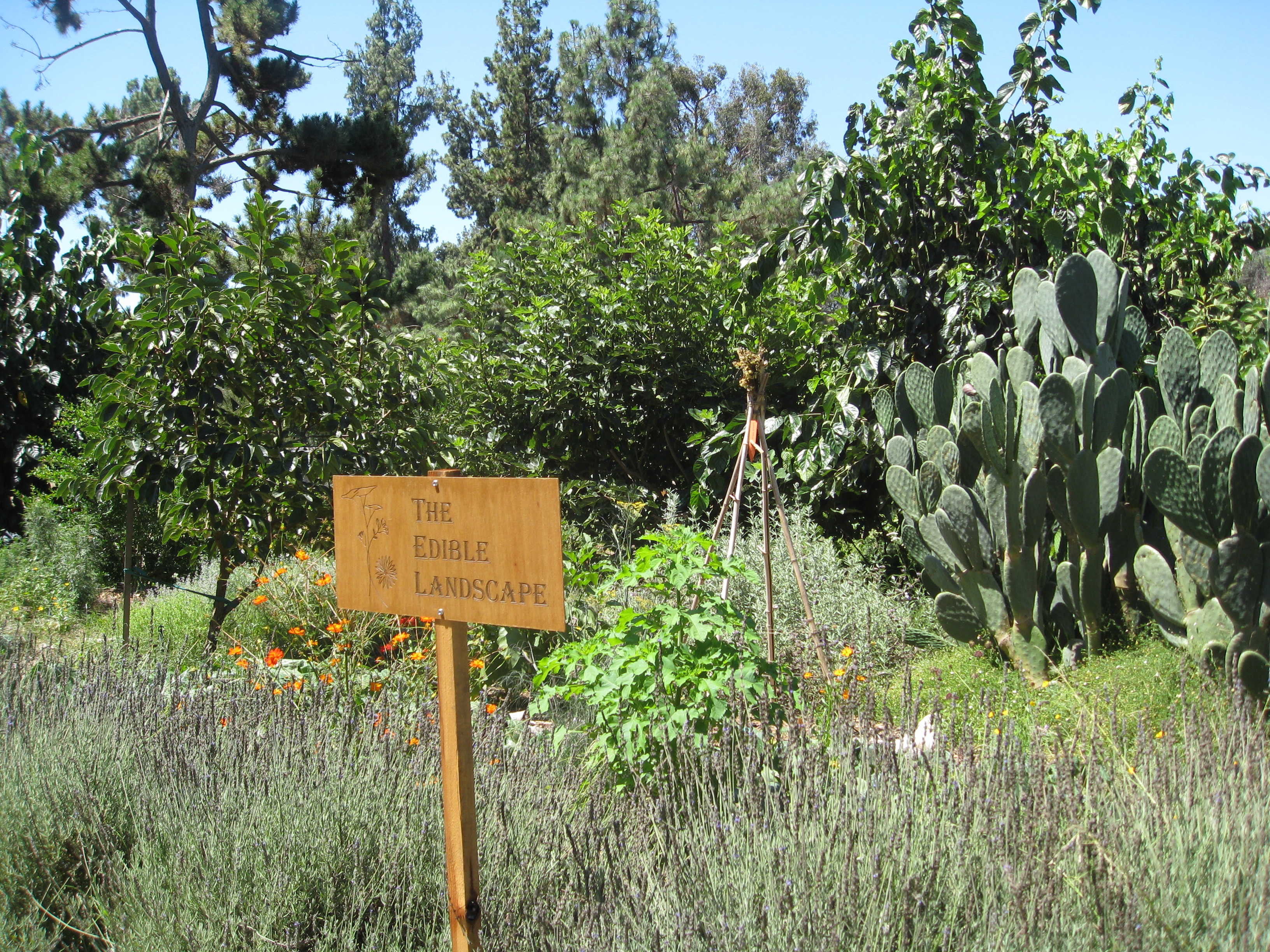 The food forest, that was just planted is now thriving. I'd seen it once since 2009, when I took Lora Hall's fruit tree pruning workshop. It has come a long way since then.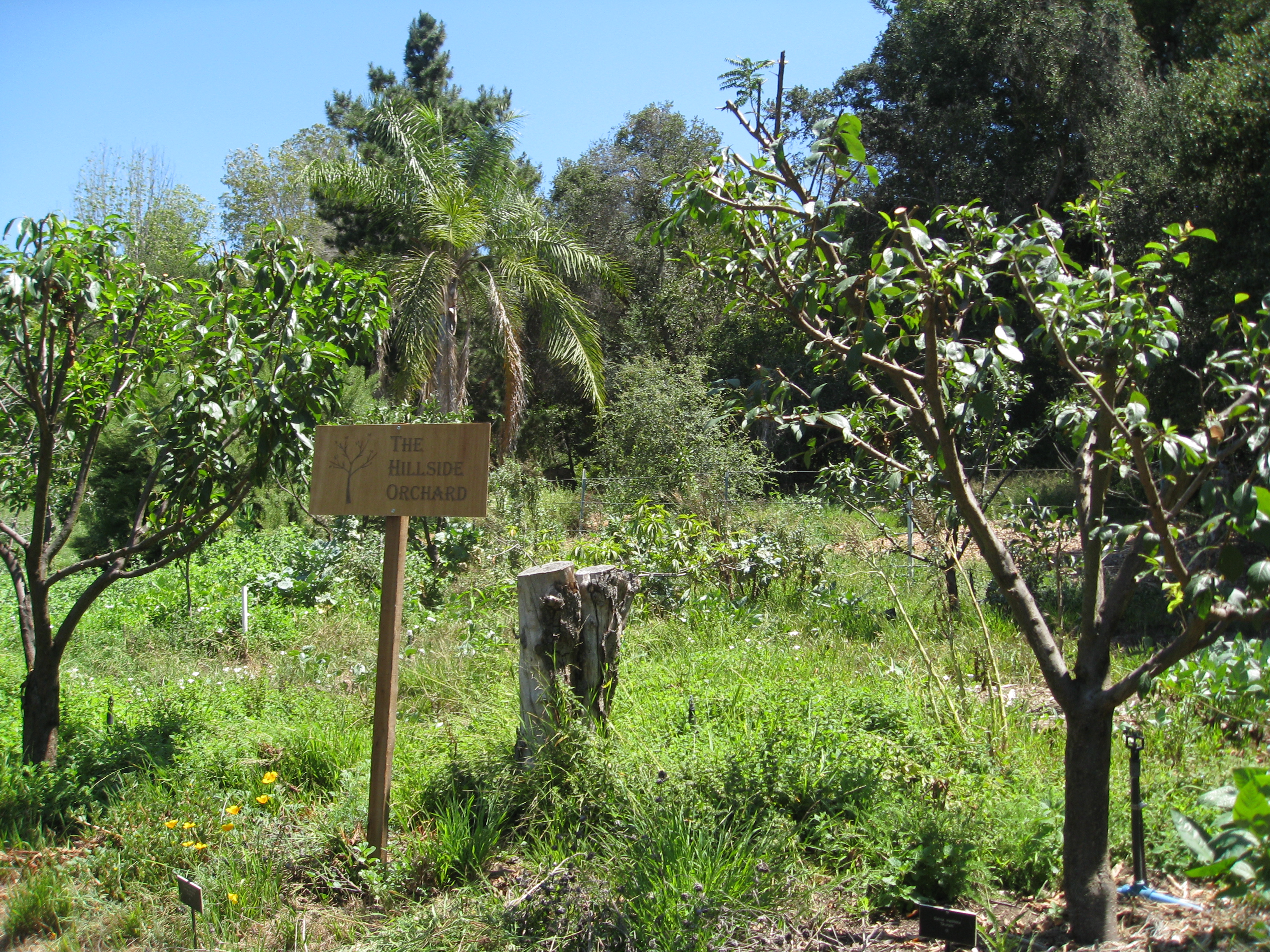 There's now an outdoor meeting area with shade cloth for hot days. It was 97 degrees the day we visited. Could've used some shade cloth ourselves.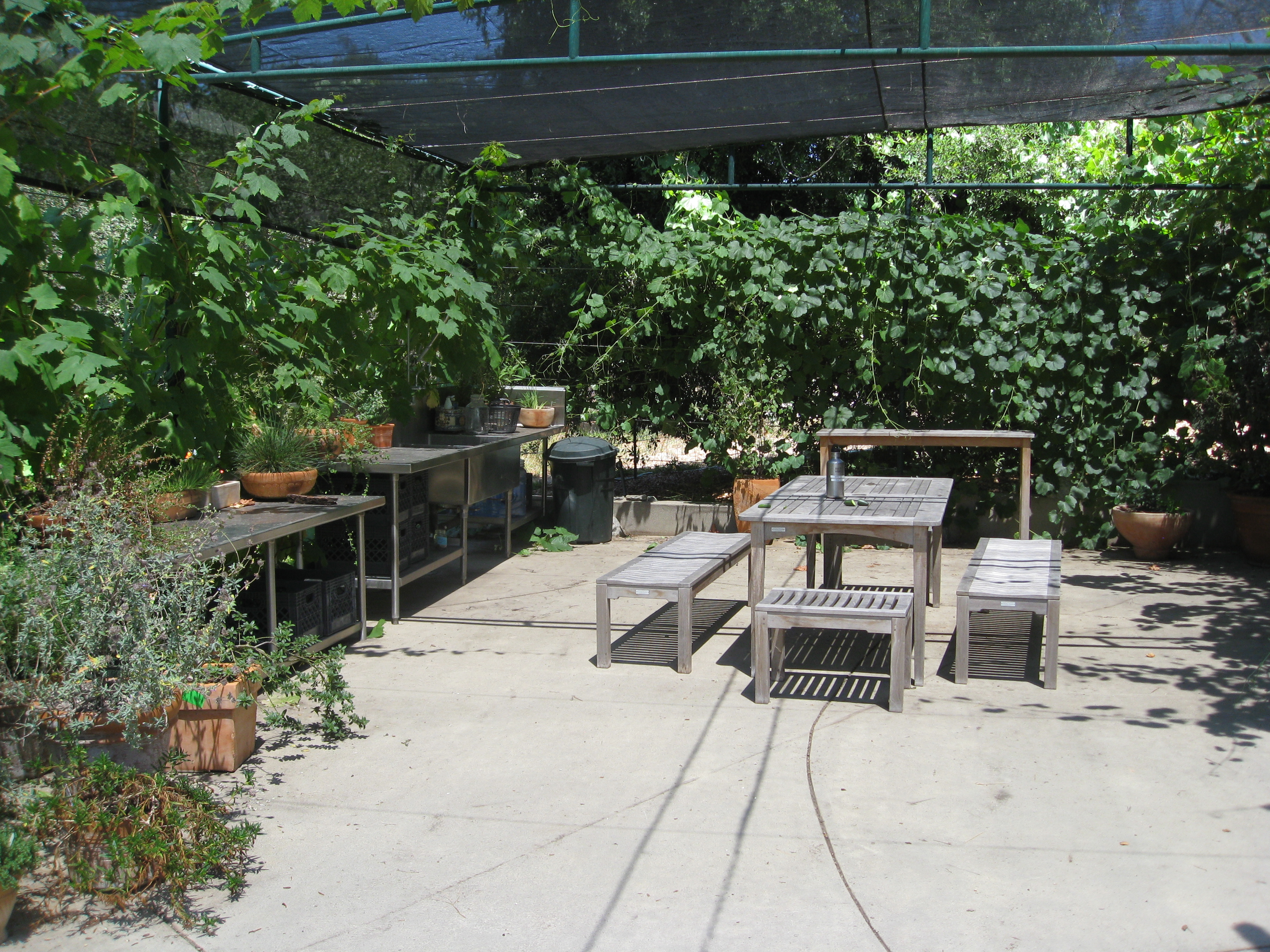 Grape vines cling to the walls (the interns have trouble keeping them in check, apparently). One intern gifted us with a tasty grape, warm from the sun. It was delicious.
It took awhile, but we finally located the storage cottage. It was tucked in amongst the foliage.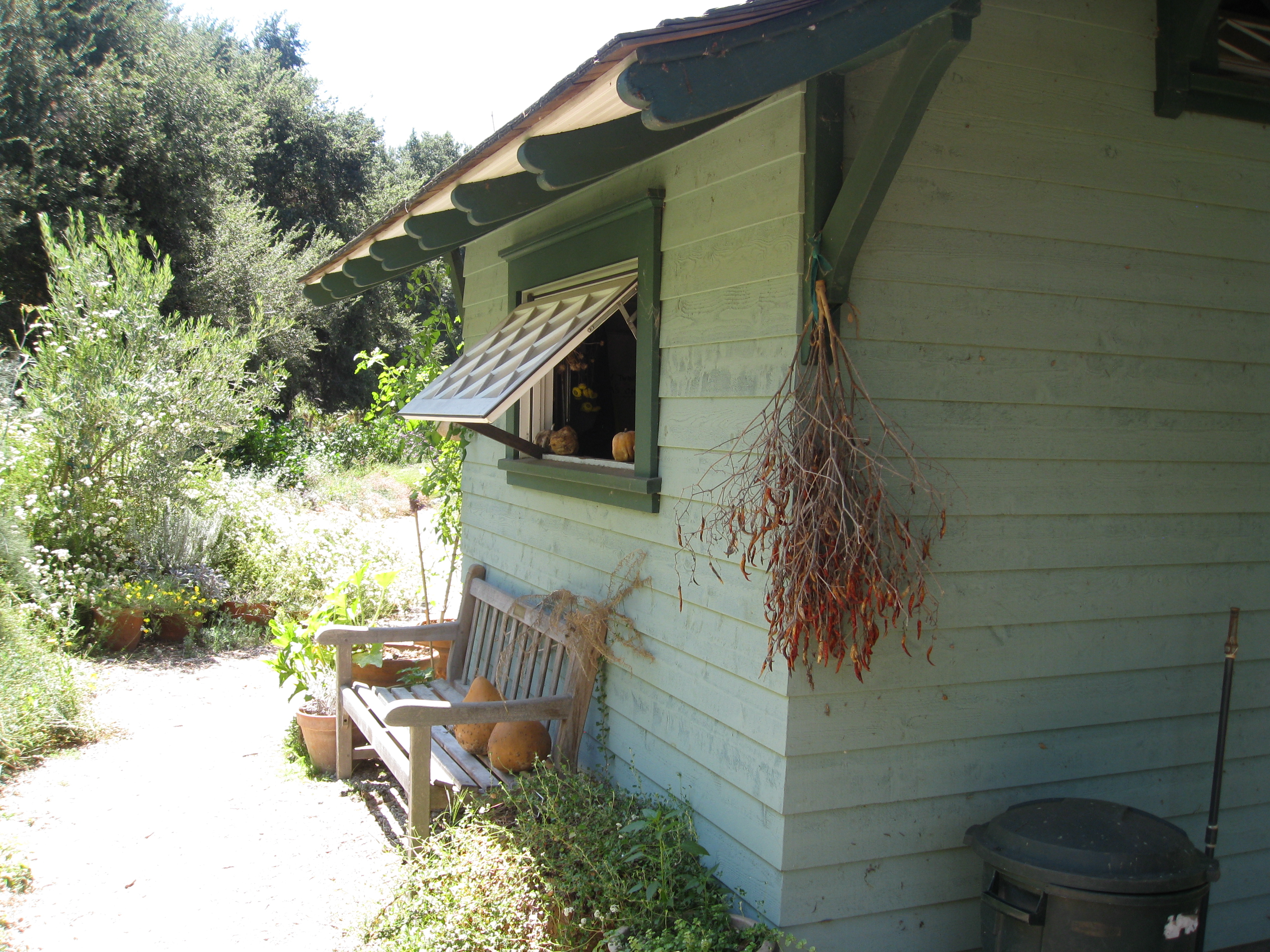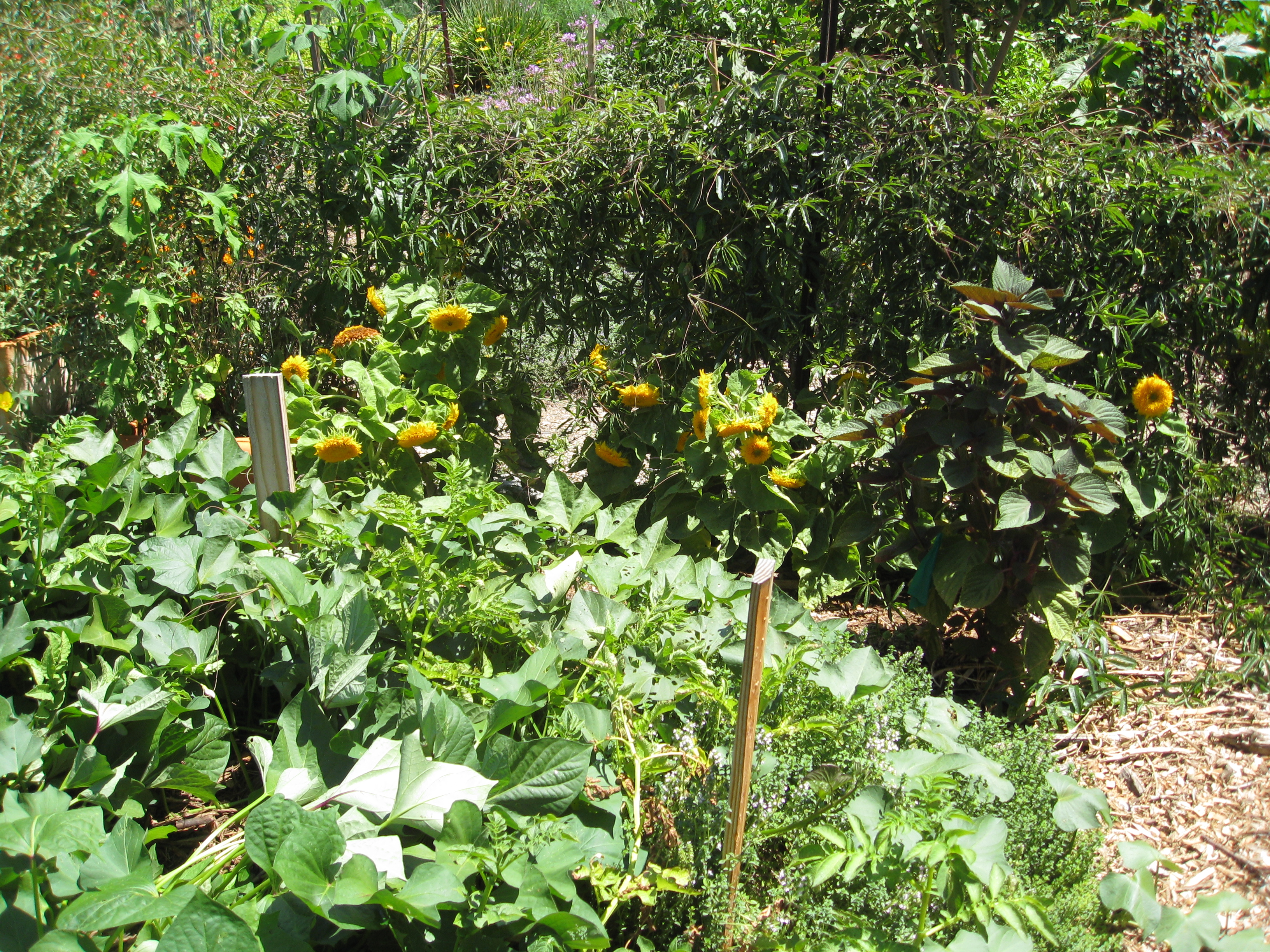 While walking around, you'll notice many flowers and veggies going to seed. It's the Huntington's policy (at least in this wild garden) to let crops go to seed. Less work for the gardeners who tend the land.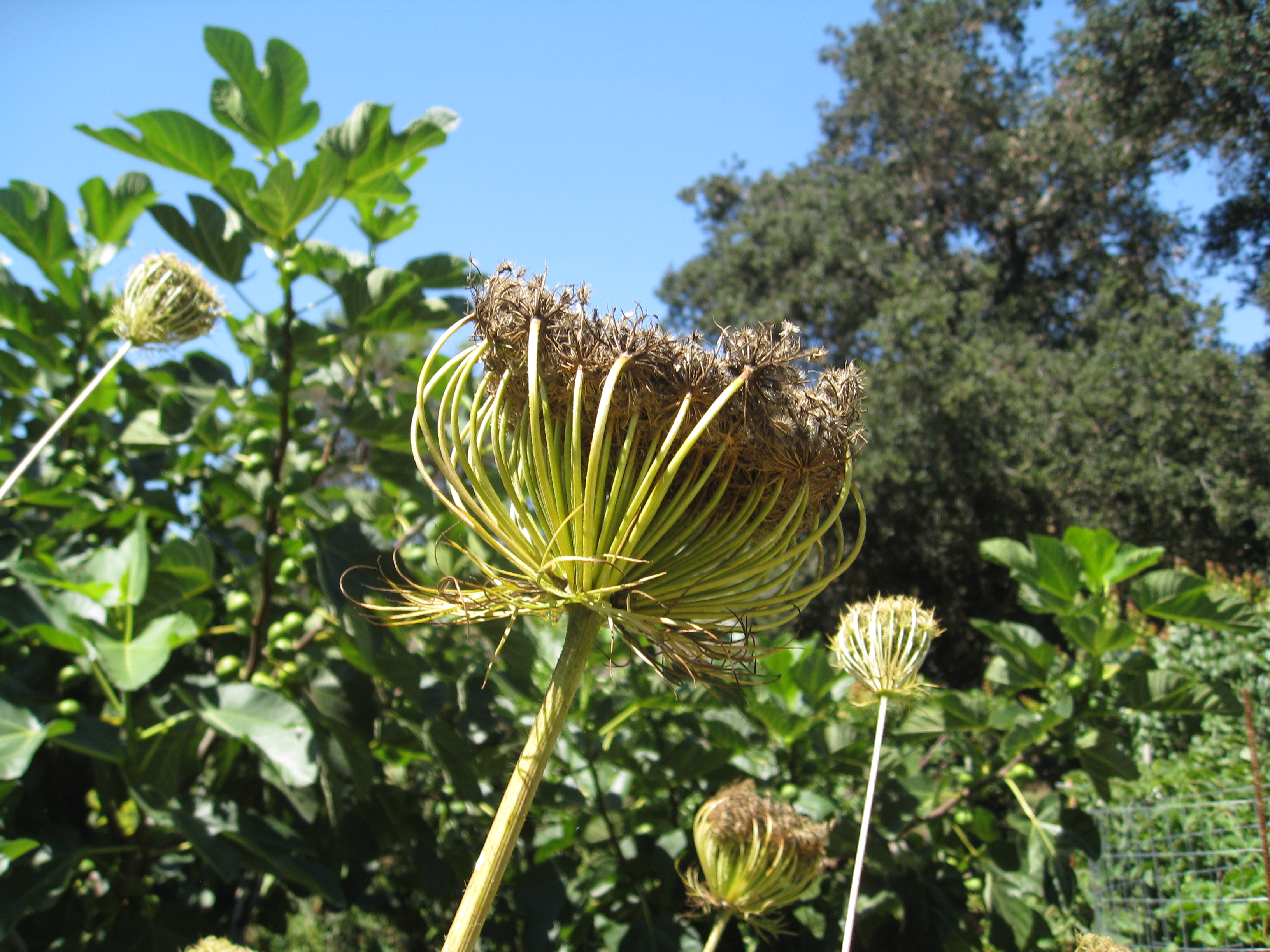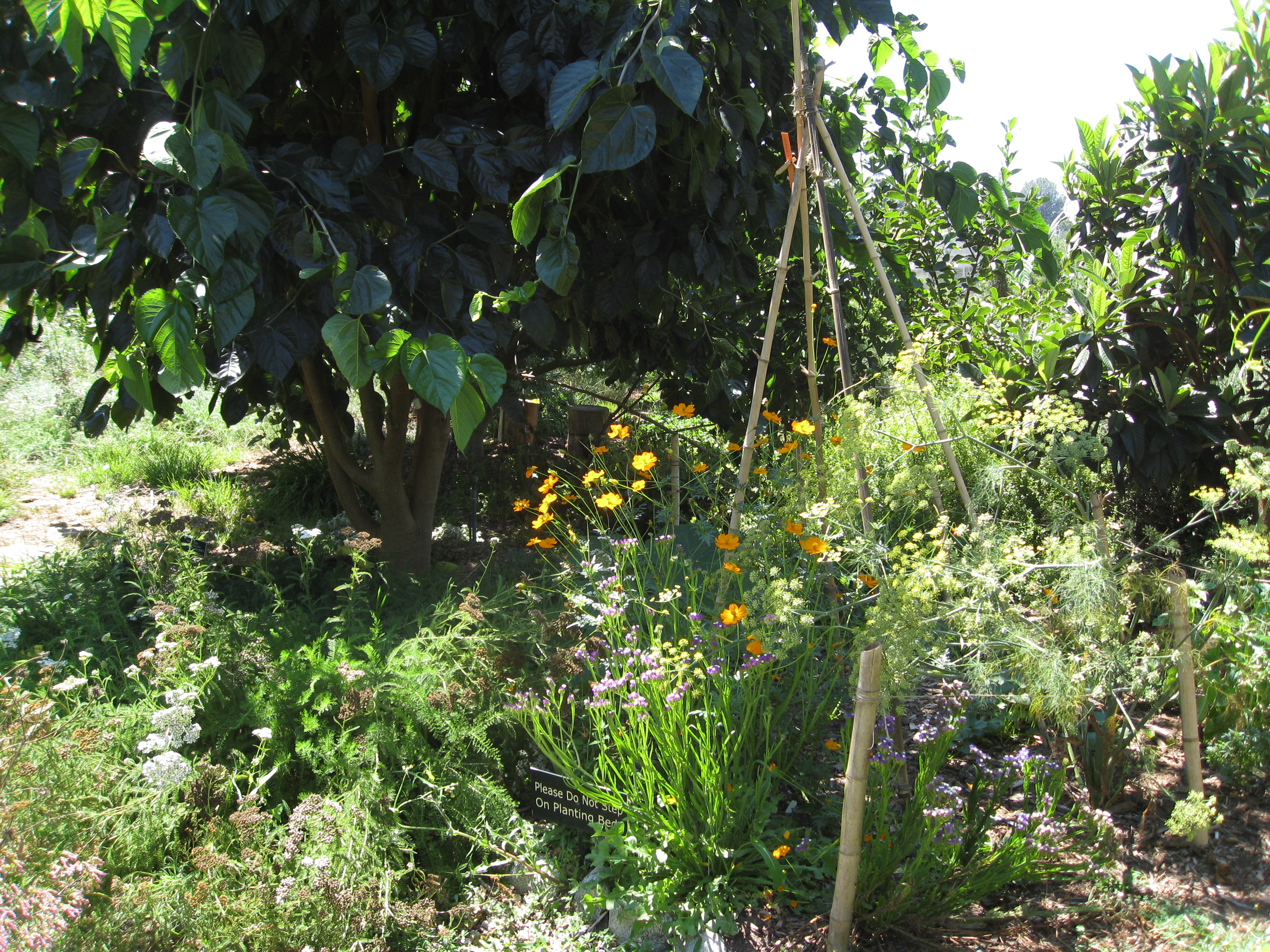 On our way out, we couldn't help noticing the avocado tree heavy with fruit…and the sign that says, "Please do not harvest." Oh well, maybe someday, they'll have a U-pick day. A girl can hope, right?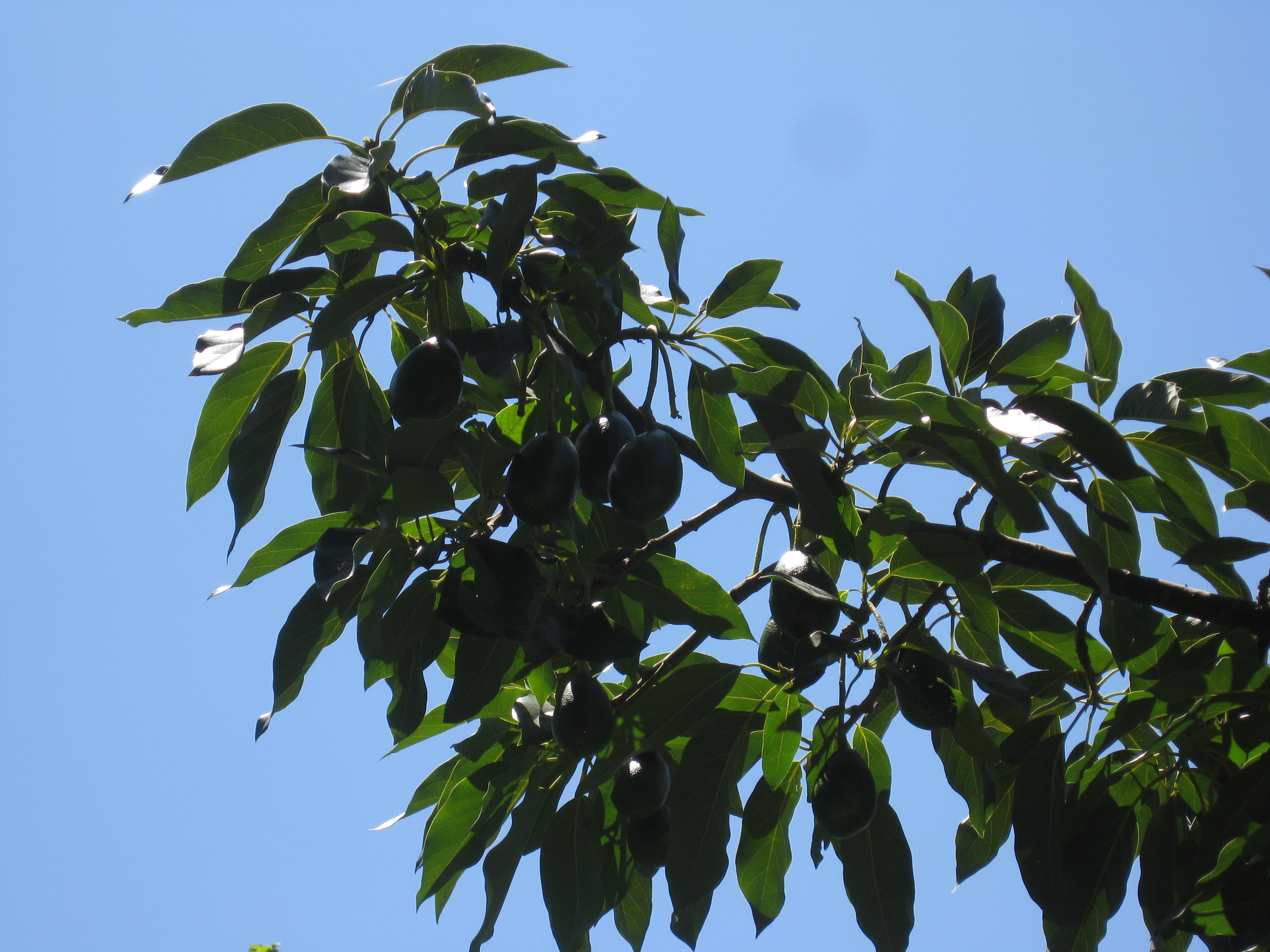 It was great to see what nature and diligent human effort can accomplish in just a few years. The Huntington Ranch is inspiring for any hopefully gardener who wants to grow food in every corner of his or her yard. You can visit the Huntington Ranch on special Open House days. Check the Huntington's calendar of events for details.