Two years ago we dug up a blackberry runner that had wandered over from a neighboring plot at the community garden. We planted it in a pot and year later it took over the place, diving down through the drainage hole and sending up shoots a few feet away along the back wall. Now it's safe to say we are in full production.
Eating seasonally is a particular joy when you get to harvest blackberries and make something that would ordinarily cost nearly $20 to make from store-bought ingredients. In Los Angeles, a half-pint of organic berries run $5-7 at the farmers' market, and the recipe that follows calls for a pound. I'll let you do the math on the savings…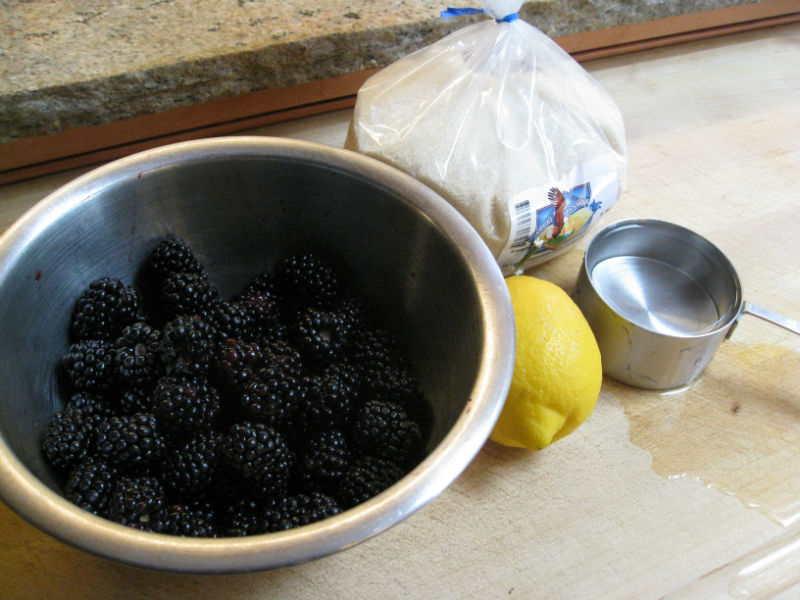 Blackberry Sorbet – from JoyofBaking.com, adapted from Liddell, Caroline and Weir, Robin. Frozen Desserts. New York: St. Martin's Griffin: 1995.
Ingredients:
1 cup (240 ml) water

1 1/4 cup (250 grams) granulated white sugar

1 pound (454 grams) frozen unsweetened blackberries (we used fresh)

2 tablespoons lemon juice

2 tablespoons fruit liqueur (optional)
Note:  If you taste the sorbet after freezing and find the amount of sugar is not right, adjust the level of sugar by adding a little sugar syrup (too little sugar in sorbet) or water (too much sugar in sorbet) and then refreeze the sorbet.  The sorbet is not affected by thawing and refreezing."
How-to:
First, bring the sugar and water to a boil in a saucepan until completely dissolved. Then remove from heat and allow to cool. The recipe recommends refrigerating the mixture, but we put ours over an ice bath to cool more quickly.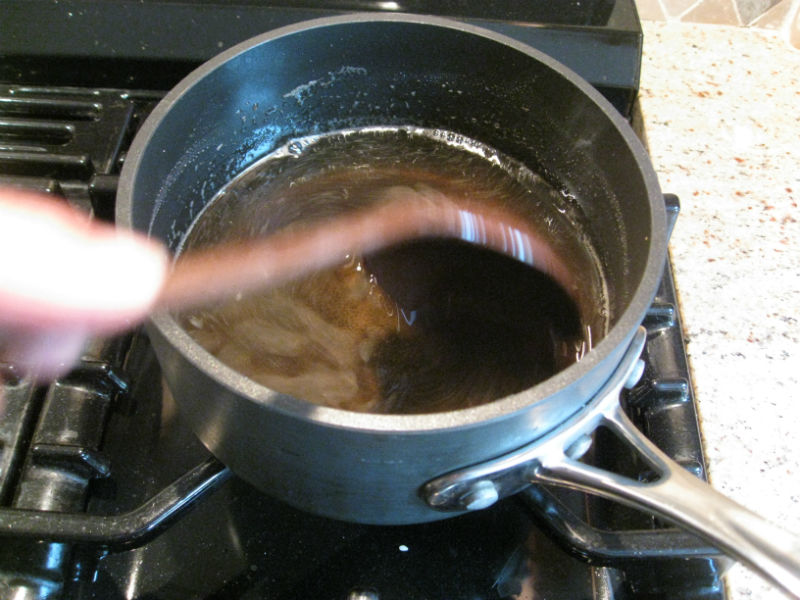 Next, wash and puree your blackberries. (The recipe calls for frozen berries, thawed. So if you don't have fresh, feel free to follow those instructions). Strain the blackberries through a fine sieve to remove seeds and pulp.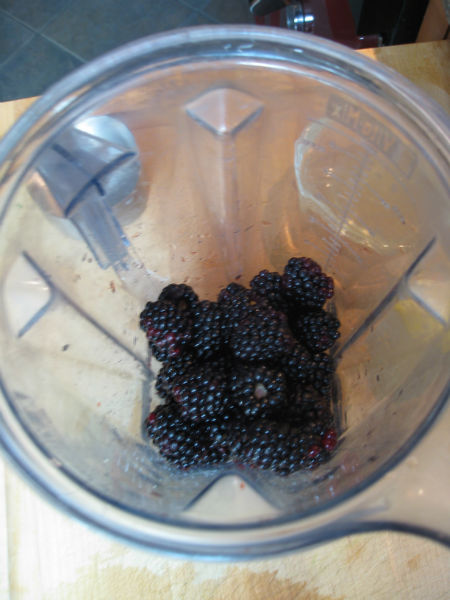 Handy tip: I learned this trick from Jacque Pepin years ago – hold the sieve in one hand and hit it against the palm of your other hand to move the puree through, rather than pressing it through with a spoon. The spoon just lodges the seeds into the sieve's holes, making it impossible to do its job.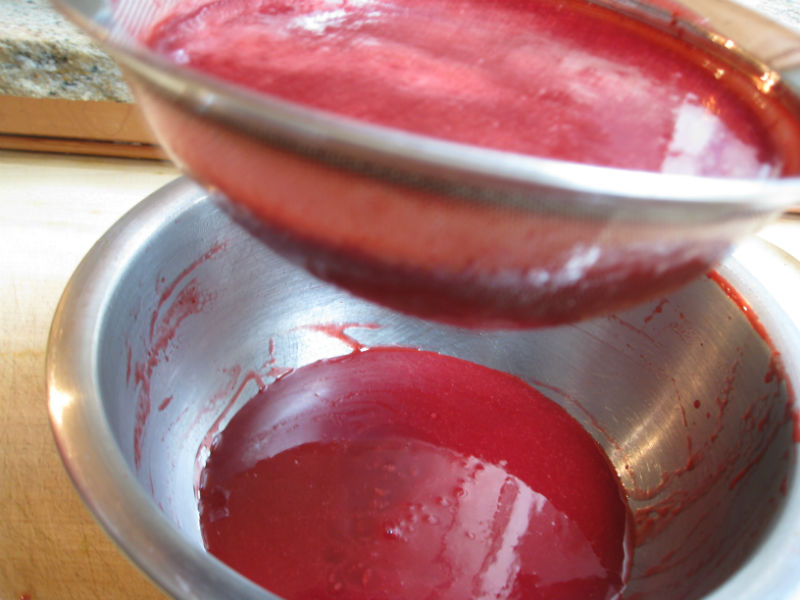 Now, add the lemon juice and liquor if you're using it. We refrained, but did entertain the idea of adding some port or moscato…next time. Mix the berries with the simple syrup and chill the ingredients until completely cold (about an hour).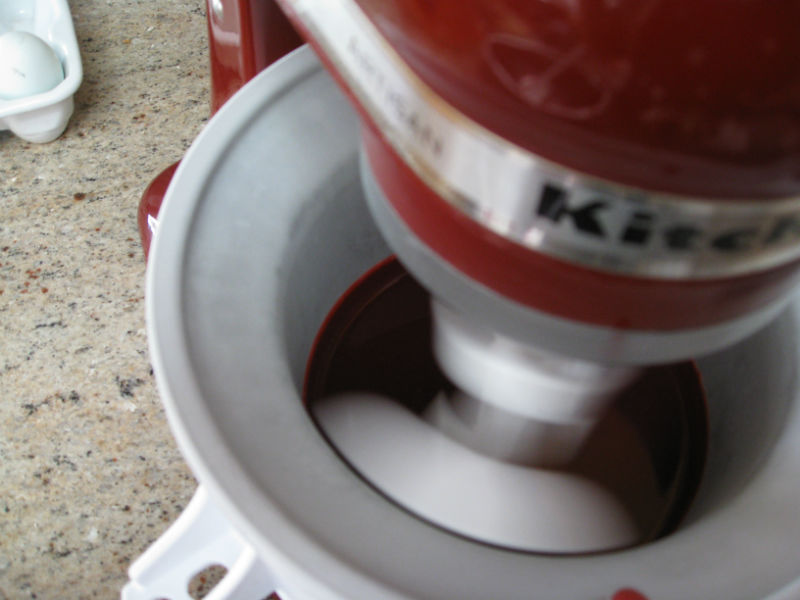 Pour the chilled mixture into an ice cream maker. If you don't have one you can freeze it in a metal pan and stir it every few hours until firm.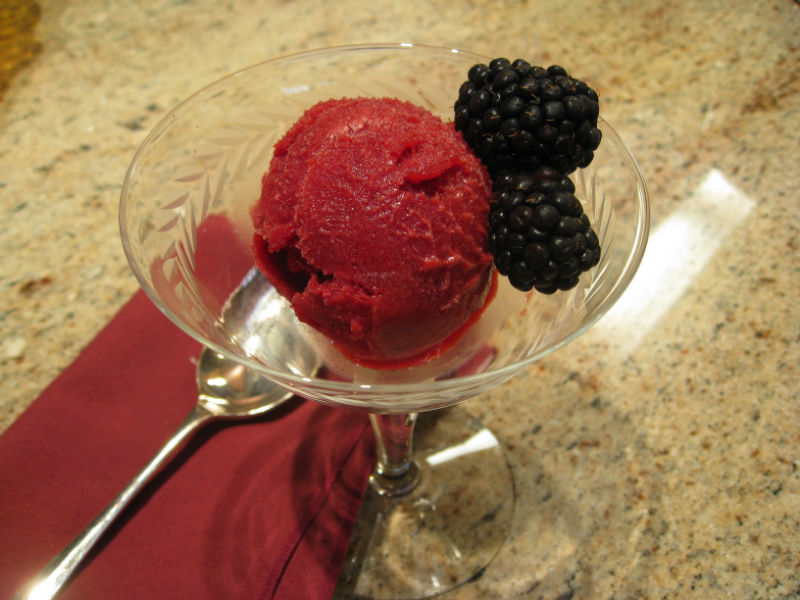 In the end, we used ingredients on hand: lemons from the mini-orchard,  blackberries from the garden, organic cane sugar on hand, and filtered water. Simple, delicious and free.