This week on Ask Gardenerd, Paula asks, "Good morning. I have four tomato plants growing in seven gallon containers on my deck one of the plants has a few blossoms that have dried up. I am concerned there is a problem I should be aware of. All seem to be growing well and fill the containers both vertically and horizontally. Thanks for your help."
Several other gardenerds have asked about tomato blossoms not fruiting, and we run across this problem here at Gardenerd HQ. So it's definitely time to address this issue. Let's take a look at the problem.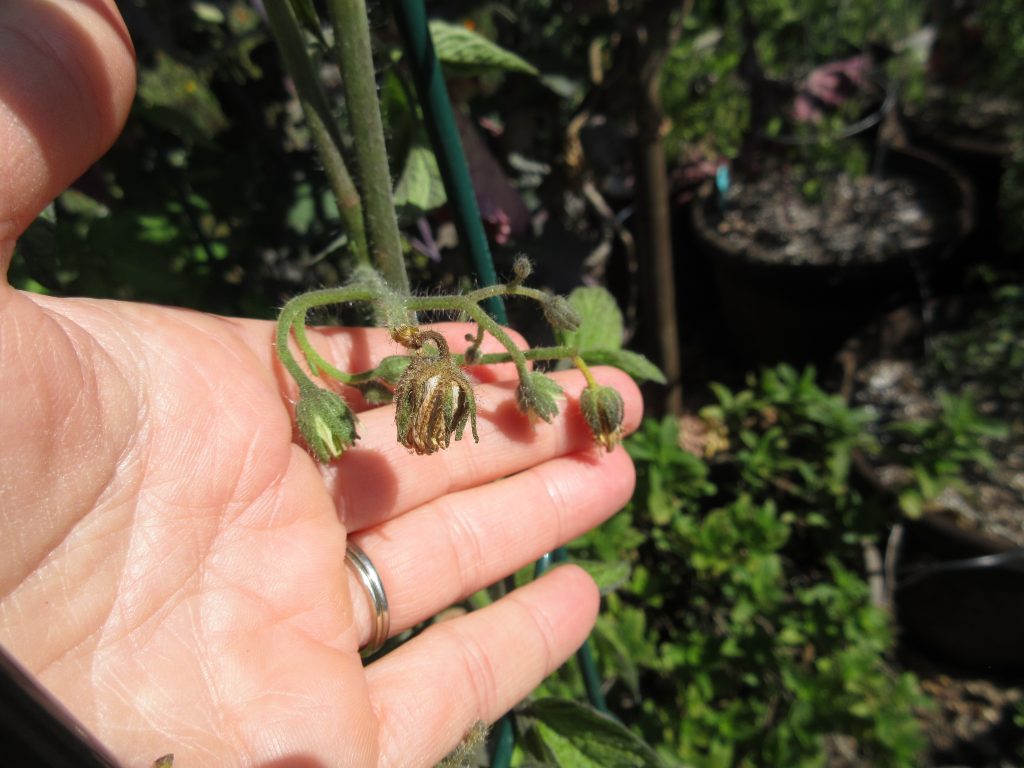 Frequent Feeding Makes a Difference
It's important to remember that containers don't allow plants to dive deep for nutrients buried deep in the soil, so you have to give them everything they will need for the duration of growing, flowering, and fruiting. That means feeding them more often than you would with tomatoes in the ground. Even if you used the best quality potting soil when planting, tomatoes still need a lil' sumthin' sumthin' along the way. Add compost and worm castings when you fertilize to boost soil microbial activity.
Phosphorus and Potassium are responsible for fruiting, flowering, and overall vigor. It sounds like you've got enough Potassium, but are probably lacking phosphorus. We like sea bird guano as a good source of phosphorus. We use it in our home made fertilizer.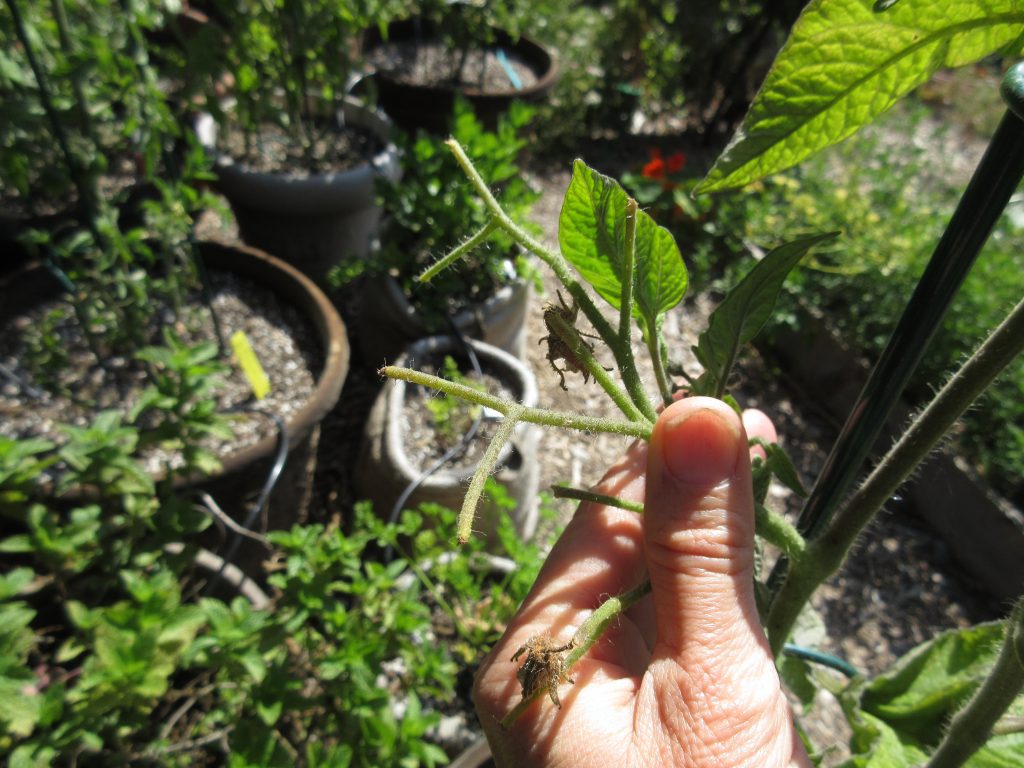 Advice from Our Favorite TomatoManiac!
We asked Scott Daigre from TomatoMania about this issue, and he said he was working on a post to answer the same question. Seems you're not alone, Paula. Here's what Scott had to say:
"Growing in containers is a terrific way to grow tomatoes. However, it also can be the most inconsistent space in which to grow. The plant wants consistency – there's the challenge for home gardeners."
Here are some of Scott's check points to look at before feeding:
How big is the pot? 15″ x 15″ or bigger? That's optimal.
Did you use all new high quality potting soil (plus amendments) when you planted? 
Where is the pot? On a hot concrete surface? Try to change that or limit reflected heat. 
What's the pot made of? Black plastic or similar that will heat up intolerably? Wrap the pot with canvas or burlap – or anything. Keep the roots COOL.
How much sun does it get? 6-8 hours of sun is full sun and all your plants need. Morning sun or searing late heat? Opt for the former. 12 hours of sun a day on a container planting could be considered torture!
If all those items are dealt with or have been accomplished then you, the gardener, are the wild card."
Scott suggests fertilizing containers "every ten to fourteen days." We've even started feeding weekly here at Gardenerd HQ to curtail the issue quickly. Once we see improvement, we'll back off.
Watering
Scott also suggests watering "as consistently as possible. Depending on the size of the pot, what the pot is made of and how much sun it's exposed to you might be watering every day."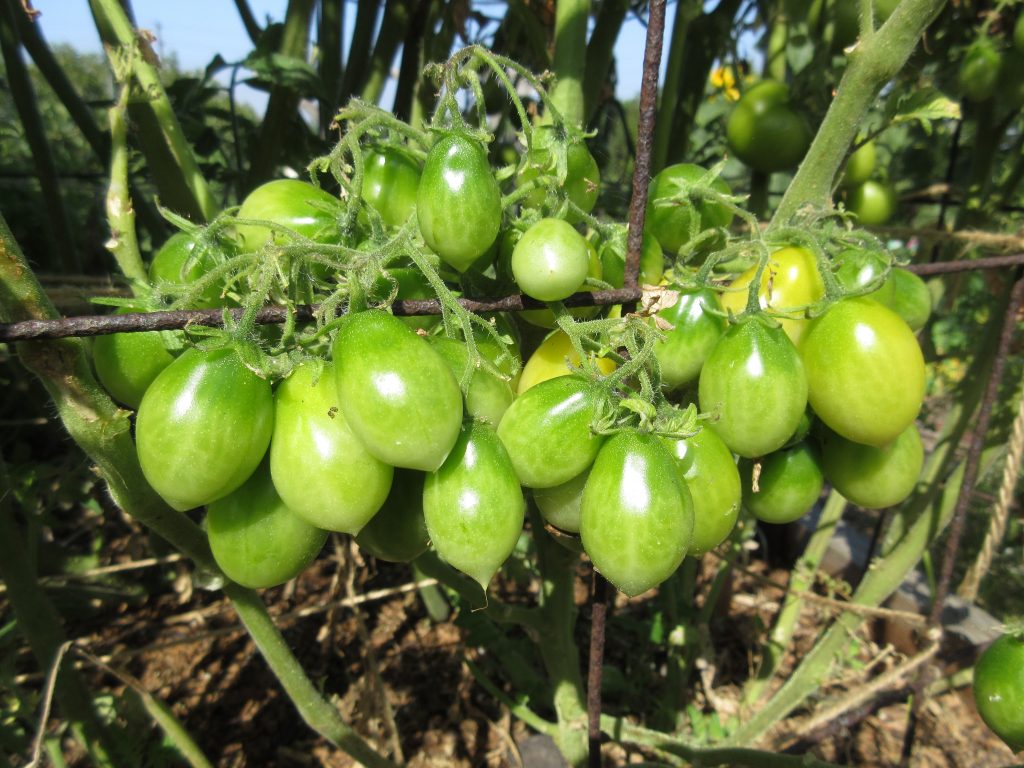 We hope these tips help you achieve a higher fruit set with your container tomato plants, and finally end the issue of tomato blossoms not fruiting. Don't give up, Paula! We're all in this together.