Believe it or not, we're still working on that giant cabbage we picked a week or so ago. They keep so well in the fridge, but they take up a lot of space. So it was time to pull out all the stops and use the bulk of it all at once. This stir-fried cabbage with chilies, peanuts & peas recipe is incredibly satisfying and goes well with the "emergency" pre-made Indian food we have in the pantry.
The recipe calls for 3 1/2 pounds of cabbage. That was only half a head of our mammoth cabbage in the fridge. We ended up using only 3 pounds, since our pan wasn't large enough to hold the whole thing. See notes below for details.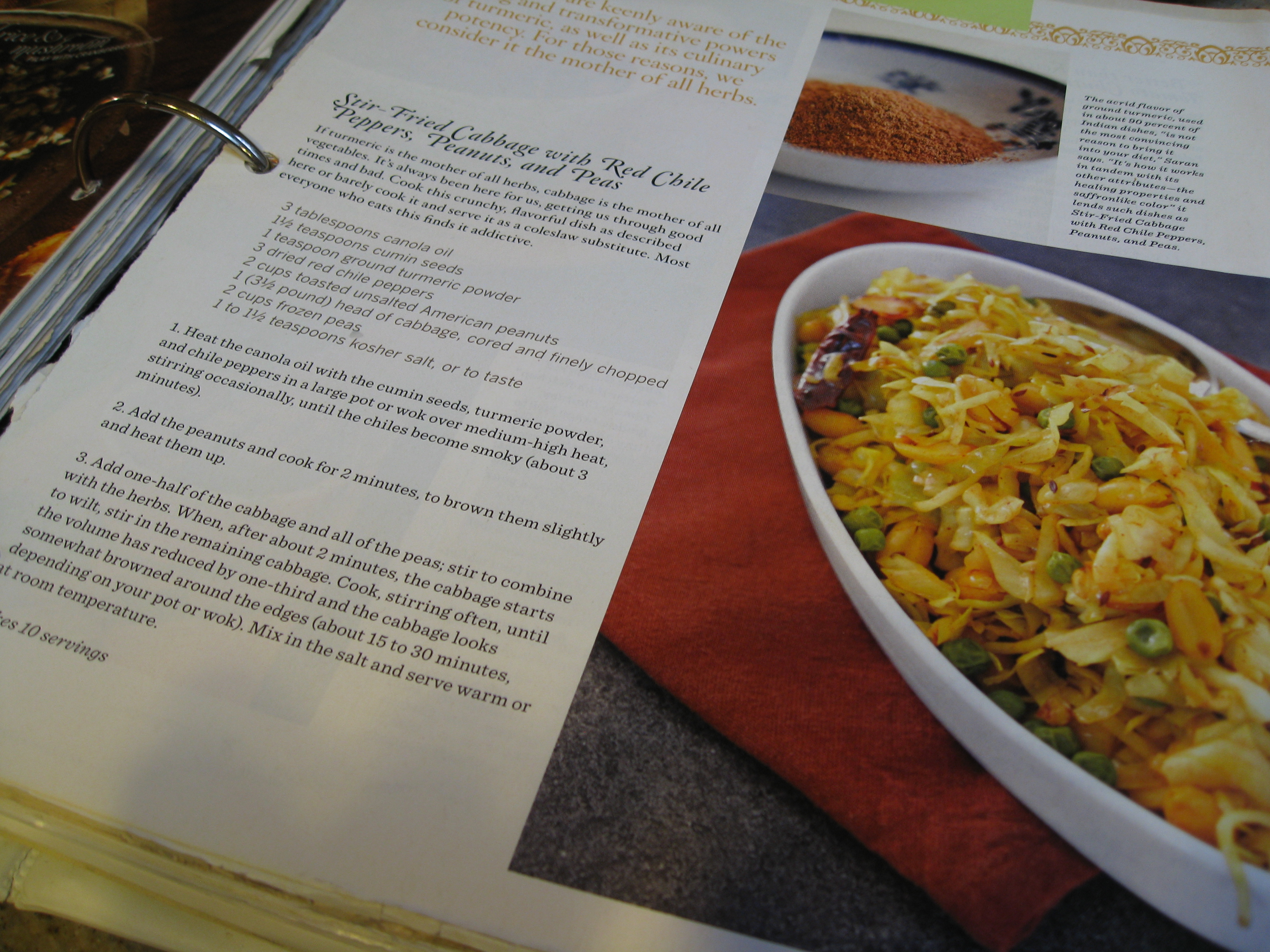 Stir-Fried Cabbage with Red Chile Peppers, Peanuts and Peas – Organic Gardening Magazine, Dec. 2010 (Issue 58:2) – Serves 10 very small eaters or 4-5 hungry folks
Ingredients
3 tablespoons canola oil
1 1/2 teaspoons cumin seeds
1 teaspoon ground turmeric powder
3 dried red chile peppers
2 cups toasted unsalted American peanuts
1 (3 1/2  pound) head of cabbage, cored and finely chopped
2 cups frozen peas
1 to 1 1/2 teaspoons kosher salt, or to taste
Method
In a large pot (we think a stock pot would've been a good idea here) or wok, heat up canola oil and add cumin seeds, turmeric and chile peppers on medium-high heat. Stir often until chile peppers start to turn dark (about 3 minutes).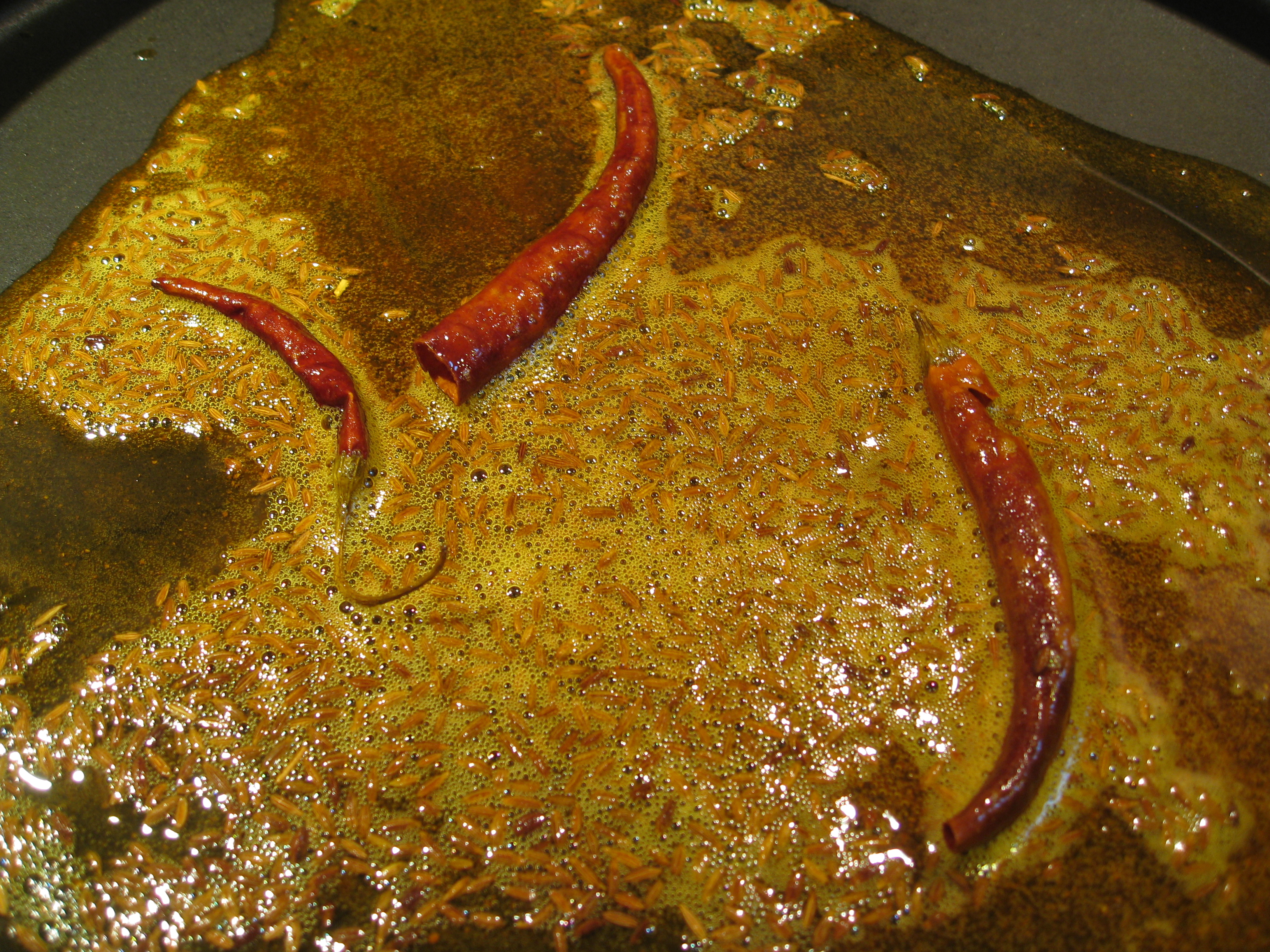 Next, add peanuts and stir occasionally until they turn slightly brown (about 2 minutes).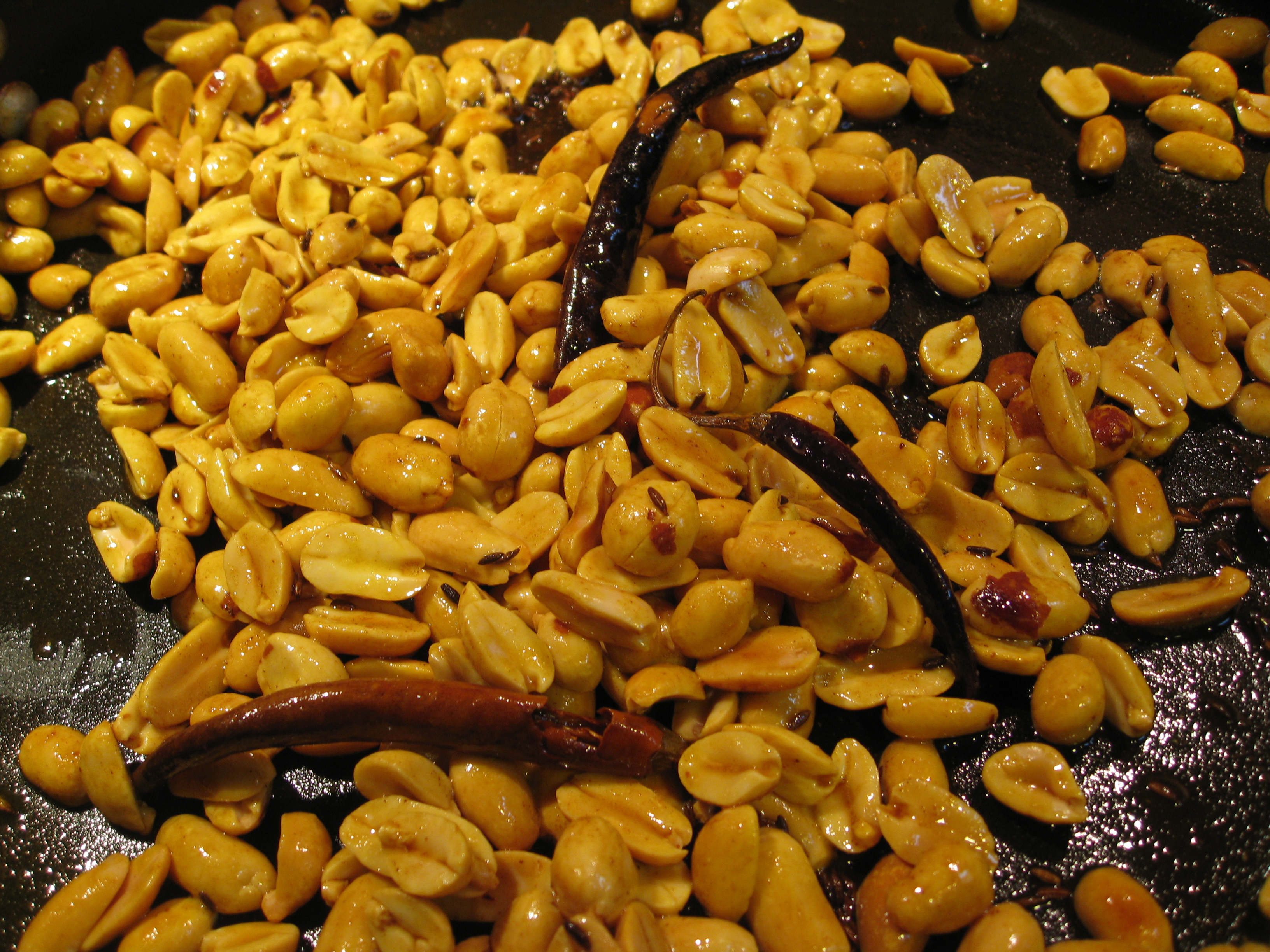 Then, add half of the cabbage (that's all that fits, believe me). Dump all the peas on top. Then mix everything together carefully. After a few minutes, add the rest of the cabbage once the first half has wilted a bit. (See notes on our amounts used)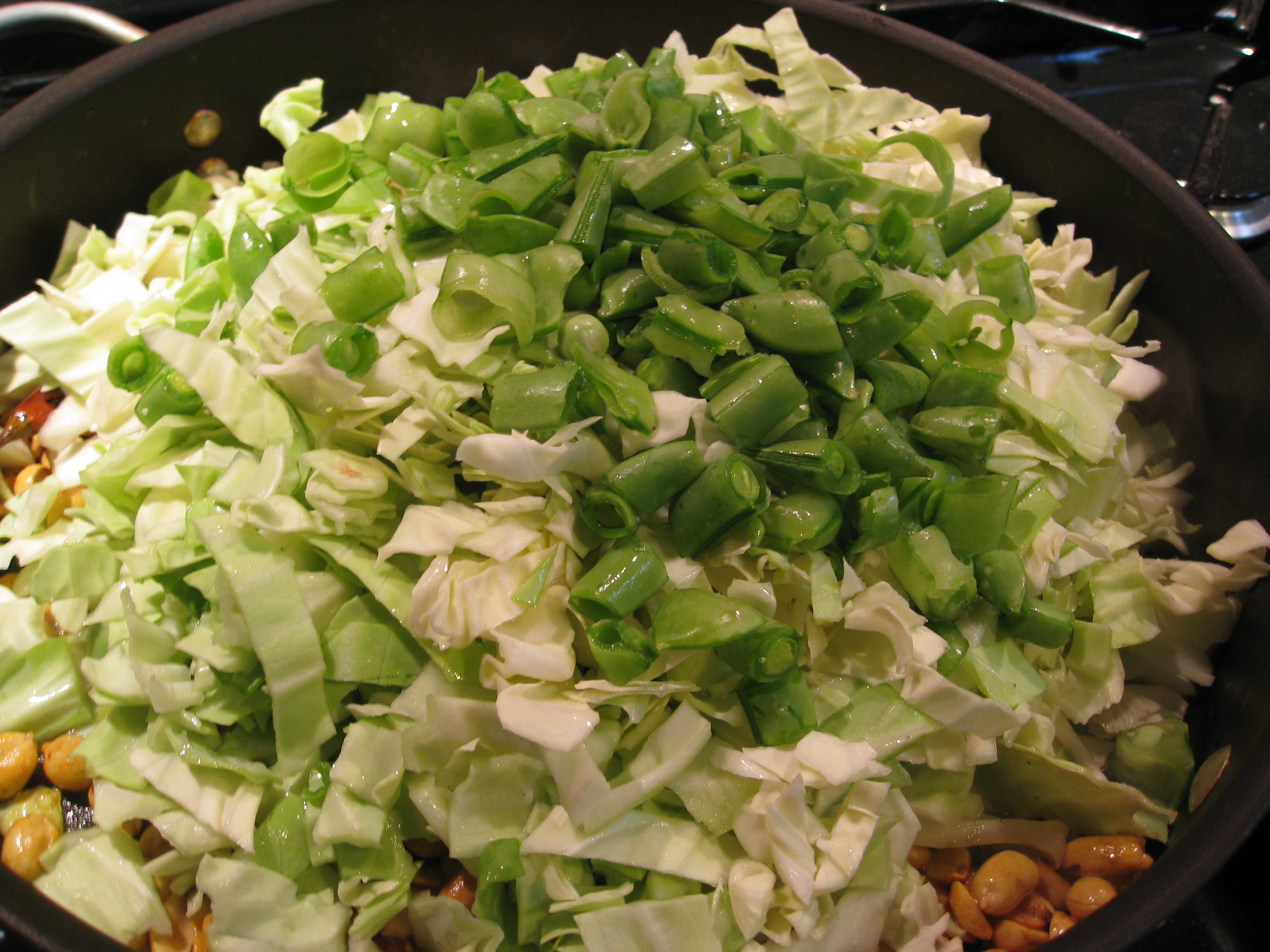 The volume of cabbage will reduce by about a third. Stir frequently over the next 15-30 minutes until the cabbage is a little brown around the edges.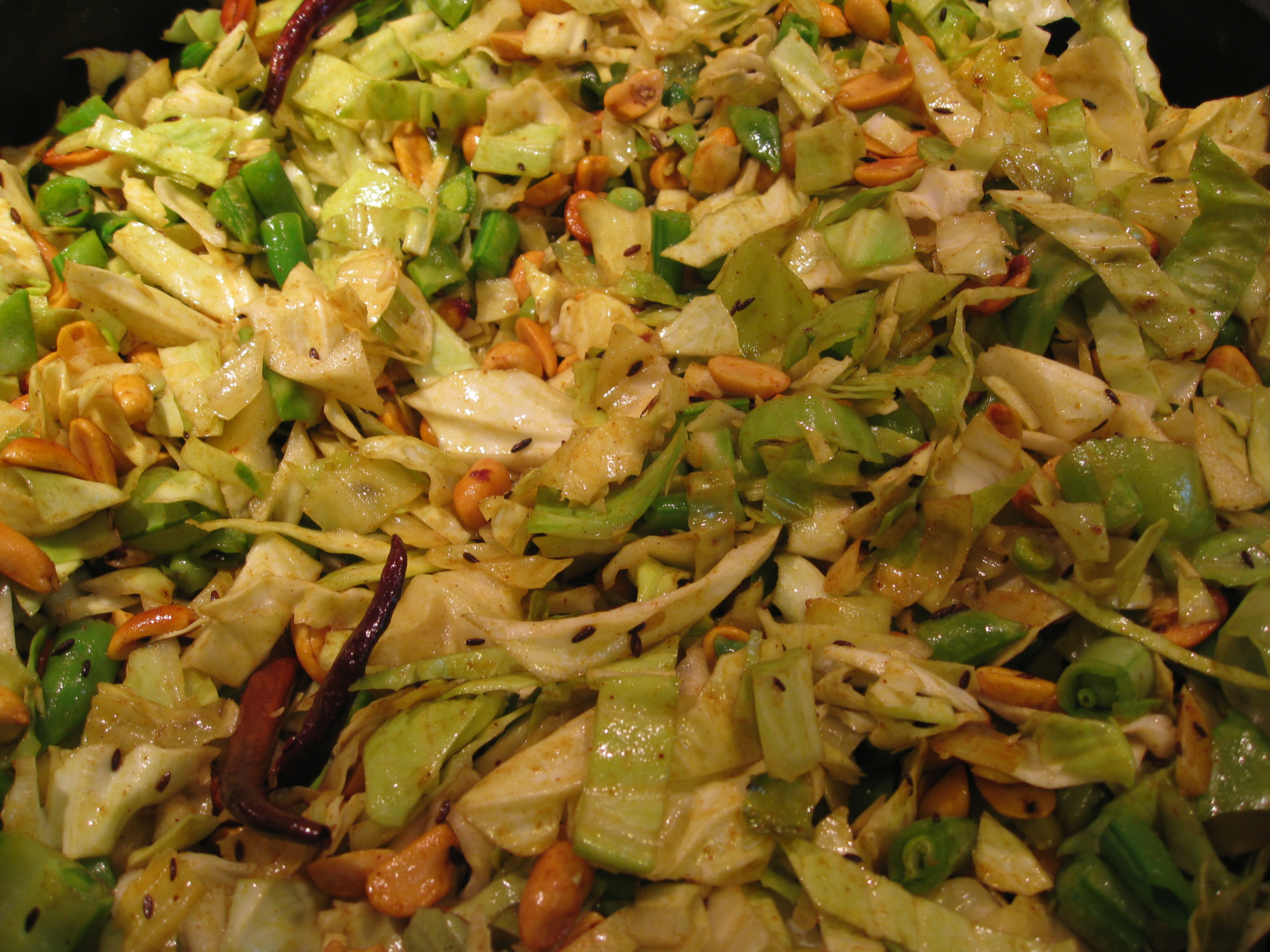 Season with salt to taste and serve either warm or at room temp. We prefer it warm. Everything is crisp and crunchy and full of flavor. Serve next to your favorite spicy main dish. We heaped it in a bowl along with brown rice, Chana masala, Madras lentils and Jaipur vegetables.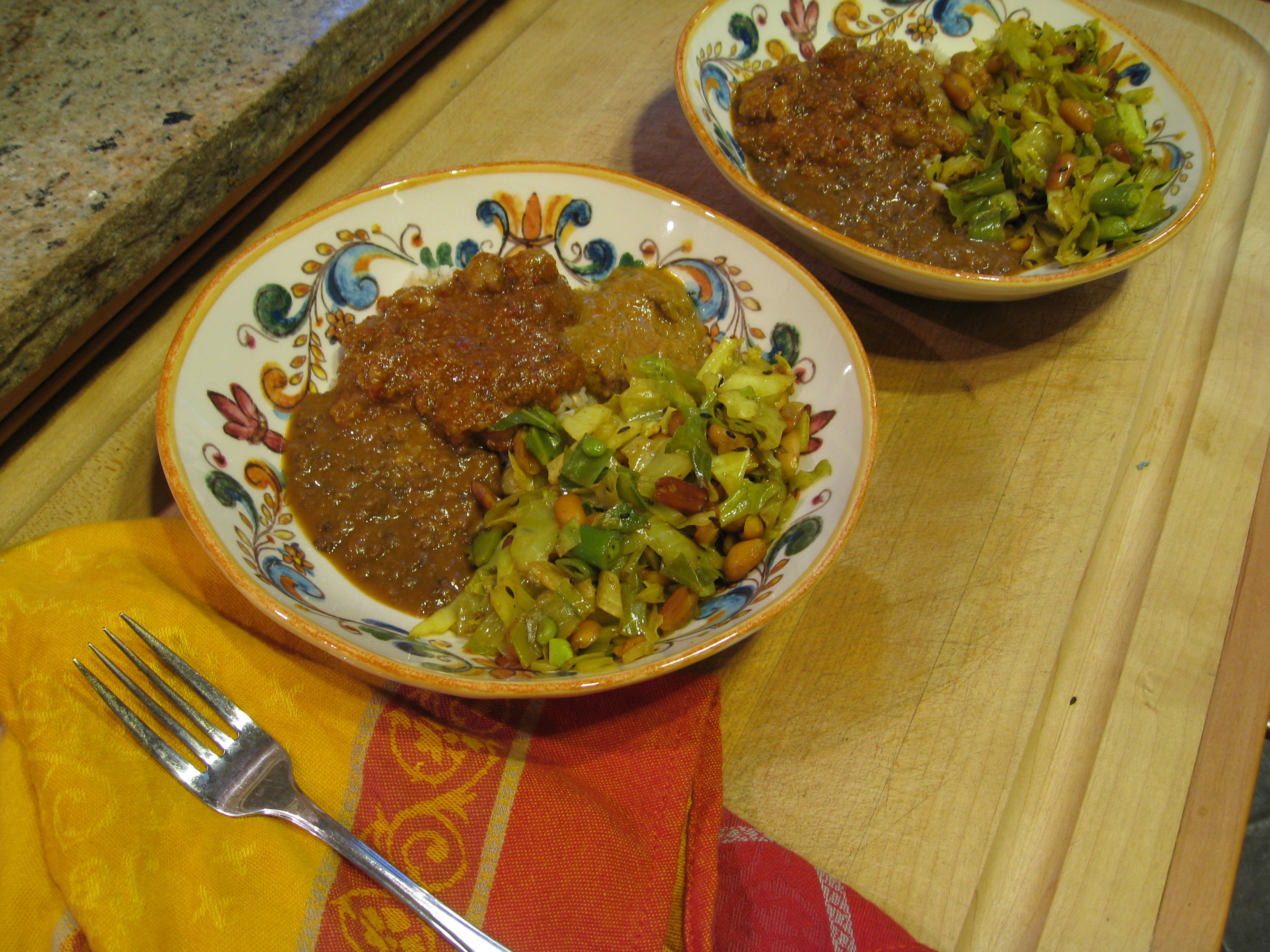 Notes:
We only used 3 pounds of cabbage. We chopped up half the amount, then sliced and chopped up the second half in batches to make sure it would fit. The rest went back in the fridge in tact.
This dish was not remotely spicy. Either our chilies are mild or they've lost their punch. We're fine with a mild dish, but if you're looking for a kick, try fresh chilies or test your dried chilies for heat first.
We chopped up sugar snap and snow peas in the pods and found it worked just as well, if not better, than frozen shelled peas. The sweetness balanced the salty peanuts and added more crunch.
If you have an abundance of cabbage, share your favorite way to use it here. Post a comment and let us know.