It's that half-eaten container of sour cream in the fridge that brought us to this recipe. You know the one: that lonely tub, brought over by a guest for a recent party, languishing all alone in the back of the fridge. We hate to let things go to waste here, so we scoured the interwebs for ways to use left over sour cream. We found a vegetarian recipe for Portobello Mushroom and Kale Stroganoff. It worked.
Kale is abundant in the winter garden, and what better way to use it than with portobello mushrooms. This recipe says it's for four people, but we beg to differ. See our notes below on adjustments we made to the recipe.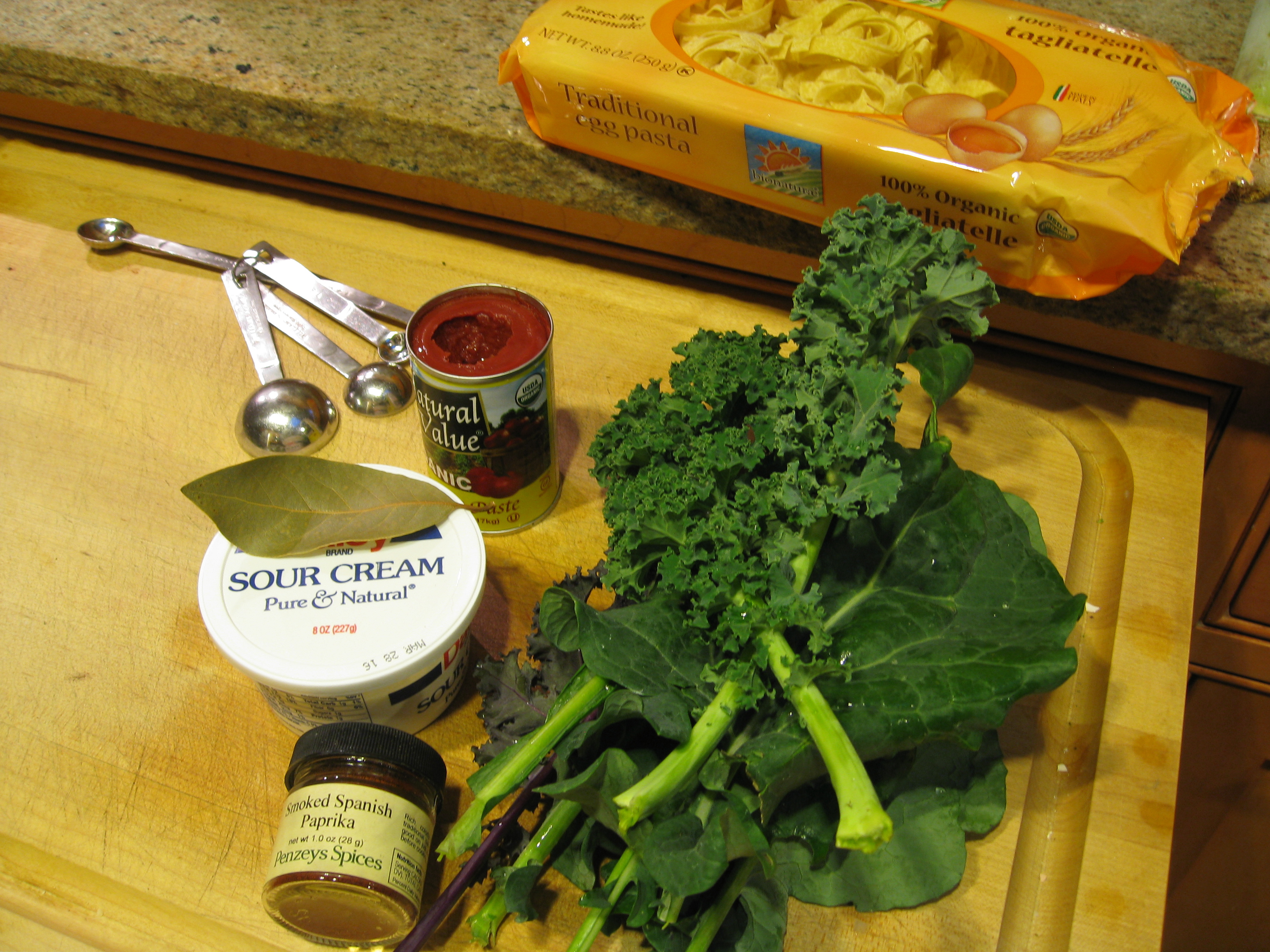 We picked up a couple of portobello mushrooms from the farmers market, thanks to LA Funghi, and sliced them up with an onion (not shown). Egg noodles from the local natural food store, tomato paste, home-grown garlic, and Penzey's (our favorite spice company) Smoked Spanish Paprika, along with a home-grown bay leaf round out the ingredients list. Of course, there's our leftover sour cream, the whole reason we made this.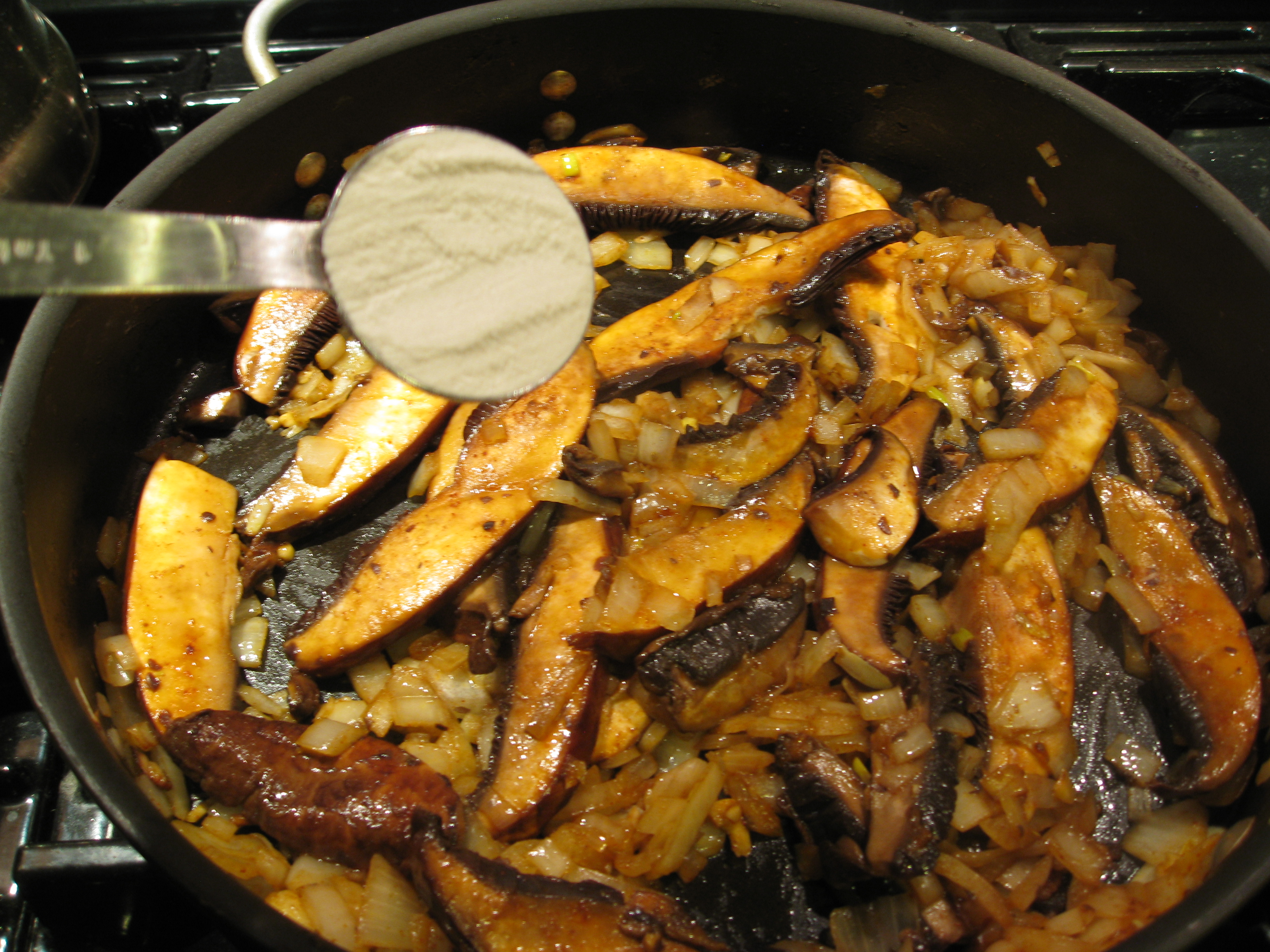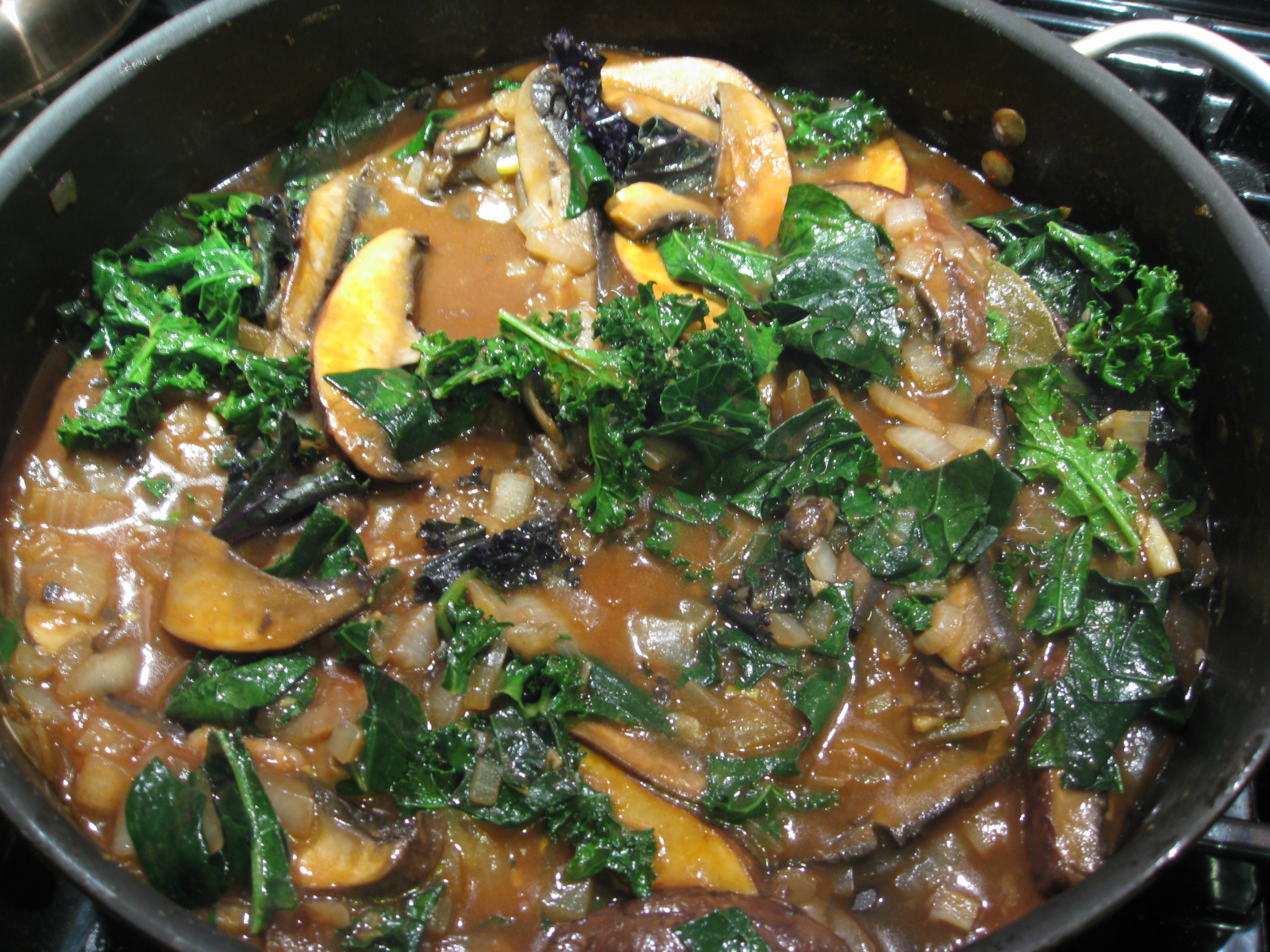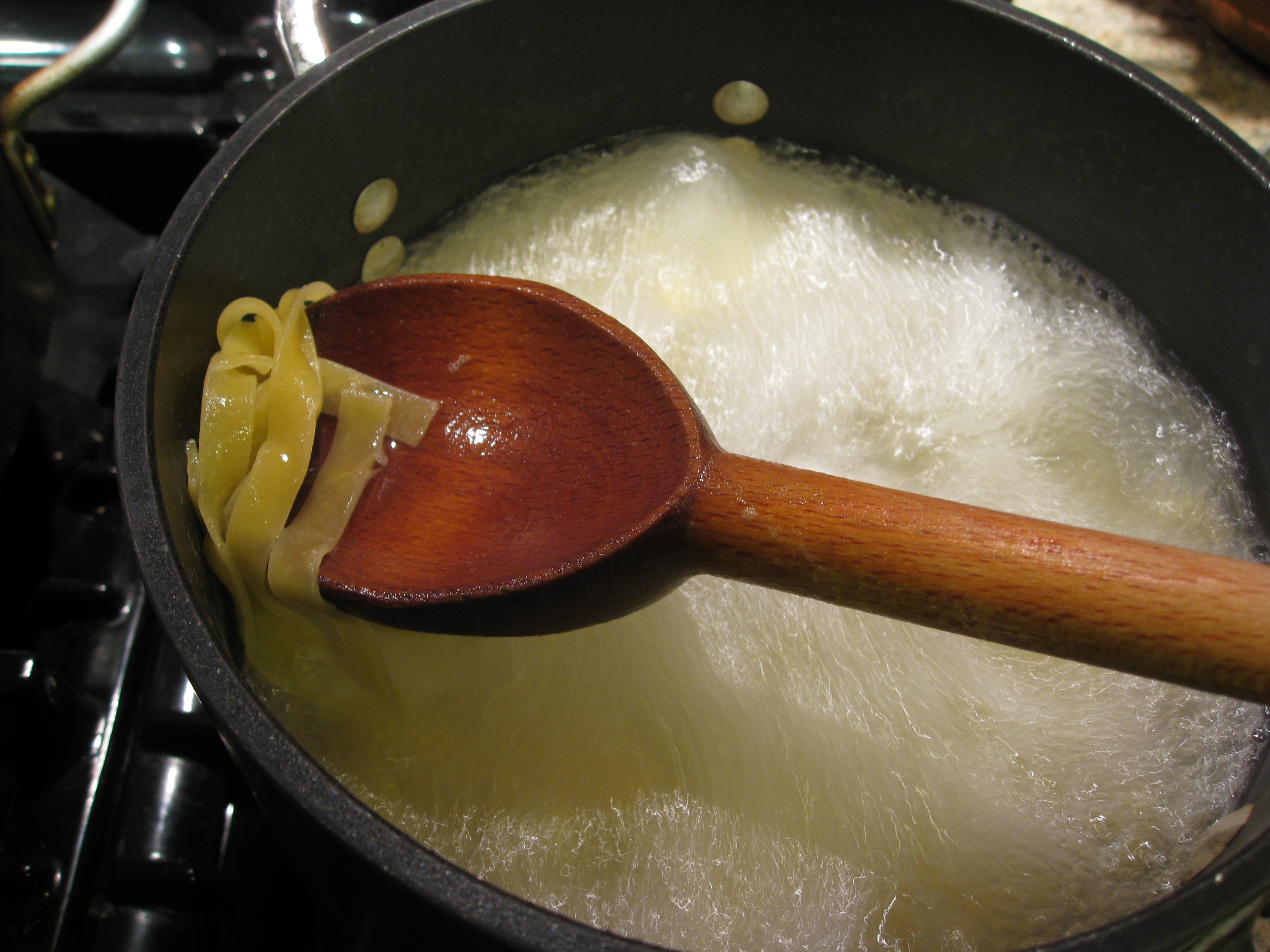 Drain the pasta and add it to the skillet with sour cream. Stir until blended throughout.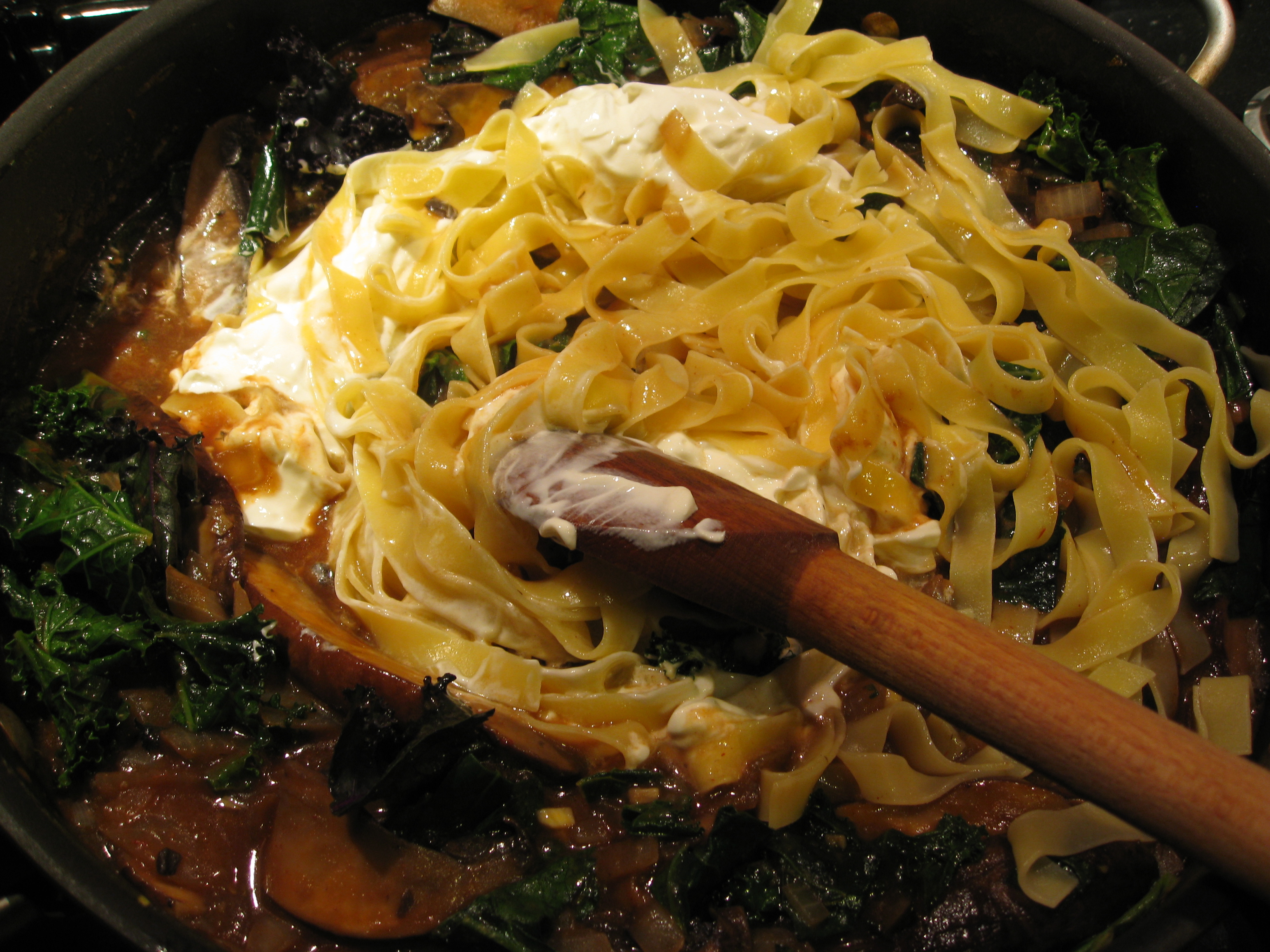 Plate it up and enjoy!
Notes:
We used water instead of broth and it was still tasty.
We also used half the amount of smoked paprika (since Penzey's is so robust). That was the right amount for our palates.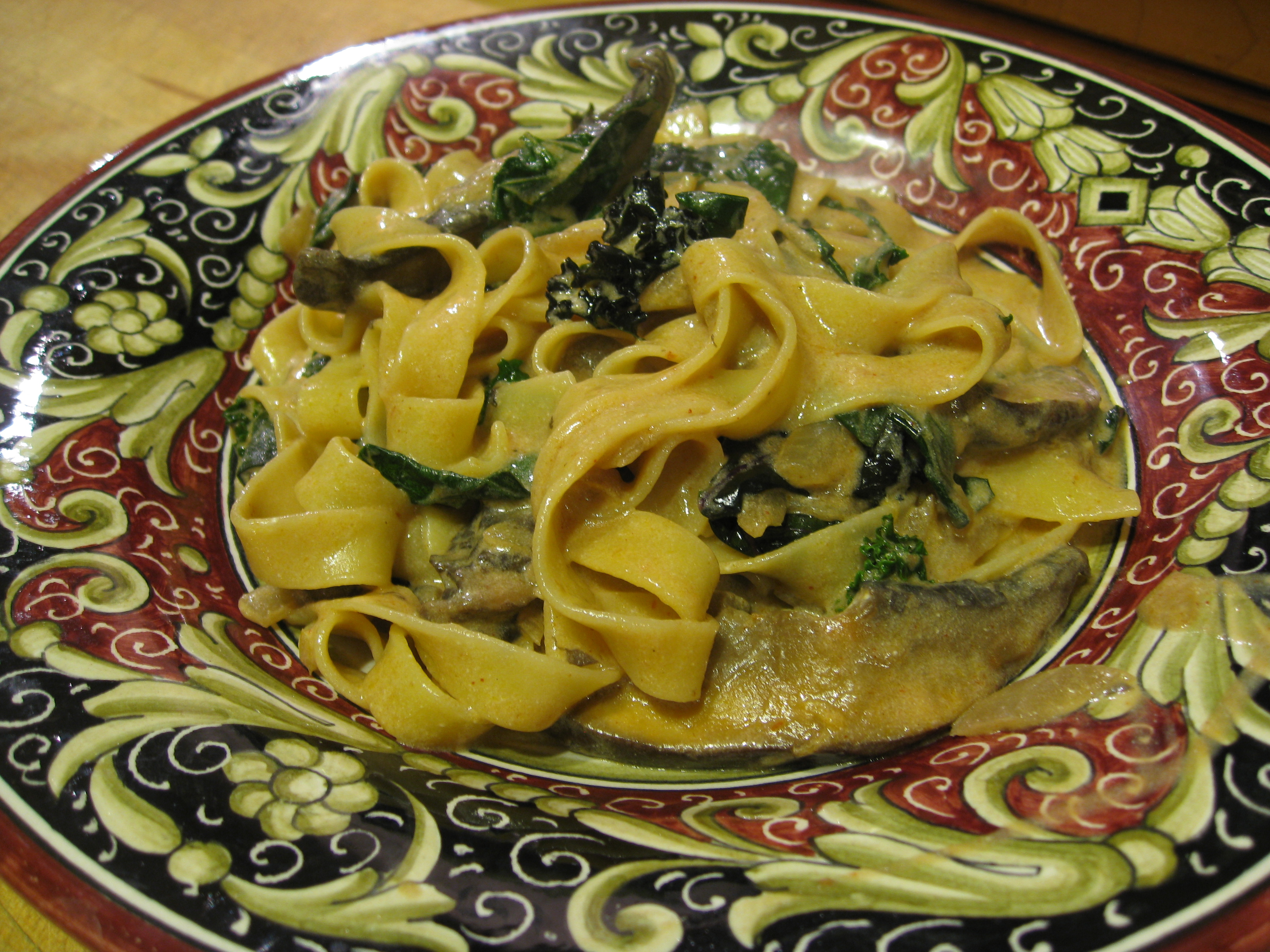 Portobello Mushroom and Kale Stroganoff (from BevCooks.com):
* 2 Tbs. extra-virgin olive oil
* 1 medium white onion, finely chopped
* 2 cloves garlic, minced
* 2 portobello mushrooms, cleaned, stemmed and sliced into 1/2 inch strips
* 1 Tsp smoked paprika (we used half)
* 1 Tbs. all-purpose flour
* 1 1/2 cup vegetable (or chicken) stock (We used water)
* 1 Tbs. tomato paste
* 1 bunch chopped kale (or more, why not?)
* 1 bay leaf
* 1/2 bag egg noodles (probably 2-3 cups)
* 1 cup sour cream (or Greek yogurt) (or you can use a little less if you get the creaminess you like) (Bev used maybe 3/4)
* coarse salt and freshly ground pepper
Heat the oil in a large skillet over medium-high. Add the onions and sauté for about 4 minutes, or until they start to soften. Add the garlic and mushrooms; season with the smoked paprika and a pinch of salt and pepper. Sauté another 3 minutes, until the mushrooms have softened and are darker in color.
Lightly dust the mushroom mixture with the flour and toss to combine.
Add the stock and the tomato paste. Stir to sort of dissolve the paste. Add the kale and the bay leaf; simmer 5 to 10 minutes.
In the meantime, cook the egg noodles in boiling water until it reaches al dente, maybe 5 minutes. Drain and add to the mushroom skillet.
Add the sour cream and stir to combine. Hmmmmm, creamy. Remove the bay leaf and enjoy.
How do you like to use left over sour cream? Post your comments below.