When you make sourdough bread you have to feed your starter, and before you can feed your starter, you are supposed to throw away a cup of starter from the jar. Sound wasteful? It is. So every bread maker searches for recipes to use up their throw-away starter. Here is one for sourdough crackers.
Crackers may seem like a waste of time. I mean, you can buy them in a box at any grocery store, right? But if you want truly 100% whole grain crackers with no strange ingredients, outside of Akmak you have to do it yourself. And since I can't eat sesame or flax (stupid food sensitivities, really) I definitely have to make them myself, or I'm left to a life with saltines.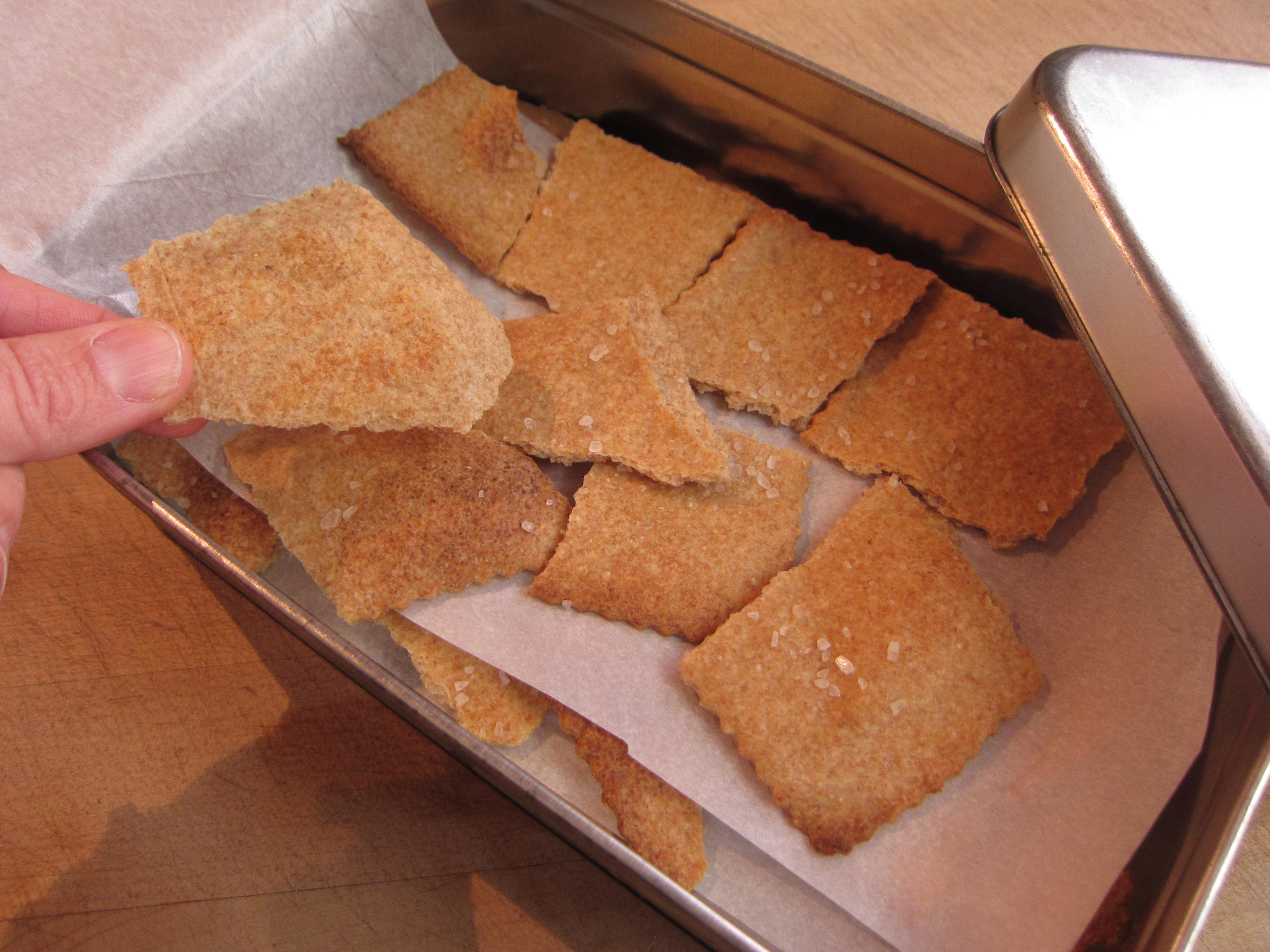 Sourdough Crackers
The recipe I use is adapted from ZeroWasteChef.com
Ingredients
2/3 cup unfed starter from the refrigerator
3 tablespoons coconut oil or butter or olive oil. (We used olive oil)
3/4 cup whole wheat flour (We used our homegrown Sonora white wheat)
1/4 teaspoon salt (or more. We like things salty.)
1/4 teaspoon baking soda (you don't really need this if you let the dough sit on the counter for 7 hours, then refrigerate overnight)
water for topping
extra coarse salt or any herbs or seeds you'd like to use
Method
In a small bowl, combine all the ingredients and mix until no flour remains.  Cover with plastic wrap and leave on the counter for 7 hours. Then refrigerate over night. Timing-wise, if you mix the dough in the morning before going to work, then put it in the fridge when you come home, you're good for baking anytime the next day.
Confession: I have made these crackers every which way. I've forgotten to leave the dough out on the counter and put it straight into the fridge overnight. I have also forgotten to put the dough in the fridge overnight and left it out on the counter. It still works and the crackers tasted exactly the same! Note that we don't use the baking soda in our recipe though. A very forgiving recipe, I promise.
Heat the oven to 350°.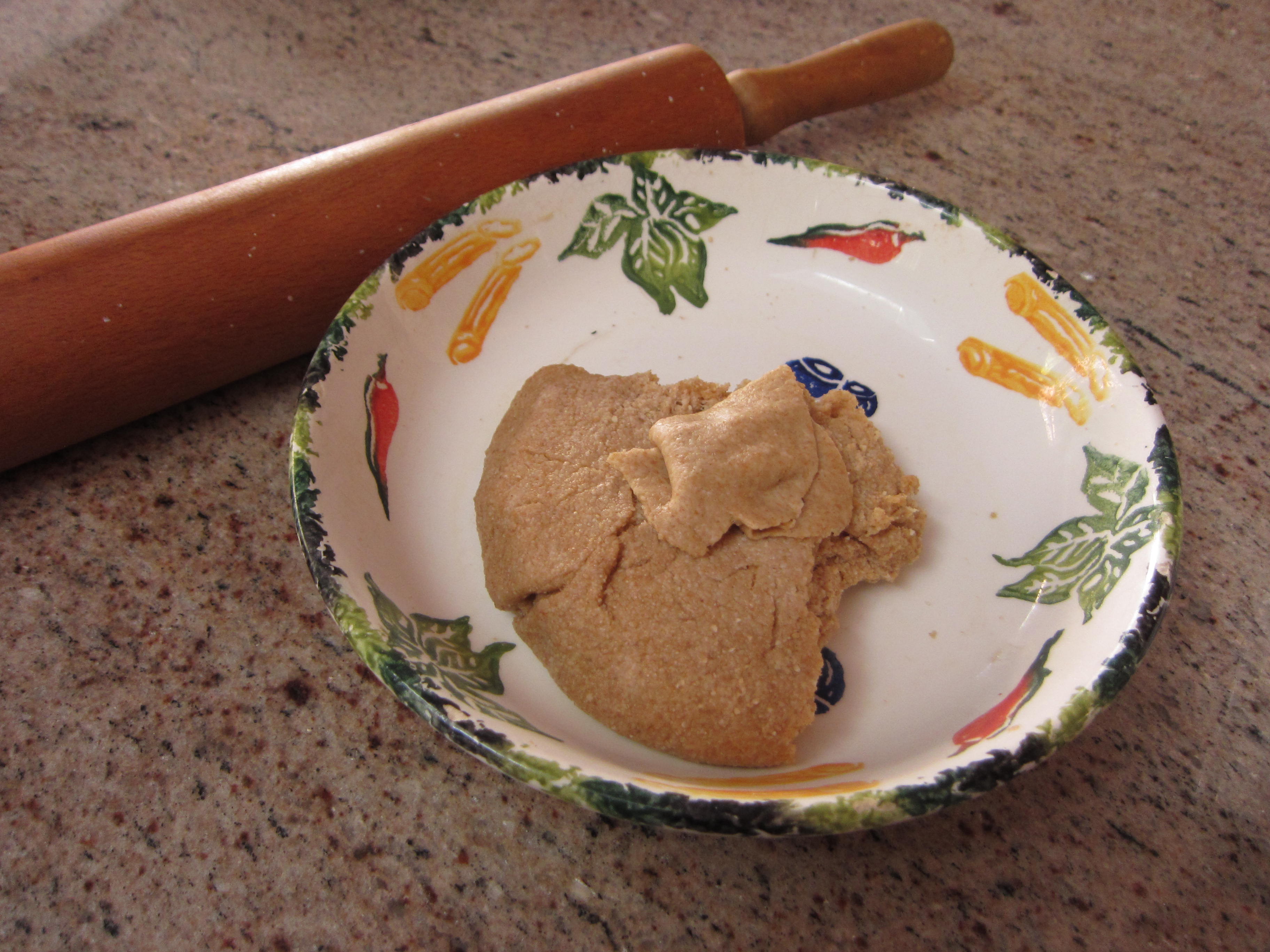 Roll out your dough. I have friends who roll their dough using a pasta attachment on the Kitchen aid. I use a good old fashioned rolling pin and parchment paper. The thin dough is much easier to handle between two sheets of parchment, making it easy to transfer dough to cookie sheets.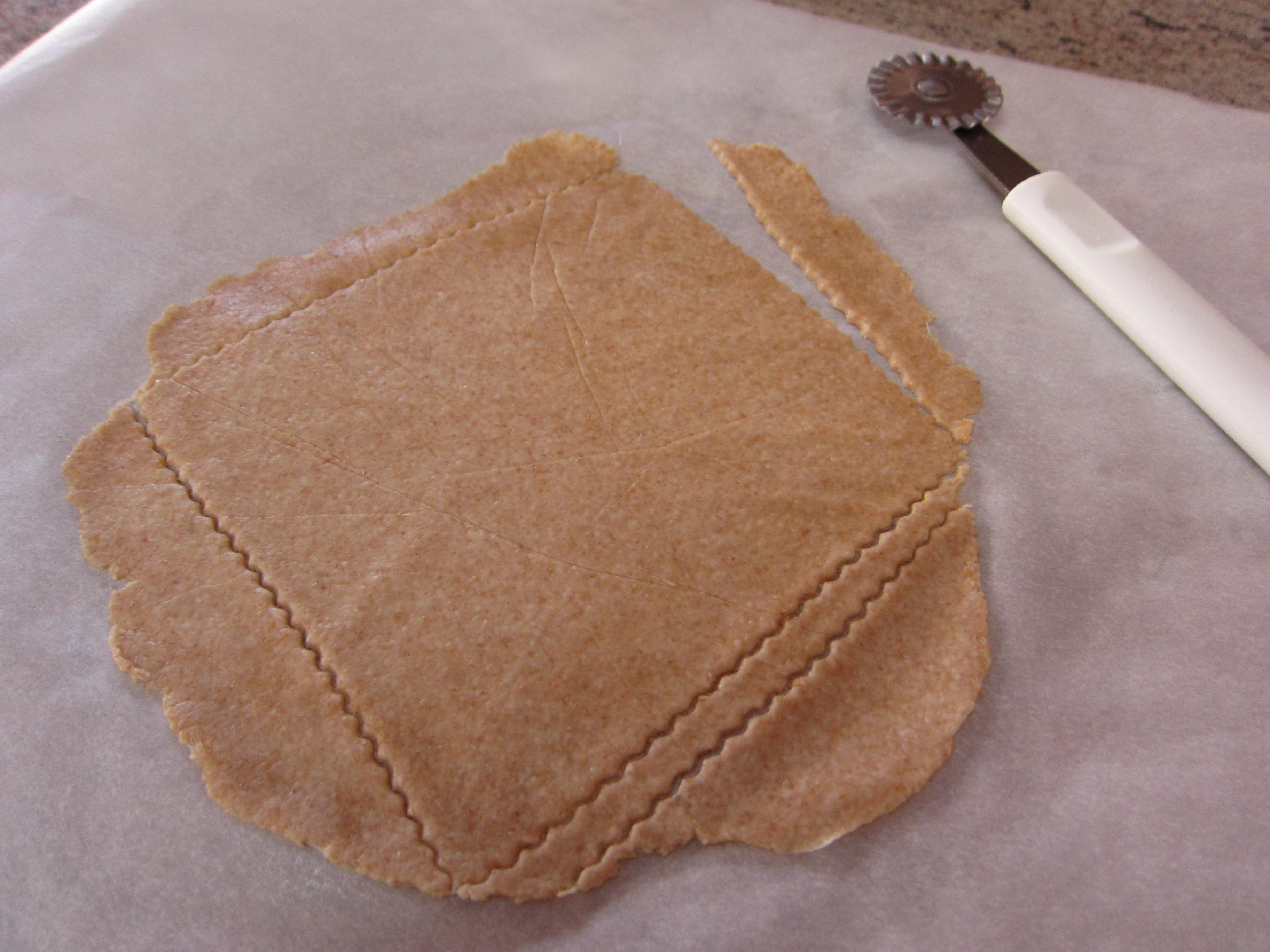 Rather than cut into small crackers, we leave them in larger sheets. You'll see why later.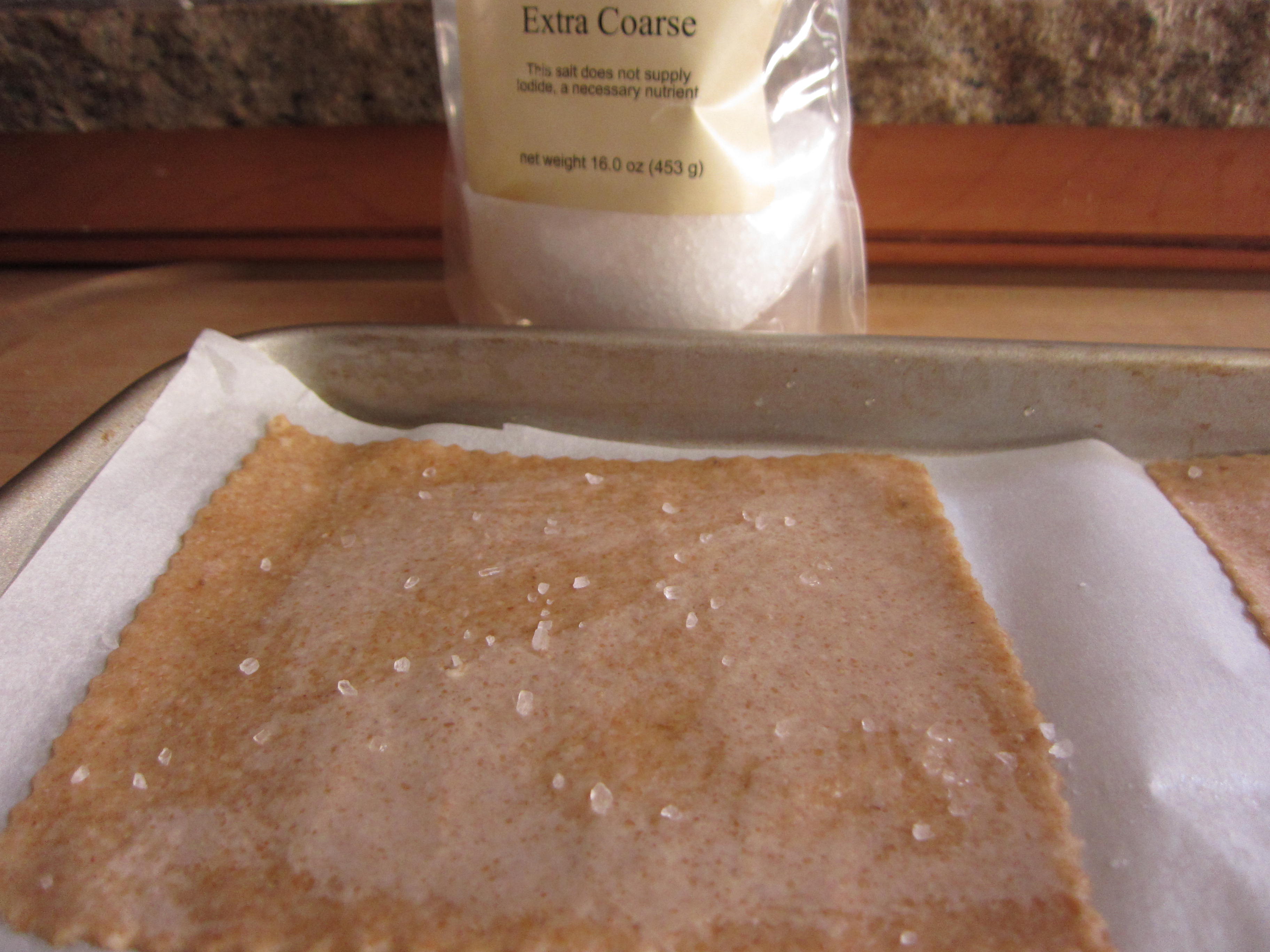 Brush each cracker with water then sprinkle immediately with course salt, or press seeds onto the surface. You can use poppy seeds, chia, sesame, cumin or fennel seeds. The options are endless.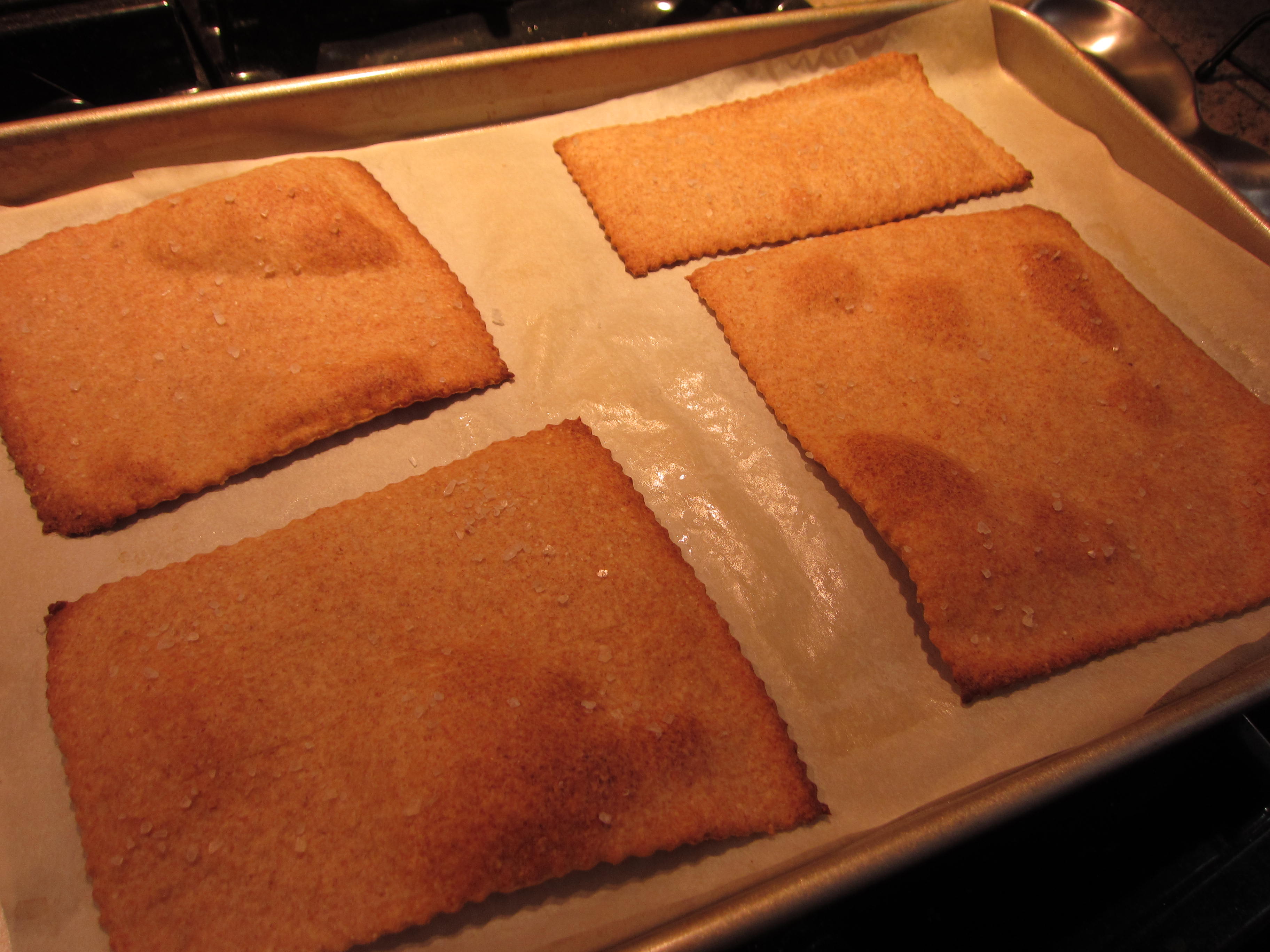 Bake 8 minutes, then rotate pans and bake another 8 minutes. We actually set the oven higher and bake for less time. See…very flexible recipe. Keep an eye on things and don't let them burn.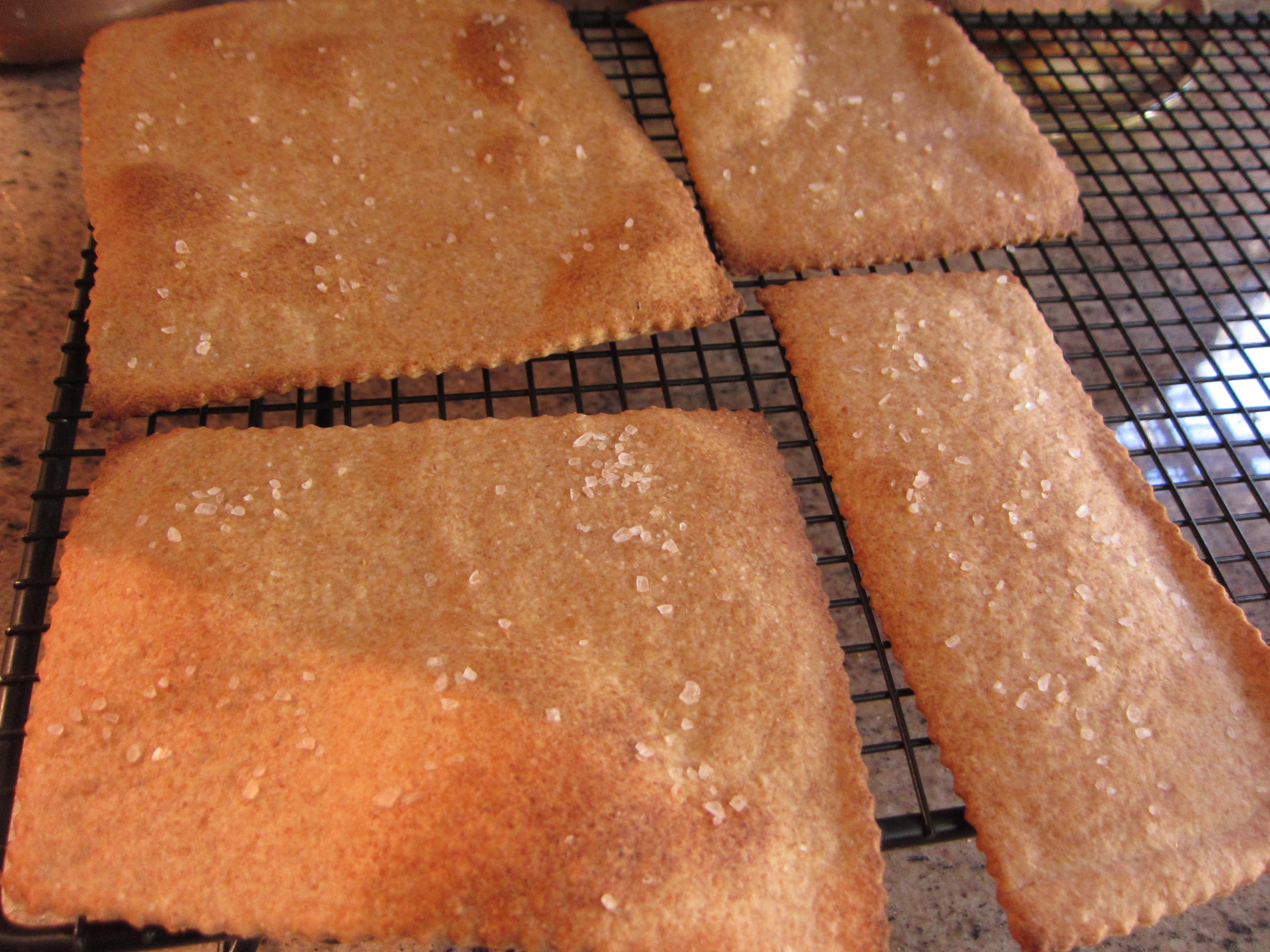 Cool crackers on racks while you bake the other batches. See, larger crackers are much easier to transfer to cooling racks. Now, if your crackers aren't crisp enough, you can reduce your oven temperature to 200° and put the crackers straight on the oven racks for another 15 minutes to dry them out completely. (This tip came from my bread mentor, Dana Morgan). Leave the door open a crack during the process.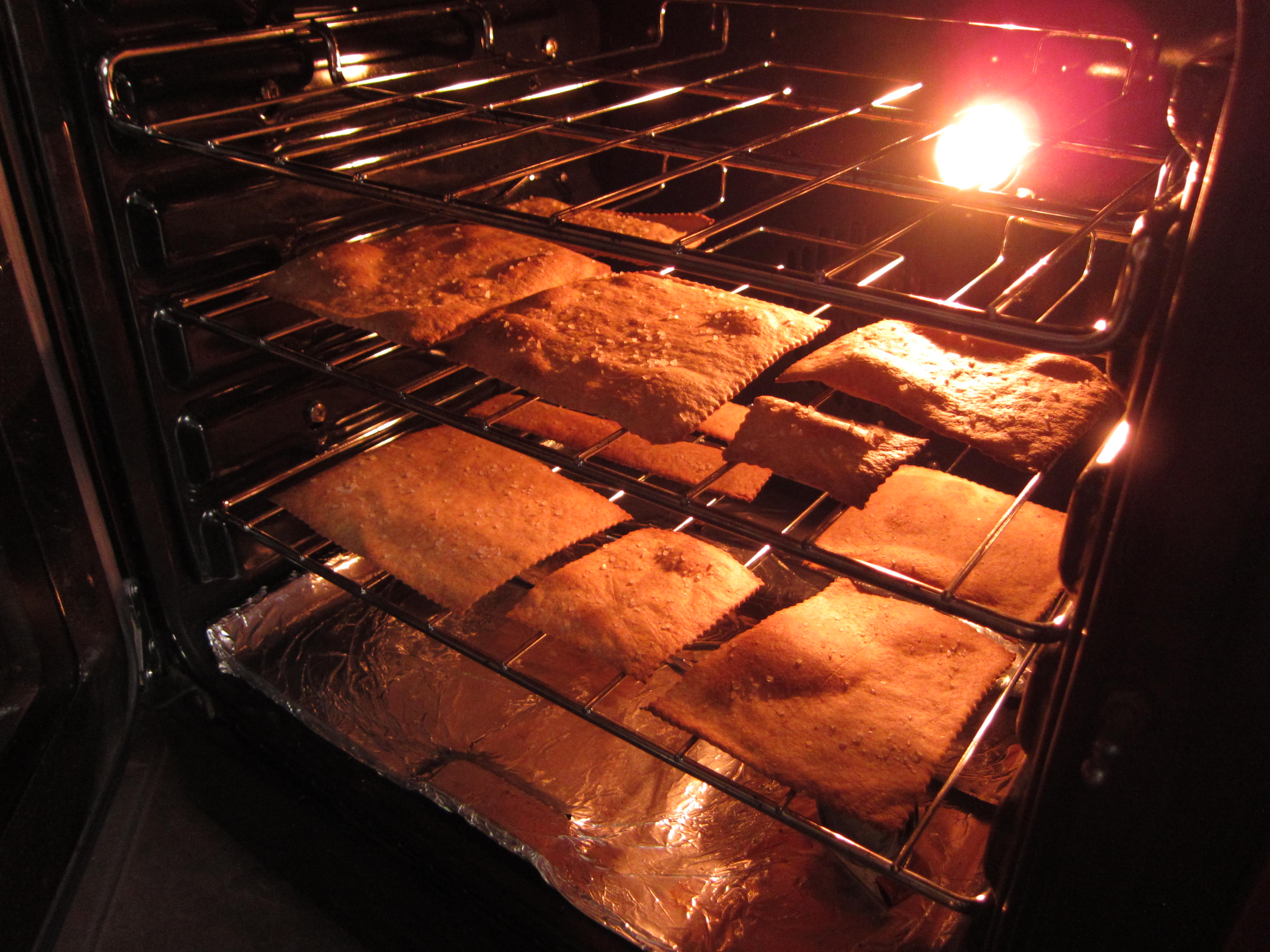 Remove them again and let them cool completely before breaking them into smaller pieces. Store them in an airtight container and enjoy your crackers with cheese or dip. Delicious!