Happy New Year, gardenerds! In my last blog post, I shared my dark-humored thoughts about trash, and confessed that my biggest contribution to landfills is granola bar wrappers. I snack between clients to keep my blood sugar up, and I realized I needed to find a zero waste solution. Enter these Low FODMAP No-Bake Granola Bars.
If you haven't noticed already, I tend to modify recipes I find online to fit my dietary restrictions. I eat Low FODMAP these days to manage a life-long issue I affectionately call "bunchy stomach". But I digress…I modified the following recipe and you can too. Just balance liquid and dry ingredients and it will all work out.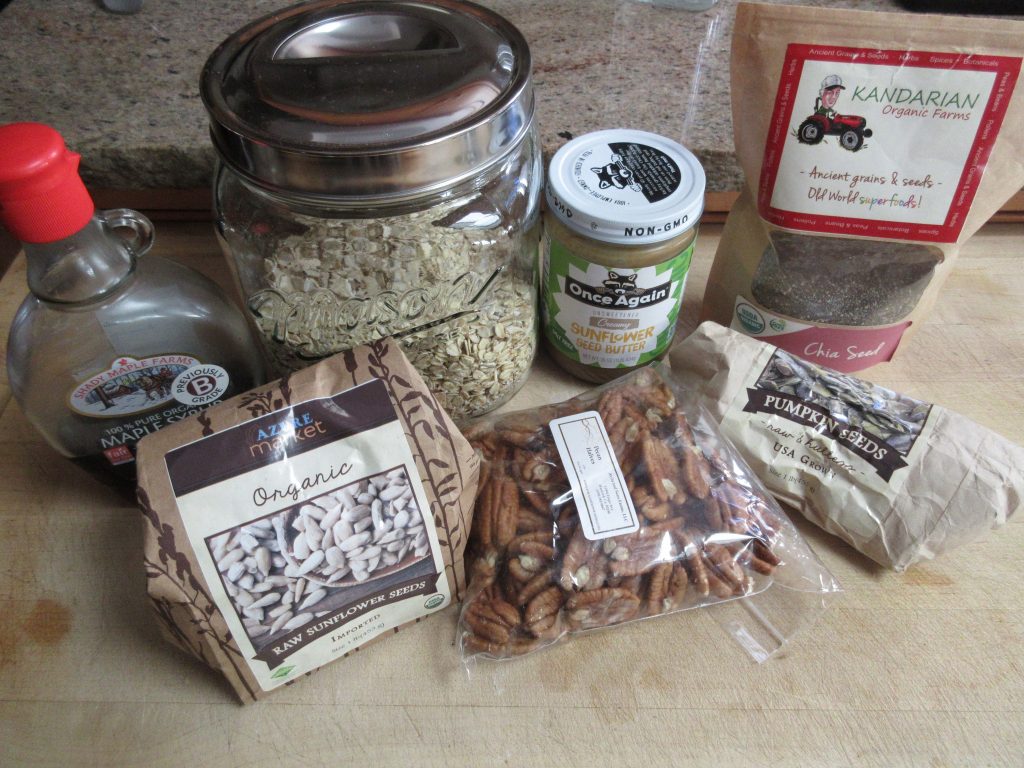 This recipe is based on one from A Saucy Kitchen
Ingredients
2 1/2 cups | 225 grams certified gluten free rolled oats
1 cup | 250 grams smooth peanut butter (we use sunflower butter – it's more neutral)
1/2 cup |170 grams honey or 160 grams maple syrup (use maple for vegan or low FODMAP version)
2 tablespoons | 30 grams chia seeds
1/4 cup | 25 grams pepita seeds (hulled pumpkin seeds)
1/2 cup | 58 grams salted peanuts, chopped (we use sunflower seeds)
1/2 cup |87 grams dark chocolate chips (we use pecans instead for a less sweet version because chocolate before 10:30 a.m. is…well, habit forming)
Method
Toast the oats in a dry pan on the stove until fragrant. Use low heat and stir occasionally. Set aside to let cool. This is the only cooking (heating, really) involved here. The rest is no-bake.
Meanwhile, heat up the sunflower butter for 30 seconds in the microwave to make it easier to mix. (if you don't have a microwave you'll have to heat this up on the stove, of course) Add the maple syrup to the warm nut butter and mix well.
Mix in all the other ingredients in a big bowl, then stir in the nut butter/maple syrup mixture to combine.
Line an 8×8″ baking pan with parchment paper and pour the mixture into the pan. Press the mixture smooth to evenly distribute it.
Cover the pan and refrigerate for at least 2 hours. We have been known to put them in the freezer for an hour to set more quickly. Just don't forget them in there.
Use a bread scraper or large knife to cut the block into 12 bars. Wrap each bar in parchment paper and tie closed with garden twine like so…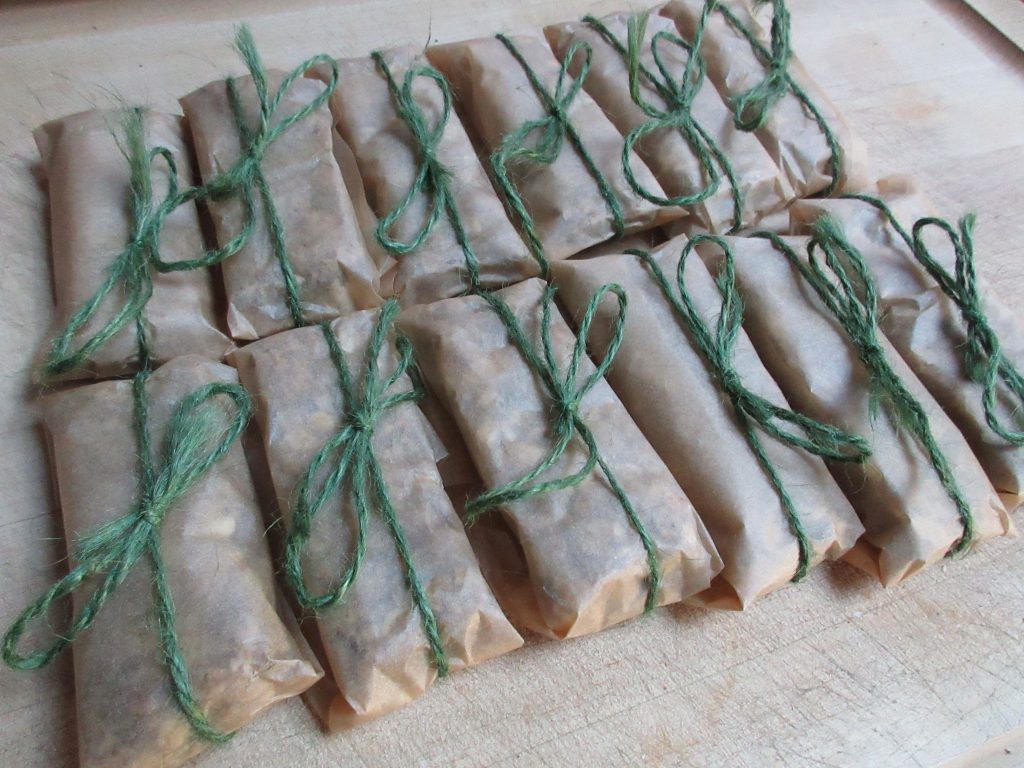 After making these for months, I stopped wrapping them with twine, since I store them in the freezer in a plastic bag or container. I grab one and drop it into a reusable container (or smaller plastic bag) in my purse the morning when I know I'll need one for the road. They stay wrapped enough in the container as they thaw.
NOTE: every plastic bag is reusable. We wash and reuse plastic bags that come into our home over and over and over and over until they fall apart.
Play with this granola bar recipe until it suits you. And rest easy that you're composting your waste.