Last week I was cleaning up my community garden plot to ready it for new crops and I came upon several small piles of mystery eggs. I had never seen anything like it before and didn't know whether they were from beneficial insects or not. So I left them.
Here's what they looked like: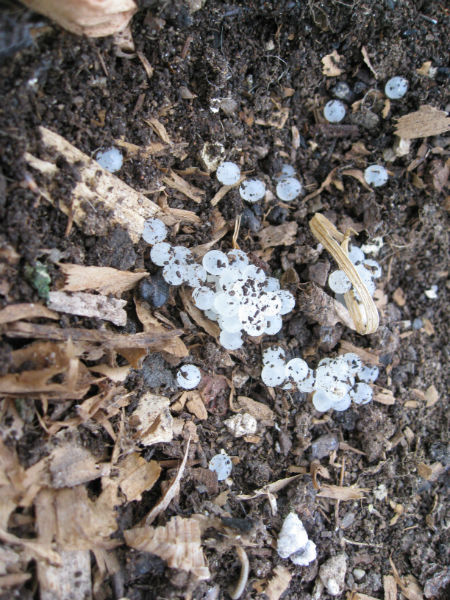 Had I been diligent and done the research right away, I would have found out immediately (thank you Google images) that they were…ready for it?
SLUG EGGS!
By the time I went back the next day, they had been relocated. So it is very likely there will be plenty of slugs in my garden's future this spring. That said, I'm glad I looked it up instead of destroying them on site. Had they been beneficial insects, destroying the eggs would have been a tragedy. We work hard to attract good bugs to the garden, it would be a shame to undo that work in a heartbeat.
So, next time I see these eggs what shall I do?
A) Scoop them up and hurl them across the street
B) Squish them into oblivion
C) Import decollate snails (cannibals of regular snails and slugs)
D) All of the above
I think you know the answer.