April and May are remembered most for showers and flowers, but the best part of all that spring activity is the garden tours. Now's your chance to get out and see what's growin' on, to get ideas for your own garden, and to see how other gardeners are doing it.
Garden tours lend great perspective and "fill the well" for those of us who do this for a living. They differ from flower shows and expos in one major way–they're the real thing, not some staged, primped, design that only lasts a weekend. These are permanent ideas in permanent installations. Better yet, they are in your climate zone so you can see what works and what doesn't.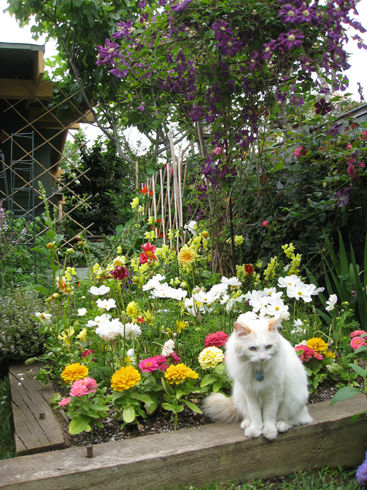 Here are a few garden tours coming your way across the country:
In Los Angeles
The Mar Vista Green Garden Showcase – April 20, 2013 from 10am-4pm. A free event with 100 houses on the tour. Pick a cluster and bike around to see as many as you can. The gardens feature vegetables, drought tolerant plants, water catchment systems, chicken coops and more. Visit http://marvistagreengardenshowcase.blogspot.com/ for details and maps.
Venice Garden & Home Tour – May 4, 2013 from 10am-5pm. Celebrate the 20 year anniversary of the Venice Garden Tour, benefiting the Neighborhood Youth Association. Tickets are tax deductible and cost $60 in advance, $70 at the door. The tour features work from architects and landscapers in the Venice area. Visit Venice Garden Tour for more details.
In OC
Newport Harbor Home and Garden Tour – May 16, 2013. Benefiting Newport Harbor High School, this $65 tour includes lunch. You can also attend a morning or afternoon reception at swanky locations with plenty of eye candy. Details at http://www.newportharborhometour.com/
On the East Coast
Virginia's Historic Garden Week – April 20-27, 2013. Celebrate the 80th year of what the state calls "America's largest open house." Get a statewide pass for $175 or choose individual tours ranging from $15-40. Visit http://www.vagardenweek.org/ for tickets and more info.
66th Annual Festival of Houses and Gardens – March 21-April 20. Put on by the Charleston Historical Foundation, this tour gives you a chance to take in a bit of history along with the beautiful gardens. For ticket information and tour schedule visit Charleston Historic Foundation's website.
In Between
Hutchinson Garden Tour – June 8, 2013 from 10am-6pm. Take a tour curated by the Master Gardener program of Reno County, Kansas. Tickets go on sale soon. For a slideshow and details visit https://www.hutchgardentour.com/
Idaho Botanical Garden Tour – June 23, 2013. Now in its 27th year, this special tour is a fundraiser for the Idaho Botanical Garden, its plants and programs. Visit 6 private homes as well  as the BLM Fire Wise Garden neighboring the Idaho Botanical Garden. Tickets are $25 and members receive a $5 discount. Get your tickets at IdahoBotanicalGarden.org.
Annual Heartland Alliance Home and Garden Tour – June 8, 2013 from 10am-6pm. Residents open their homes and gardens to locals of Harbor County, Michigan to raise money to end hunger. A $100 ticket goes to a good cause, grab lunch for an extra $40. Visit http://www.heartlandalliance.org/howtohelp/events/homeandgarden/ for all the details.
Grab your sun hat, comfortable shoes and an open mind and get out there to see some of these great gardens. Do you have a favorite garden tour coming up? Post them here.