This week's newest video explores the techniques involved in processing dry beans for storage. We walk you through, step by step, to ensure your dry beans don't go bad on the shelf. It's a fun project you can do with family, or with friends within your safety bubble.
Basic techniques like these are the foundation of a sustainable, resilient, self-reliant life. Beans are among the easiest seeds to grow and save year after year. Plus they taste great in soups, stews, and a multitude of worldly meals.
Processing Dry Beans for Storage
Resources
You'll fall in love with growing dry beans. Find more information about growing various beans below. Make a plan to grow them (order seeds this fall/winter for spring planting) and experience the satisfaction of growing your own.
Growing Black Beans (bush) – our favorite black bean is Black Coco. It doesn't need a trellis, and produces beautifully black beans.
Harvesting Romano Beans – These can be eaten fresh or as dry beans. We use them like cannellini beans.
Growing Christmas Lima Beans – The beauty of these beans is that they have a completely different flavor when fresh than when dry. Creamy and sage green when fresh, they round out any dish. Once dry they turn burgundy and white, and taste like chestnuts! Plus the vines will live for more than a year in warm-winter climates.
Growing Garbanzo Beans – these are admittedly a low-yielding plant, but it was fun to grow them. The leaves are always dewy on the undersides – crazy stuff! Try them so you can appreciate what goes into growing these babies.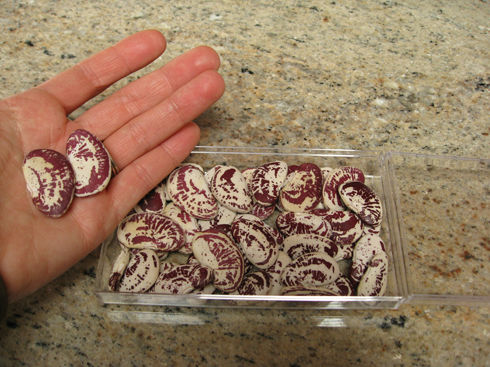 You'll find a wide array of beans to grow in seed catalogs like Seed Savers Exchange, Baker Creek, Southern Exposure Seed Exchange, and others.
Need Recipes? We've got tons! Just search "bean recipe" in the search box and go to town.