In the last few years, Los Angeles has seen an abundance of Farmers' Markets popping up all over town.  People are longing to get back to the way things used to be, by buying fresh local produce straight from the farmer.  Well, in Italy it still is  the way it used to be, and nothing proves it more than a visit to a Farmers' Market.
There are many towns, even cities, in Italy where supermarkets do not exist.  Instead the locals get their food needs met by stopping at the baker on the way home from the farmacia (pharmacy), and then they grab a few items at the corner frutta e verdura (fruit and vegetable stand) before dinner.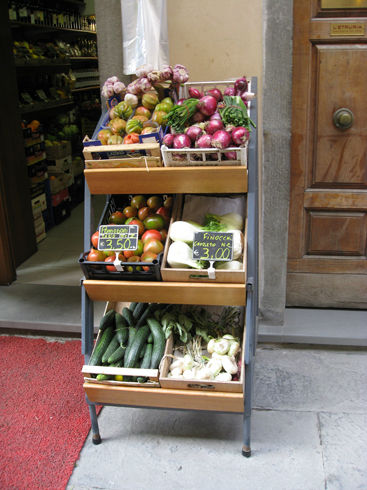 Frutta e verdura stand in Cortona (home of Under the Tuscan Sun's Frances Mayes)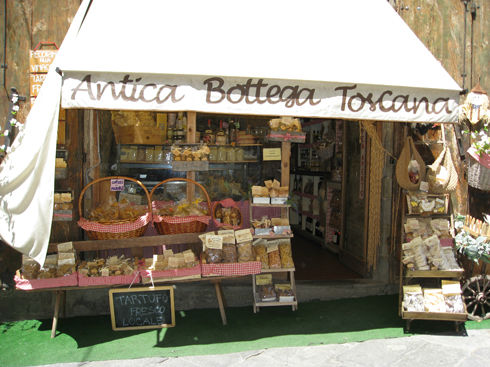 A tourist shop in Arezzo – all the pasta you could ever want
The lack of supermarkets, distinguishes Italian farmers' markets from ours in a one particular way.  Sure they have vegetables galore, just like we do: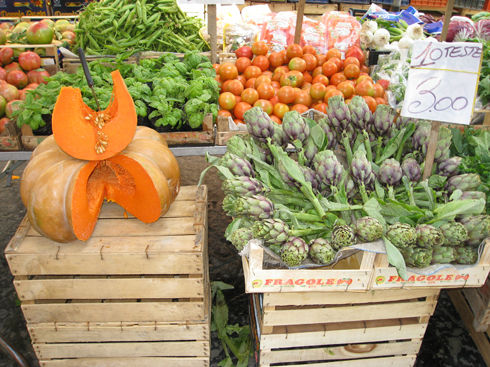 Heirloom pumpkins and fresh artichokes backed by basil and tomatoes in Napoli
But they have something I wish we had – the cheese truck: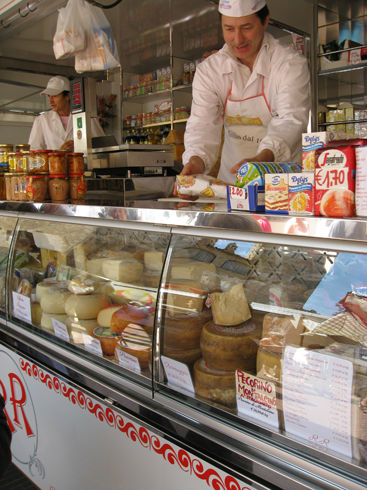 The cheese monger in San Gimignano gently wraps a freshly cut piece of parmigiano reggiano
for a customer.  We may have cheese vendors here, but this is the stuff!
They also have the butcher truck that lifts its doors on market day to dole out fresh cuts of meat for shoppers.  The seafood people are not far behind.  If we had this (and a tofu vendor), I'd never have to go to the supermarket!
I found a few other interesting differences among farmers' markets in Italy. Much of their asparagus is thicker than ours, about 3/4 of an inch thick: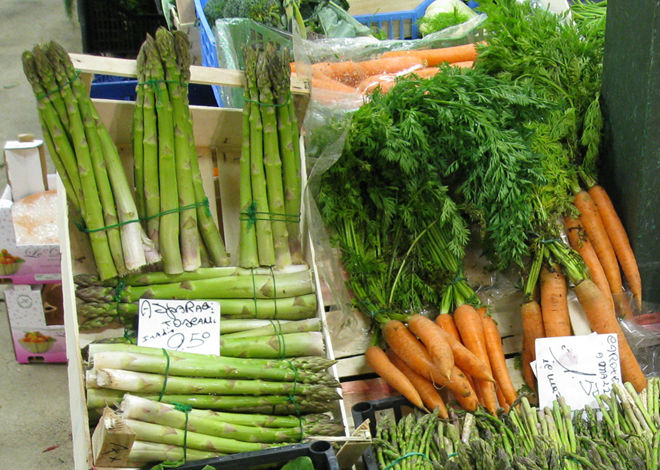 Notice the asparagus is nearly as thick as the carrots.  In the bottom right you can see regular asparagus
the thickness of a pencil.
They also had tomatoes I hadn't seen before.  Behold the Canestrino tomato from Sicily: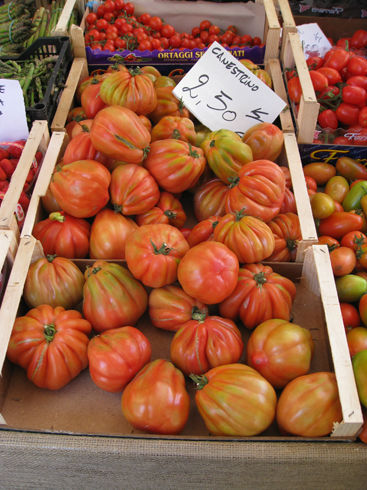 Had I known that it wouldn't be easy to find these seeds upon returning
to Los Angeles, I would have bought them there.
There are also covered markets in Italy, where vendors have a more permanent shop in a farmers' market style, much like our 3rd street Farmers' Market. What I liked about this one in Florence is that they sold legumes in bulk – I want this!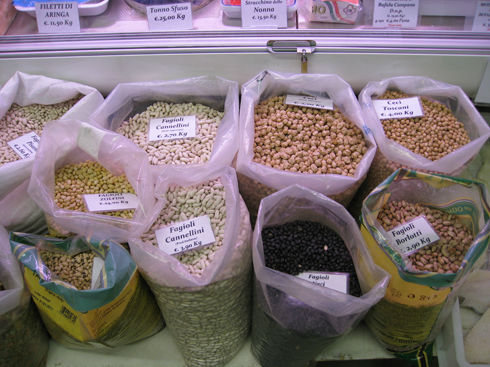 Cannellini, Borlotti and Ceci (garbanzo) beans are staples in the Italian diet
All this talk of Farmers' Markets is making me hungry.  How about you?  What's your favorite thing about foreign markets? Share your thoughts here.