After being gone for 10 days up the coast of California during what could be called the most beautiful summer-like winter weather Northern California has ever seen, my husband and I have returned to find the gardens thriving.  Some veggies are just coming into fullness, while others – like the Osaka Purple Mustard – are finishing up.  We came home to find a bright yellow flower shooting out the top of overgrown mustard greens (we couldn't possibly have kept up with the production of those giant leaves).  We also found tiny, bright white, waxy cauliflower heads starting to form on a couple plants.  This is cause for celebration!
At the community garden, things are going gangbusters.  The rain has clearly done wonders for the garden.  When I left, the cabbages were coming along nicely, but now they're ready to pick – really ready to pick.  Broccoli that once looked like it wasn't going to make it, because some rats decided to eat the center shoots off every single one of the plants, now has proud florets standing triumphantly at attention in the raised beds.
Harvesting at this time of year is so satisfying, I think, because it is a winter garden – an oxymoron in many parts of the country.  There's a feeling of cheating death, almost.  But I wax rhapsodic.  The proof is in the basket: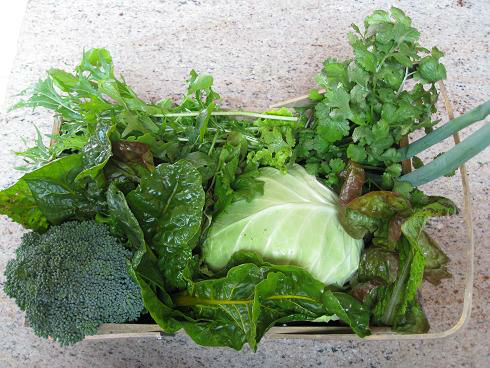 What you see above is, if I do say so myself, a fine collection of winter's best veggies.  Broccoli, cabbage, chard, arugula, Mizuna mustard greens, cilantro, and a variety of lettuces.  Off to the right is a rather large green onion that is left over from summer/fall.  It re-seeded itself amongst the fava bean cover crop.  It's a little smaller than a leek right now.
So – dinner tonight consisted of thinly chopped cabbage and broccoli with home grown garlic, green onions, olive oil, tamari and toasted sesame oil.  Sautéed on the stove for a few minutes until everything was bright green. All this was partnered with a bowl of quinoa and edamame, and a fresh garden salad with – would you believe – tomatoes picked today from the home garden.  Yes, they're still going.
Winter harvests like these are so refreshing and wholesome.  They bring a nice change amid the heavier soups and stews that are traditional during this time of year.  If you've been afraid to try a winter garden, maybe this will inspire you to give it a go.  If you've got one going on, share your harvest story here!