It might seem odd to go to Europe to celebrate an American holiday, but when your American relatives live there, Thanksgiving must travel.
One of the benefits of traveling to other countries at different times of the year is getting the chance to see foreign vegetables and fruits of the season.  We visited Umbria, Italy in May of this year and found some beautiful offerings there. Our visit to Rome this November offered even more.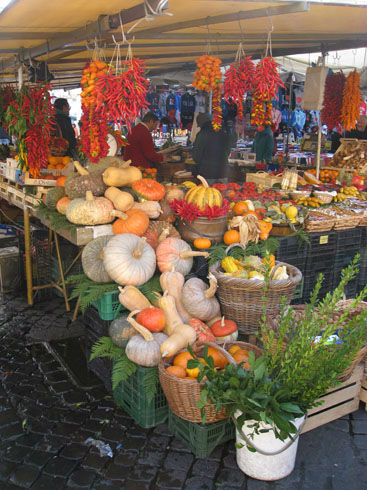 Campo dei Fiori's farmers' market offers a bounty of squash and more
Vendors in Rome's famous Campo dei Fiori piazza were out in full force one beautiful Saturday morning in November.  I was excited to see what was in season this time of year across the ocean.  We saw many familiar faces: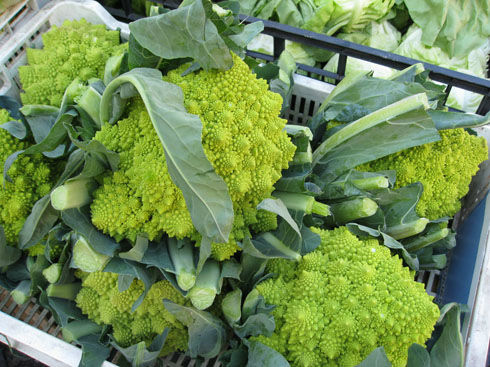 Romanesco broccoli is stunning in its home town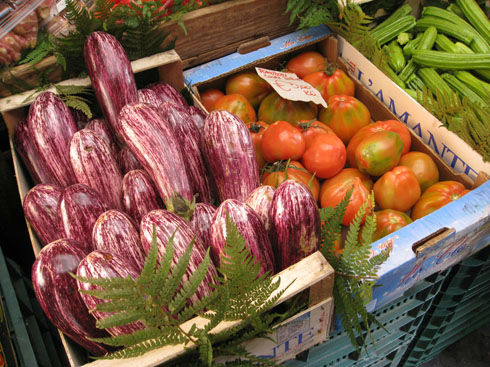 Linda Rosa eggplants and gorgeous tomatoes were still available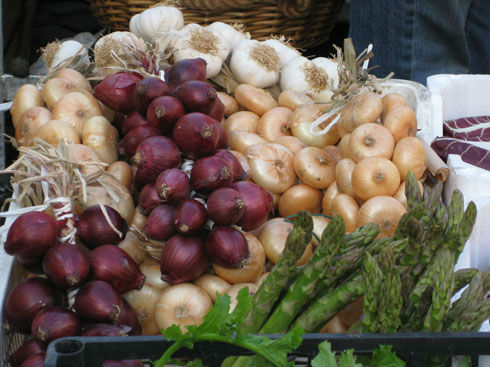 They braid their onions like garlic. I need a bigger suitcase!

The similarities ended, though, when we crossed the path of this unusual vegetable: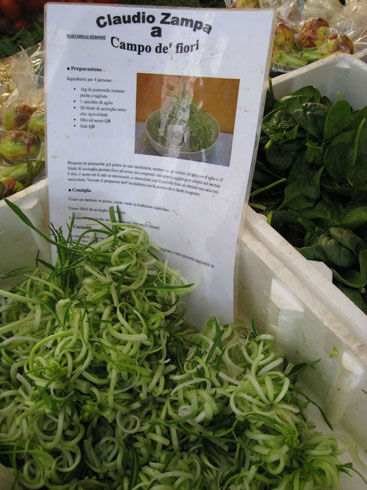 Puntarelle romane is its name. It's a type of chicory.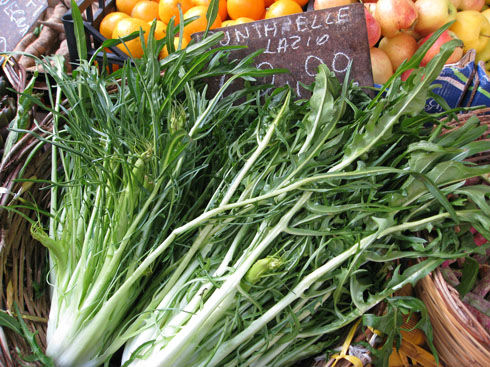 This is what it looks like at a different booth.  Region of origin signs were posted.
This was harvested in Lazio.
The recipe shown above is basically this:
1 kg puntarelle
1 clove of garlic
20 anchovies in oil
oil and vinegar
salt
Place the chicory in a bowl after washing and draining. Using a mortar and pestle, (or I suppose anything that smashes things into a pulp) smash the garlic and about 15 anchovies into a paste. Add the oil and vinegar and salt to taste.  Pour over the chicory and mix.  Let flavors blend for about 15 minutes before serving.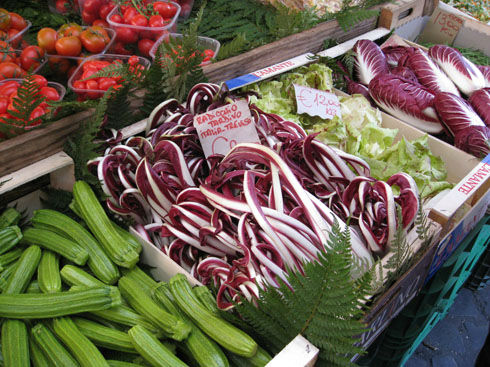 Radicchio Tardivo – from Treviso puts our radicchio to shame
Most of the vegetables and fruits were in some way similar, but the varieties were different, like the radicchio above.  A more familiar radicchio is at the top of the photo.  Italy also had different persimmons than we do: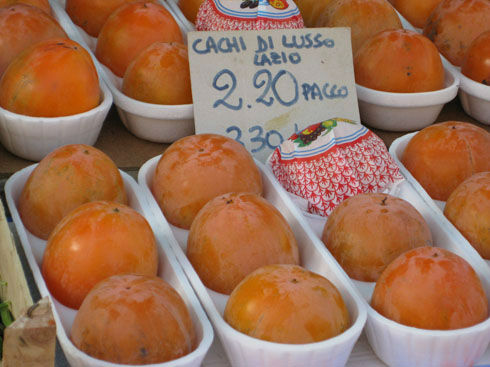 Literally it means 'deluxe persimmons'.  I can only guess that they are similar to our Giant Fuyu persimmons, but there's only one way to tell!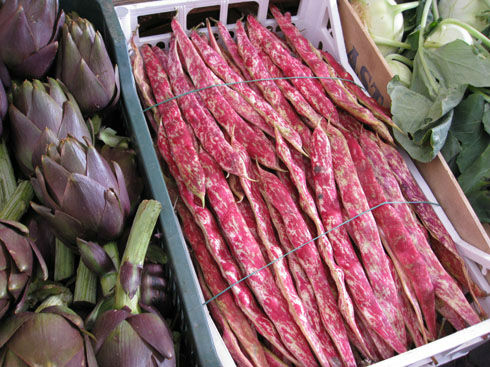 Purple artichokes and Borlotti beans – we saw a few vendors but these were the most impressive.
These traditional beans are a staple in the Italian kitchen.  The beans on the inside (also known as Cranberry beans) also are cream with crimson markings.  You can grow them here in the States, and many seed companies offer the seeds – like Victory Seed Company.
After our morning in Campo dei Fiori, we gave thanks for the abundance of offerings at the market and ventured on to find some gelato.