I must confess, I could honestly live off movie popcorn and soft pretzels. Thank the stars I have a garden to keep me healthy. But if your pandemic obsession with sourdough hasn't yet kicked open the door to other tasty treats, let me tempt you with this recipe for sourdough soft pretzels.
The good news is that you can start them at night at the same time as your sourdough starter and dough, then process the next day. Soft pretzels have always been intimidating to me, but when partnered with the now commonplace schedule for making sourdough bread, the extra step of boiling feels easy to tackle. Let's break it down.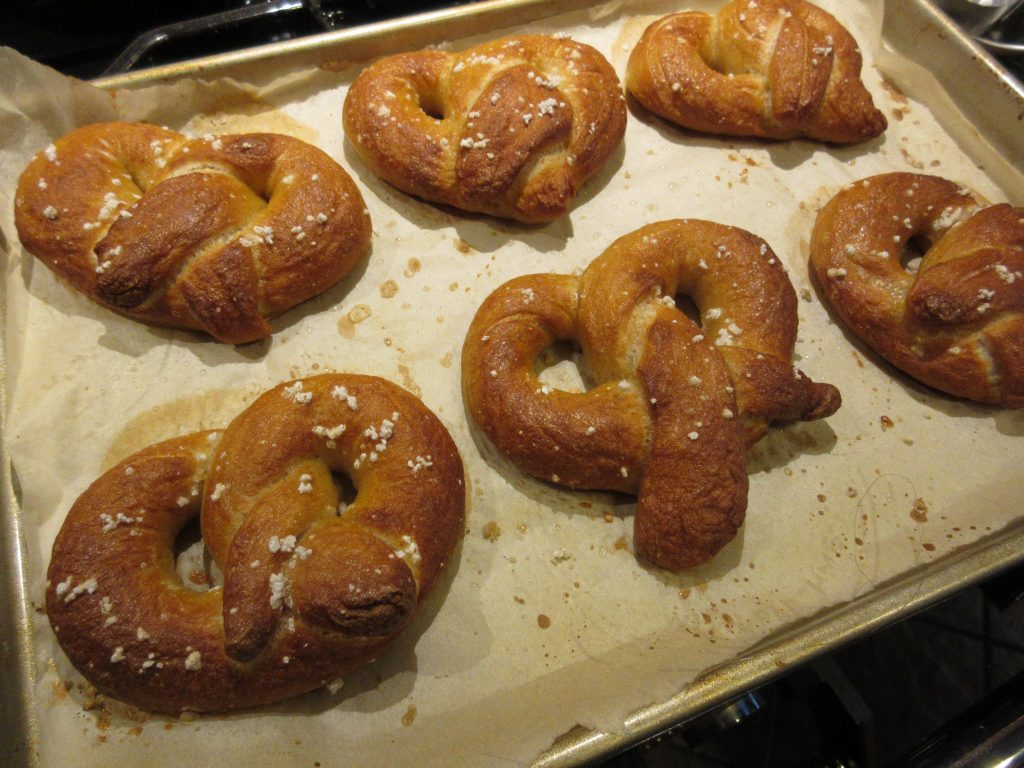 Ingredients for Sourdough Soft Pretzels (from Baking Sense)
1 cup (8 oz, 224g) active sourdough starter (100% hydration) – we used starter from our overnight prep for making bread. If you mix 200g each of water, flour and starter the night before, you'll have enough for both bread and pretzels the next day
1 1/4 cups (10 oz, 300 ml) warm water
3 1/2 cups (17.5 oz, 490g) unbleached all-purpose flour
1 tablespoon granulated sugar
1 1/2 tsp salt
2 quarts (2 liters) water
1/3 cup (2.5 oz, 70 g) baking soda
1 egg white, lightly whisked
salt and seeds for garnish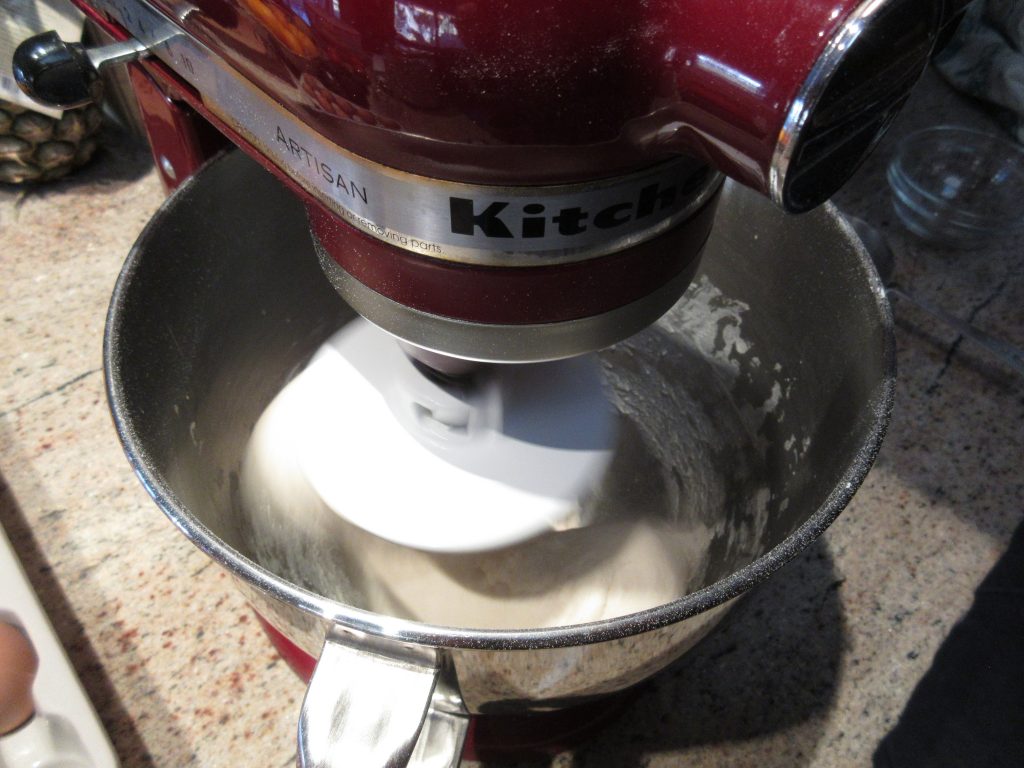 Method – Day 1
Mix your active starter with the water in a stand mixer (use the paddle attachment) or by hand until combined, then add 2 cups flour (beat on low) until smooth.
Cover the bowl with a towel and let it rest for 30-60 minutes.
Change out your paddle to a dough hook, add sugar, salt, and remaining flour (honestly I think I added all the flour at once by mistake. Still came out great.) and mix at medium speed for 5 minutes. The dough should pull away from the sides nicely. Or mix by hand for the same amount of time. It's all good.
Now for your Stretch & Folds: Transfer your dough to an oiled bowl and pull one edge of the dough up, folding it down on itself toward the middle. Repeat that 3 more times as you rotate the bowl around. Flip over the dough to oil the newly exposed side.
Cover and let rest for 30 minutes.
Repeat your Stretch & Fold series twice more, waiting 30 minutes between. Then perform Stretch & Folds again, and wait another 60 minutes. Repeat the last instruction one more time. If you do this while you're making bread, you may need to alternate between different timing for each, but you're being efficient and it's not confusing if you set two timers.
After the second hour, you're ready to cover and refrigerate your dough overnight. If it still feels a little tight rather than airy, leave it on the counter covered for another hour before refrigerating.
If you are making bread at the same time, shape your bread and put it in the fridge to autolyze overnight.
The Next Day – It's Pretzel Time!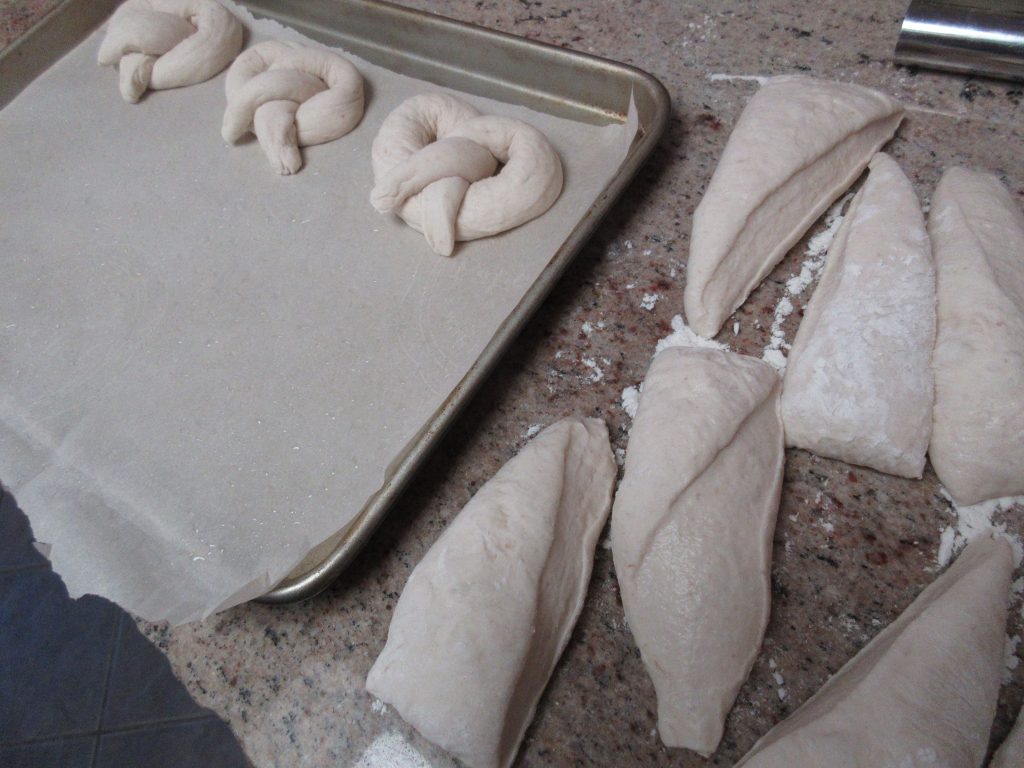 Now for the fun part. Dump your pretzel dough onto the counter and divide it into 12 pieces. Flour your counter, but not too much. You want the dough to stick a little so that it rolls instead of slides.
Roll each piece into a 20 to 24-inch rope. If the dough springs back on you, walk away for 5 minutes to let it rest, then try again. It will relax and roll more easily after a short break. Form the ropes into pretzel shapes by crossing the ends around each other twice (or more) and folding the ends over the center loop. Transfer each pretzel to a lined baking sheet leaving room between them for expansion.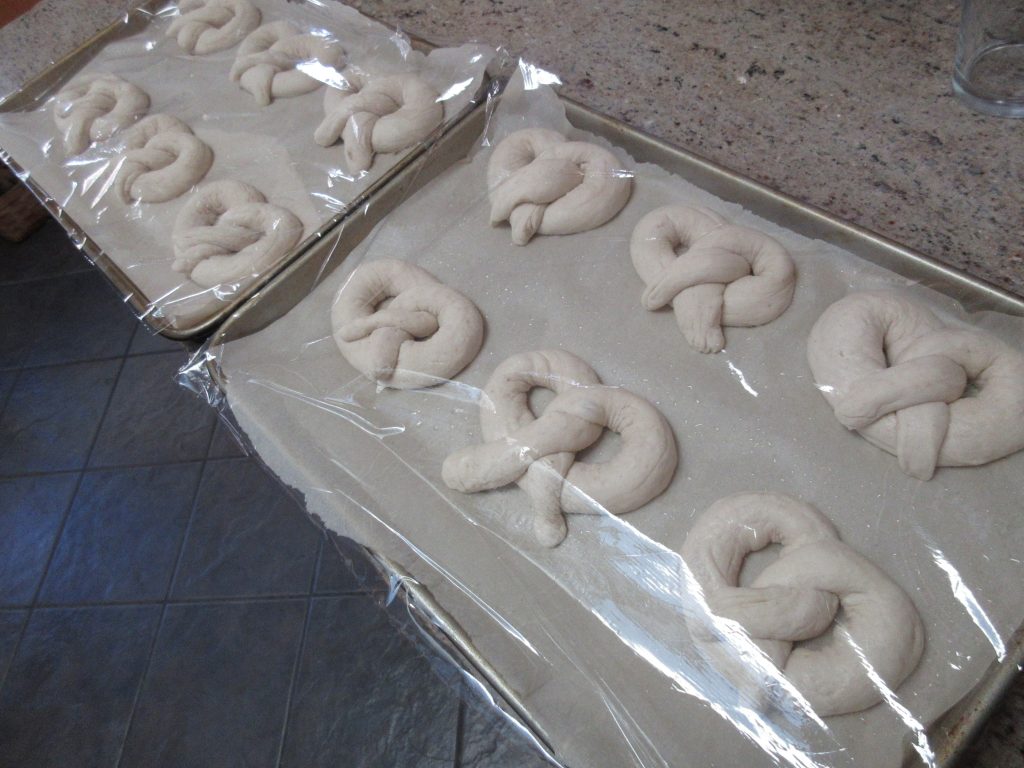 When all the pretzels are formed, cover your trays with oiled plastic wrap. I thought for sure this wouldn't make a difference but it really did. No sticking! Leave them to rest for 1 hour.
In the meantime, turn on the oven to bake your breads, then you can follow with the pretzels at a lower temperature (or vice versa, whichever works for you). The recipe recommends 450°F convection or 475°F for regular ovens.
Now is also the time to bring a large pot of water to boil on the stove. Mix 2 quarts water and 1/3 cup baking soda together and bring to a boil. Honestly this part is not labor intensive. I was worried I wouldn't be able to transfer the pretzels to the pot, or get them back on the tray, but it was easy. I only dropped one, it fell back into the pot with a big baking soda splash.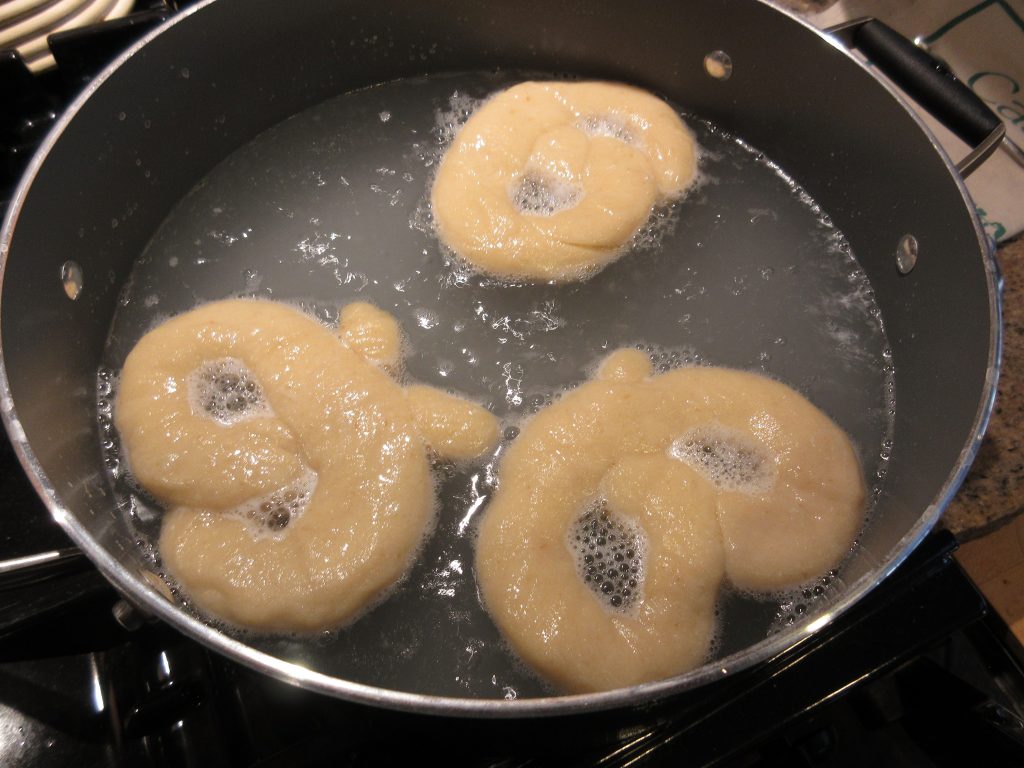 Lift the pretzels off the tray one by one with two hands and gently drop them into the pot. You can fit two or three at once. Flip them over after 10 seconds and count to 10 again. Then use a spatula to remove them back to a tray (with oiled parchment paper). Repeat until all the pretzels are boiled, 10 seconds on each side. The fluff up in the water. It's cool to watch.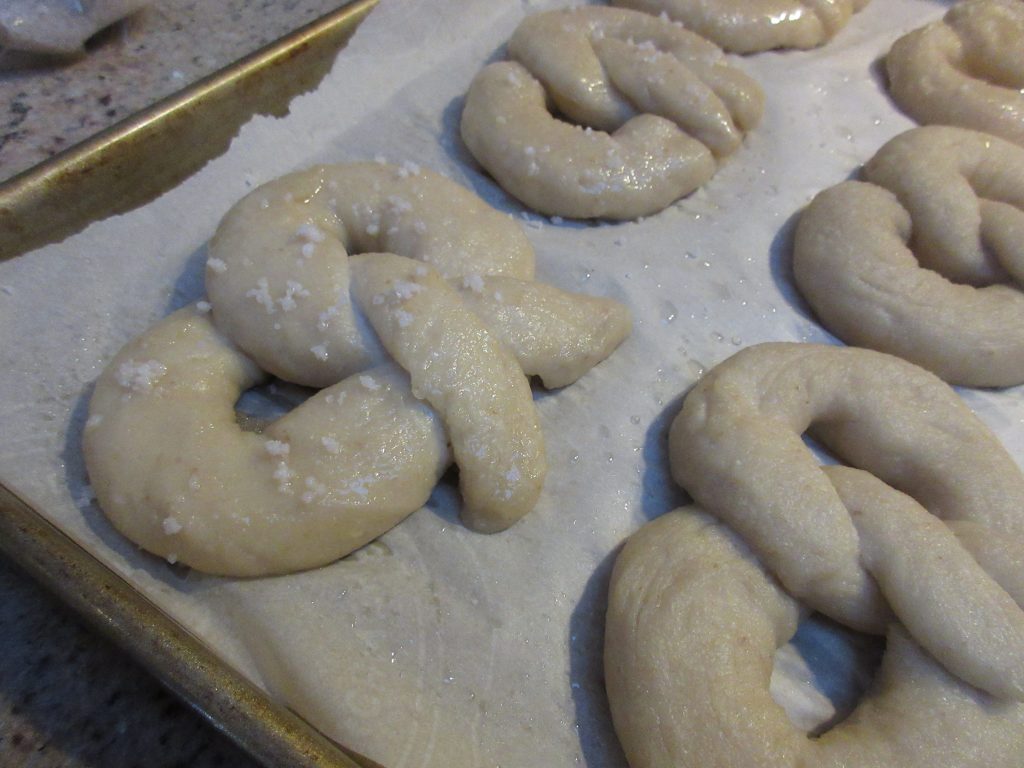 The Final Stretch
Now brush each pretzel with slightly blended egg white and sprinkle with course salt (and any other toppings you want, though, why mess with perfection?). I did 3 at a time to make sure the salt stuck before the egg dried. Vegans can use egg replacer if desired or just water.
Bake for 15 minutes, turning halfway through for evenness. Then let them cool on a drying rack for as long as you can stand it before tearing into these delicious, perfectly crispy-chewy honest to goodness pretzels.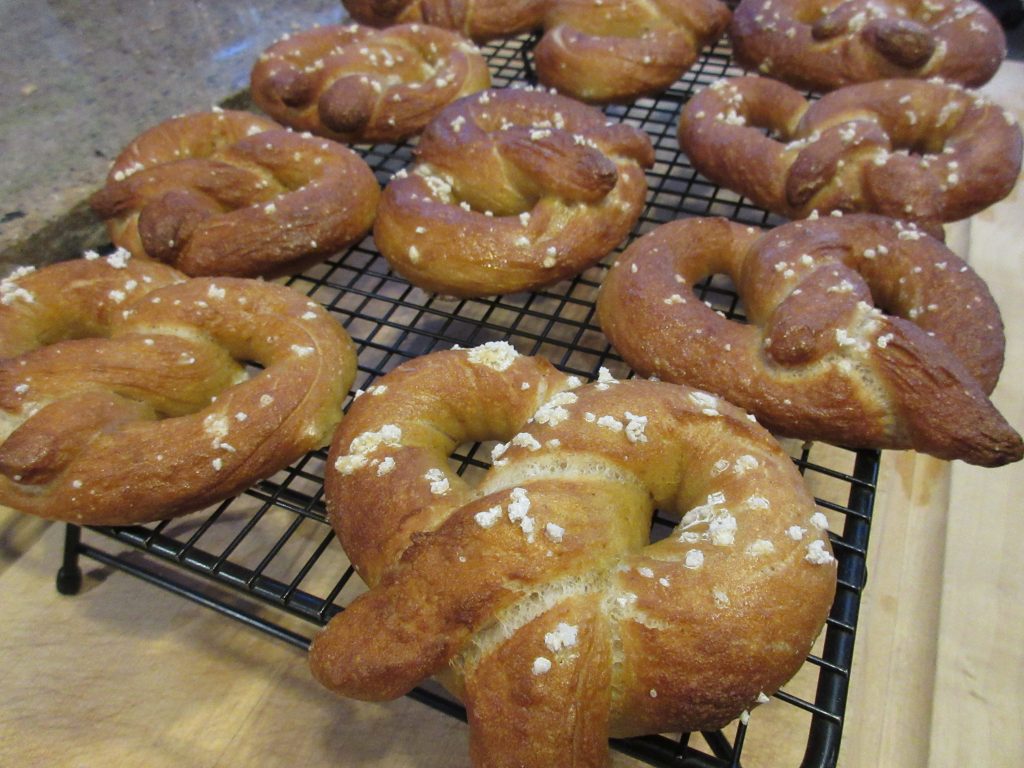 Best Note Ever:
These pretzels freeze once baked. Put them individually in bags in the freezer and pull them out whenever the urge strikes. Bake them frozen (no need to thaw) in a 300°F toaster oven (or regular oven) for 5 minutes and they are as good as the day you baked them. Nom-nom!