Yesterday we went and picked up a new member of the family.  No, we didn't adopt a child. We went to the City of Los Angeles' Compost Workshop and Bin Sale.  It was a very exciting day for us.  We've been waiting for this moment for many months.
We drove to Burbank, exiting the 134 Freeway at Griffith Park Drive.  We found ourselves trailing behind a tanker truck going about 5 miles an hour, so there was plenty to time to take in the scenic beauty of this expansive park.  People were out jogging or walking their dogs, while other folks were riding bicycles.  Then we turned up a windy road toward the compost area of the park.
It was about 9:45 and the sun had come out for a change of pace from the non-stop rain we've been having all week.  The piles of fallen leaves were steaming in the morning sun; a foreshadowing of what lie ahead.  We pulled into the muddy parking area marked with signs saying, "Composting Workshop."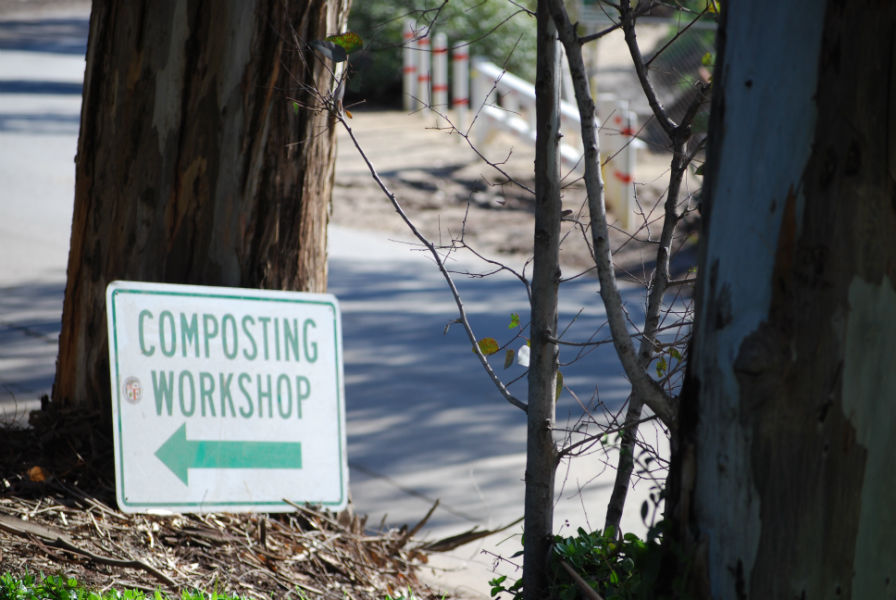 We spied a group of eager individuals standing in the mud, bracing themselves against the wind.  Clearly we weren't the only crazies who ventured out despite the weather.  We spent a few minutes talking with the lady who was to give the workshop while we filled out the registration form for the compost bins.  She explained the difference between the two types of bins available: The Earth Machine and the Bio Stack.  The Earth Machine is for beginners, because you don't have to turn it, and the BioStack is for more advanced gardeners and those who want faster results (which comes with turning the pile every couple of months).  They also sold worm bins, worms and aerators for the compost bins.  She said that if we were buying a Bio Stack we really don't need the aerator.  She was handy with a few other tips as well.
While in the end we didn't stay for the workshop, we couldn't wipe the smile off our faces as we walked away with a box containing a Smith & Hawkin Bio Stack (which retails for $99) that we had just gotten for $45.  Can't beat that!
The City of Los Angeles has workshops like these every month except in December.  You can find the schedule of events at the Bureau of Sanitation website here:
http://www.lacitysan.org/solid_resources/recycling/composting/bin_sales_events.htm
If you don't live in the City of Los Angeles, check with your own city's waste reclamation office and see what they have to offer.
Now, we just wait for another break in the rain to set up our new family member in it's new home.  We'll keep you posted on composting as it develops.  Stay tuned!