Low-level panic strikes when the pile of cucumbers from the garden starts to become overwhelming.  What to do?  If you've already made "spa water" with cucumber and orange slices in a pitcher of water, and you've been scooping up hummus with sliced cucumbers every day, try an Indian side dish that will help dwindle down your supply.
Cucumber Raita (ra-yee-ta) is an Indian/Pakistani condiment made with yogurt that is usually used to cool the palate when eating spicy foods.  It can have its own degree of spice, with mustard seeds or paprika, but in general we Americans use a soothing combination of mint and cucumbers to douse the flames when eating a big bowl of Vindaloo.  We found this simple recipe from Linda Bladholm on Epicurious.com: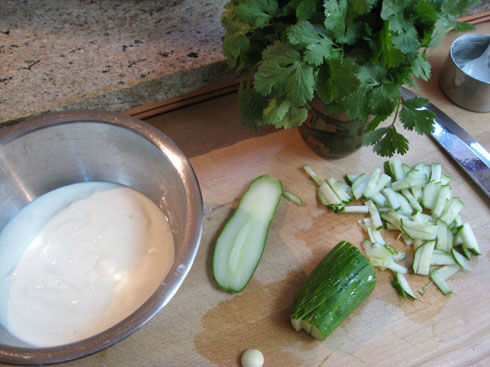 Cucumber Raita ingredients: yogurt, cucumbers, garlic, and cilantro (or mint)
Ingredients
1 medium cucumber
1 teaspoon cumin seeds
2 cups plain, whole-milk yogurt
1 clove garlic, peeled and minced
2 tablespoons fresh coriander or mint leaves, chopped
cayenne or paprika to garnish
Preparation
Peel cucumber. Cut lengthwise into 1/4-inch strips, then
into thin slices crosswise. Blot off moisture with paper towels. Toast
cumin seeds for a few seconds in a small, heavy frying pan over high
heat. In a bowl, stir yogurt until it is smooth. Mix it with the cumin,
garlic and coriander or mint leaves. Combine mixture with cucumber
slivers, sprinkle with cayenne or paprika, and chill before serving.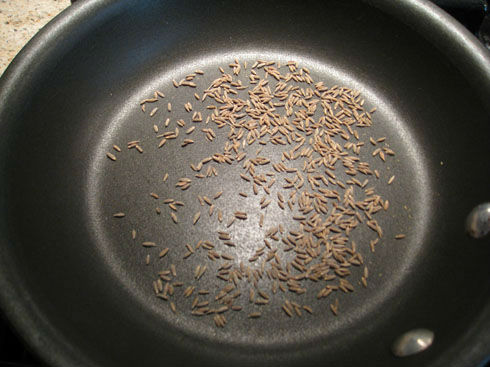 Toasting cumin seeds fills the kitchen with a wonderful aroma
A quick toasting is all that is needed to release the oils and fragrance of cumin seeds.  It then permeates the yogurt and combines so well with the flavors of cilantro and garlic.  The recipe denotes slicing the cucumbers in long diced pieces.  Next time I'll slice them a little smaller for a smoother raita.
It's pretty simple: chop up the cilantro and garlic, dice the cucumber, measure out the yogurt, toast the cumin seeds, and blend it all together.  We built a meal around the raita, making buttery Basmati rice, and curried chickpeas with broccoli sauteed in garlic oil.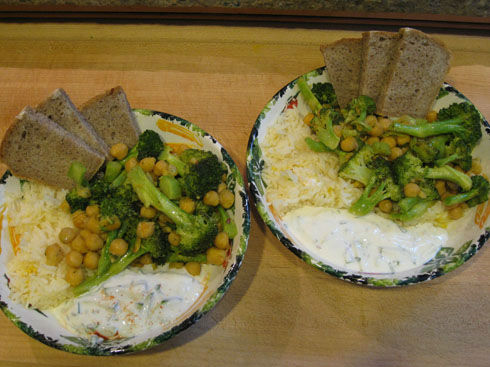 We didn't have naan, so home made bread would have to do.
Raita on the left is sprinkled with paprika.
It's a perfectly refreshing summer side, or you can use it as a dip for veggies.  The whole thing took about 15 minutes and no ovens were lit for this experiment.
Do you have a favorite dish featuring cucumbers?  Share your ideas with us here…we still have more cucumbers to use up!