During the spring we had our rain gutters re-done so that we would be rain barrel-ready when ever the day arrives that it might rain again in Los Angeles.  The only thing missing, now that we have the gutters with downspouts pointing in the right direction at the right height, is a bunch of barrels.  We need 5 for our property – one for each corner of the house and one for the office in the back yard. 
Last time I checked, rain barrels were pretty expensive, ranging from $125-300 a piece for the nicer looking ones.  Gone are the days of finding cheap pickle barrels on Craigslist for $50.  Everyone selling them at that price point has gotten wise.  So what's a gal to do when you need 5 barrels for one household?  Well, let's see how the creative juices were flowing during the downpour last week:
Being that we are a Burning Man family, there's never a shortage of large Rubbermaid bins on hand.  In fact, Rubbermaid is our first line of defense when it comes to compost storage, dry leaf storage, and now – rainwater storage.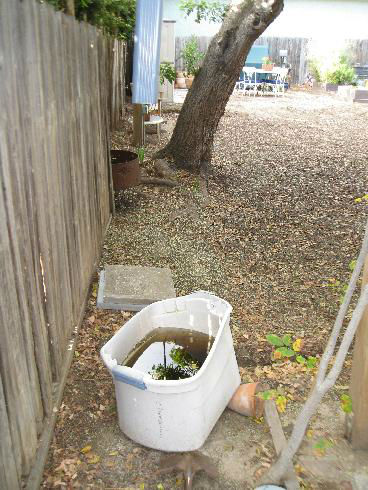 You can see the downspout at the top of the frame – that gray thing pointing straight down.  The rain overflowed from our little Rubbermaid bin, so we tilted it toward a trench that eventually lead to a drain.  It holds about 10-15 gallons of water – a temporary solution that wouldn't hold up in a deluge, but it serves us well for the time being.
Now if you can stand not using your trash cans for a while after the rain, here is another free option for homeowners: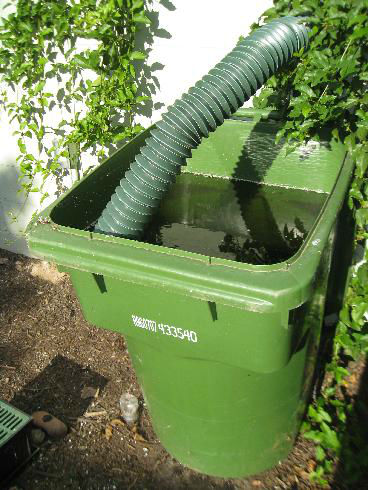 Our yard can filled up with water on the evening of the first day of rain.  It also overflowed into a nearby drain, but it holds about 40 gallons or so.  We've been watering all the plants from this barrel all week – it feels so good to fill up the watering can with free water.
Today, the rain barrel fairies came.  Wait – let me back up.  The City of Los Angeles has a Rainwater Harvesting Pilot Program
for residents of Mar Vista (that's us), Jefferson, Sawtelle and all residents near the Ballona Creek Watershed.  We filled out our application a couple weeks ago and last week we got a knock on the door.  The truck out front had two colors to choose from – black and "terra cotta", A.K.A. brown.  All we had to do was provide a couple of cinder blocks and a level surface.  The crew would be by later in the week to hook it all up – for FREE!
Today they showed up and in about 30 seconds we had a functioning water harvesting system under yet another downspout.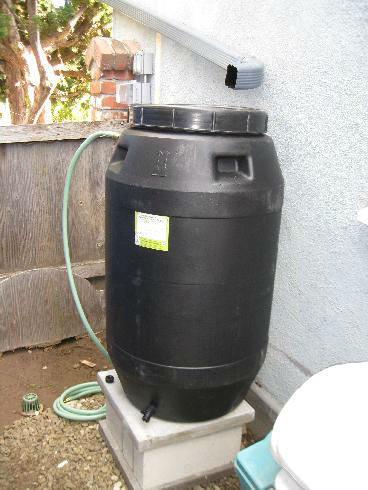 It's a beautiful thing!  This rain barrel will hold 50-60 gallons; still not big enough to catch all the rain in an L.A. downpour, but better than the Rubbermaid option.  In an ideal situation, we would have several barrels hooked together with an overflow tube to catch all the goodies.  But still – it's free, so we're happy!  Water captured in this barrel will be used to water all the plants in the front yard.
Have you been capturing rain water this fall?  If so, share your strategy with us here.