While I was co-teaching a workshop up at the Esalen Institute earlier this year, I met Jesse Carmichael and his mom. They were taking the class together and found it to be a bonding experience to learn about gardening together.  When I got home, Jesse called me and asked if I could design a vegetable garden for him. 
Interestingly enough, what started as a simple vegetable garden evolved into a full-fledged drought tolerant front and back yard landscaping project.  Here's what it looked like before: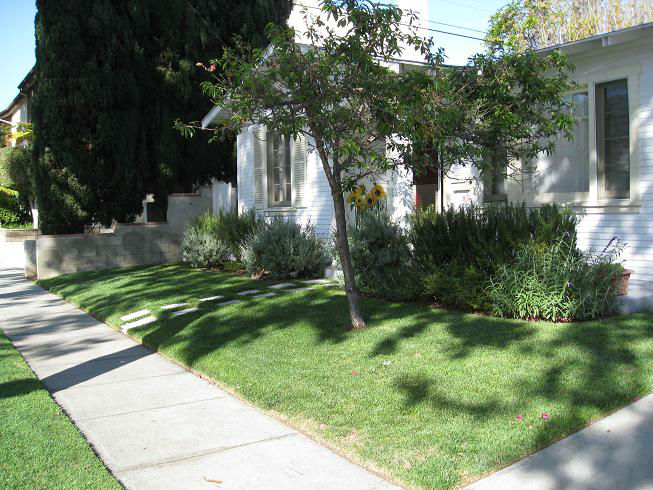 And the back yard: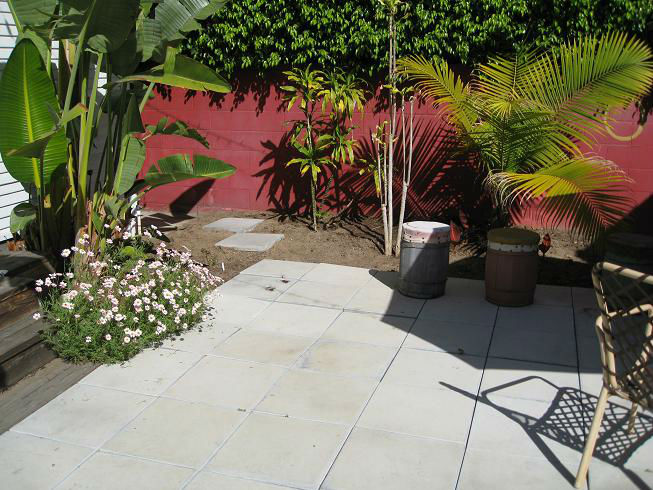 Not shown in this picture is the area right behind the photographer, where the vegetable garden would go.  It's a small area just big enough for two raised beds.  Jesse wanted to be able to do yoga out on the patio, so we kept these tiles, but made them more level and stable during the installation.
He wanted fruit trees, and he hired a muralist paint a scene from Big Sur on the red wall above.  We got a lemon and lime tree for the back yard and partnered them with succulents that will surround a water feature (with the Buddha) in the near future: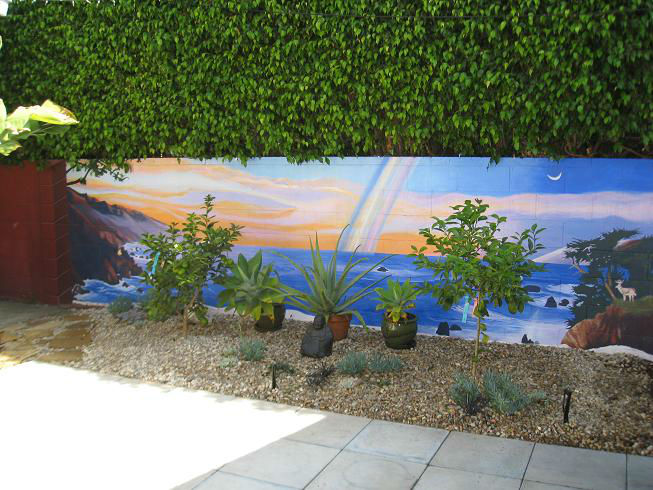 In the front yard, Jesse wanted to replace the grass with decomposed granite (DG) – a permeable surface that allows water to flow through to the water table and into the earth, rather than down the storm drain system.  He wanted a desert look, but one that had some softness and warmth.  We replaced his tile pathways with a warm-colored flagstone and made a DG pathway for his trash cans, so he wouldn't have to drag them over the ground cover like he had been doing for years.
(Just as a little side note, Jesse was leaving for 2 months to record a new album with his band, Maroon 5, so we did most of the hardscape selection via e-mail and photos.  By the time he got back we had everything in place to move forward.)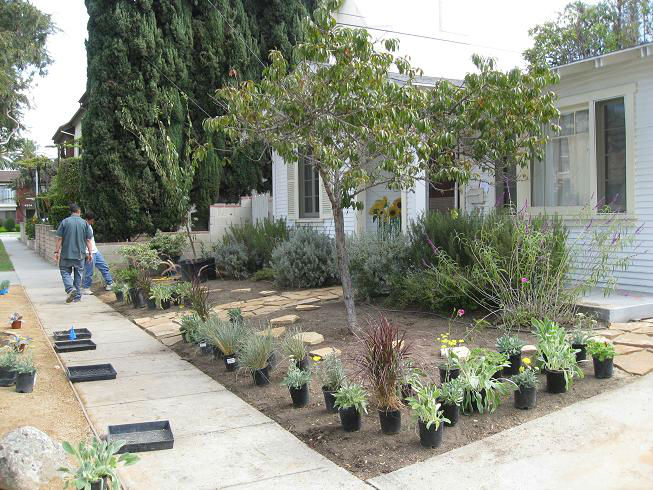 We chose drought tolerant plants and kept the existing rosemary and Mexican Sage to help anchor the landscaping.  His existing peach tree got a partner – a Santa Rosa Plum tree – and we added some boulders for texture in the parkway. Instead of grass, we planted a combination of Mondo grass and Dymondia, a drought tolerant ground cover that spreads and will eventually carpet the landscape.
Stachys, Yarrow, Blue Oat Grass, Fountain Grass, Myrtus Compacta,  Santolina, Calandrinia, Bush Anemone, Pittosporum Tobira, and Rose-scented Geranium (a special request from Jesse) were used to soften the desert-y feeling and create texture and color.  In the parkway, we used succulents like Hens and Chicks, Chalksticks, New Zealand Flax, Green Agave and Black Mondo Grass.
Jesse came up with an idea to offer vegetables and flowers to the local community by planting a circle of crops in the parkway.  We got a sundial and laid flagstone in the four directions.  Rigged with irrigation, the parkway should be bursting with California poppy flowers before long (we planted those on our last day of installation together).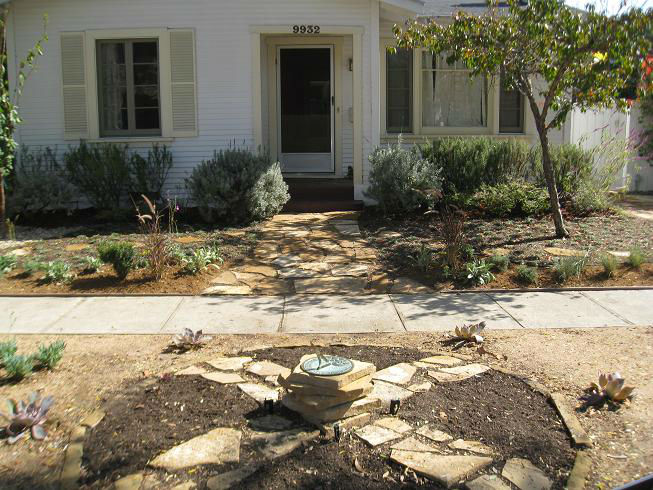 In the backyard, we reused some of the colorful barrels that Jesse had been using as seating.  We turned them upside-down and planted herbs in them for either side of the back entrance into the house.  Basil, tri-colored sage, and thyme in one, and chives, parsley and oregano in the other.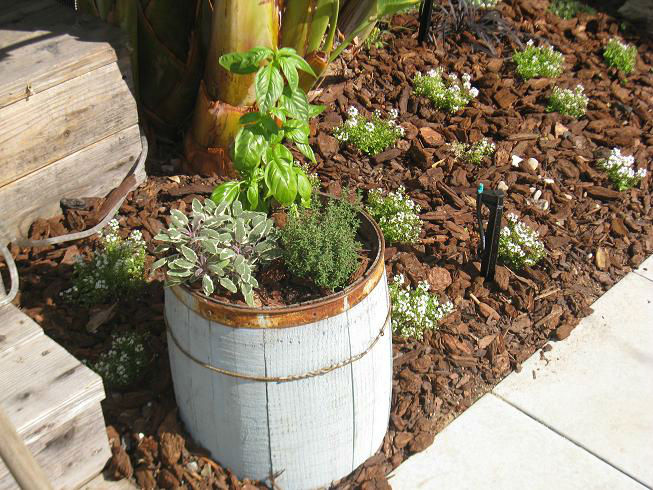 The vegetable garden was planted with lettuces, brassicas and greens for fall.  We affixed trellises to the fence for peas and sweet peas to climb.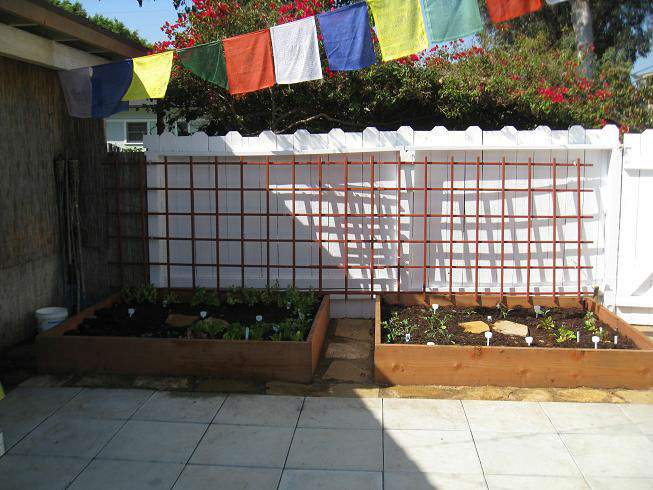 After completion, Jesse said that the landscape looked like "something that [he] would have taken a picture of" as an example of what he wanted for his own garden.  I love giving people what they want!