In addition to helping others plant their fall gardens, I'm not ashamed to admit that I get the most joy out of planting my own.  The Gardenerd Test Garden is being planted slowly but surely, and as of this writing there are a few things to report:
We planted sugar snap peas a few weeks ago and they are about 6 inches tall and starting to reach for the trellis.  I used the Gardenerd-designed tomato cages from summer to support the peas – it might be a bit short, but we'll see how it goes.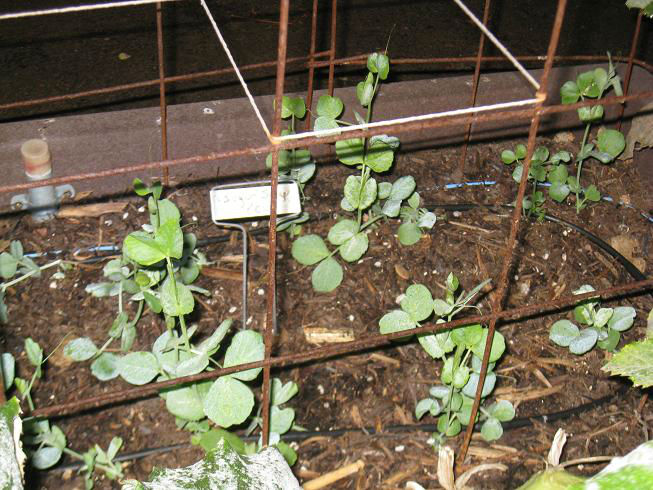 These photos were taken at night (yes, with a headlamp on as well) so you can see the dew that has settled on the plants.  It looks like white powder, but it's actually moisture reflecting light from the flash.
The 3 different varieties of kale are doing well, after a small setback involving cutworms (see the Tip of the Week Podcast for 10-16-09).  We lost a few plants, but luckily I hadn't thinned yet, so we're on target for the same number of plants so far.  Now they have protection and are growing bigger each day.
Nysha from Ardenwood Edibles gifted me with some Bok Choy that I, sadly, planted on a cool morning that turned out to be the hottest day of the year a few hours later.  They wilted to a pathetic excuse for a plant, but recovered remarkably after a couple of days.  Now they are well established and almost ready to sample (for the leaves).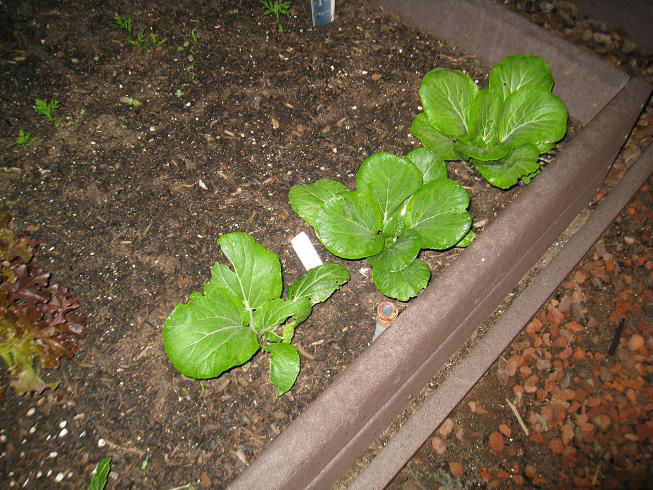 Amid the rain over the last two days, I planted garlic.  This year I'm trying Inchelium Red garlic – a softneck variety with a red tinge to the bulb.  More on that later.
Still to come – sweet peas, leeks, green onions, a second round of lettuces (the first is planted at the community garden plot), and brown mustard seeds.  We'll also be re-planting the strawberries a little later after replenishing the soil in those raised beds.
This will also be our third year with the asparagus, so it's every spear for itself!  Really looking forward to that.
What's growin' on in your garden so far this fall?  Share it with us here.