Before we launch into a new year, I want to share another aspect of the Grow BioIntensive workshop that I took in Willits last month.  It isn't really about the workshop, but about the drive back home. 
I am of the ilk that, as an important part of the traveling experience, one must buy what is made locally when traveling through a region – like picking up some lavender oil while in Provence, or grabbing some balsamic vinegar when passing through Modena, Italy.  Get it where it's good, right?  The United States has its regions of high quality gastronomic delights as well.  Napa Valley is at the top of the list for wine-ies (it's like 'foodies', but not as flattering a term).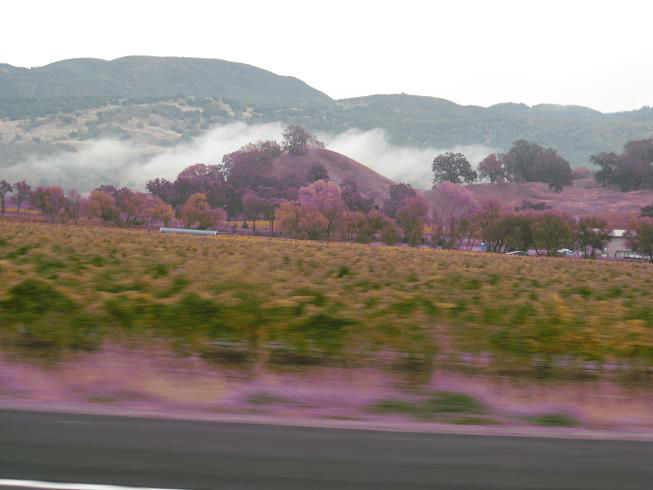 Leaving Willits, CA – Vineyards in Fall.   These colors have not been altered.  This is exactly what it looked like driving out of town at 7 a.m.
While driving back to the airport, I couldn't resist the detour.  While most people would be venturing into Napa for the wine, my real reason for going was to visit the Olivier Olive Oil Company, which has its only retail storefront in St. Helena, at the northern end of the Napa Valley.  They have giant copper vats of fresh olive oils next to a stack of empty glass bottles.  After sampling each oil, you can grab a bottle and fill it at the tap.  Then they cork it, bag it and send you on your way.
But first a stop in Calistoga for a long-overdue massage. It's probably been a year since I've had any kind of therapeutic bodywork done, so this was a real treat.  The main street in Calistoga was lined with cozy shops and restaurants, not to mention a bounty of day spas.  I walked the street and found a place called Calistoga Massage Center and Day Spa that would take me right away.  Their prices were reasonable and the services hit the spot.
Wandering back to the car, I passed this insurance office with a beautiful collection of classic typewriters in the window.  It begged a photograph, even though this photo isn't all that great.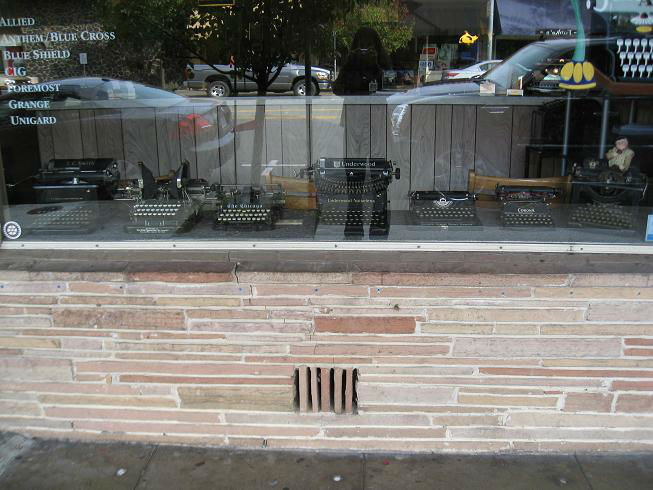 Please ignore the glare.
Here's a closeup of the center typewriter: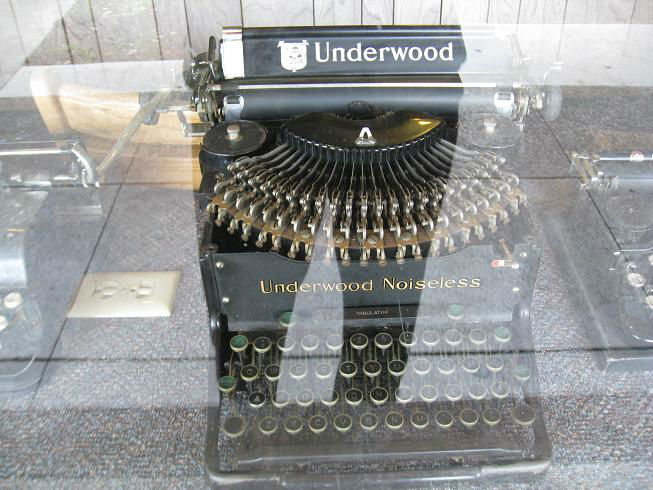 How could this possibly be noiseless?
Pampered and relaxed, I got back on the road to continue to St. Helena.  I passed acres of gorgeous vineyards, all turning colors of rust, yellow, gold, and burgundy.  All those pictures came out blurry, but I did find swerve into a place I'd heard about for awhile.  There were grapevines lining the parking area: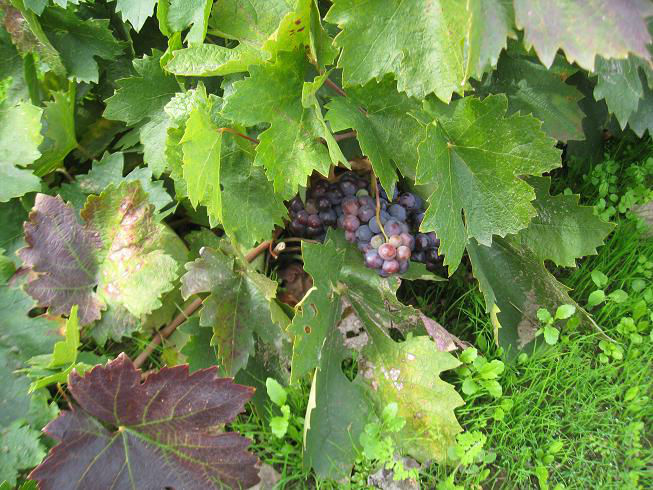 and when you look up past the grapevines, you see the castle…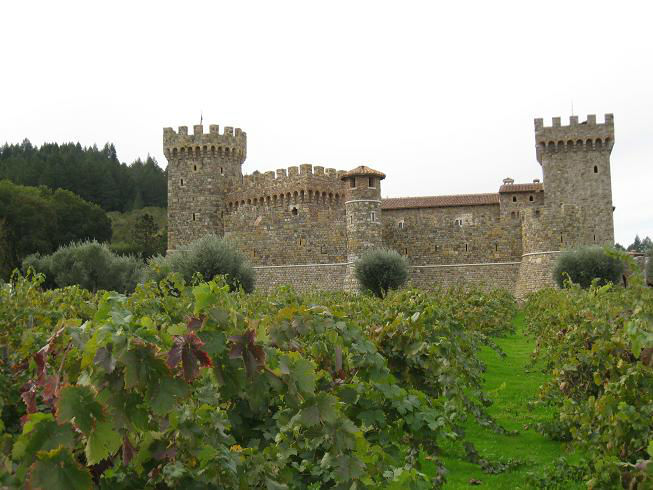 Castello di Amorosa was built by the fellas at the V. Sattui winery because they love Italy so much.  You can find out more about both the castle and the wine here: http://www.castellodiamorosa.com/
Onward to St. Helena –
The main street in town was piled with everything from Dean and Deluca to thrift stores, but all that mattered to me was a stretch of three shops: Olivier Olive Oil company, The St. Helena Olive Oil company (competitors so close to each other!), and Woodhouse Chocolates.  Really, who needs anything more than fat and chocolate?!
I rounded up a hand poured bottle of Mission Blend olive oil from Olivier, a spice scented bar of olive oil soap from St. Helena OOC, and two bars of amazing dark chocolate from Woodhouse.  Life was complete.
On the way out of the Woodhouse store, I HAD to take a picture of their Thanksgiving window display.  It gives new meaning to the phrase "turkey dinner."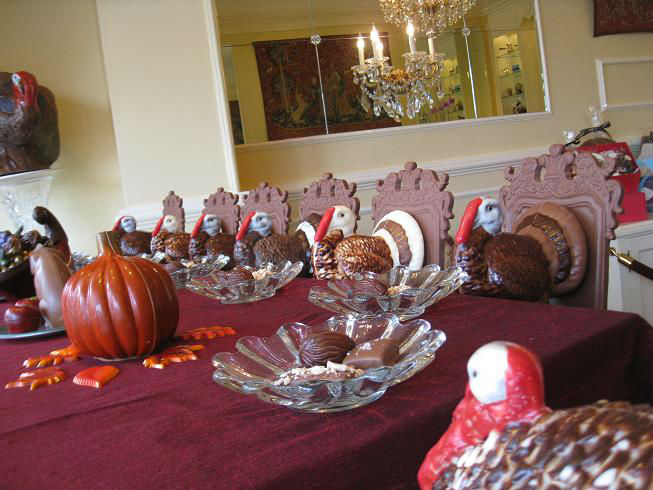 Entirely made of chocolate, these turkeys (and their chairs) were ready for a feast.
Thank you Napa Valley for making indulgence feel so special.