We got one step closer to our goal of replacing all lawns in Los Angeles with useful growing spaces.  The Winship family had a front lawn that wasn't serving them, and it was the only area of their property that had full sun for growing vegetables (as is the case with many homes). 
I met with them to discuss what they wanted in a vegetable garden: raised beds, enough room to grow herbs, and something they could enjoy but not be overwhelmed by. I set to work to give them just that.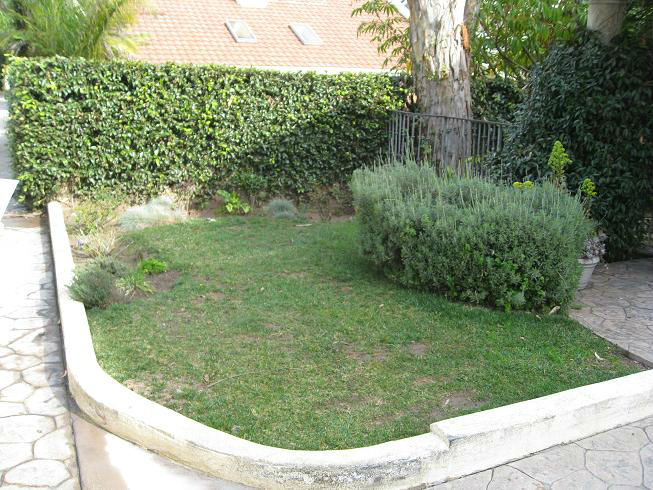 The 22 x 16 foot space had south-facing exposure.  We discussed what plants to reuse (like the roses that would be transplanted to the backyard, and some herbs that would be re-used in the herb garden).  The family chose cedar wood for sturdy raised beds, and I designed the space to allow for easy access for the regular gardeners to trim the hedge at the north end of the garden.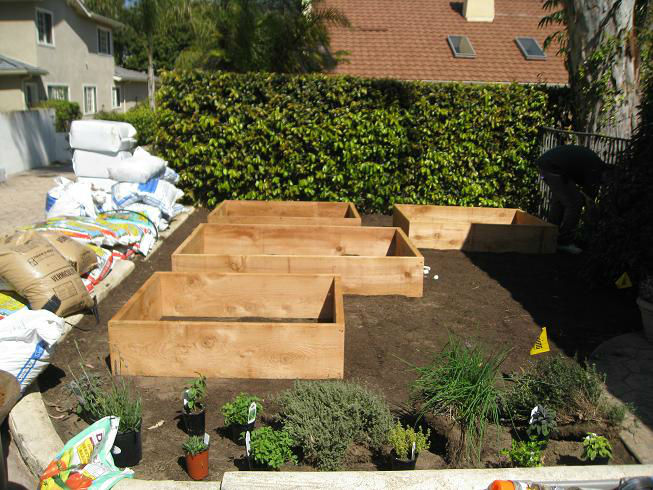 Our crew removed the grass, put in drip irrigation leading from the capped-off sprinklers, built the raised beds and mixed in rich organic soil amendments to fill the beds.  We planted the herbs, put down a stone liner for the herb garden, mulched the pathways and hooked up drip lines to two pots that marked the entry to the garden. We also planted some alyssum and penstemon along the wrought iron gate, as well as the marigolds and pansies in the garden, to attract beneficial insects to the garden as it grows in.
I planted the vegetables and seeds with the Winships during our coaching session after installation, and left them with some homework to do on their own, so they could get connected to their new garden.  The vegetables planted: tomatoes, lettuces, chard, Japanese cucumbers, Japanese eggplant, pole beans, snow peas and snap peas, patty pan squash, bell peppers, chili peppers, mustard greens, arugula, and 12 kinds of herbs.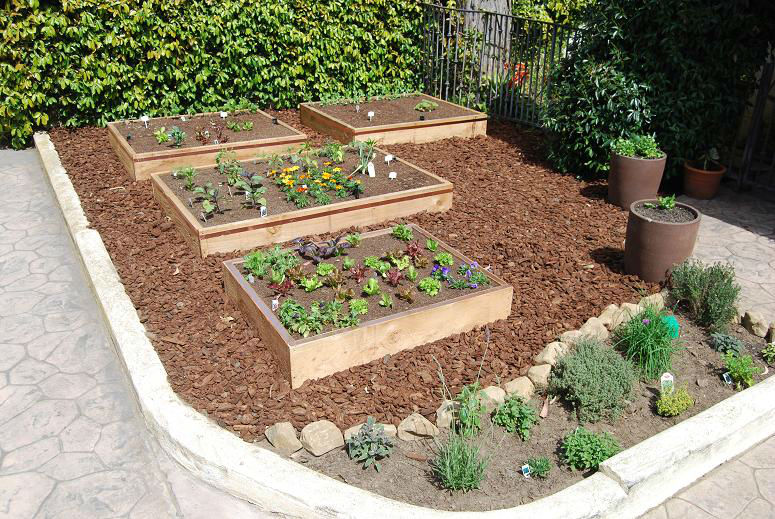 The Winships added copper tape around the beds and later (after this photo was taken) installed trellises for the tomatoes, peas and beans in the far beds.  They have plans to add either a small fruit tree or a water feature to the right of the center raised bed.  We decided to leave it open for the time being, until they got the hang of their new garden.
With pathways mulched and drip irrigation, the Winships will save on water and won't have to weed very much at all.  Plus they'll be harvesting food steps away from their front door instead of driving to the supermarket.  Now that's a great use for a front lawn if I've ever heard one.