The place mat before me says, "Luckiest of all signs, you are also talented and articulate.  Affectionate, yet shy, you seek peace throughout your life."  This is the fortune for someone born in the Year of the Rabbit.
2011 celebrates the Rabbit once again; something that happens every 12 years according to the Chinese Zodiac.  Technically, Chinese New Year starts on February 3, but Bellagio Gardens got a head start.  I took a stroll through the garden to witness the bigger-than-life display honoring the Rabbit and the New Year.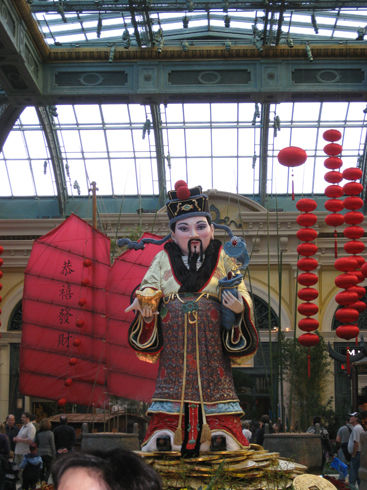 Some lady's forehead (front) sullies a perfectly good picture of the giant
Chinese God of Prosperity who greets you as you enter the conservatory.
Red lanterns hang from the vaulted glass ceiling, and bamboo reaches toward the sky.  Giant gold coins lay at the feet of the looming figure at the entrance, surrounded by yellow mums.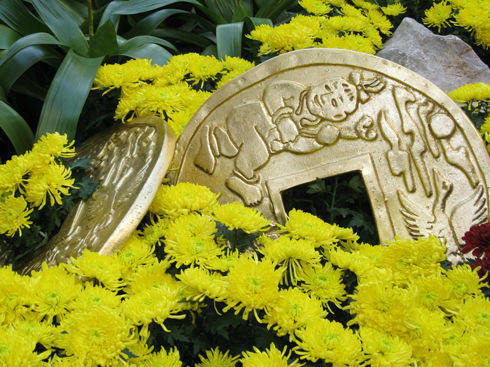 In the background you can see – yes – a Chinese Junk boat with sails fully extended into the air.  It sits on the water of a calm pond surrounded by red and purple/blue bromeliads.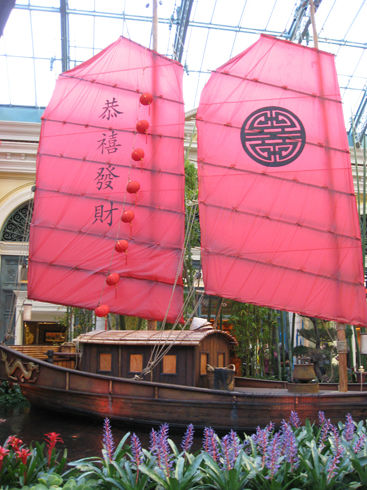 Moving on past the Ming Dynasty gazebo and the replicas of the Terracotta Warriors, we finally set eyes on the reason for the whole celebration: bunnies, bunnies, bunnies.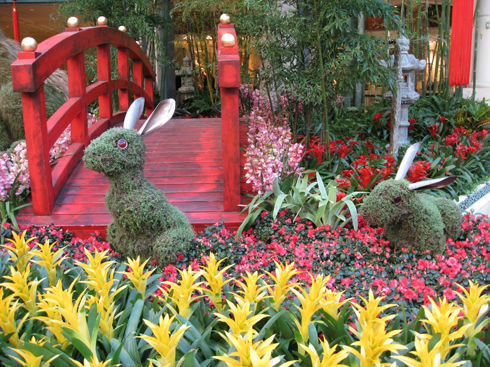 Complete with red eyes
Yellow bromeliads, cymbidium orchids and pink cyclamen lay the foundation for rabbit habitat.  The red bridge is bordered by bamboo.  But nothing is more impressive than the giant rabbit next to the bridge.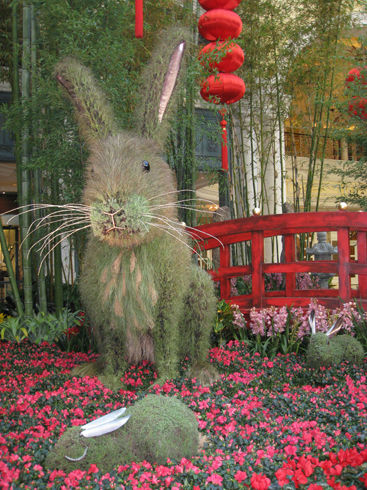 Covered in some kind of grassy business, it's just darn cute.  Too bad it was too far away to touch.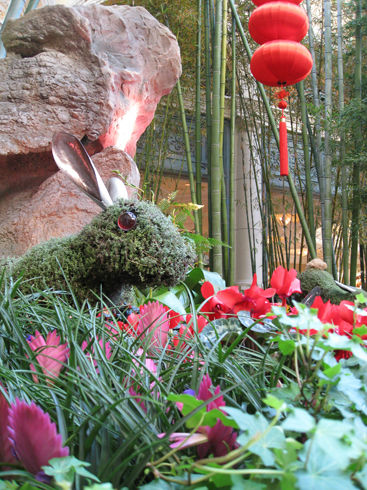 My final shot before leaving
If you want to do something like this in your own yard, all you need is about 120 people and 10,000 plants.  That's the scoop on what it takes for Bellagio to put these beautiful displays together each season.
It makes my 100 square foot garden seem really manageable right now.