Being a participant in the Westside Produce Exchange means that you never know what you're going to get.  A typical bag, depending on the season, contains lemons, oranges, greens like kale and chard, avocados, artichokes, green beans, and tomatoes.  There's always a bouquet of herbs like rosemary, basil, oregano, and thyme.
This month's exchange did not disappoint, but it did leave some of us in a quandary about what to do with the handful of lemon balm that found its way into each bag.  Now that the weather is warming up, it seemed appropriate to make something refreshing and fruity.  Oh internet, I do love you for all the ideas you provide.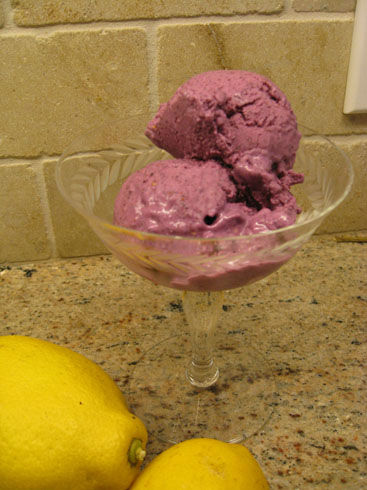 Lemon balm berry ice cream – vegan, BTW
Around here, we try to find recipes that call for ingredients we already have lying around.  Since we didn't have any milk (and we were out of almond milk), this vegan option jumped to the top of the list.  It uses cashews and water instead of milk to make it creamy.  Here's the scoop:

Lemon Balm Berry Ice Cream – by Heather Pace
1 1/2 cups cashews
1 cup water
1 cup packed lemon balm leaves
1/2 cup blueberries
1/2 cup raspberries
1/2 cup agave
1/2 cup lemon juice
2-3 drops lemon essential oil*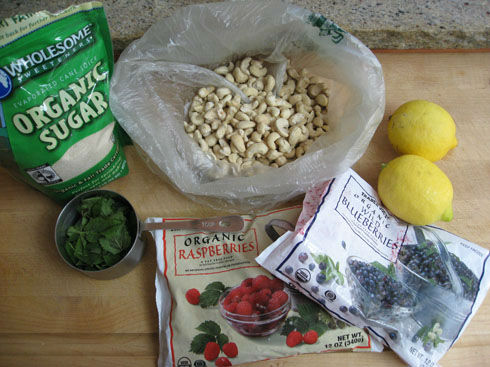 We didn't have agave, so we used organic fair trade sugar (add about 1/3 more, since agave is sweeter). 
We happened to have frozen raspberries and blueberries on hand, and plenty of lemons, thanks to the Exchange.  We had raw cashews on hand as well.  The lemon balm was almost a full cup, but it would have to do for our experiment.
Instructions:  put all the ingredients in the blender (we added about 1/4 cup more water since we weren't using agave) and hit puree.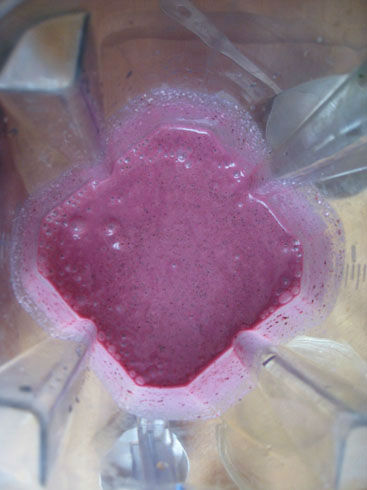 Pureed berries, cashews, lemon balm, sugar, etc. 
The color was stunning, almost fake-looking, but it tasted delicious even in its liquid state.
Next: Freeze the mixture in an ice cream freezer for until set.  It only took about 15 minutes, since there is no butterfat to slow things down.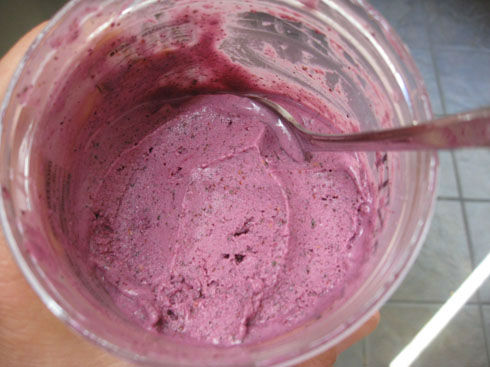 Yum!
What have we learned?  Cashews are a great substitute for all things creamy (as you may have seen in this amazing jalapeno lime creme recipe), but when it comes to ice cream, you need to blend a little longer than you think.  Ours came out a wee bit grainy, but still completely delicious and enjoyable.  Next time, we'll count to 20 or 25 instead of 10 while pureeing.
Other uses for Lemon Balm
Typically, lemon balm is used medicinally in teas, but there are plenty of savory options as well.  Naomi, the fearless leader of the Westside Produce Exchange, provided these great ideas for lemon balm infused meals:
Lemon Balm Asparagus 
2 tablespoons butter, melted
2 tablespoons lemon balm, finely chopped
2 teaspoons fresh coriander, finely chopped
salt and pepper to taste
32 steamed asparagus tips
In a pan add butter, lemon balm, coriander, salt and pepper. Allow to
sizzle gently until herbs are softened, but not fried. Put asparagus on a
serving dish. Drizzle over the sauce. Serve hot as a side dish to lamb
or goose.
Bananas with Strawberries and Lemon Balm 
6-8 firm bananas, sliced in half crossways
1/4 cup brown sugar
8-10 lemon balm leaves, chopped finely
1 tablespoon rum or brandy
fresh strawberries
Heat
a little butter in a fry pan and saute the bananas lightly. Add sugar,
stirring well, then add the rum and lemon balm. Quickly add the
strawberries, heat all through and serve immediately, either alone or
over ice cream.
Honey and Lemon Balm Biscuits 
1 cup butter
1 cup honey
3 eggs
3 cups self-raising flour
1 tablespoons milk
2 teaspoons lemon juice
4 springs lemon balm, chopped
Cream
the butter with the honey, add eggs, beat well. Add remaining
ingredients. Drop by spoonfuls onto an ungreased baking sheet and bake
8-10 minutes at 190C (375 F).
Lemon Balm Butter for Seafood and Vegetables 
6 tablespoons butter, softened
2 tablespoons lemon balm, finely chopped
2 tablespoons chives, finely chopped
Combine
the butter lemon balm and chives. Using a piece of waxed paper to help
mould, shape into a log. Cover and refrigerate overnight to blend the
flavours. May be frozen. Use on seafood or vegetables.
Lemon Balm Lemonade 
125g sugar
3 lemons
300ml boiling water
2 large sprigs lemon balm
handful borage leaves
borage flowers
Peel
the rind thinly from the lemons and add, with the sugar, to the boiling
water. Stir until the sugar is dissolved and then add the chopped
leaves of lemon balm and the borage. Leave until cool, then add the
freshly squeezed juice of the lemons. Stir well, strain and chill.
Dilute to taste with chilled or soda water and garnish with the borage
flowers. Serves 2.
Lemon Balm Salad Dressing 
1/4 cup oil
1 clove garlic, crushed
1 tablespoon white wine vinegar
1 tablespoon chopped lemon balm
Put all ingredients through a blender, refrigerate.
Lemon Balm Spread 
Combine 1/4 cup finely chopped lemon balm leaves, 1 teaspoon lemon rind
and 250g cream cheese. Use on crackers or to stuff celery sticks.
Potato Salad with Lemon Balm and Mint 
16 small potatoes, scrubbed
1 tablespoon chopped lemon balm
1 tablespoon chopped mint
2 tablespoons olive oil
1 clove garlic, crushed
Boil
the potatoes until cooked but firm and leave to cool. Mix all the other
ingredients and pour over the cold potatoes. Chill for 1 hour before
serving.
Lemon Balm Tea Cake 
3/4 cup milk
3-4 tablespoons fresh lemon balm
2 cups plain flour
1 1/2 teaspoons baking powder
1/4 teaspoon salt
6 tablespoons butter
1 cup sugar
2 eggs
1 tablespoon grated lemon rind
1 tablespoon fresh calendula petals (optional)
Place
milk in small pan, add the lemon balm, and heat until almost scalded.
Remove from heat and leave until cool. Meanwhile mix the flour, baking
powder, and salt together in a bowl. In a separate bowl, cream together
the butter and sugar until light and fluffy. Add eggs one at a time,
continuing beating. Blend in the lemon rind. Strain the lemon balm milk,
discard the leaves, and add the milk and the flour mixture alternately
to the batter. Mix until just blended. Pour the batter into a greased
loaf pan. Bake at 160C for 50 minutes or until a toothpick inserted in
the centre comes out clean. Remove from pan onto a wire rack placed over
a sheet of waxed paper. Pour lemon glaze over while still hot.
Lemon Glaze 
juice of 2 lemons
icing sugar
1 teaspoon finely chopped calendula petals, rose petals or lemon balm leaves (optional)
Put the lemon juice into a bowl and blend in icing sugar until a thick, but pourable, paste forms. Pour over the hot bread.
That ought to keep you busy for awhile.