Awhile ago, my husband and I decided to put a hold on our backyard design project until the economy levels off.  This of course took place after we had ripped out most of the existing plants and installed drainage and irrigation materials.  So we had a lovely expanse of dirt we were perfectly willing to live with (which many students have seen if you've come to a class at the house and test garden). 
Of course, what happens when you have a large expanse of dirt?  You get weeds.
We needed mulch to cover the dirt.  Lots of mulch.  About 1,800 square feet of mulch. And we knew just where to get it.
The City of Los Angeles provides free mulch that is made from the contents of the green bins and tree trimming waste around the city.  There are about 8 locations throughout LA where you can show up with bags or a truck, and a shovel, and take as much as you want.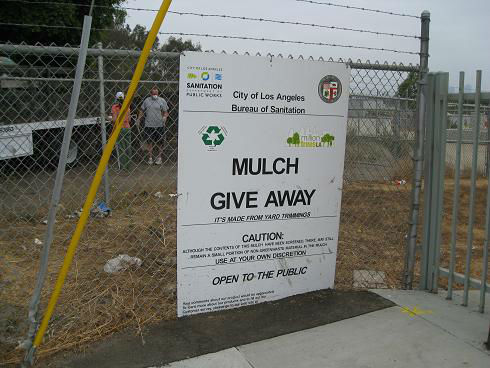 Our first trip was with both of our cars and giant black trash bags. We quickly found out that this is no wimpy mulch pile.  I was expecting light leafy wood chips, but what we found was dark, steamy compost-like stuff.  Our bags could only be filled halfway, and even though we stuffed as many of them as we could into both cars, we were only able to cover less than a quarter of our back yard.
THEN – we got a call from two friends who are getting married and asked if they could use our backyard for the wedding reception.  "Sure", we said, "as long as you don't mind that it's just dirt."  After an initial visit to work out the details we decided that mulching the whole back yard was going to be cheaper than buying 1,800 square feet of Astroturf.  And so the adventure began…
They rented a truck with a lift, and we gathered as many city trash cans as we could collect from our neighbors, and we set off to the pile – dust masks and digging forks in hand.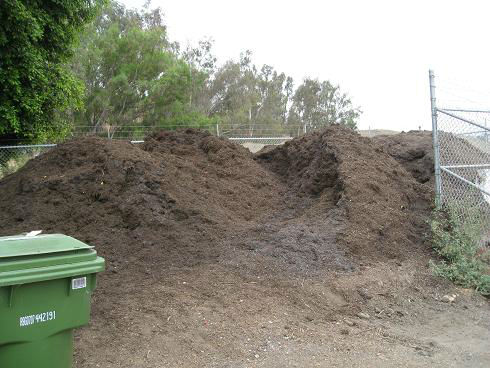 We were greeted by a mountain of mulch (thank the gods).  We had been crossing our fingers that it wouldn't be empty when we arrived.
We got to work filling the bins and then dumping the bins in the truck that was lined with tarps.  We filled 5 trash bins at least twice and shoveled additional mulch into the truck.  It was dirty, stinky business, but somehow very satisfying.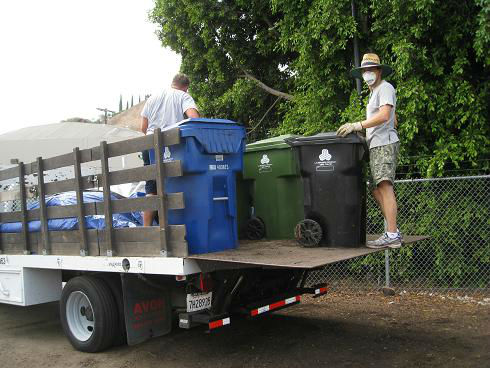 We knew unloading it would be easier than loading it, so we were actually looking forward to that part.  After a nice lunch break, we got back to work.  The guys were in charge of loading the bins from the truck and wheeling them into the back yard, while the ladies had the task of spreading out the dumped piles into an even layer.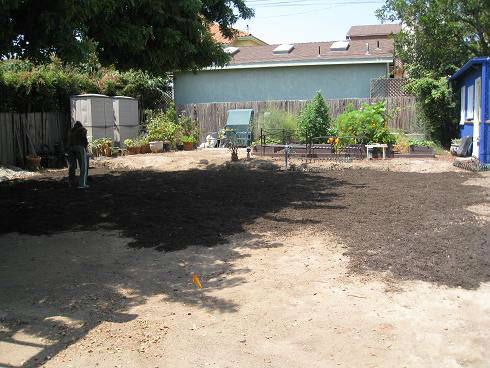 At this point we'd ask the guys, "How much is left?" and they'd say, "a lot!"  Thankfully our calculations were right on target.  We had exactly enough mulch to cover the entire area (excluding our previously mulched patch in the corner shown below).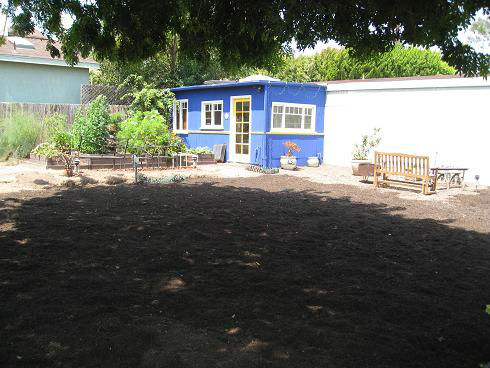 It's a beautiful thing.  The one caveat is that this particular batch of mulch is quite pungent.  So we're waiting to see how long it takes to mellow out, so we can open the windows at the back of the house again.  My guess is two weeks, but I'll keep you posted on that one.
For more information about getting free mulch in Los Angeles, check out this flier from the Bureau of Sanitation.  NOTE: The location for the Jefferson pick up has moved – follow the map, but turn on Holdrege and make a right on Bowcroft to get to the entrance.
Special thanks to Orna, Matthew and Brent for helping us with this huge undertaking.  We worked like a well-oiled, sweaty  machine that was very sore the next day – but in a good way.