There are so many things to consider when planning out a garden, and whether you've done it before, or it's your first time, the task can always be a little daunting.  Luckily, the excitement of having fresh produce growing steps away from your kitchen overshadows almost all of those feelings of intimidation.  Still, it's always nice to have help.
That's why at the end of September we debuted a new class.  The Gardenerd Fall Garden Planning Workshop drew five enthusiastic gardeners, each with a different plan in mind for their garden.  Some had a space already defined and needed only to fill it.  Others had a blank canvas upon which to paint the future of their vegetable garden.  All were ready to get started and needed a helping hand.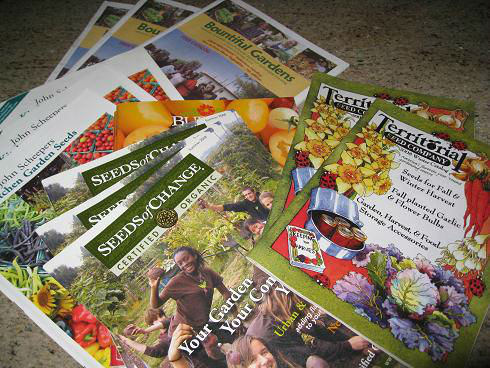 We had piles of catalogs on hand from all my favorite seed companies.  We had graph paper, we had rulers and pencils.  We had tips and tidbits for how to figure out the perfect place for each crop.  Some of the participants chose to make their list of what they wanted to grow, take in all the helpful information from the workshop, and then take it home with them to plan out the rest in quiet reflection.  The rest of the group opted to plot out crops on the page, asking for advice about placement as they went along.  In the end, I was proud of each gardener and the work they had done.  Creative juices were flowing. Gardens were imagined, and planned.  Now they need only plant the seed to watch it come to life.
If you missed the class and would like a chance to participate, there is another Fall Garden Planning Workshop on Saturday, October 25, 2008 from 2-4 p.m.  Please visit https://gardenerd.com/fallclass.html for more information and registration.