It's hot as Hades and fires are burning everywhere.  The last thing on my mind is to fire up the oven to make dinner.  I've had a torn-out recipe from the summer 2008 issue of Edible Los Angeles magazine for…well…a year.  I've been wanting to make it since the first tomatoes of summer fell from the vine, but the timing wasn't right.  Until today.  I couldn't take it anymore. 
I made Colorful Gazpacho, which calls for 1 1/2 pounds each of 3 different colors of tomatoes.  Even though I only had 2 different colors of tomatoes (red and yellow/orange) and well under 1 1/2 pounds of each, I was not going to let this stop me.  Especially since the recipe serves 12 and there were only 3 of us for dinner.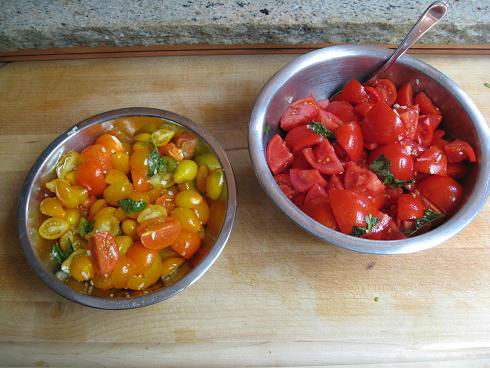 As I started chopping the ingredients I realized that every single ingredient I was using was home grown.  Garlic – grown last year – now hanging in a braid in the kitchen.  Check!  Tomatoes – picked from the community garden plot earlier this week.  Check!  Basil – also from the community garden.  Check!  Sweet satisfaction!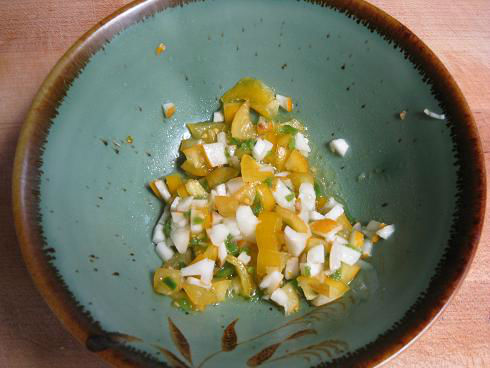 Then came the garnish:  Cucumbers – used the yellow lemon cucumbers that have been staring me down from the bowl on the kitchen counter.  Avocado – I don't like avocado – omitted… (please don't  hate me.  I don't like olives either).  While we're at it, omit the red and yellow bell peppers too – don't really like those.  Jalapeno – in the freezer from last year's crop.  Perfect.  Add a few tomatoes from the test garden, some chives instead of the green onions.  Skip the croûtons (who has croûtons on hand, ever?) and voilà!  The only non-homegrown ingredient was basil oil (used in lieu of olive oil and basil chiffonade, whatever that is).  Just to be fair, I tried to make basil oil once before and got a big batch of botulism, so I'm okay with this one exception.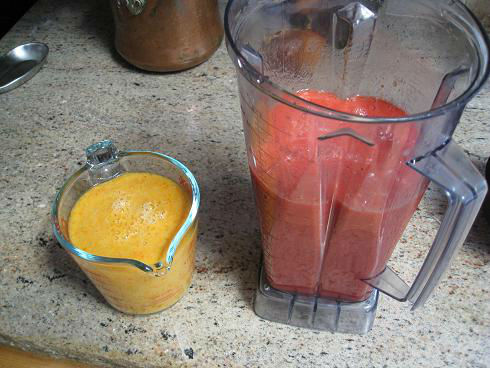 The short description of the recipe is this: cut up the tomatoes, separated by color, and mix with basil and garlic and salt and let it sit for 2 hours.  Then puree each separately.  Cutting the recipe down to just two colors makes it a lot easier to pour.  You don't have to employ a second person to help you plate the meal. Using your own two hands, you pour the separate tomato purees simultaneously into a serving bowl, so they stay separate in the bowl, and top with garnish.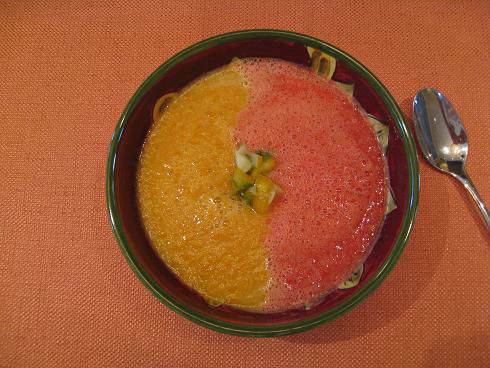 Yum.  Fair warning: this is a raw recipe – meaning raw garlic, so if you're going on a hot date after eating this, you might want to blanch the garlic for a few minutes before adding it to the recipe.  That, or stock up on mouthwash.  This soup went quite well with a dinner salad and blue corn tortilla chips, followed by vanilla ice cream topped with fresh berries and a splash of Medeira.