Once you arrive in Telluride, Colorado, there is little need for a car, which makes for great sight-seeing on foot.  When I was last there in spring, the flowers were just starting to wake up and there was still snow on the mountains. Now the gardens are in full bloom and everyone is making the most of their gardening space.  While I didn't see too many vegetable gardens, I was been charmed by the plenitude of cuteness in every corner.  I thought I'd share some photos from this beautiful mountain town:

Yarrow seems to grow wild in Telluride, but there were still plenty of
other flowers to see, like these 8-foot tall Delphiniums that were
arching into the aspens.  Two colors of Scabiosa (pin cushions) make
the yard cheery.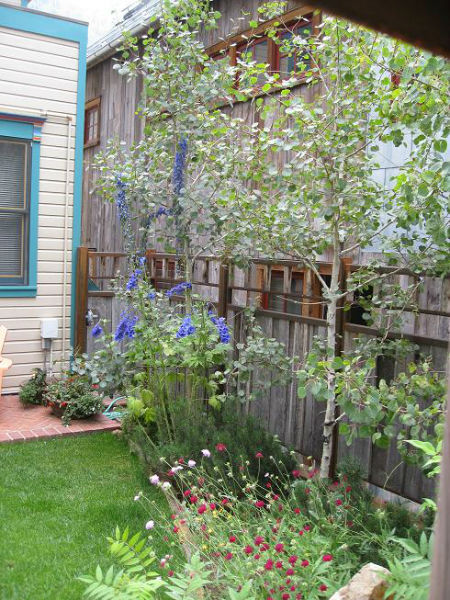 Telluridians really like their Hollyhocks.  I found these planted right in front of a matching windowsill.  Too cute to pass up.  The bees were hovering all over these deep-colored blossoms.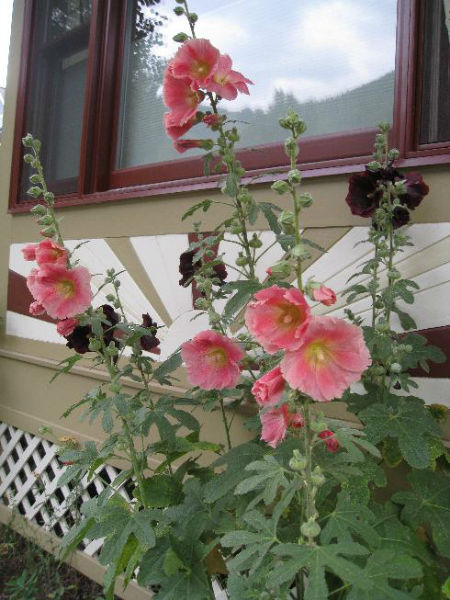 Since they have such a short growing season, you can tell they are really making the most of it with the brightest colored flowers one can find.  We found these pansies (and what looks like some kind of dianthus) lining a porch in antique jugs. You can't see it in this picture but there are serial numbers embossed on the metal jugs.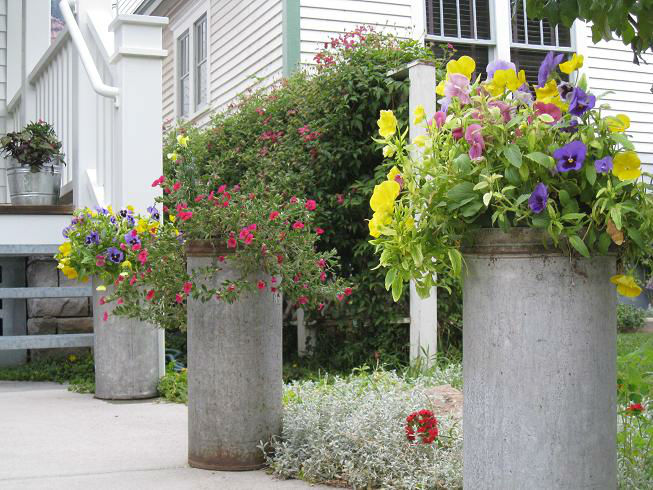 Without barging into private property, it was hard to find active vegetable gardens, even though I knew they existed in Telluride.  Finally, walking down an alley from our condo, we found this next garden.  I thought this would be inspiring for those who might not have any conventional space to garden: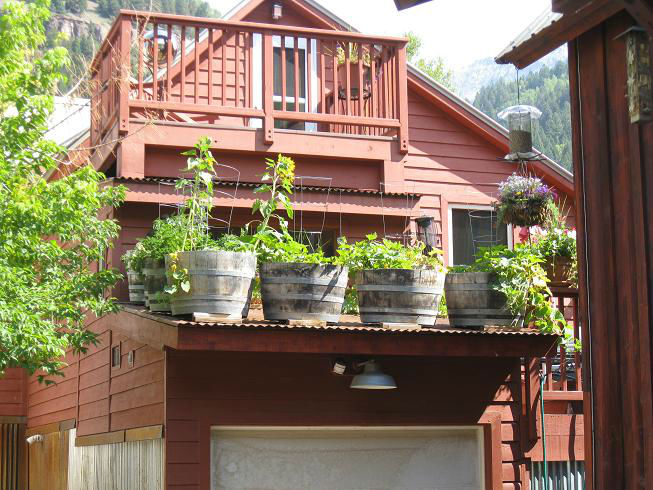 A sunny little rooftop garden in whiskey barrels.  What could be more cute!?  They were growing squash, tomatoes, and sunflowers, from what I could see.
I also found folks growing potatoes and beets, while others were composting straight in the ground where they planned to garden in spring; burying kitchen waste in patches of soil near their houses.  Among being some of the nicest people on the planet, Telluridians are certainly resourceful.