When a gigantic bouquet of Swiss Chard appeared on the porch the other day, an image of the jam-packed fridge came to mind.  This was going to require some thinking. It was time to pull out the big guns, and by "big guns" I mean that it was time to ask the Gardenerd Community for help.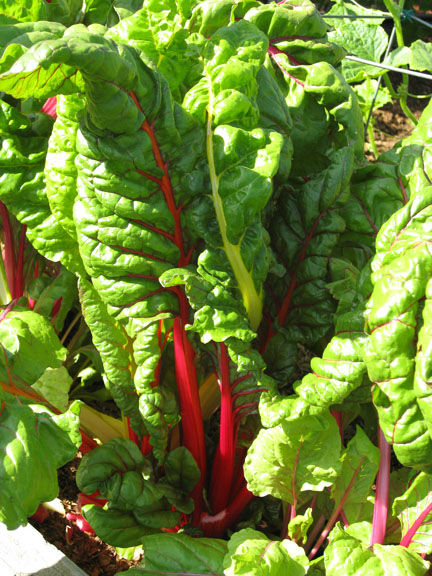 I put a call out in the last Weekly Update and got a couple of good recipes from fellow chard lovers.  Here are two from a local gardenerd, Loree.  It came to her from Health.com:
Tuscan Kale with Almonds, Plums and Goat Cheese
Ingredients
1 tablespoon lemon juice
1 tablespoon honey
 1 teaspoon tamari or low-sodium soy sauce
 1/2 teaspoon Dijon mustard
 1 tablespoon olive oil
 1 pound Tuscan Kale, Swiss chard or spinach, tough ribs removed and sliced thin (about 8 cups)
 1/4 cup sliced seasoned almonds (such as Almond Accents)
 2 plums, halved, pitted and cut into wedges
 2 ounces crumbled goat cheese
 1/4 teaspoon freshly ground black pepper
Preparation
 1. Whisk together the first 5 ingredients (through olive oil) in a large serving bowl. Add remaining ingredients to dressing, and toss well to combine. Divide salad among 4 salad plates, and serve immediately.
Loree sent along another recipe that she got from a friend:
Corn Salad (No Cook)
Bell pepper & corn slaw
6 large bell peppers, assorted colors
2 ears raw corn (I usually increase the corn and decrease the peppers)
juice of two lemons
zest from 1 lemon
1 clove minced garlic
1/4 c olive oil
1 T honey (or agave syrup)
1 t salt (or to taste)
1/2 t chipotle or other chili powder (I put more)
1/4 c chopped cilantro
Core and cut peppers into thin strips
Slice kernels off corn
Whisk together ingredients remaining ingredients and pour over peppers & corn
Cover and refrigerator at least 1 hour
Keeps up to 2 days refrigerated.
Loree's notes:
I keep the dressing separate and it keeps for 2 weeks (by my standards!).
I mix all sorts of other veggies like cucumbers, greens, green beans, black beans, etc.
This one is really really great.
Thanks, Loree, for sending those in.
Another great recipe that I've posted before is for a Swiss Chard Frittata by Rose Elliot.  You can find that blog entry here:
And finally, my standard way to use chard is really easy and came from Carrie, a fellow Ocean View Farms gardener who posted it as a comment a couple of years ago:
Saute a little garlic in some olive oil in a large skillet
Drop in chopped chard
Drizzle with soy sauce or Bragg's Aminos
Drizzle (or as Carrie put it – a whiff) of toasted sesame oil
Stir until wilted (I only cook it for 4 minutes)
TA-DA!  Fabulously tasty with just about anything (or all by itself eaten straight out of the pan…did I say that out loud?)
If you have a great chard recipe, share it with us here.