This week, we continue our efforts to provide interesting meal ideas with the abundance of zucchini coming in from the garden. Are you sick of it yet? Hopefully not, because this zucchini quinoa lasagna (technically lasagne, because we're using more than one lasagna "noodle" here) is delicious. In this recipe, zucchini serves as the flat noodle, which makes this a gluten-free recipe.
Quinoa really works as the filling here, all skepticism aside. The dish is meant to be vegan as well, but we had real cream cheese and mozzarella on hand, so we used it instead of the vegan options. I'm sure the vegan option is just as tasty. Here's how it goes: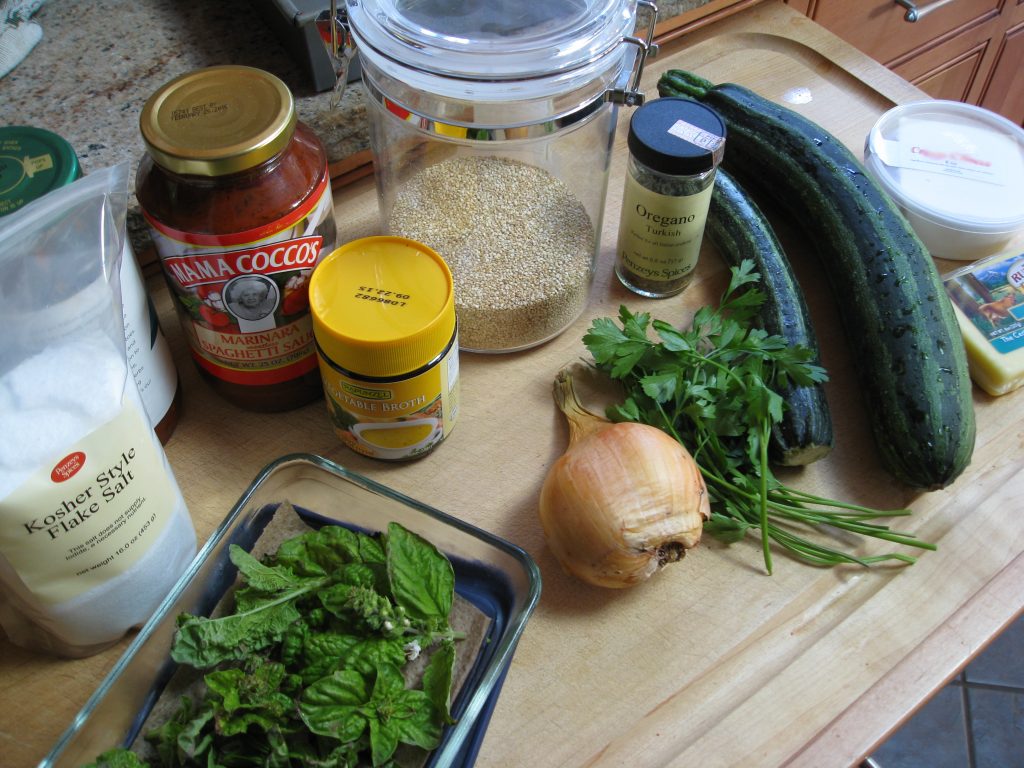 We used homegrown basil, oregano (stored in a Pensey's jar), onion, parsley, and zucchini for the recipe (and we actually had some homegrown quinoa on hand, but opted for the store-bought stash instead since this was a 1st time try).
First: we sliced the zucchini on a mandoline, a little thinner than the 1/4″ slices required. Then we placed them on paper towels, sprinkled with salt and covered with another paper towel to absorb moisture.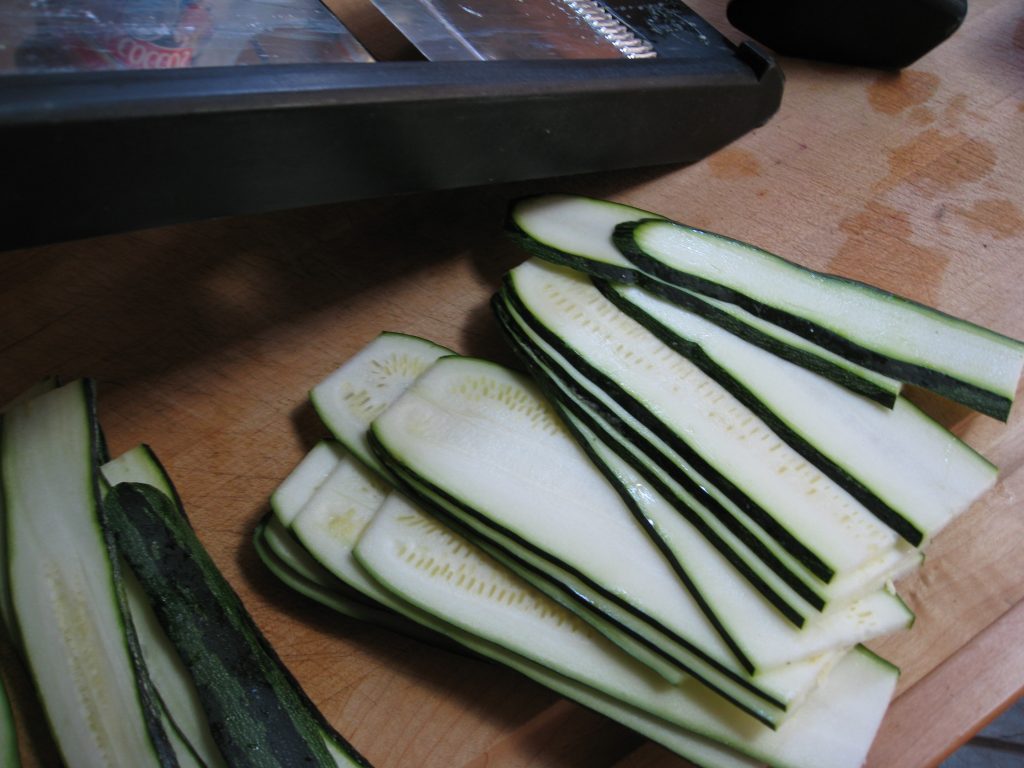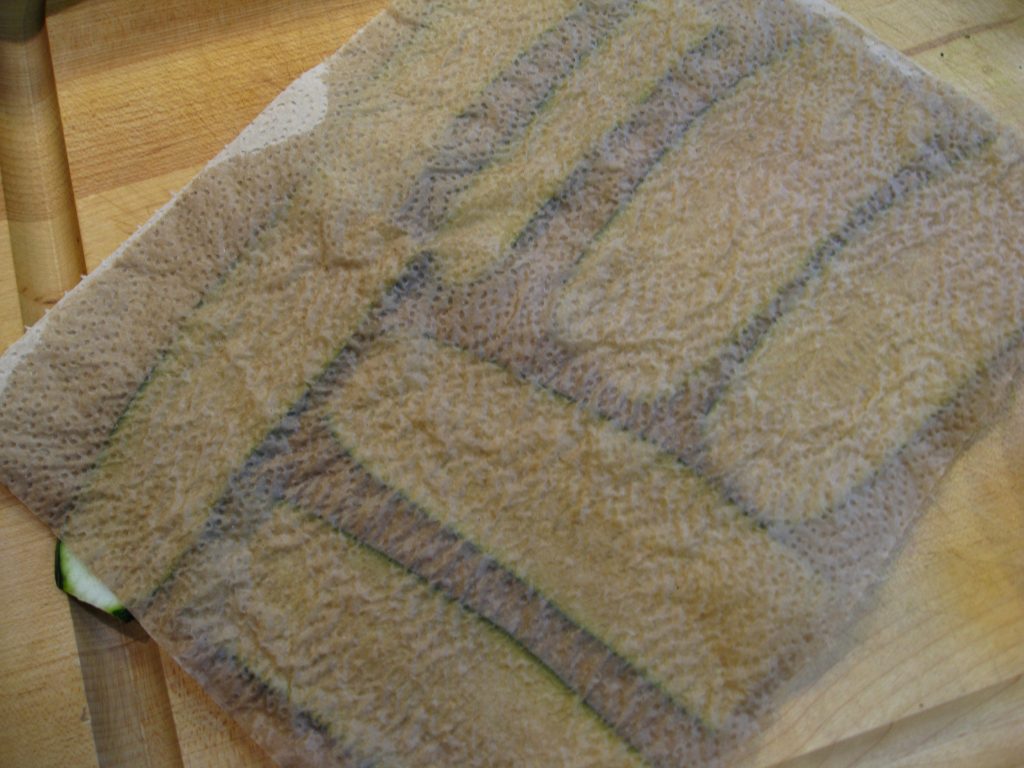 Next: Preheat the oven to 400°F. We added the broth, quinoa and tomato sauce, onion and oregano to a saucepan; brought it to a boil, reduced and simmered about 25 minutes. At the end, we stirred in the cream cheese, basil and parsley.
Now for the assembly. We spread a layer of tomato sauce on the bottom of an 8×8″ baking dish and put down a layer of zucchini slices.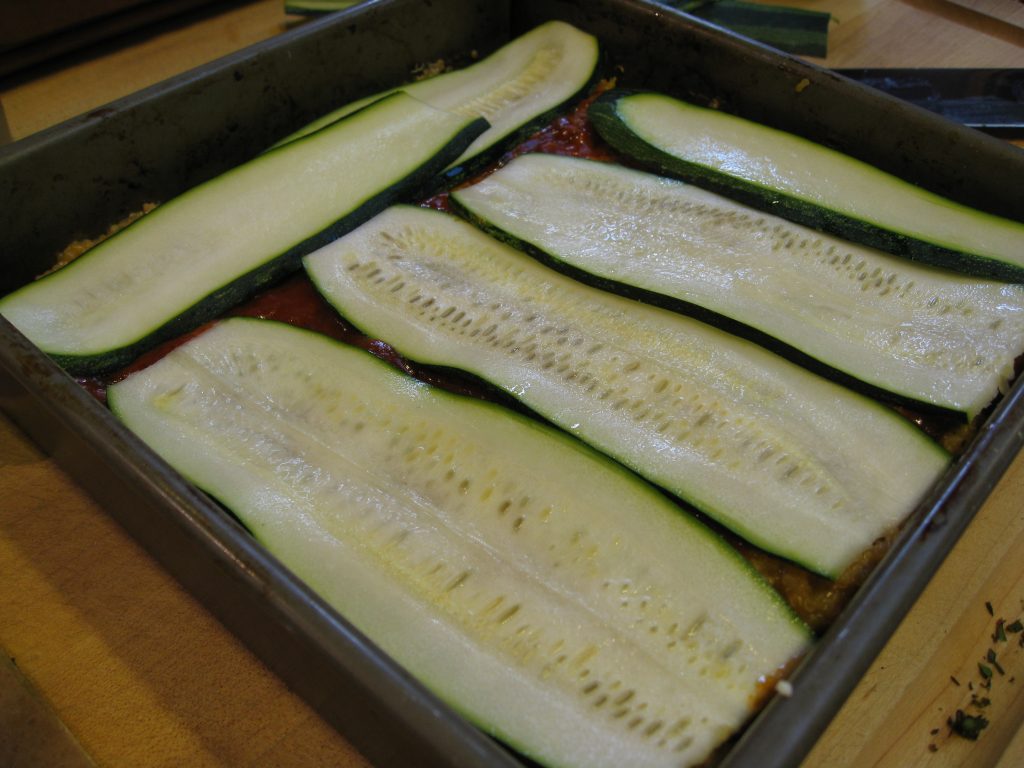 Next layer: We spooned half of the quinoa mixture over the zucchini.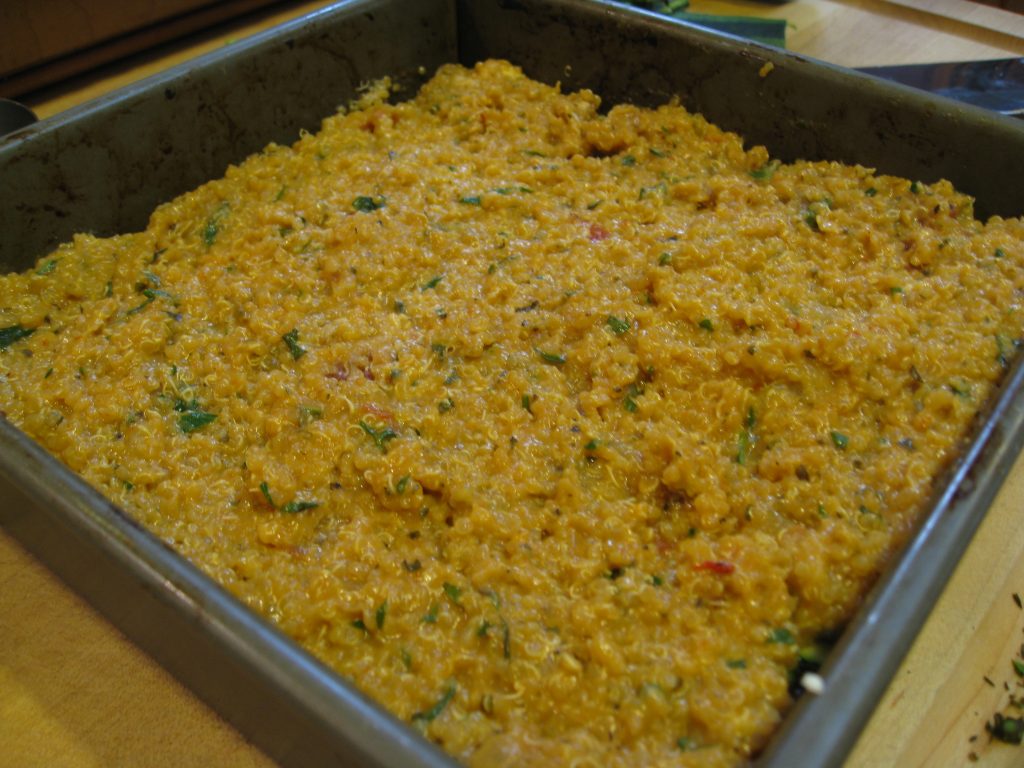 Top with more marinara sauce, then repeat, ending with marinara sauce and a layer of cheese.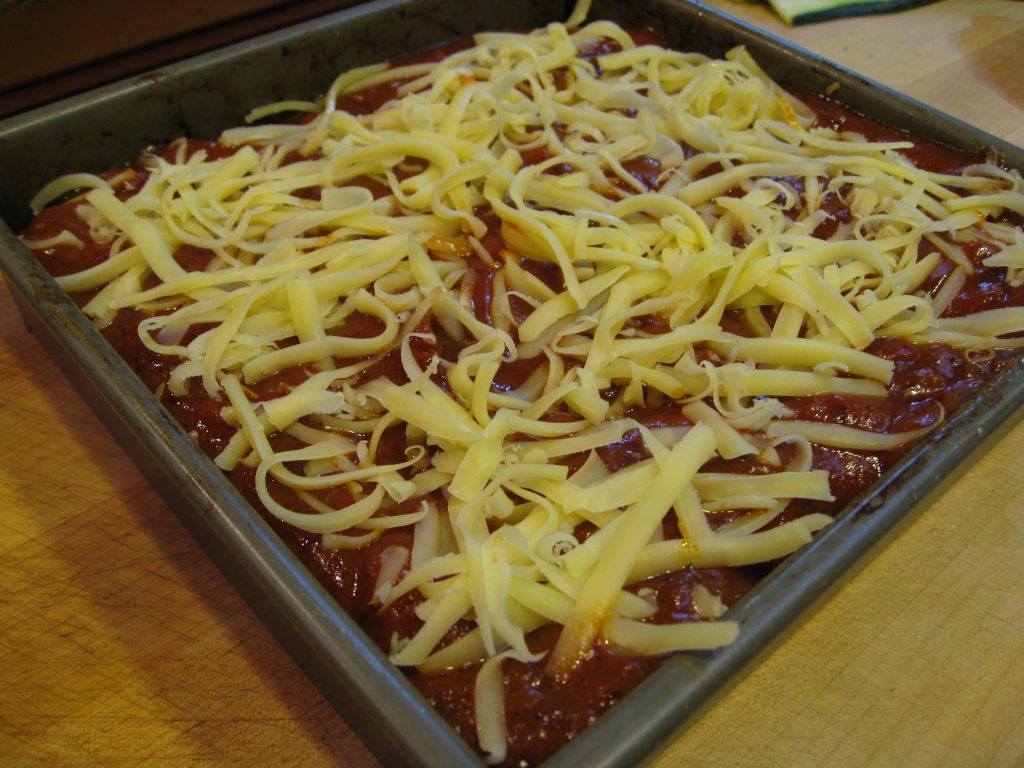 Finished: We baked it, uncovered, for 30 minutes and probably should have stopped sooner (kinda crispy here), but it was delicious and savory even still.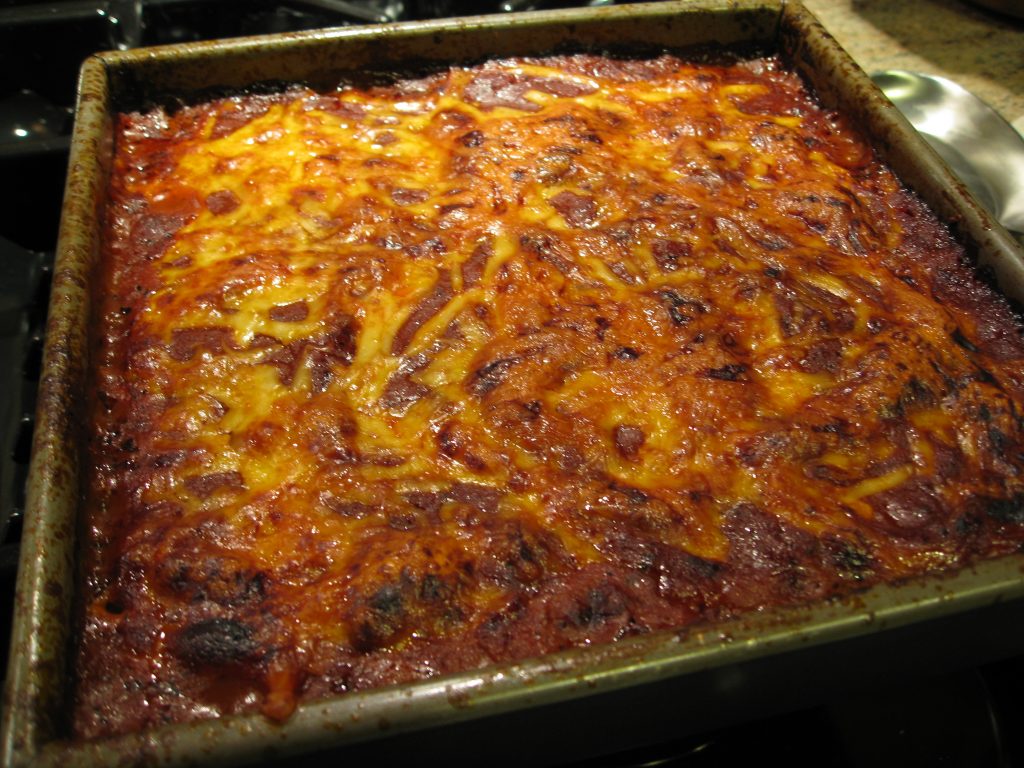 Notes: Serving this baby was a challenge. Perhaps if we had waited 15 minutes or so it would have set a bit more, but we didn't, so it oozed all over the place (thus no photos of mile-high lasagna served up on a plate). It didn't matter, it was the best thing we'd eaten in awhile. Here are the details:
Zucchini-Quinoa Lasagna – Vegetarian Times, July/August 2010, pg. 53
by The Mom Blogger, Sarah Matheny
Serves 6
While brainstorming ways to make a summery lasagna with the same flavors as the classic casserole, Matheny chose to replace lasagna noodles with zucchini, and use high-protein quinoa instead of a meat filling.
2 large zucchini, cut lengthwise into 12 ¼-inch-thick slices
1 tsp. salt
2 cups low-sodium vegetable broth
1 cup quinoa, rinsed and drained
½ cup tomato sauce
¼ cup finely chopped onion
1 tsp. dried oregano
¼ cup fresh basil leaves, chopped
¼ cup fresh parsley leaves, chopped
2 Tbs. nondairy cream cheese, such as Tofutti Better Than Cream Cheese, optional
1 25-oz. jar marinara sauce
½ cup shredded nondairy cheese, such as Daiya Mozzarella, optional
1. Preheat oven to 400°F. Place zucchini slices on bed of paper towels. Sprinkle with salt, cover with paper towels, and let stand to release moisture while preparing quinoa.
2. Bring broth, quinoa, tomato sauce, onion, and oregano to a boil in saucepan. Cover, reduce heat to medium-low, and simmer 25 minutes, or until all liquid is absorbed. Remove from heat, and stir in basil, parsley, and cream cheese, if using.
3. Spoon 1/3 cup marinara sauce over bottom of 8-inch square baking dish. Blot remaining moisture and salt from zucchini slices, and lay 4 zucchini slices over marinara sauce in pan. Spoon half of quinoa over zucchini, and cover with 1/3 cup marinara. Repeat with 4 more zucchini slices, remaining quinoa, and 1/3 cup marinara. Top with remaining 4 zucchini slices, remaining marinara, and shredded cheese, if using. Bake lasagna 30 minutes, or until zucchini is tender and top is bubbly.