When I saw that Smitten Kitchen recreated the ratatouille recipe from Pixar's animated film of the same name, I couldn't resist making it. But there's one caveat: I don't care for peppers, which traditionally show up in this dish. So I changed it up a bit, substituted tomatoes for peppers and Voila! (or rather, Eccola!) it's now an Italian recipe.
Now, if you're a Francophile, don't hate me. I've actually eaten ratatouille in a restaurant that was made with tomatoes rather than peppers before. So this isn't exactly an original thought. It was beyond fun to make a cartoon meal. Here's how we did it: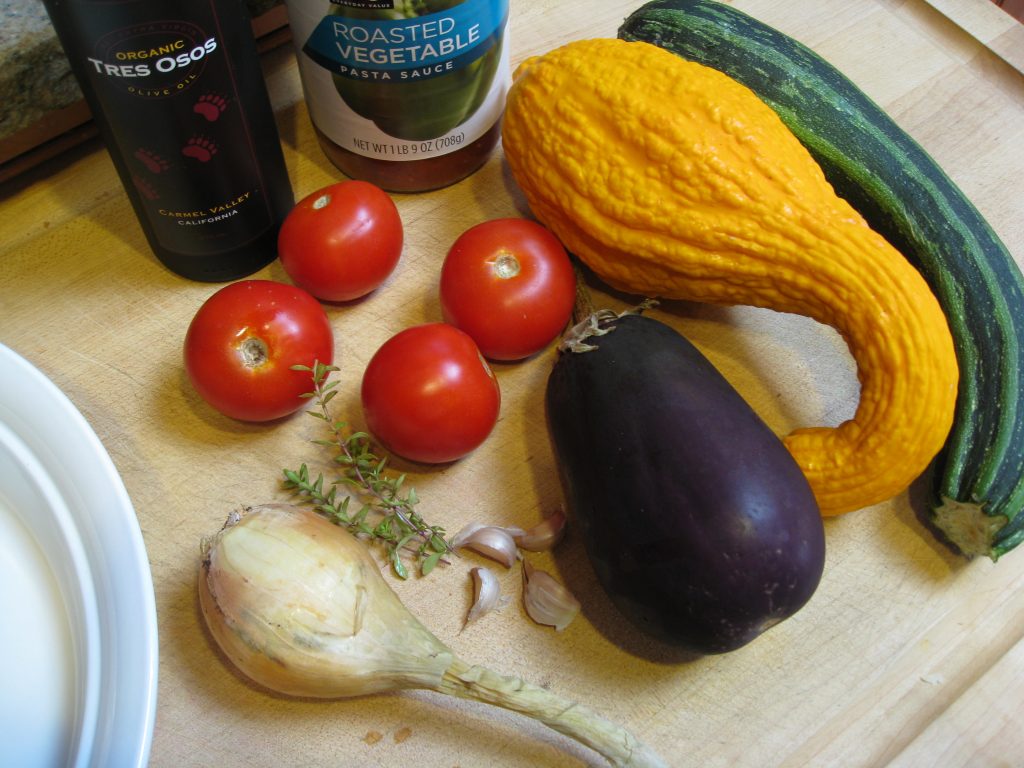 The original recipe called for tomato puree, but we had a jar of pasta sauce on hand, so we used that instead. We swapped out red pepper for tomatoes, but kept the other ingredients the same. Eggplant (a gift from a fellow gardenerd), zucchini, yellow crookneck, half an onion, 2 cloves of garlic, and a sprig of thyme.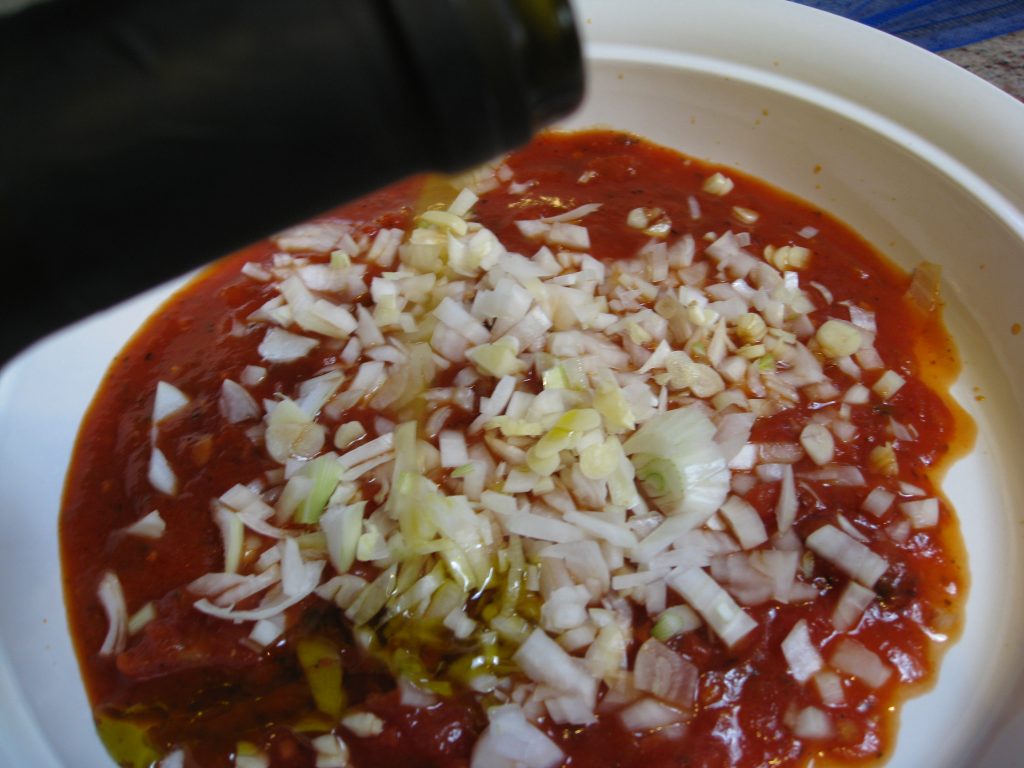 With a swirl of olive oil, these ingredients come together. But the key is using a mandoline for slicing the squash and eggplant. Don't freak out when your eggplant starts to turn brown right away. It does that. Work quickly and no one will  notice.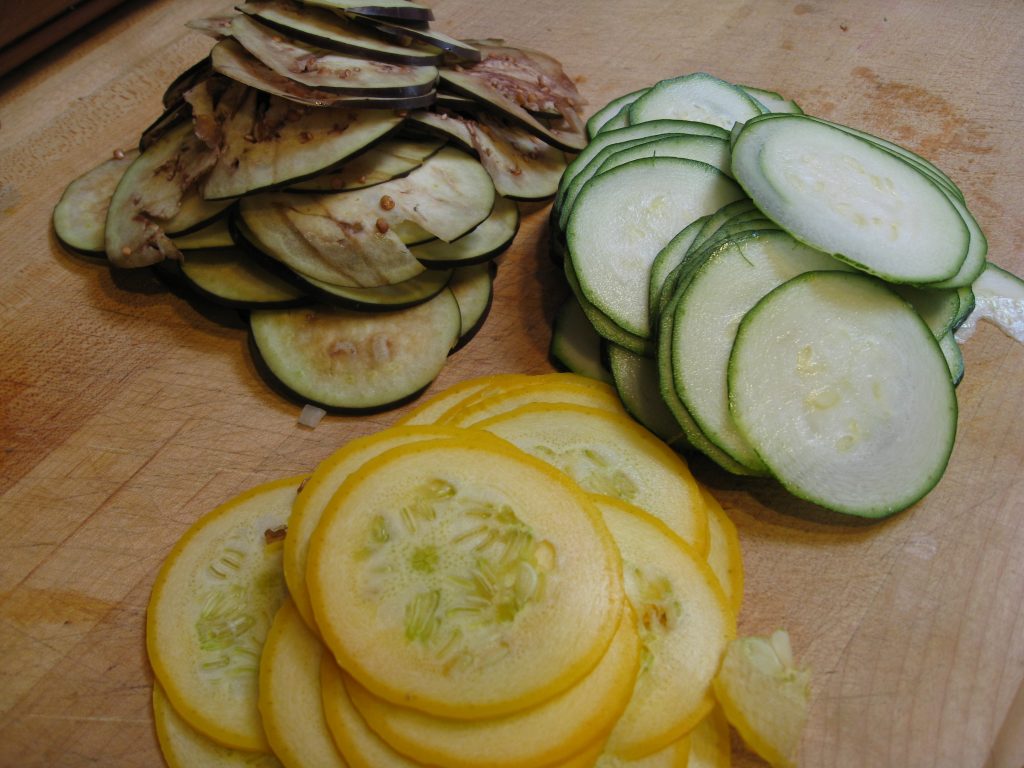 Our tomatoes were too tender for the mandoline (or the blade wasn't sharp enough, who knows). We sliced them with a serrated knife by hand, and added them to the pile of ingredients.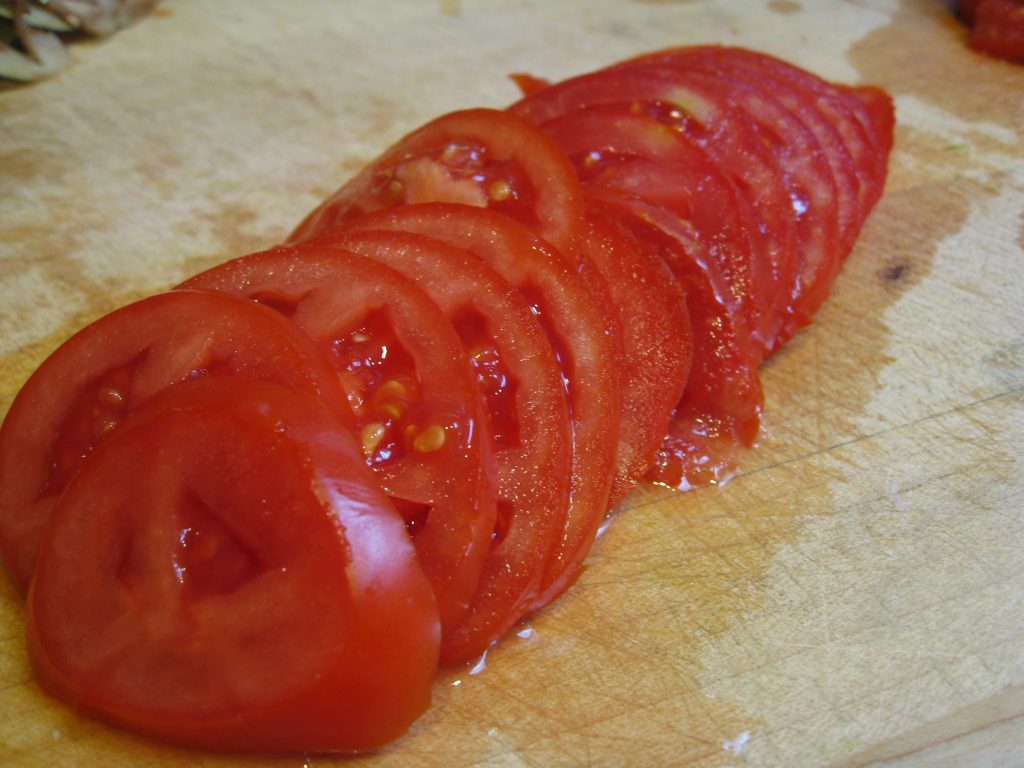 Next, it's time to layer. I was a little intimidated by the preciseness of the whole thing, but it turned out to be a lot easier than expected.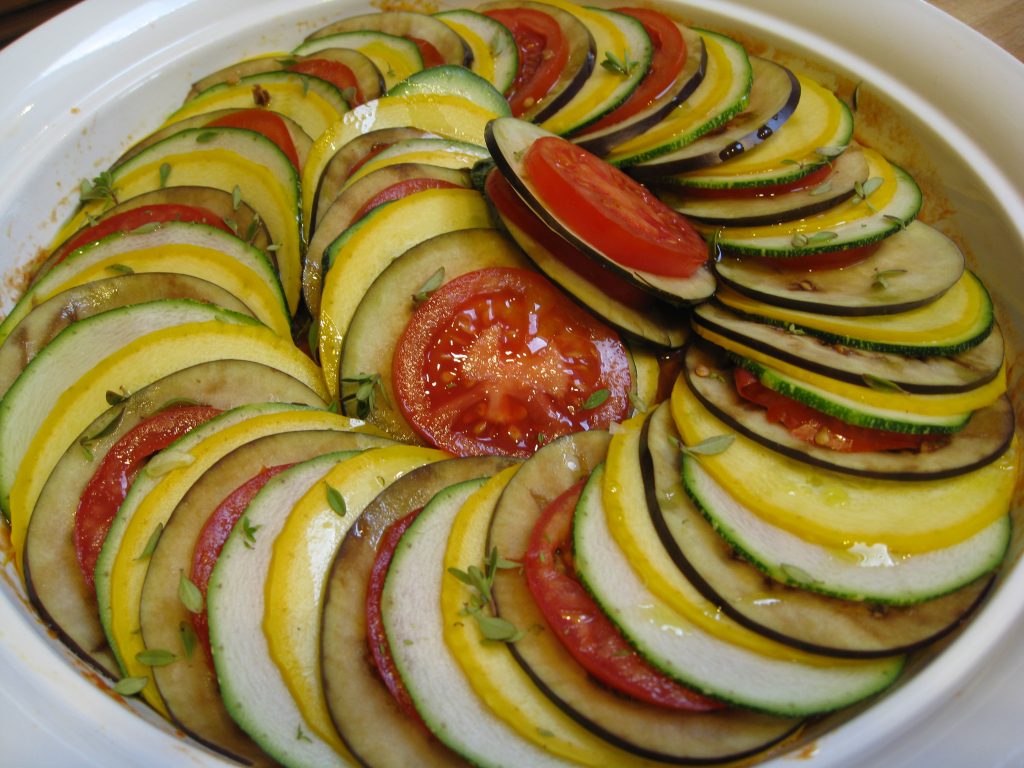 After sprinkling the whole thing with thyme leaves and drizzling with olive oil, it's time for Remy's famous parchment paper cover. Tear off a sheet of parchment paper and set your casserole dish on top of it. Trace a circle, then remove the dish and cut out the paper. That saves a lot of guesswork, trying to fit it to size. A little trimming here and there, and you've got a perfect circle that fits inside your dish.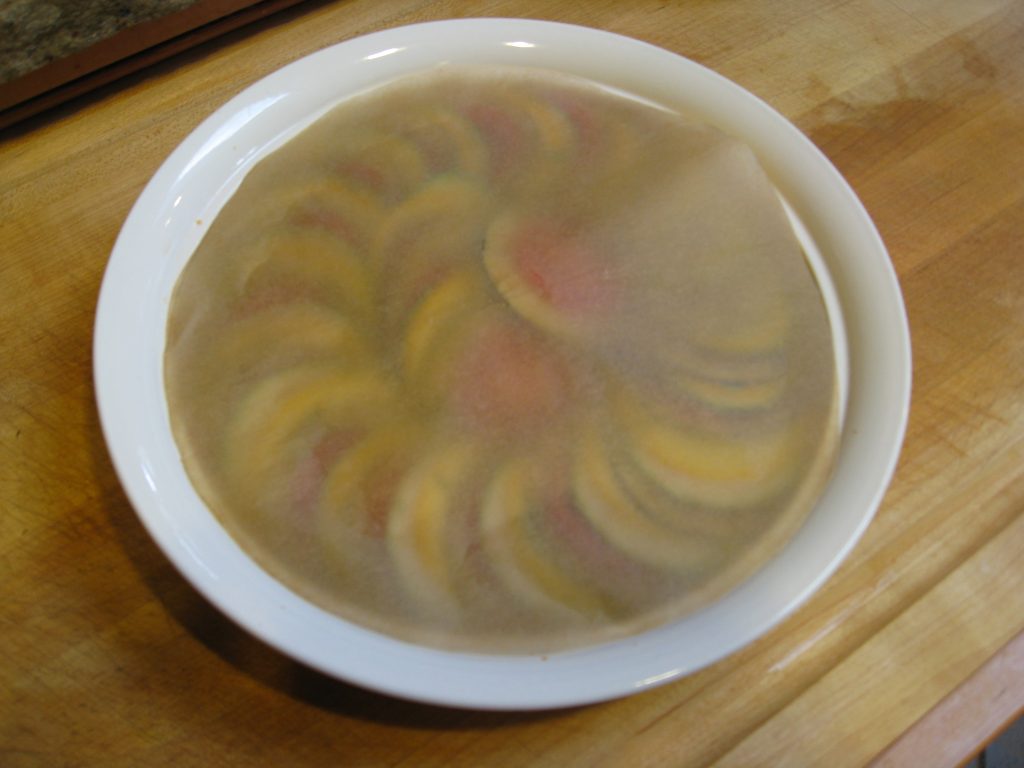 All in all, it came out pretty well. We liked the idea of serving it atop a mound of grains, as mentioned in Smitten Kitchen's post, so we used some quinoa we had on hand in the fridge. Instead of using goat cheese, we plopped a blob of ricotta on the side to complete the Italian transformation.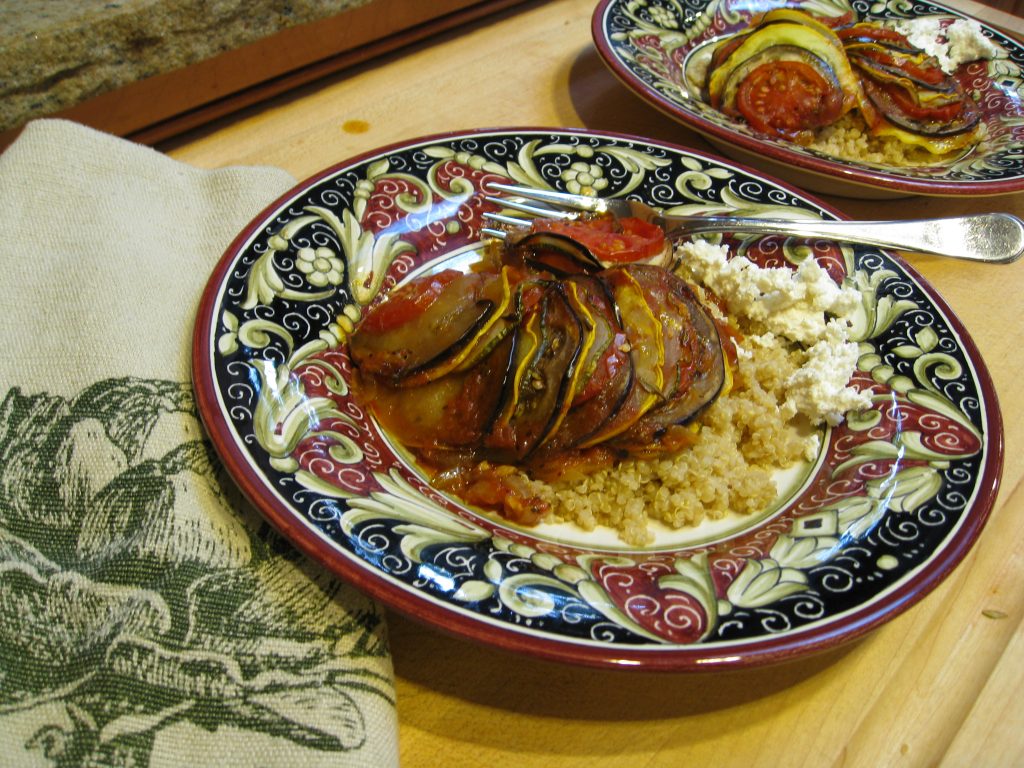 Notes: Our eggplant was a little bitter, so next time we may peel it first. Never the less, it's a beautiful and easy way to serve summer squash when you're sick of summer squash.
Here's the original:
Ratatouille's Ratatouille
As envisioned by Smitten Kitchen
1/2 onion, finely chopped
2 garlic cloves, very thinly sliced
1 cup tomato puree (such as Pomi) we used jarred pasta sauce
2 tablespoons olive oil, divided
1 small eggplant (my store sells these "Italian Eggplant" that are less than half the size of regular ones; it worked perfectly)
1 smallish zucchini
1 smallish yellow squash
1 longish red bell pepper we used 5 small tomatoes
Few sprigs fresh thyme
Salt and pepper
Few tablespoons soft goat cheese, for serving we used ricotta
Preheat oven to 375 degrees F.
"Pour tomato puree into bottom of an oval baking dish, approximately 10 inches across the long way. Drop the sliced garlic cloves and chopped onion into the sauce, stir in one tablespoon of the olive oil and season the sauce generously with salt and pepper.
Trim the ends off the eggplant, zucchini and yellow squash. As carefully as you can, trim the ends off the red pepper and remove the core, leaving the edges intact, like a tube.
On a mandoline, adjustable-blade slicer or with a very sharp knife, cut the eggplant, zucchini, yellow squash and red pepper into very thin slices, approximately 1/16-inch thick.
Atop the tomato sauce, arrange slices of prepared vegetables concentrically from the outer edge to the inside of the baking dish, overlapping so just a smidgen of each flat surface is visible, alternating vegetables. You may have a handful leftover that do not fit.
Drizzle the remaining tablespoon olive oil over the vegetables and season them generously with salt and pepper. Remove the leaves from the thyme sprigs with your fingertips, running them down the stem. Sprinkle the fresh thyme over the dish.
Cover dish with a piece of parchment paper cut to fit inside. (Tricky, I know, but the hardest thing about this.)
Bake for approximately 45 to 55 minutes, until vegetables have released their liquid and are clearly cooked, but with some structure left so they are not totally limp. They should not be brown at the edges, and you should see that the tomato sauce is bubbling up around them.
Serve with a dab of soft goat cheese on top, alone, or with some crusty French bread, atop polenta, couscous, or your choice of grain."