It's a mouthful of a title, but basically Pasta al Cavolo Broccolo e Romanesco is pasta with Romanesco broccoli and a delightful Italian sprouting broccoli otherwise known as Spigarello or Cavolo Broccolo a Getti di Napoli. I made up this recipe based on what was in the fridge.
Spigarello is grown for the leaves more than for the heading flowers. You can use it as a substitute for kale, collards or spinach in cooked dishes like this.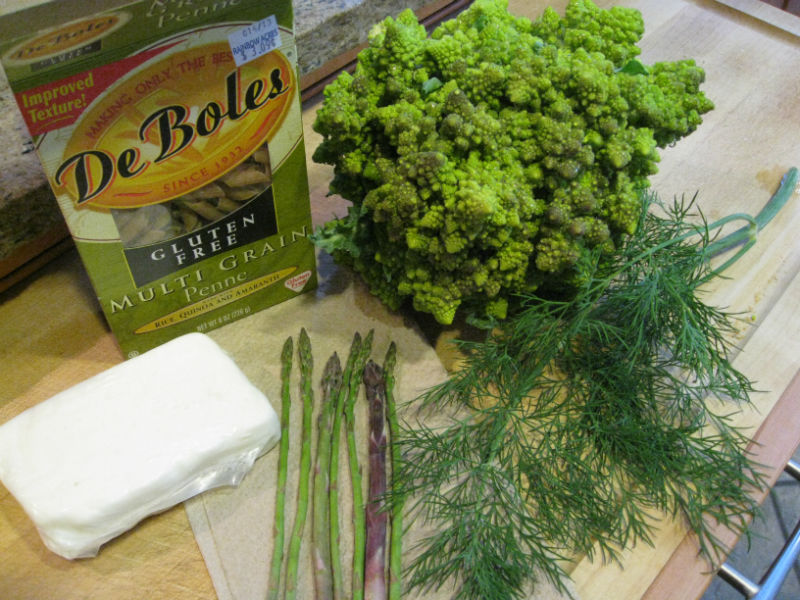 Our recipe starts with an inspection of the fridge, and the garden of course. We recently started harvesting our asparagus, and the Romanesco was ready to harvest. We have dill volunteering in the corner of the yard (not to mention the asparagus patch) so it seemed like a good pairing with some sheep's milk feta from Milkman at the Mar Vista Farmers' Market.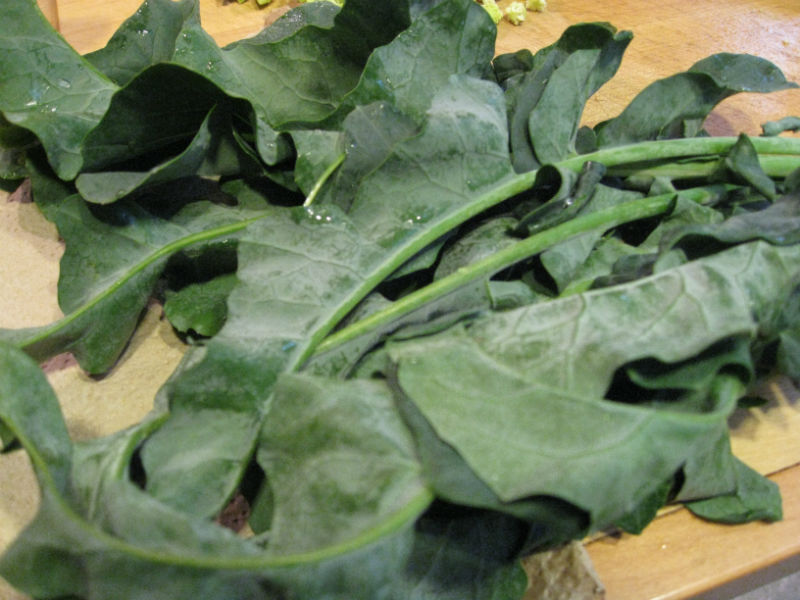 Ingredients:
The quantities are flexible, based on what is available, so forgive the vague attributes of this list.
1 box Gluten Free pasta (penne preferred)
1 head Romanesco broccoli, separated into florets, stems chopped
1/2 bunch- ish of asparagus , trimmed and cut into 1 1/2 inch pieces
2-3 TBS. olive oil
3-4 cloves garlic (we used homegrown small cloves)
1 bunch Cavolo Broccolo a Getti di Napoli (or some other sturdy green that you love), stems removed, roughly chopped
1 oz. or so salty sheep's milk feta, crumbled
2 sprigs dill plus some for garnish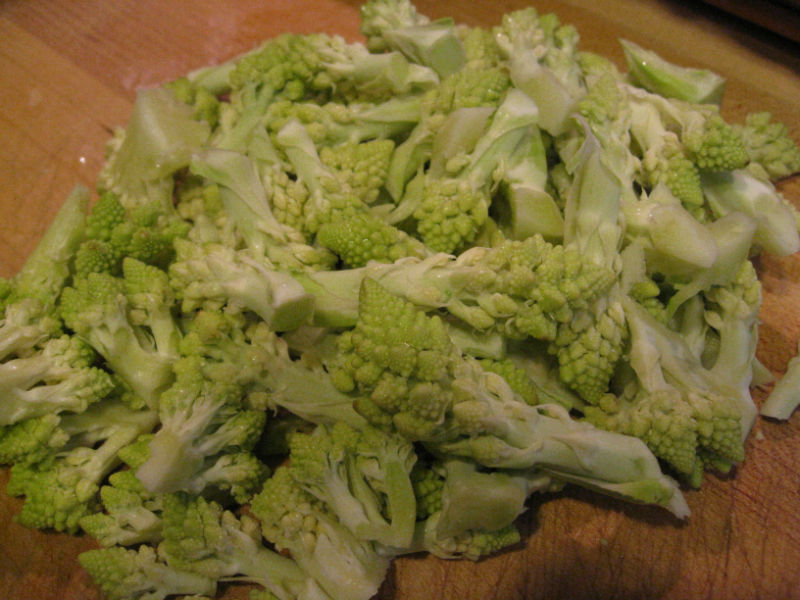 Step 1: Cook the pasta according to package directions in a pot of salted water. In the last 5 minutes of cooking, add Romanesco florets, return to a boil and continue cooking. In last 2 minutes of cooking, add asparagus to the pasta water and continue cooking.
Step 2:   Drain pasta, Romanesco and asparagus, cover the colander with a dishtowel and return the empty pot to the stove.
Step 3: Heat 1 TBS olive oil in the pot and cook garlic about 1 minute until fragrant. Add chopped Cavolo Broccolo (or greens) and saute quickly for another minute.
Step 4: Return drained pasta mixture to the pot, drizzle with remaining 2 TBS olive oil and stir to combine. Toss in crumbed feta and dill springs, stir gently to incorporate. Serve in wide bowls garnished with dill.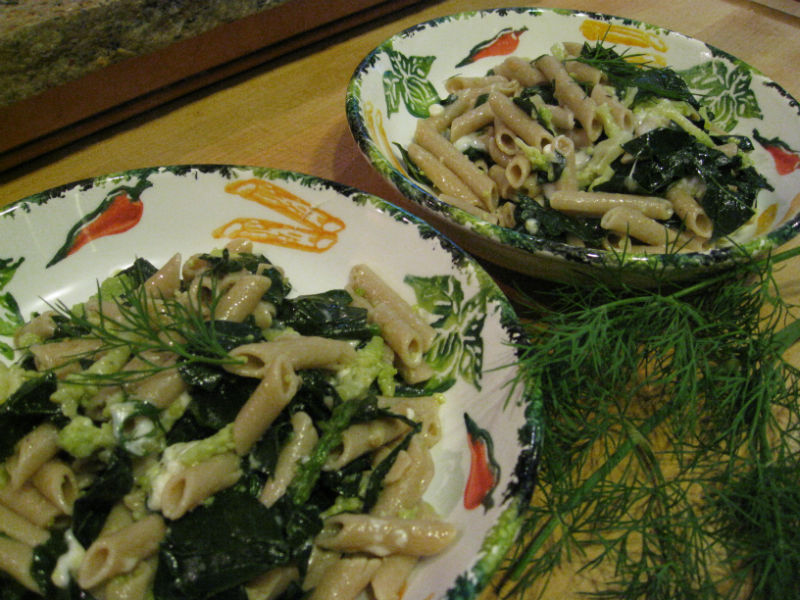 One pan cooking that comes together in about 30 minutes or fewer. What could be better? The result is a savory pasta with tender-crisp veggies and herbs from the garden. Feel free to elaborate on this recipe and post your creations here.