I have no excuse for this chocolate chip pan cookie recipe except to say that it is one of the best Pandemic coping mechanisms I've seen all year. Spotted on Nadiya's Time To Eat Netflix series, and involving absolutely nothing from the garden, I felt pulled to make it.
This recipe could easily be made vegan, by substituting vegan butter, egg replacer, and vegan chocolate chips. But here, in its original form, it is.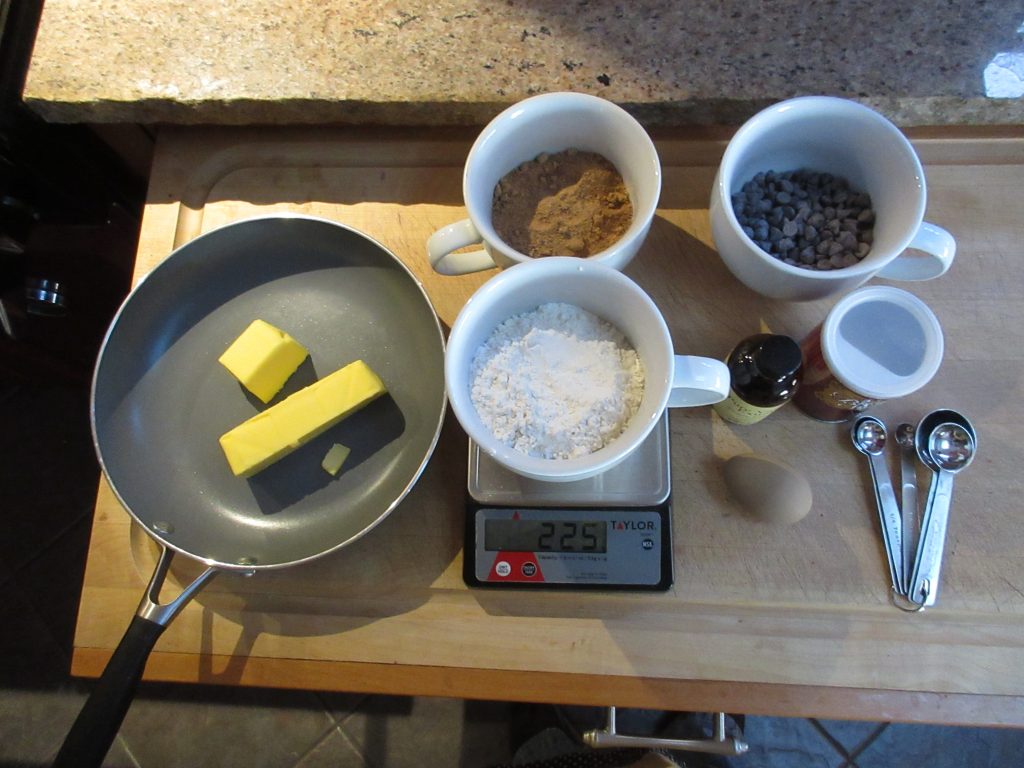 Ingredients
150g/5½oz unsalted butter
160g/5¾oz brown sugar (we used coconut sugar)
1 medium free-range egg
½ tsp vanilla extract
½ tsp almond extract (we left this out for the betterment of all humankind)
225g/8oz all purpose flour
½ tsp baking soda
½ tsp salt
200g/7oz chocolate chips
Method
Start by melting 150g/5½oz butter in a 10″ non-stick pan on low heat on the stove. Mix in the 160g/5¾oz brown sugar / coconut sugar and stir to combine. Turn off the heat and let the mixture cool a few minutes.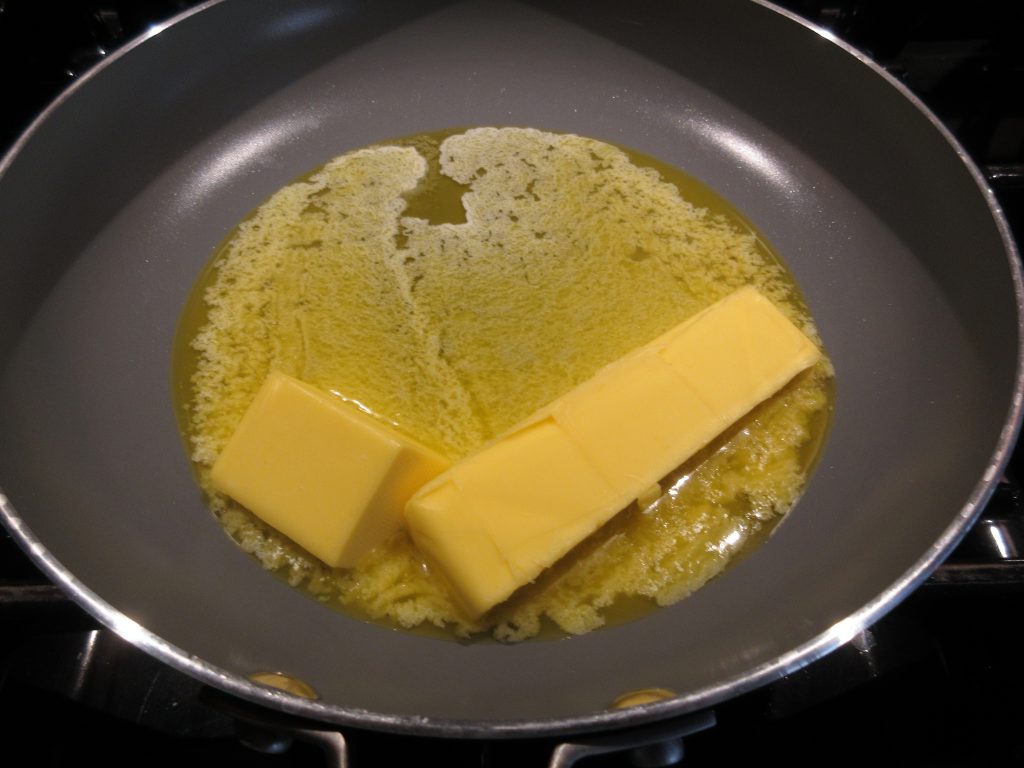 Next, while the butter/sugar mixture is cooling, whisk the egg in a small bowl. Add 1/2 tsp vanilla extract (and almond extract if using).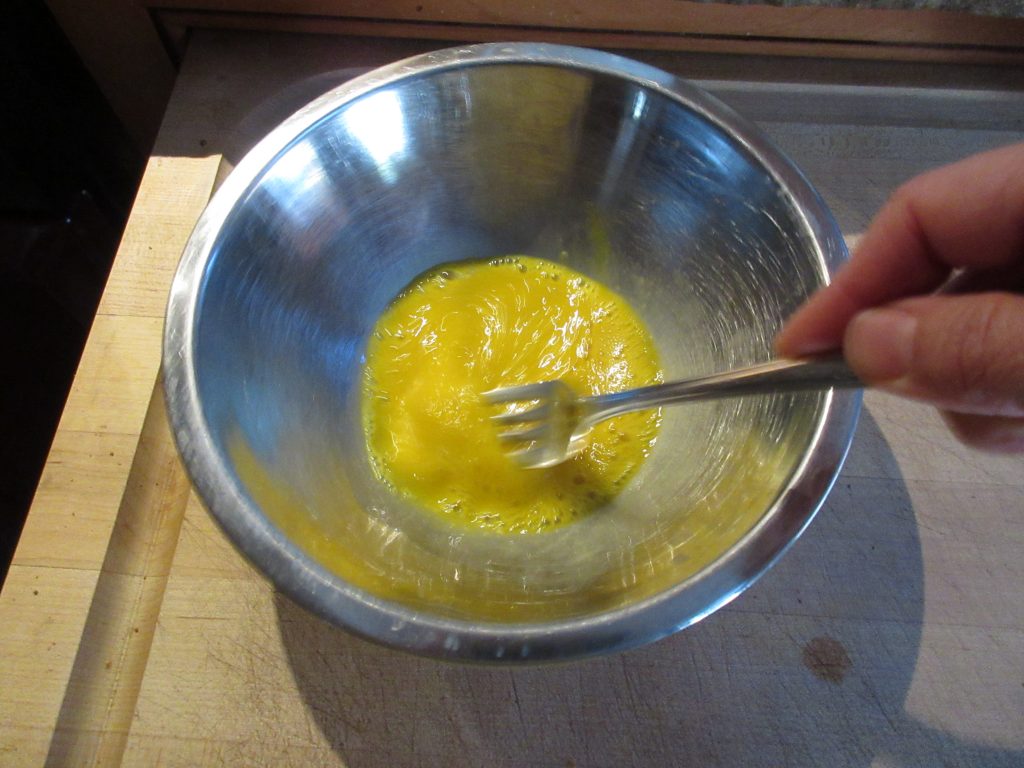 Now, go back to your pan and add the 225g/8oz all purpose flour, 1/2 tsp each of baking soda and salt, and stir gently to combine. This can be messy so add in batches.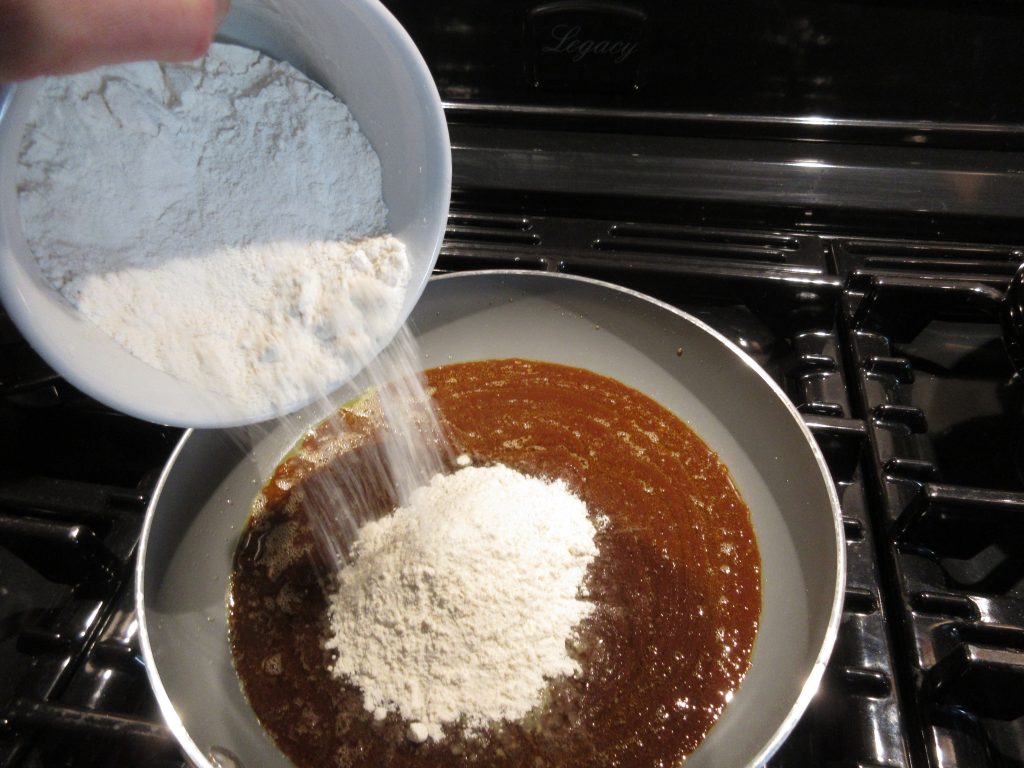 Then add the egg mixture and incorporate completely. The batter will be lumpy at first, but it will eventually smooth out.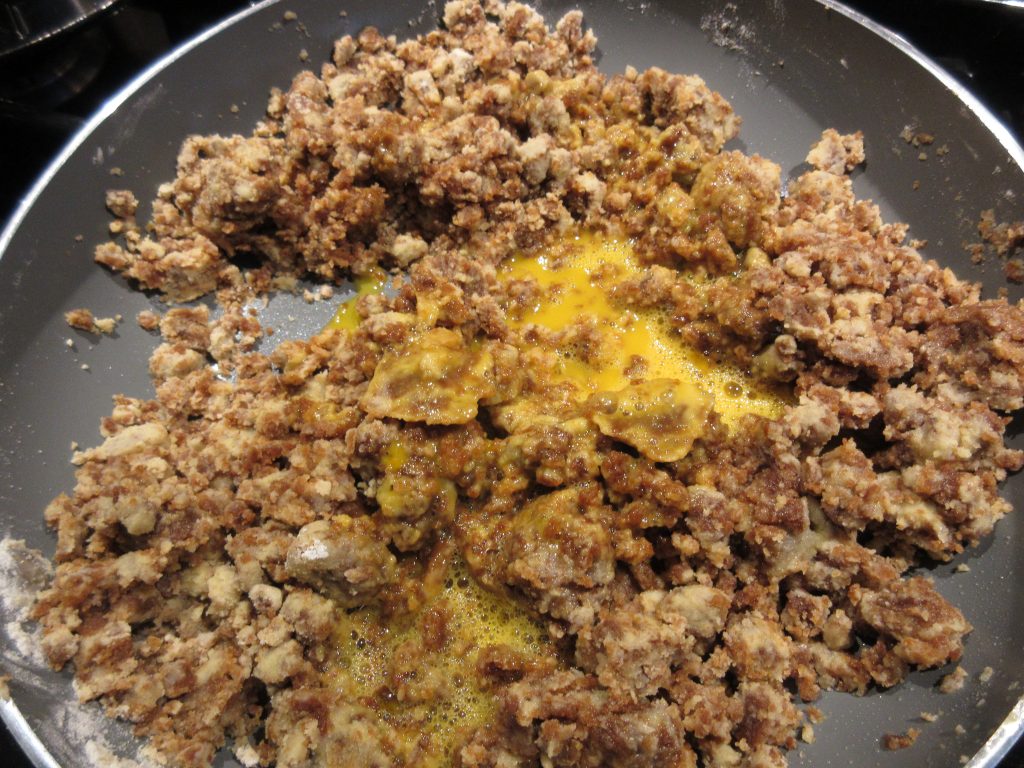 Almost There!
Press the mixture flat in the pan, and then dump 200g/7oz chocolate chips on top. Use a spatula to press them into the surface. This is a lot of chips by weight (we use grams as our preferred measurement).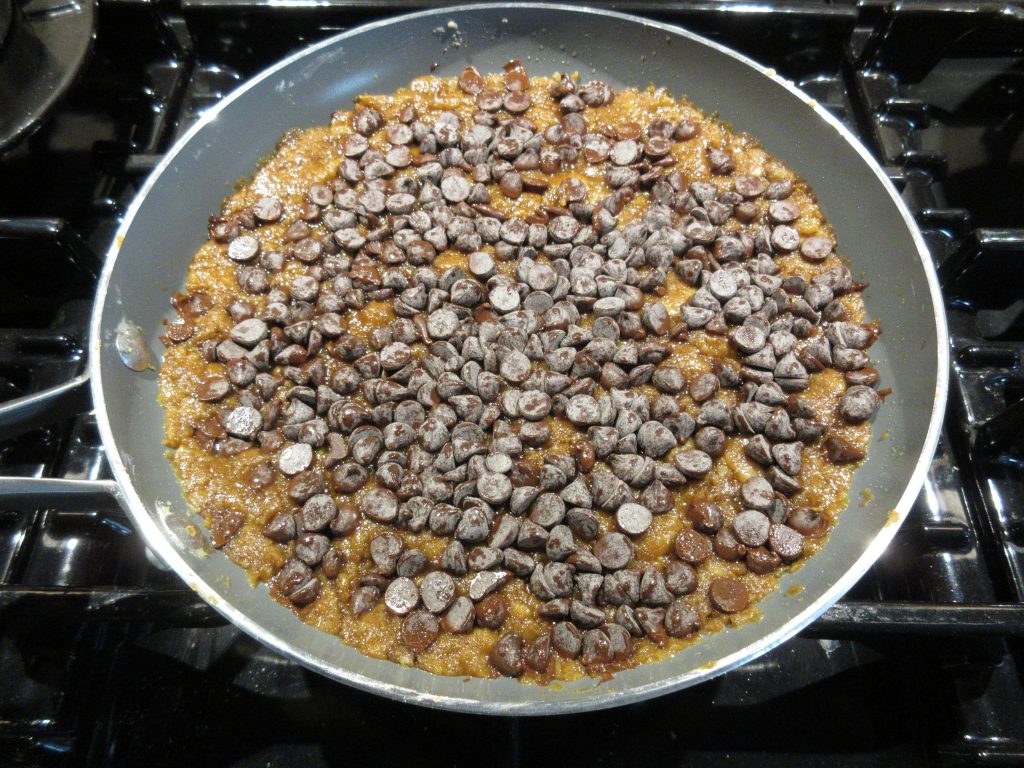 Turn the heat back on low and let the pan sit for 20 minutes (we left it 30 minutes because the middle was still jiggly.) The cookie should slide around in the pan (from all that butter), but if it sticks in the middle, Nadiya suggests covering the pan with a lid for 5 minutes. That will help cook the middle more quickly.
After it's finished (but still a little soft) turn off the pan and let the cookie cool for 15 minutes before removing. You can slice the cookie into wedges in the pan (use a spatula not a knife) or slide it out onto a cutting board or plate to cut.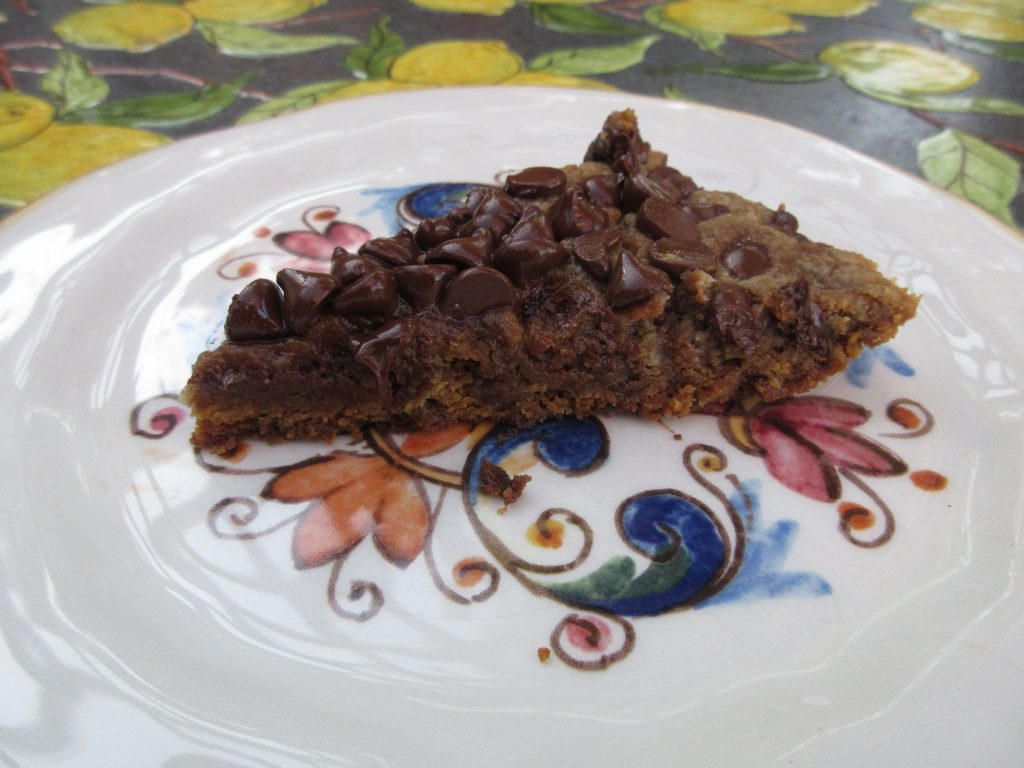 This cookie stores at room temperature or refrigerated for a few days. Though I doubt it will last that long. Consider freezing half of this chocolate chip pan cookie for later enjoyment, and to prevent sugar overload. You're welcome!
If you'd like to make something sweet including something from the garden, try these true red velvet brownies.