After last week's Tip of the Week on beets, it got me thinking about red velvet cake. Where did it come from? How was it made before the introduction of Red #40?  A quick search revealed that prior to the availability of more alkaline "Dutch processed cocoa", bakers could count on the reaction between cocoa and acidic ingredients like vinegar or buttermilk to create a red tinge to the cocoa.  While red food coloring was sometimes added to enhance that color, during the time of rationing in World War II many bakers used beets to color their cakes instead. 
Regular podcast listeners and Gardenerd blog follows know by now that I hate beets.  In yet another attempt to consume them without passing out from disgust, I took the plunge and made Red Velvet Brownies.  As mentioned in the podcast, I found a recipe in Vegetarian Times Magazine.  It calls for 2 cooked beets.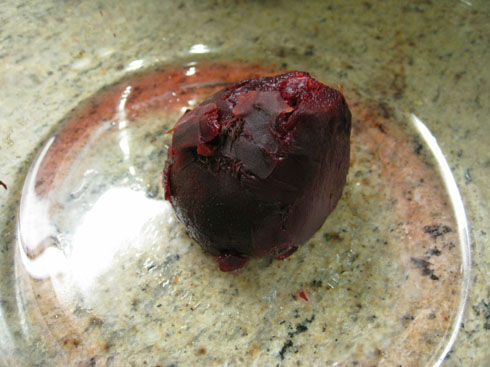 One of the cooked beets after peeling
Oh the stench of cooking beets!  Would that I could open all the windows to clear the air, but it was about 45º outside.  The oven vent on full blast (or full suck, as it were) would have to do.  These brownies better be good.
The recipe was easy to follow; mix together butter and sugar, add vanilla, eggs and pureed beets, combine with a mixture of cocoa powder, instant espresso powder (I used decaffeinated instant coffee) and flour, then stir in miniature chocolate chips.  Before long (and with very small amounts of each ingredient) the batter came together.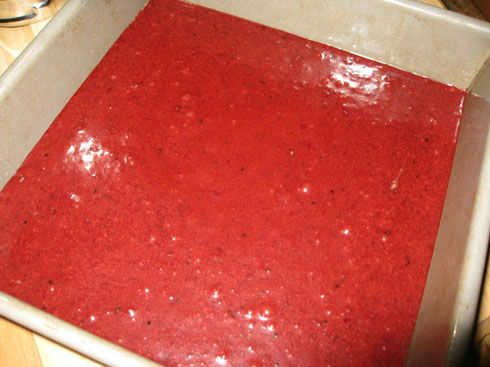 Now that's red velvet! 
My baking pan is an 8″ square rather than a 9″ square, so it's likely that my brownies came out thicker than the recipe accounts for in the baking time.  Bake at 350º for 30 minutes until a toothpick comes out clean.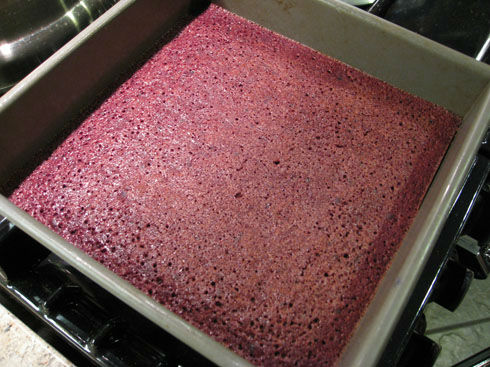 Even when baked, the color still shines through
After cooling came the taste test.  Still warm, a coffee flavor is more pronounced than when the brownies are cool.  There is a hint of beet flavor, possibly because I'm looking for it, and possibly because I didn't puree the beets to a smooth consistency.  But all in all, it was a good brownie worth making in an effort to use up unwanted beets.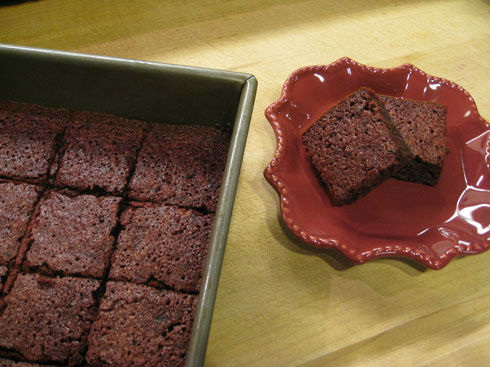 Make a batch for your friends, or unsuspecting children
Do you have a favorite way to disguise beets?  Share your ideas with us here.
Podcast: Play in new window | Download (2.2MB)
Subscribe: RSS