Lightning in a Bottle is a festival that might be hard to describe.  Some say that it's Burning Man with less dust, while others say that it's enchantment in a perfect blend of music, art, and funky people enjoying the outdoors.  My experience of Lightning in a Bottle (back in 2008) was most profound in meeting a collection of forward-thinking people out to save the world with big new ideas. 
This year over Memorial Day Weekend, I have the honor of being one of the people chosen to present their ideas to the Lightning in a Bottle community.  In addition to my workshop on Small Space and Container Gardening, there will be others presenting workshops on how to capture rainwater and gray water, beekeeping, permaculture, and raising chickens, as well as plenty of classes for yoga, meditation and dance.
If you're in the Los Angeles or Orange County area, there are still tickets available for camping.  Check out the website at:
Lightning in a Bottle – May 28-31, 2010
Here is information on my class – the schedule will be published later this week:
http://lightninginabottle.org/workshops/small-space-container-gardening-by-christy-wilhelmi/
And here's a little taste of what to expect: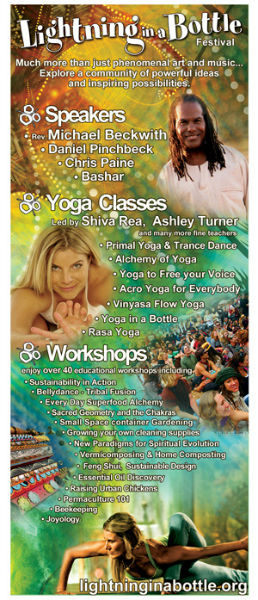 Come join us!