After watching the Chef's Table: Pizza series, I felt a burning creativity that resulted in brown butter sage & potato pizza. It's a recipe I came up with using garden-fresh ingredients, inspired by a pizza I inhaled once at Industrial Eats in Buellton, CA.
The recipe is still in the experimental stage, but hopefully it will inspire you to try fixing your own garden-inspired creations on flatbread. Pizza is soul-satisfying food, open to interpretation, that puts a smile on everyone's face.
Ingredients
1 batch pizza dough (enough for a 12″ round) – we used homemade sourdough…dough
3 small potatoes – 1 each of 3 different colors: red, white, purple/blue (we used home-grown Purple Majesty, Adirondack Red, and Yukon Gold)
1/2 – 1 tsp. salt
10-20 leaves of fresh sage – We'd double up on this next time
1 tbs butter
Drizzle of olive oil (we used garlic oil)
Black pepper to taste
1/2 cup shredded mozzarella
1/4 cup shredded parmigiano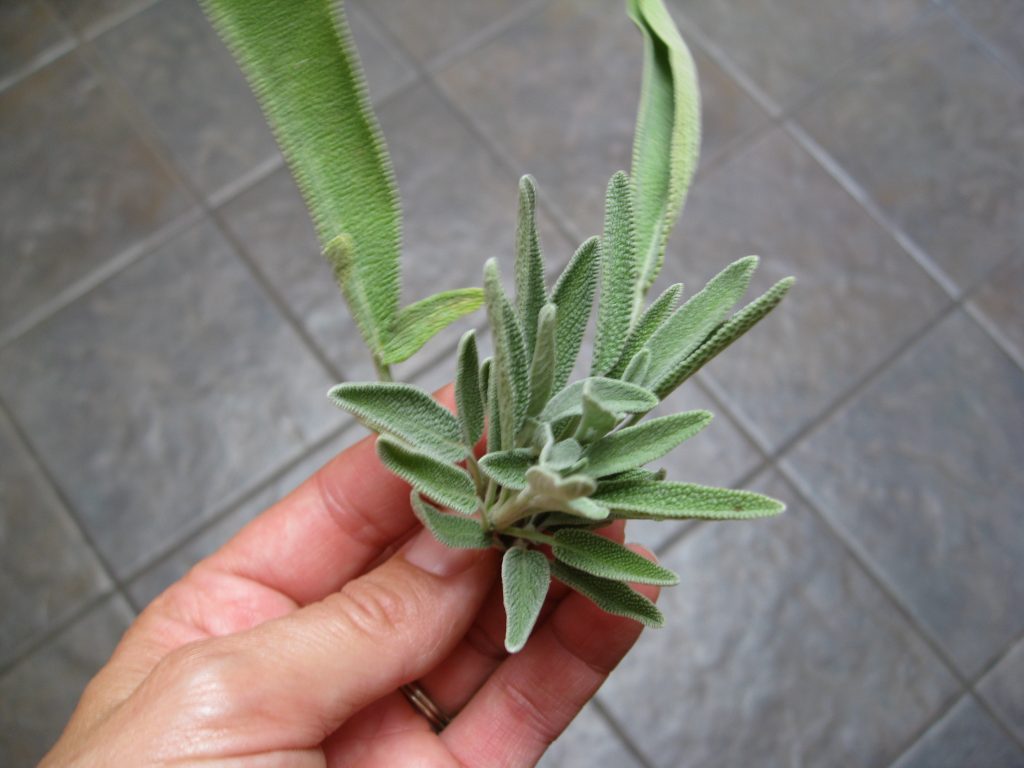 Method
Slice the potatoes lengthwise on a mandoline paper thin or slightly thicker for a more hearty mouthfeel. Place them in a single layer in a colander and sprinkle with the salt. Let them sit for 20 minutes to drain liquid from the potatoes.
Melt butter in a skillet on medium heat and watch it bubble. Add single leaves of sage. Leave undisturbed to cook in bubbling butter for 3-5 minutes. When the butter stops foaming, the sage is done. Remove the leaves onto paper towels. Turn off the heat and keep the butter in the skillet.
Stretch dough onto a pizza peel or tray, drizzle with olive oil.
After 20 minutes, squeeze the potatoes to release more liquid and place them in a single layer on the pizza dough.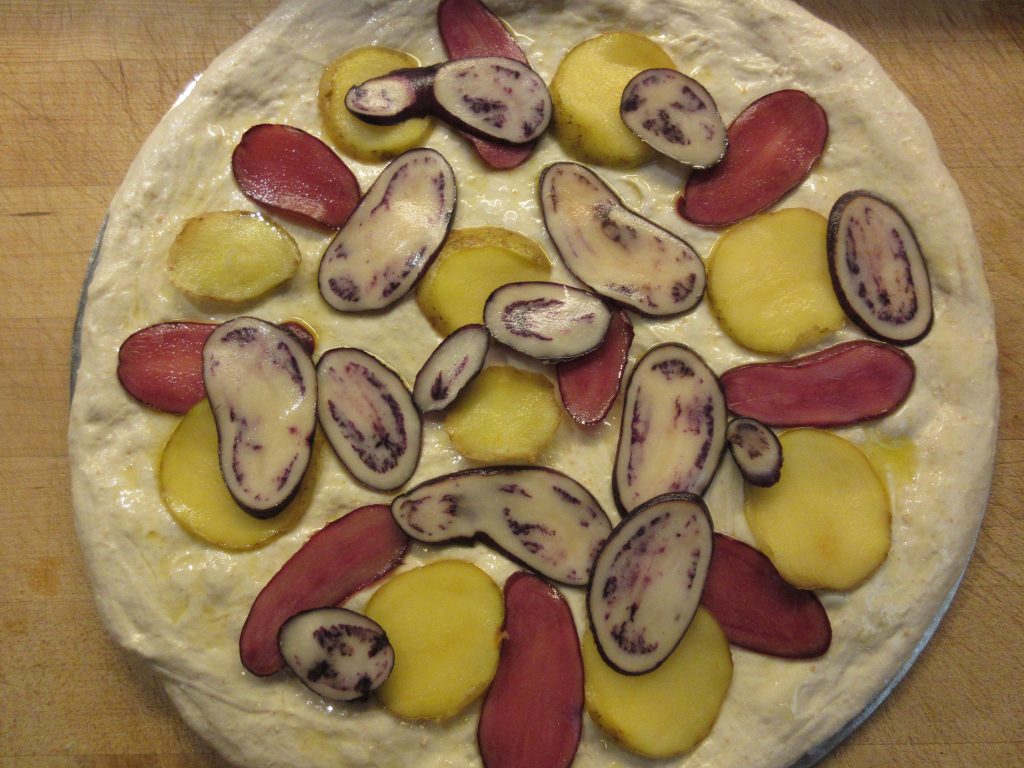 Next, place the sage on top of the potatoes. Drizzle the brown butter from the skillet over the top. Note: We'd use more sage in this recipe. The amount shown here wasn't enough.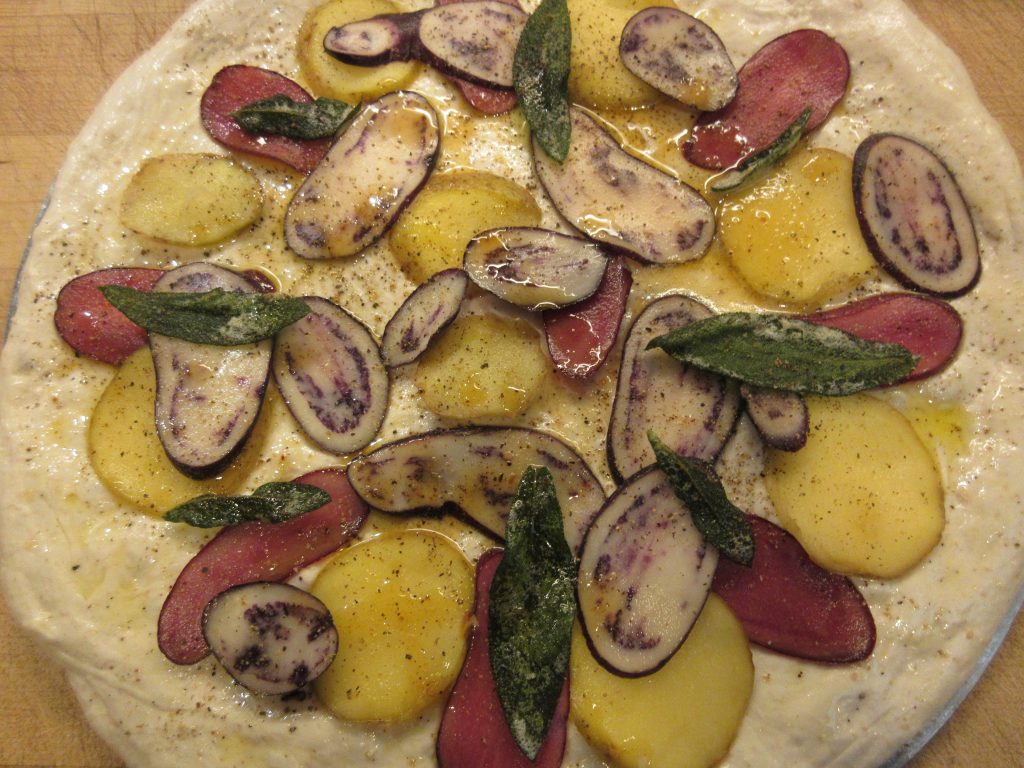 Grind black pepper over the top.
Sprinkle the cheeses over the toppings.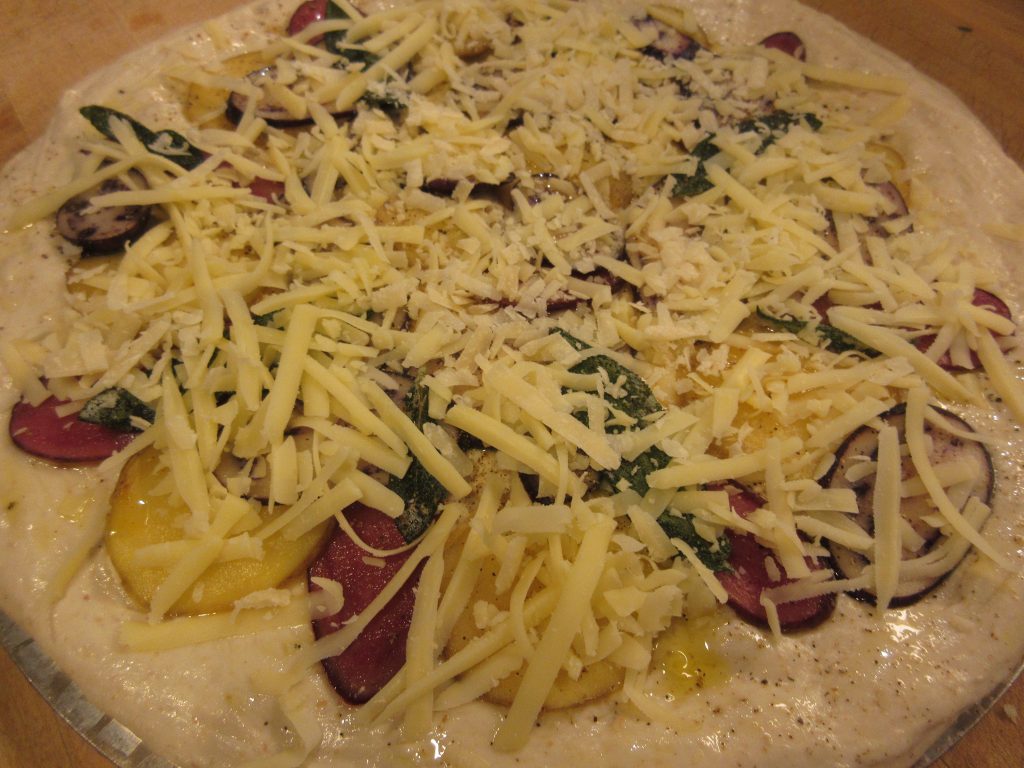 And bake! 10-15 minutes is usually the right amount of time to melt the cheese and brown the edges a bit. Your oven may differ. We baked on a pizza stone and a metal pizza tray.
The finished sage & potato pizza has garden flavors and a satisfying, hearty taste. Try it with your own garden ingredients and make a creative pizza this week! Scroll down to find a link to another great potato-based flatbread here.