Governor Jerry Brown declared a drought emergency as California has yet another year of lower than average rainfall. In the case of 2013-2014, almost none. Not only is rainfall at an all-time low, temperatures have been at an all-time high. (Excuse me, 80° in January?) Is this just a new drought, or is it the new normal?
There's no way to know for sure, but we all need to prepare for having less access to water. What can we do right now to make a difference? Here are some suggestions: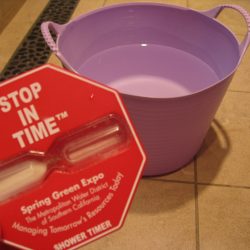 Starting Small
In the Shower – Here at Gardenerd HQ we put a bucket in the shower to catch water as we wait for it to warm up. We use that water to irrigate potted plants on the porch and water the natives occasionally in the front yard.
Turn off the water – while brushing teeth and doing dishes. If you've ever been backpacking or camping where you have to carry your water, you know how precious it is. Washing up is done over a basin and water is used sparingly. Keep that in mind as you run the tap.
Take Shorter Showers – try this: time yourself. See how long it really takes to shower. Make it a game with your family to see who can reduce their time the most while still getting clean.
Water Early or Late – no matter what you're watering, it will be most effective (due to less evaporation, specifically) if you water before 9 a.m. or after 4 p.m. In Los Angeles, that's the law (in addition to only watering on specific days of the week). Use a timer and check regularly for leaks or excess water hitting the sidewalks or running down the street. Don't think it makes that much of a difference? Since LA implemented this law, the city's water usage decreased by 17%.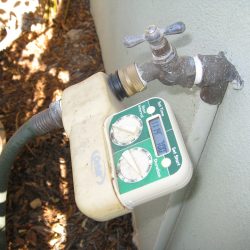 The Bigger Stuff
Switch to Drip – drip irrigation puts water right where you need it, near plant roots. It prevents evaporation that occurs with overhead watering and sprinklers. Did you know that with overhead watering you can lose nearly 90% to evaporation. That's crazy! The initial investment is worth the savings over time.
Go Permaculture – create water catchment areas on your property for when it does rain. Bioswales and strategic planting keep water on site instead of washing down the street. This PDF shares 8 rainwater harvesting principles to get you started.
Get Rid of the Lawn – forgive the soapbox moment here, but I'm just going to say it. Having a lawn in a climate zone that gets an average of 12″ of rain per year (and all at once if I might add) is ridiculous. Sure, if you live where it rains all through summer, or in places that get 50″ per year, go for it. But here in Los Angeles, it's completely unsustainable. California spends 23% of its budget hauling water here from somewhere else. And for what? So we can have a patch of outdated European status symbol in front of our houses? The time has come for a change. Replace lawns with drought tolerant plants and natives. Look into UC Verde or other low-water grasses if you must have a lawn. Check out High Country Gardens for other alternatives. Use gravel, mulch and decomposed granite instead.
Report Offenders – if you see neighbors watering at noon, or if you see water rushing down the gutter, find the source and ask them to fix the problem. Many cities have hot lines you can call to report water wasters. Sierra Club has a list of LA and OC contacts. Program it into your phone so you can call on the fly. Fines are pretty high, so this will make a difference.
Okay Gardenerds, what are you doing to save water? Got a great idea? Share your comments below.