We grew celeriac for the first time this winter, inspired by a celeriac soup we tasted a couple years ago. It grows like celery but the part you eat is underground, rather than the stalks above. Don't get me wrong, the whole plant is edible, but celeriac was bred for the root, so that's our focus today.
Celeriac is ready to harvest around the same time as celery. The identifying factor is when the shoulders of the root are visible above ground, and the diameter is between 3-4″. This will take several months. We plant it here (Los Angeles's mild winter climate) in fall for an early spring harvest. Then the fun begins.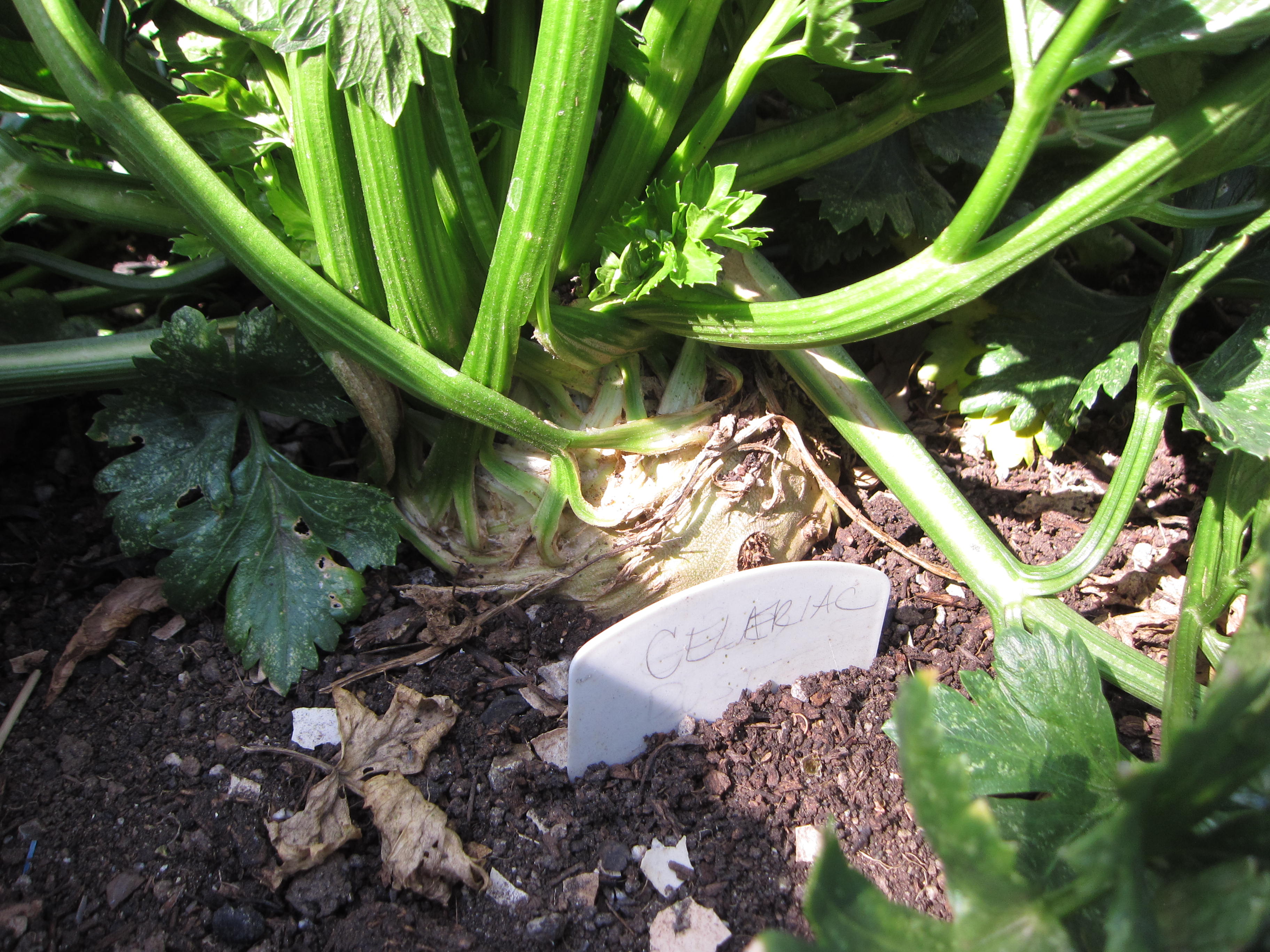 Loosen the smaller roots gently around the bulb.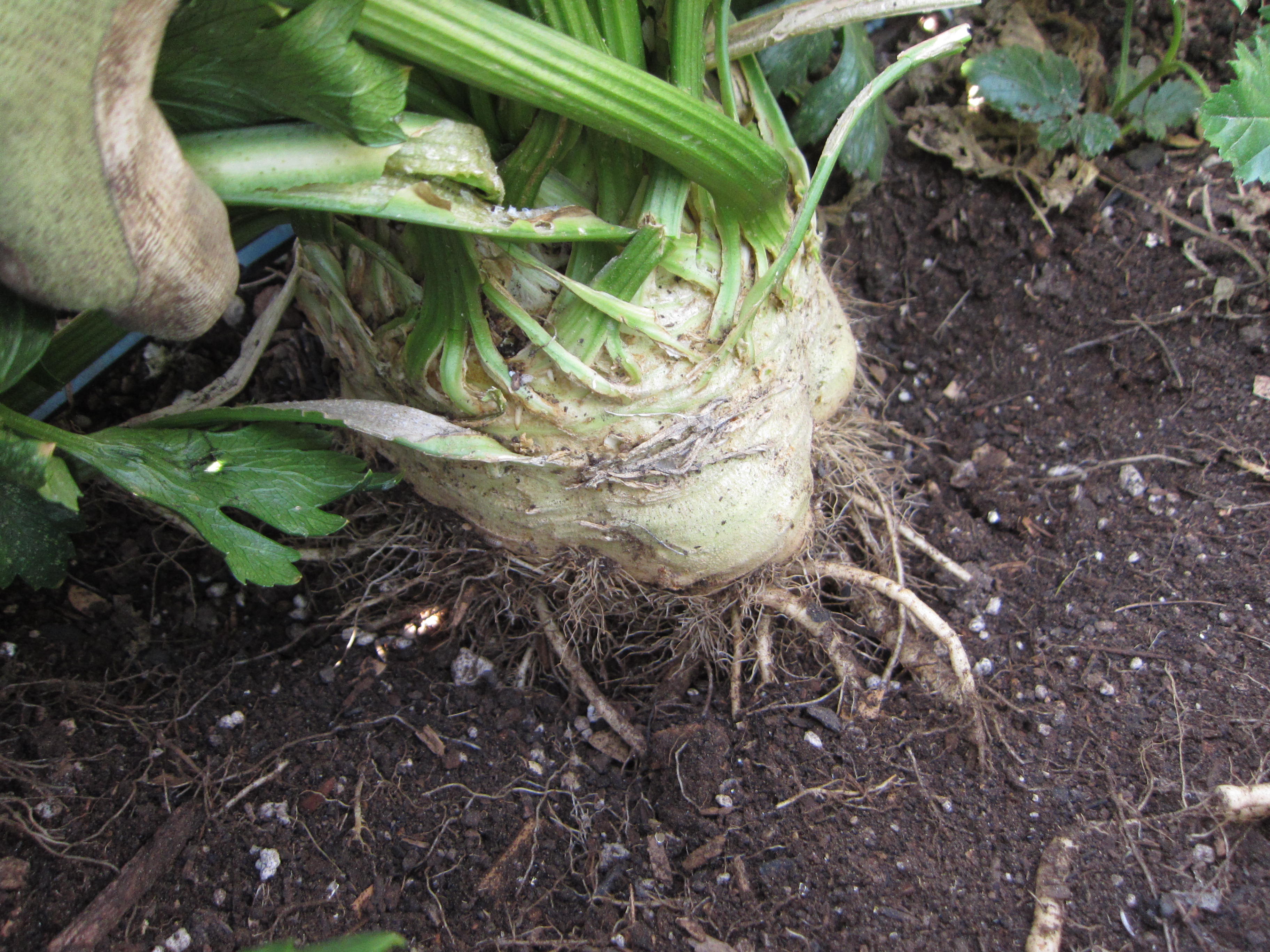 To get an idea of the size when it's ready for use, here's my foot: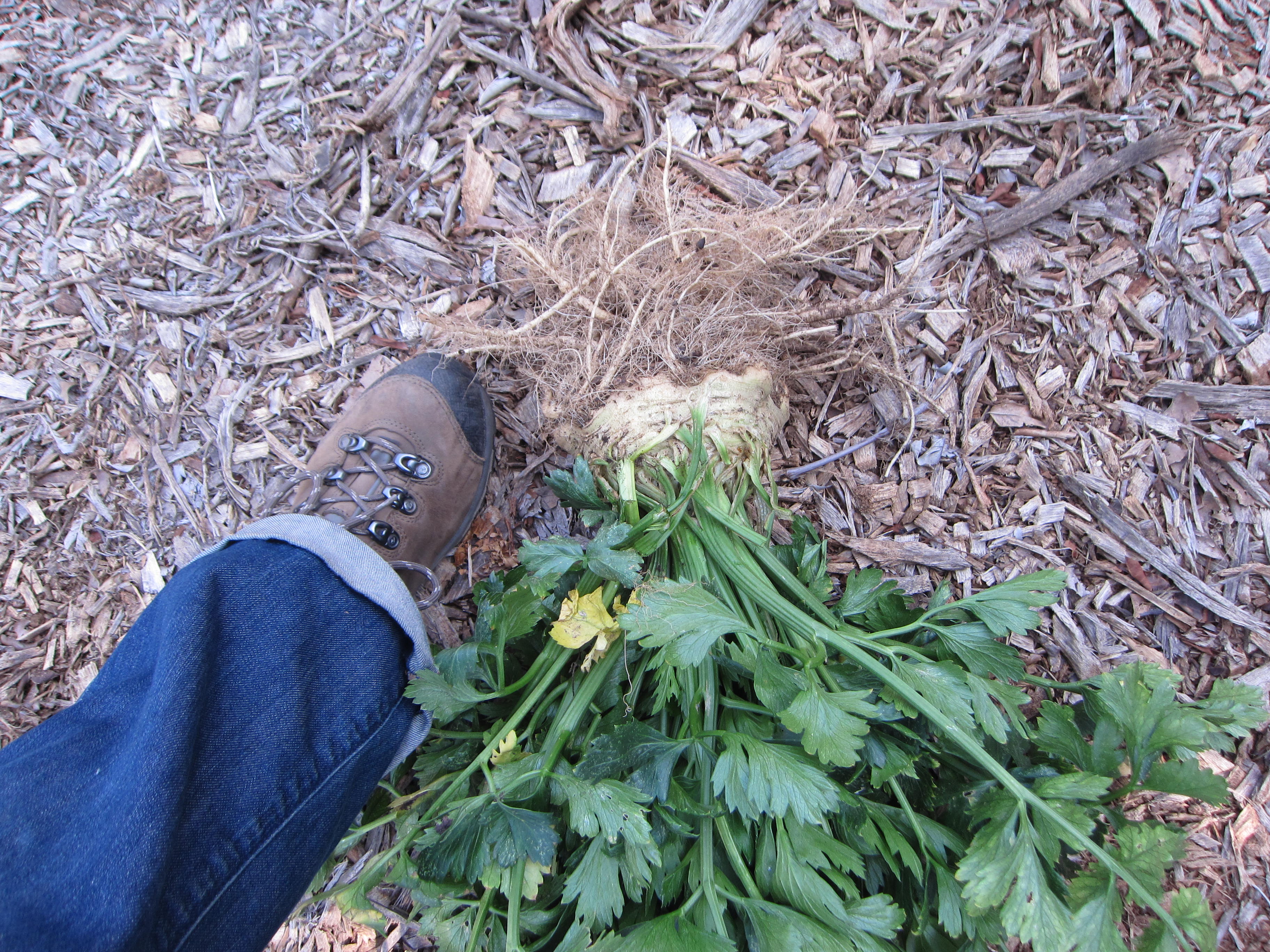 And after trimming off stalks and roots…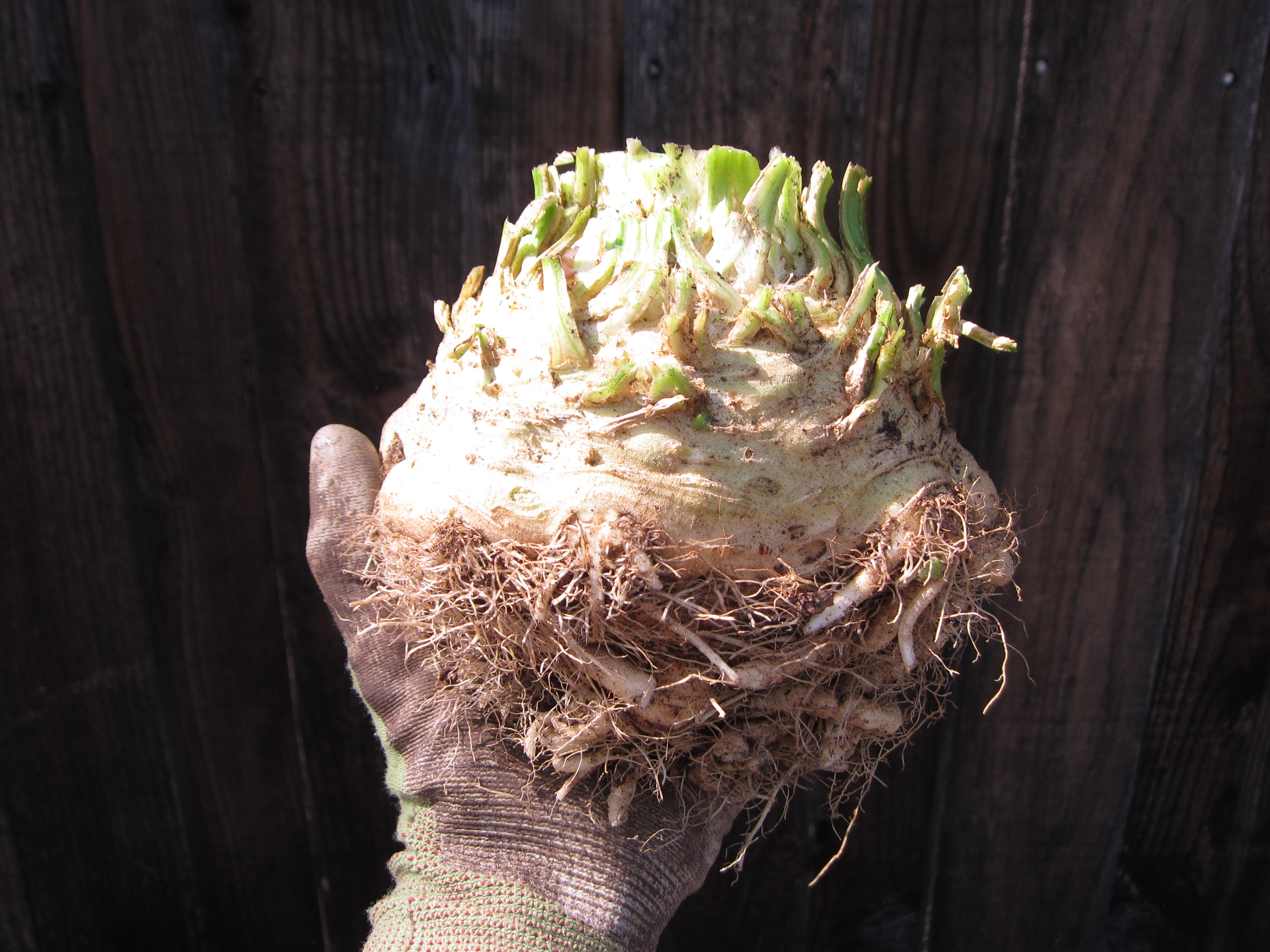 Now the fun part. Celeriac soup is easy to make. We followed this recipe:
Ingredients
1 tablespoon butter or olive oil
2 leeks, white and light green part only, chopped
2 celery root bulbs (about a pound each), peeled and chopped
1/2 teaspoon salt
32 ounces chicken or vegetable stock
Just peel and dice the celeriac and leeks (we used home-grown leeks and an onion). Saute leeks in melted butter over medium heat until leeks are soft and translucent.
Add the rest of the ingredients to the pot. Bring to a boil, then lower to simmer in stock (we used water) until the celeriac is tender when pierced with a fork, about 18 minutes.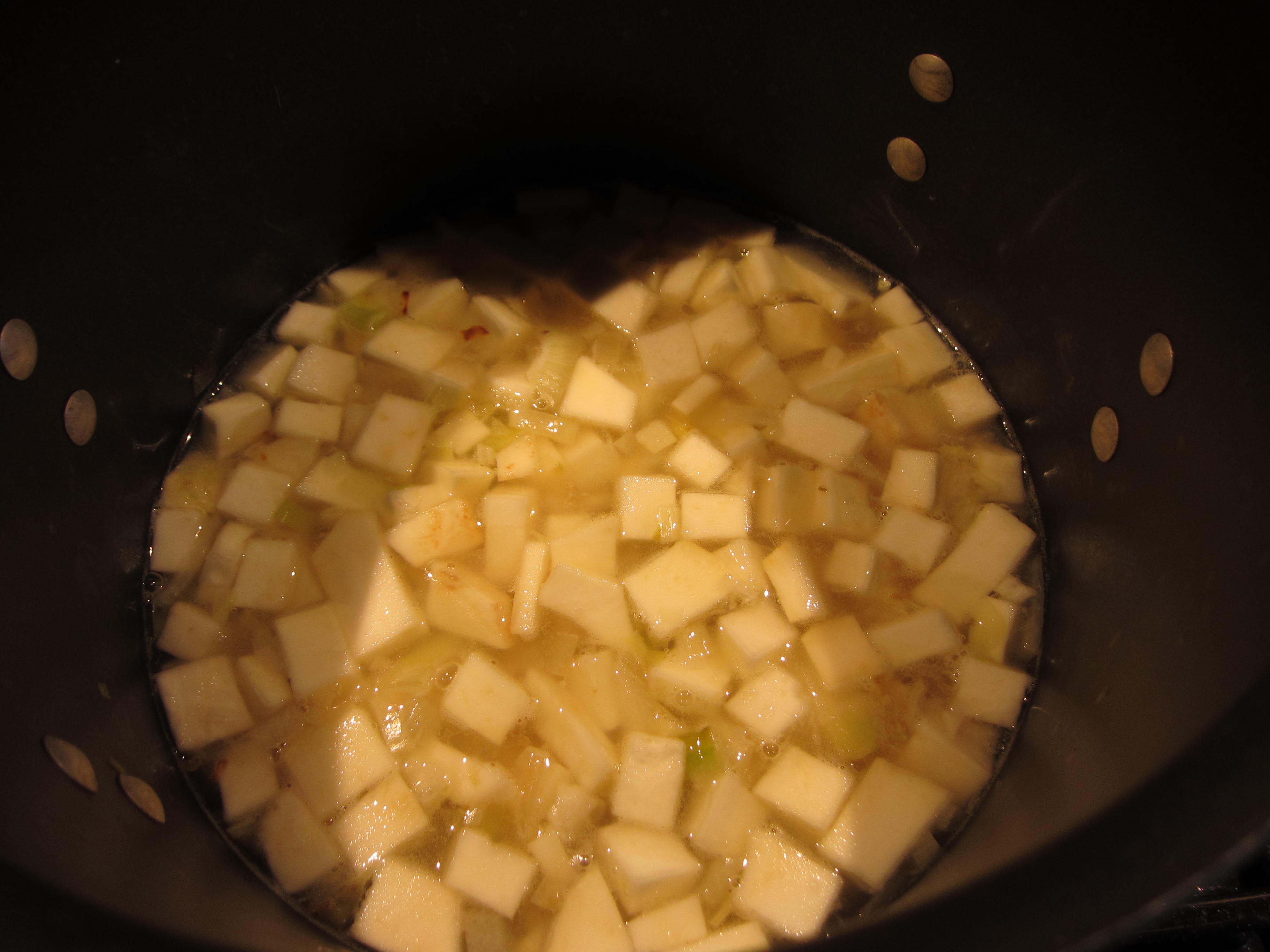 Then break out your immersion blender and puree this baby into a smooth soup. That's it!
Of course, genius forgot to take photos of the finished product–not even the leftovers in the fridge days later! But you know how a pureed soup looks. You can add chives, parsley, or dill to garnish. Enjoy with a crusty bread. You can also freeze the leftovers.
So here is the finished product photo, borrowed from Catherine McCord, who owns this recipe on Epicurious (see link above).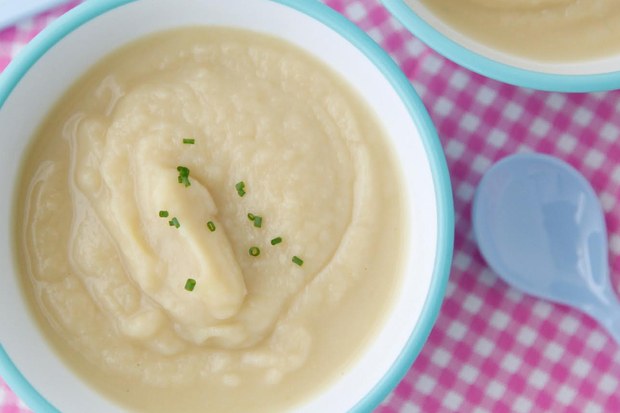 If you live in a cool-winter climate, you can grow celeriac now and harvest in early summer. Or plant in late summer for a late fall harvest. Make a plan to grow celeriac. It's delicious and easy to grow.