We're about to take you on a journey to a magical place; a place where tropical and rare fruits grow in abundance, where grapevines climb arbors, where goats, chickens, rabbits and birds live in comfort, all in the middle of a housing tract in Encino, CA. Clive Segil, the owner of this parcel just under 2 acres, calls it Little Farm, but there's nothing little about it.
A group of Our Time Bank friends and I ventured out to Encino on a hot summer day last week, eager to glimpse a peek at this Rare Fruit Grower's land. As you'll see with the following photo essay (probably using more photos than I have in any other blog post) the riches that lie behind Little Farm's gates are worth enduring sweltering temperatures.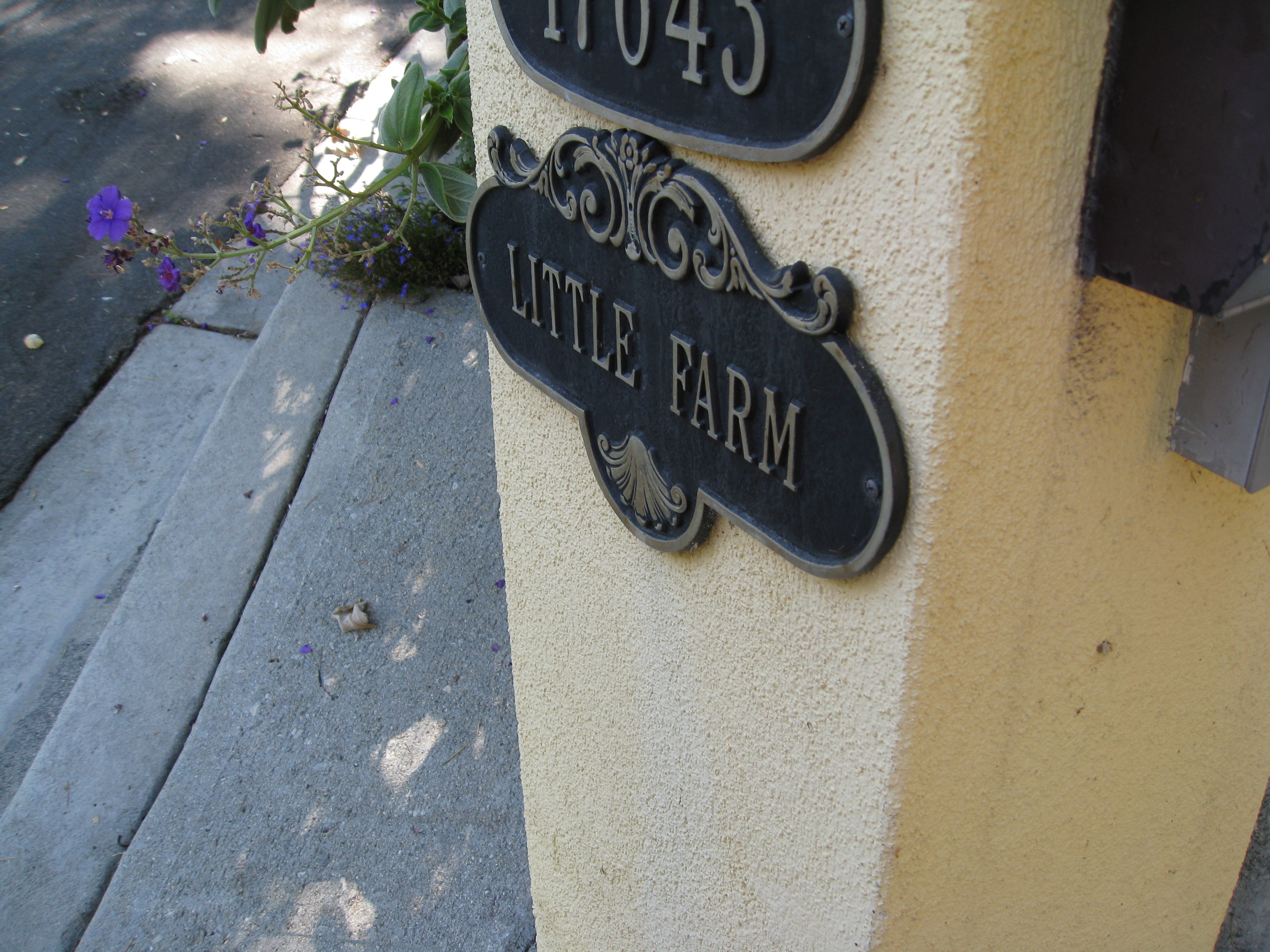 We were greeted by Clive, whose South African accent charmed us instantly, and he guided us past a waterfall and koi pond. He pointed out a pump running from the pond to a small aquaponics trough where he raises the spawn and uses the trough to grow lettuces at the same time.
We wandered down a path between fruit trees: citrus, papayas, mangos–all doing well in Southern California–and stopped at a row of walk-in cages that housed the livestock. Oh, what fun.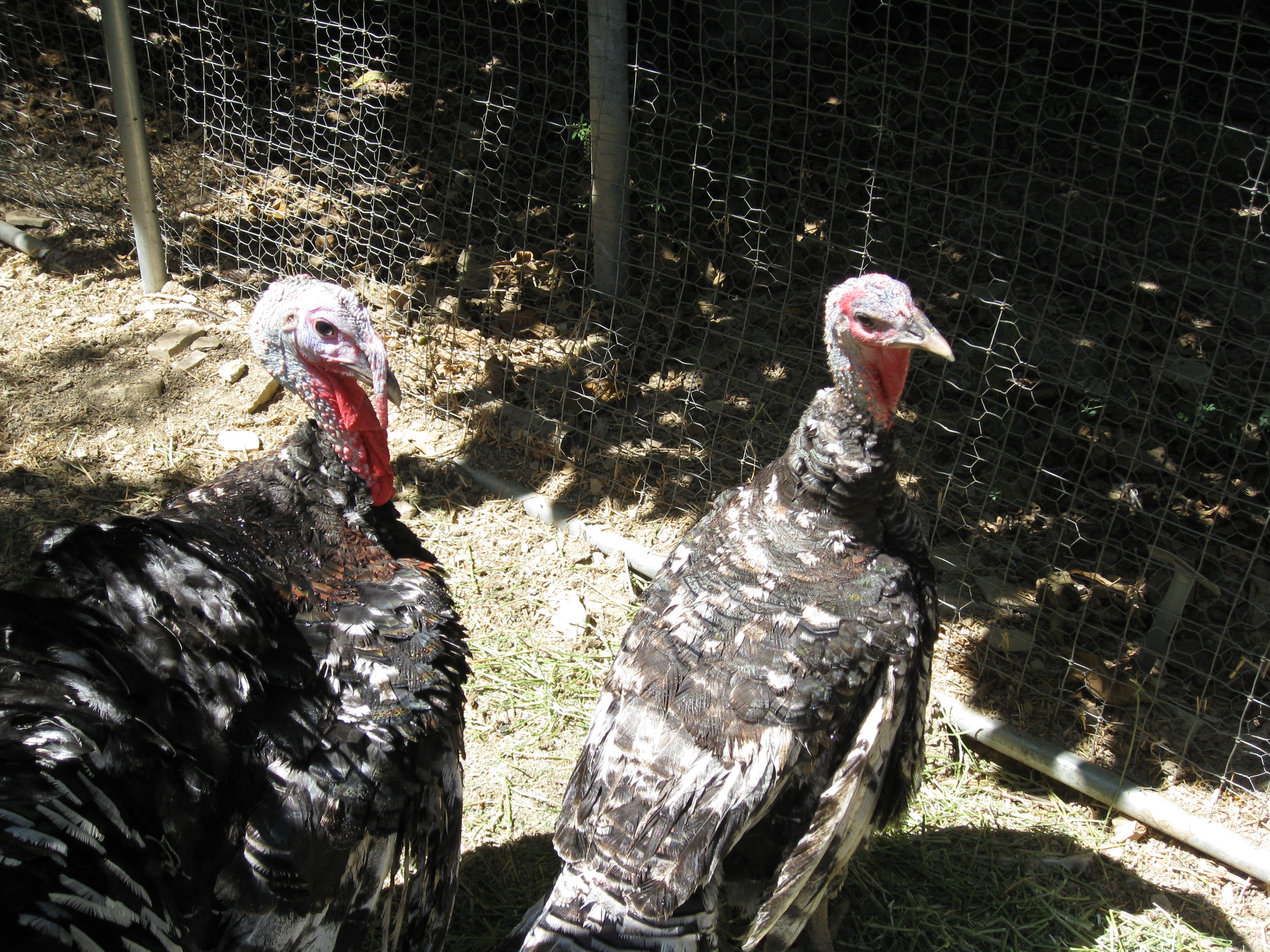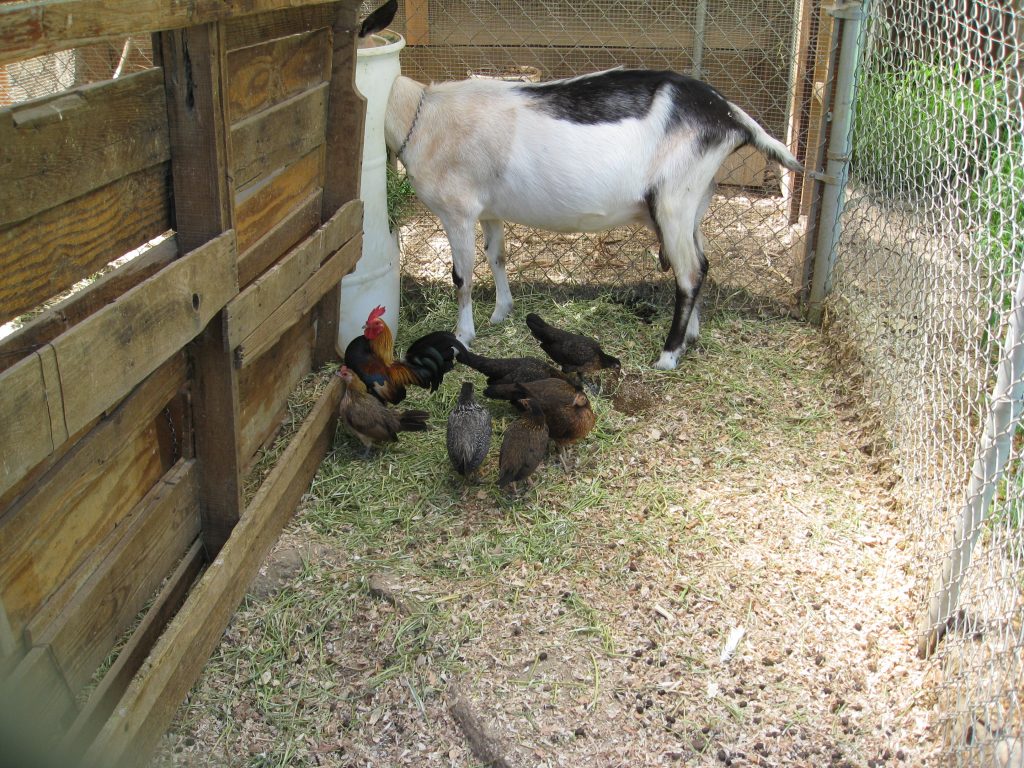 We were informed that these were indeed miniature chickens, not Bantums. One look at that tiny rooster and I wanted to take him home. But then we went to the next cage: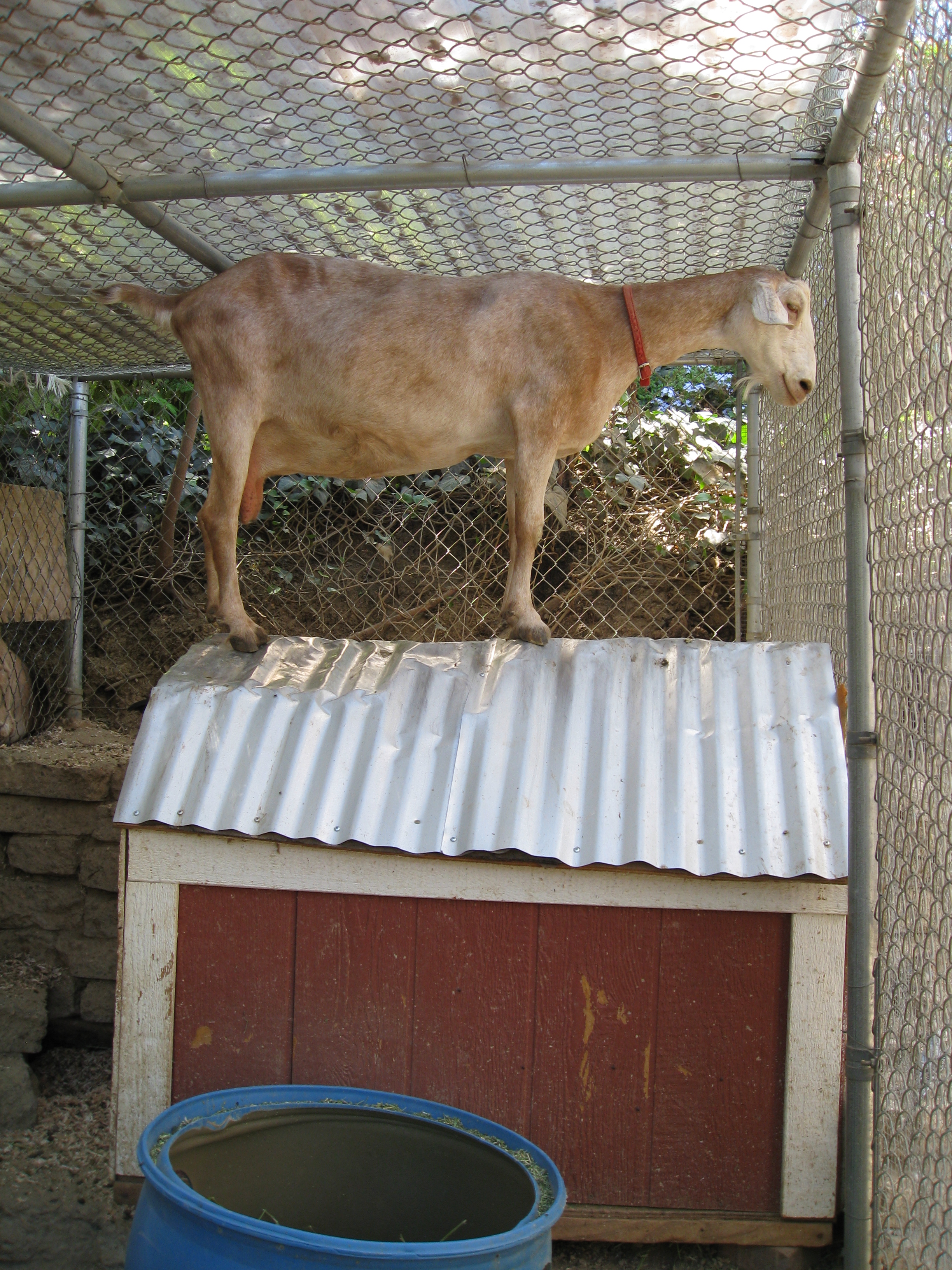 The cuteness factor was climbing. We hand-fed acorns to the goats.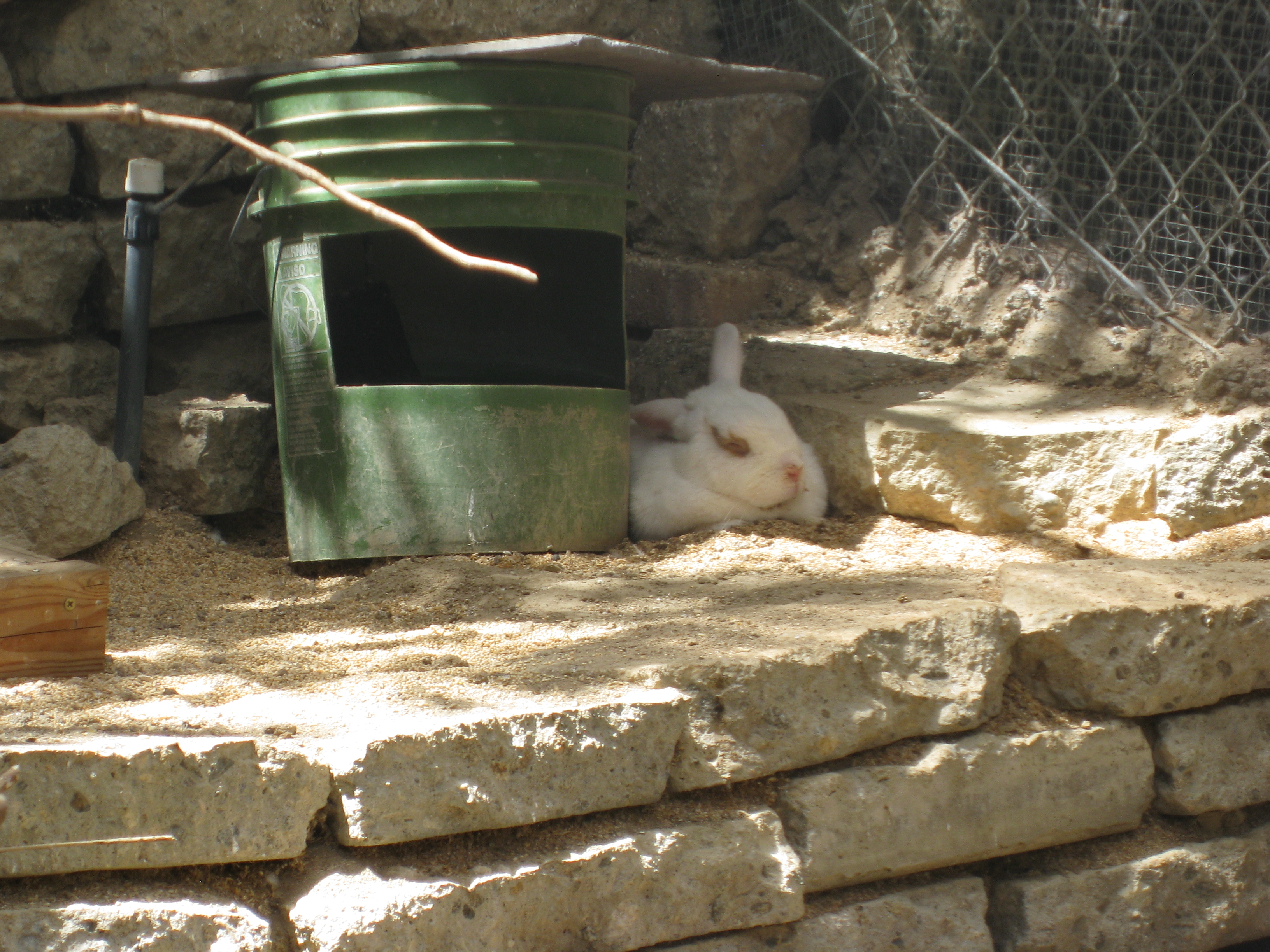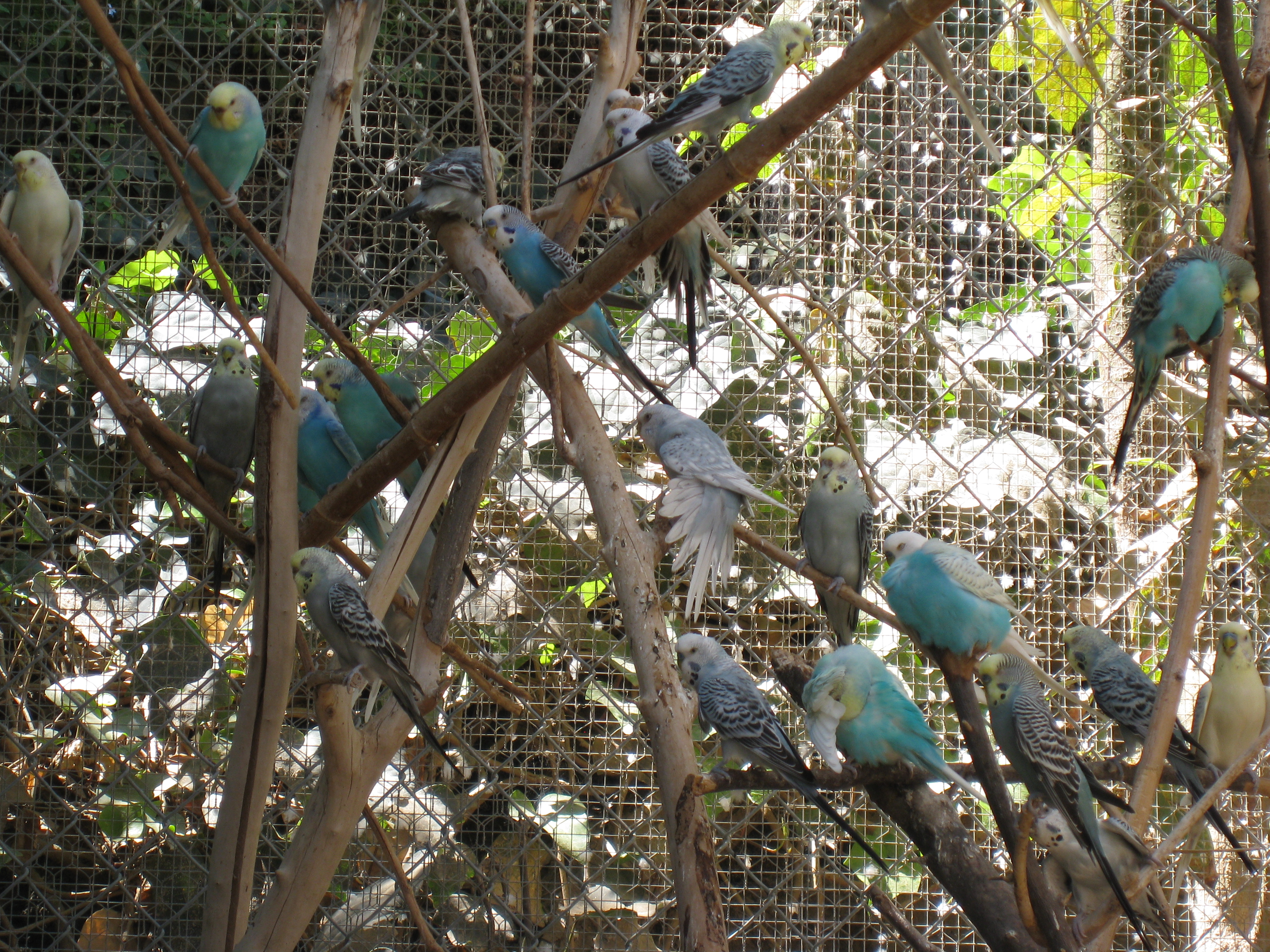 Next stop: the milking barn, or chalet, I should say.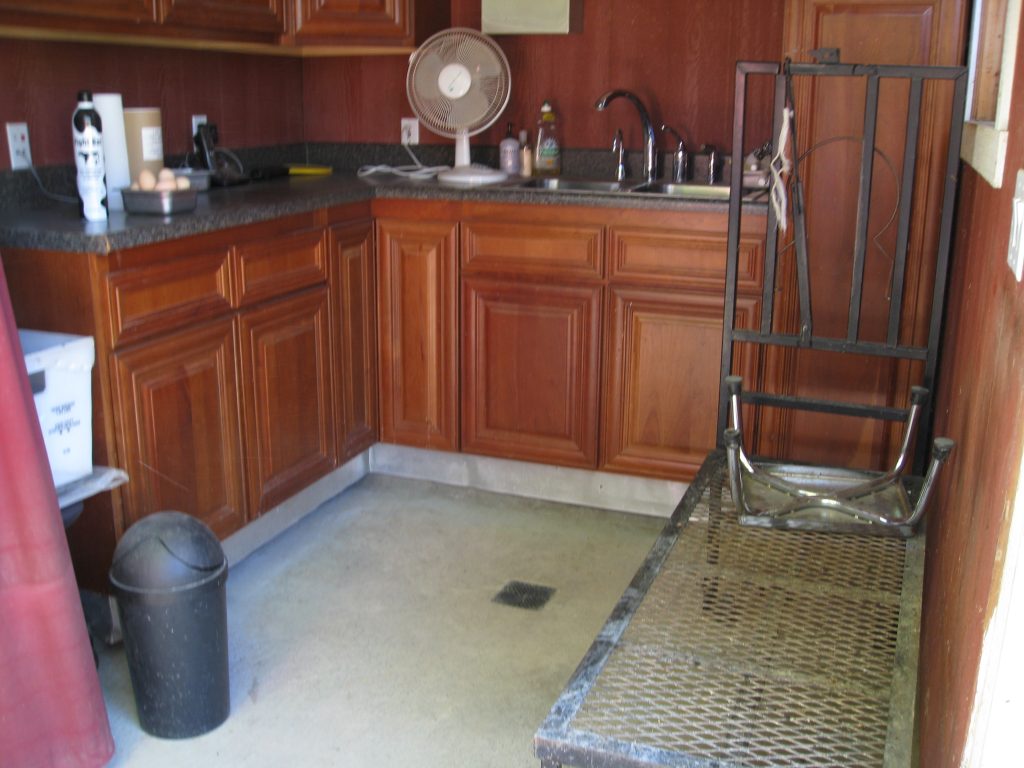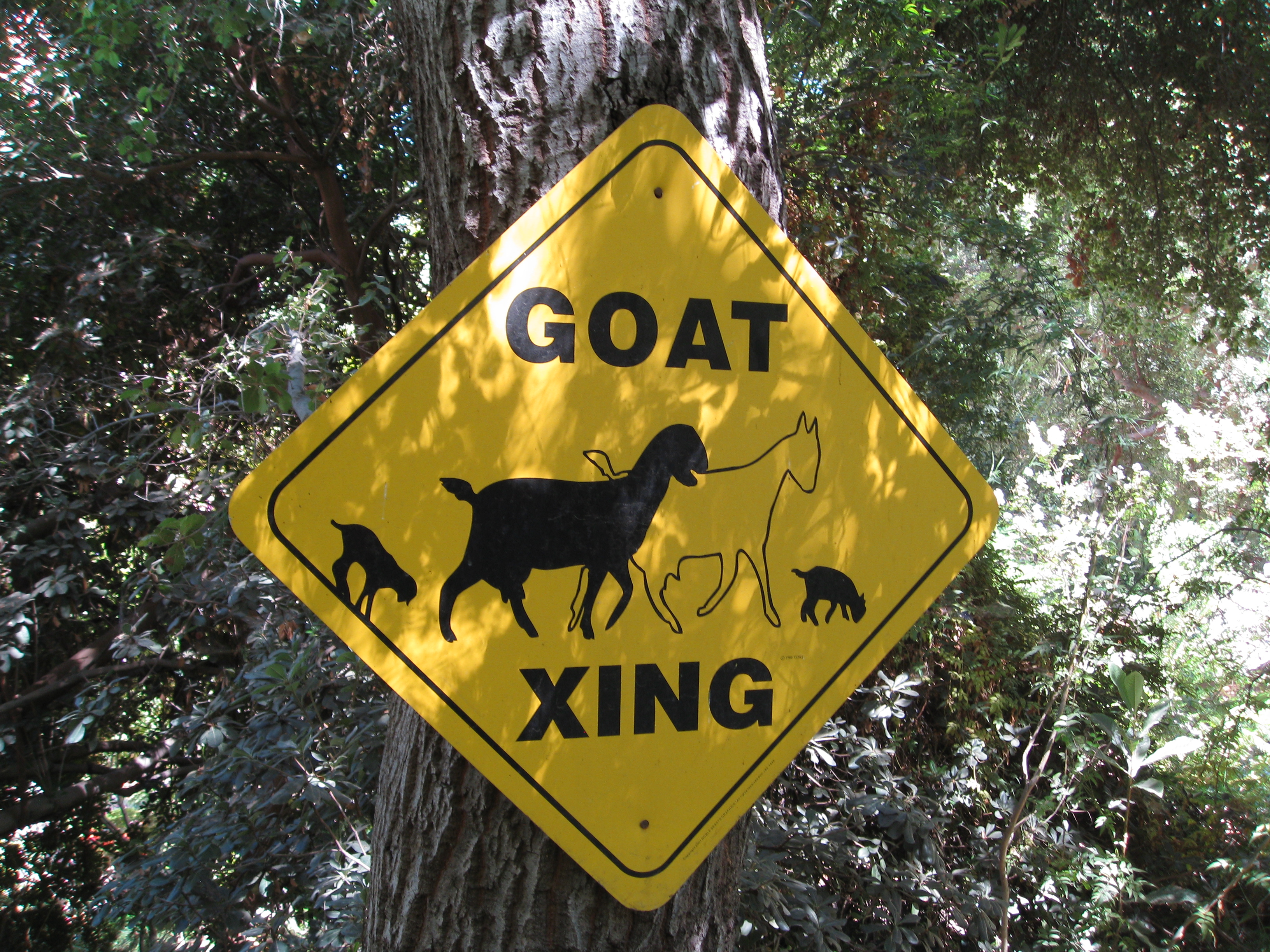 "Does anyone want to try a glass of goat milk?" Clive asked. I said sure, but braced myself for a warm glass, thinking he was going to milk a goat right in front of us. Instead he opened a refrigerator on the other side of the milking barn and poured a fresh glass. It was delicious. Surprisingly un-goaty. It made the idea of having a goat more appealing. Sorry, neighbors.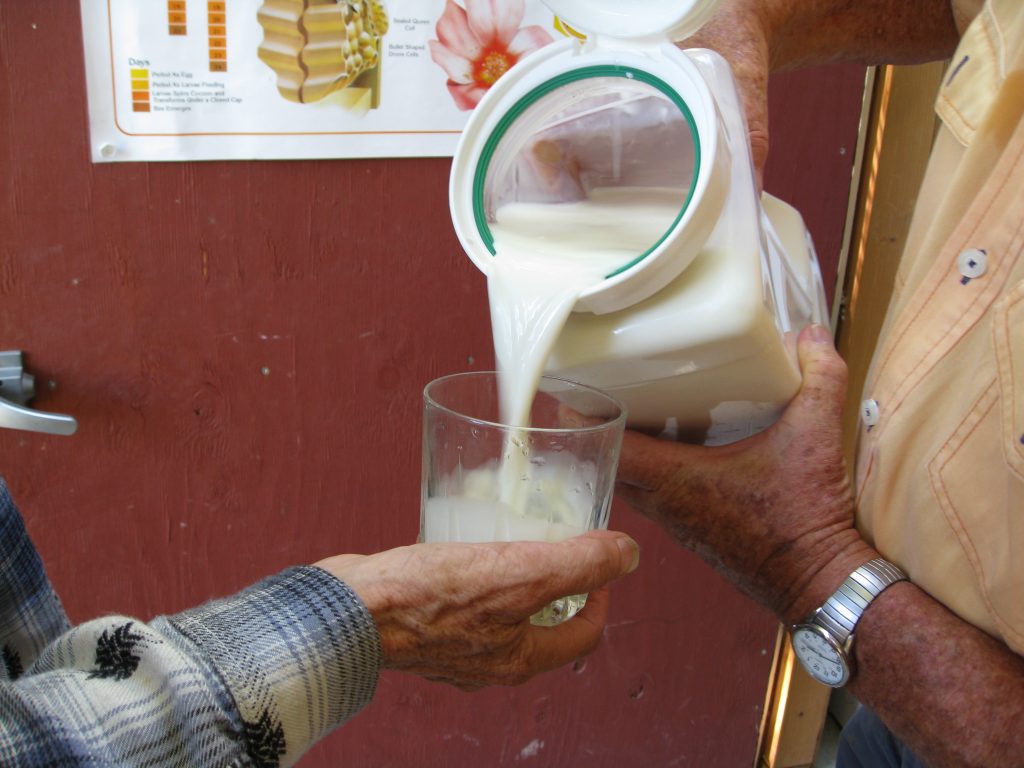 Onward we walked up the terraced hillside to the beehives: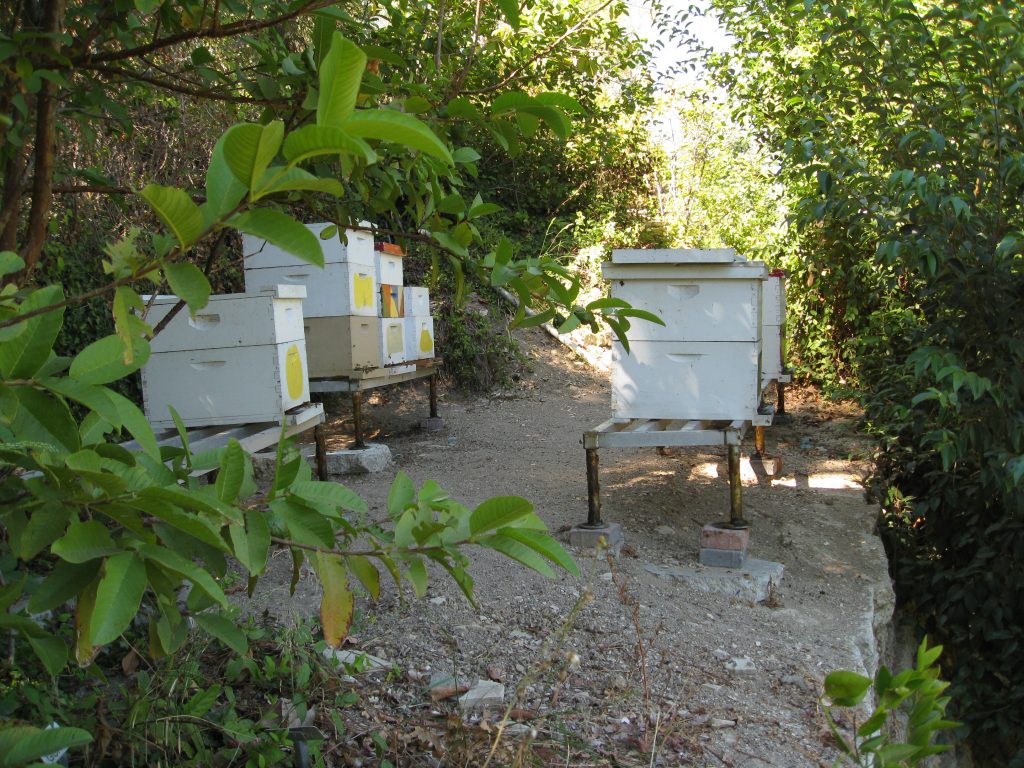 As we came back down the hill, we encountered fruit from far-off places.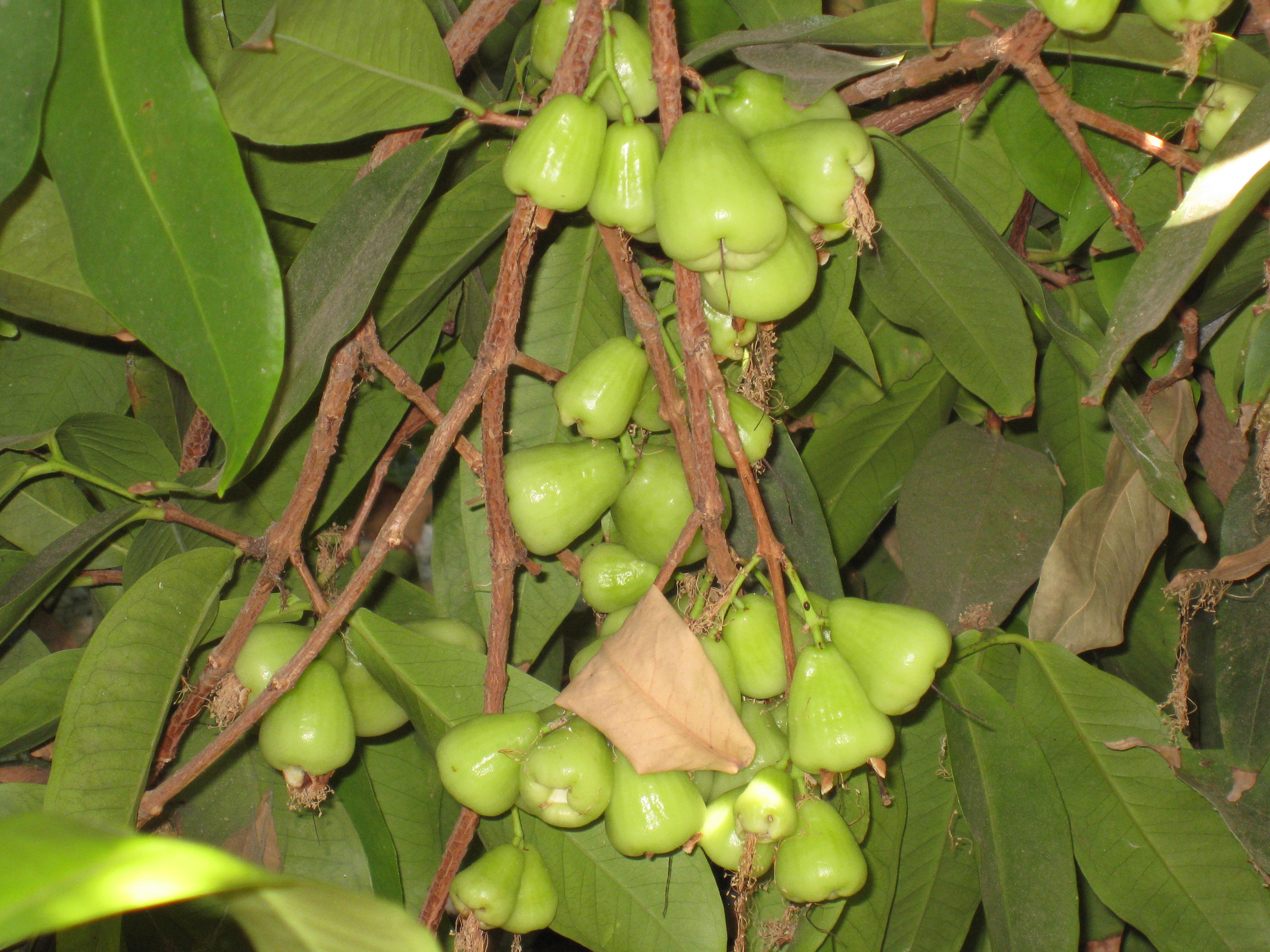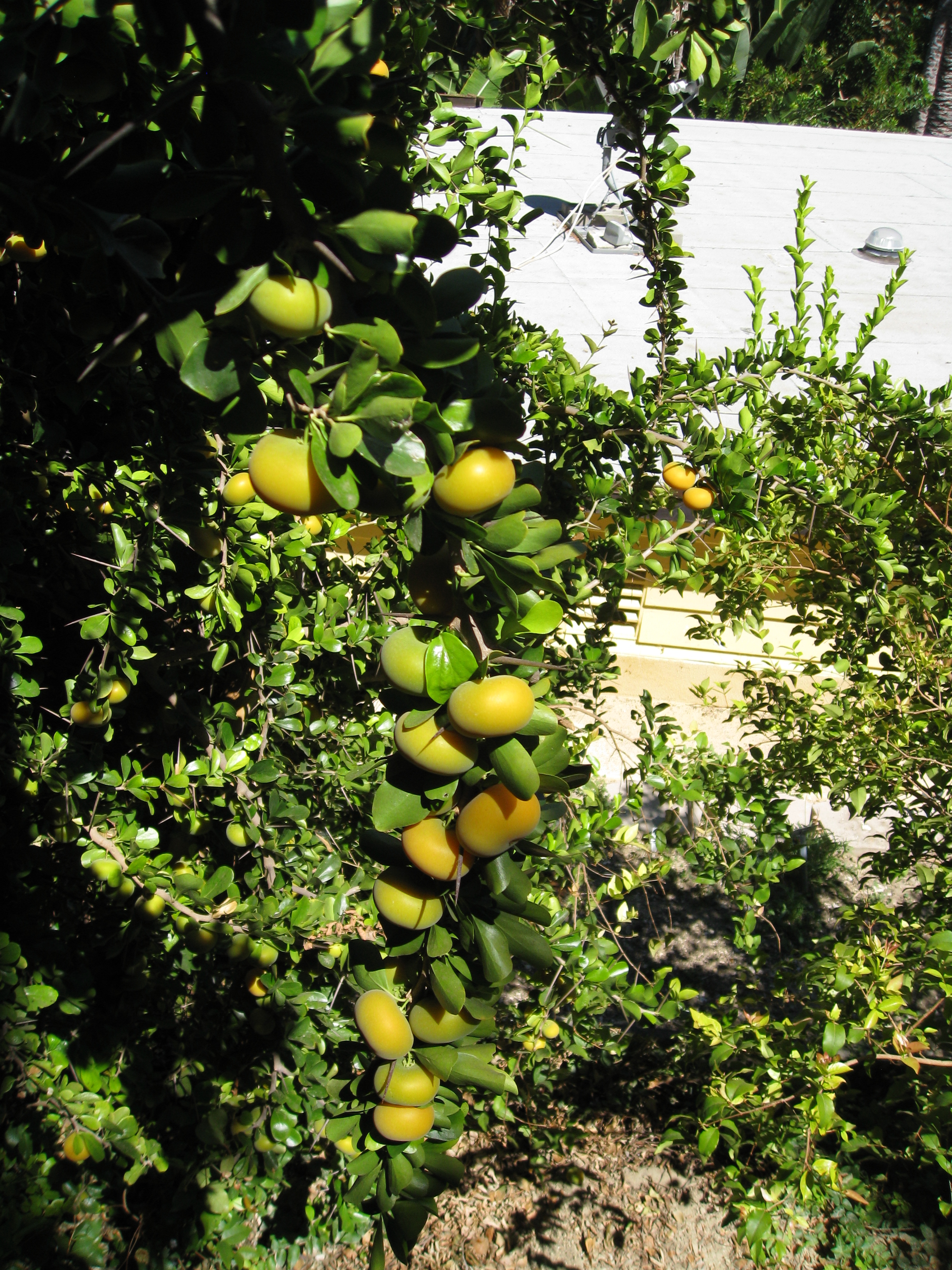 The Kei Apple captivated us all. Clive told us to pick a few and eat them whole (just watch for thorns, they're 3″ long). I've never tasted anything like it: apricot and floral flavors mystified us.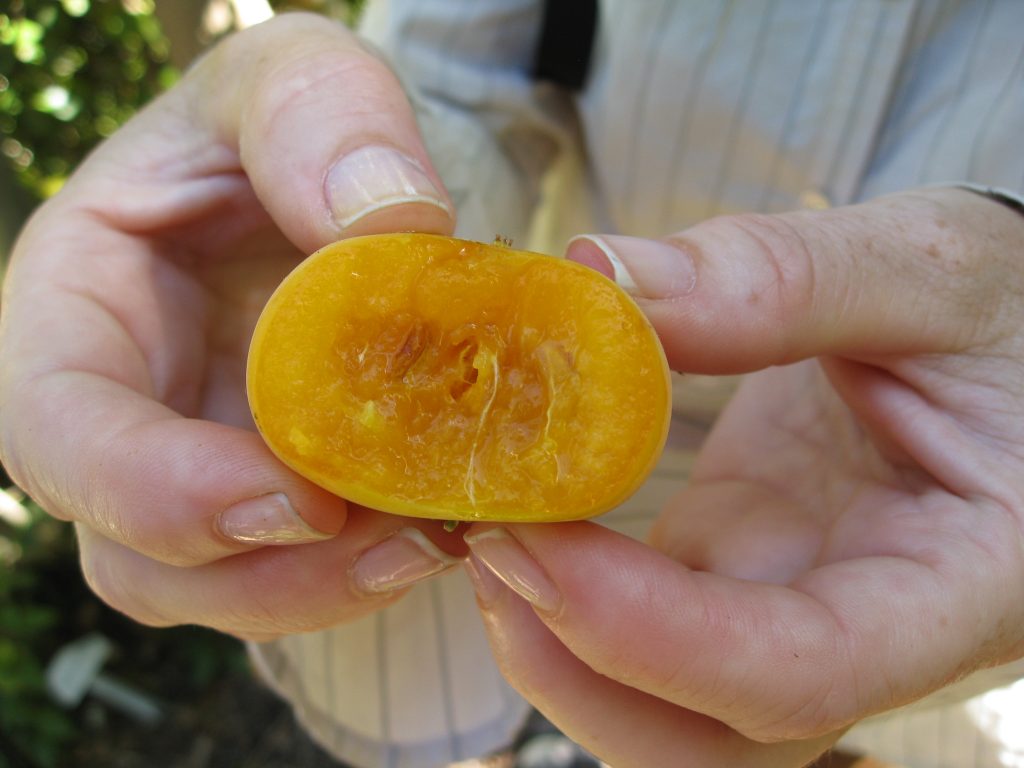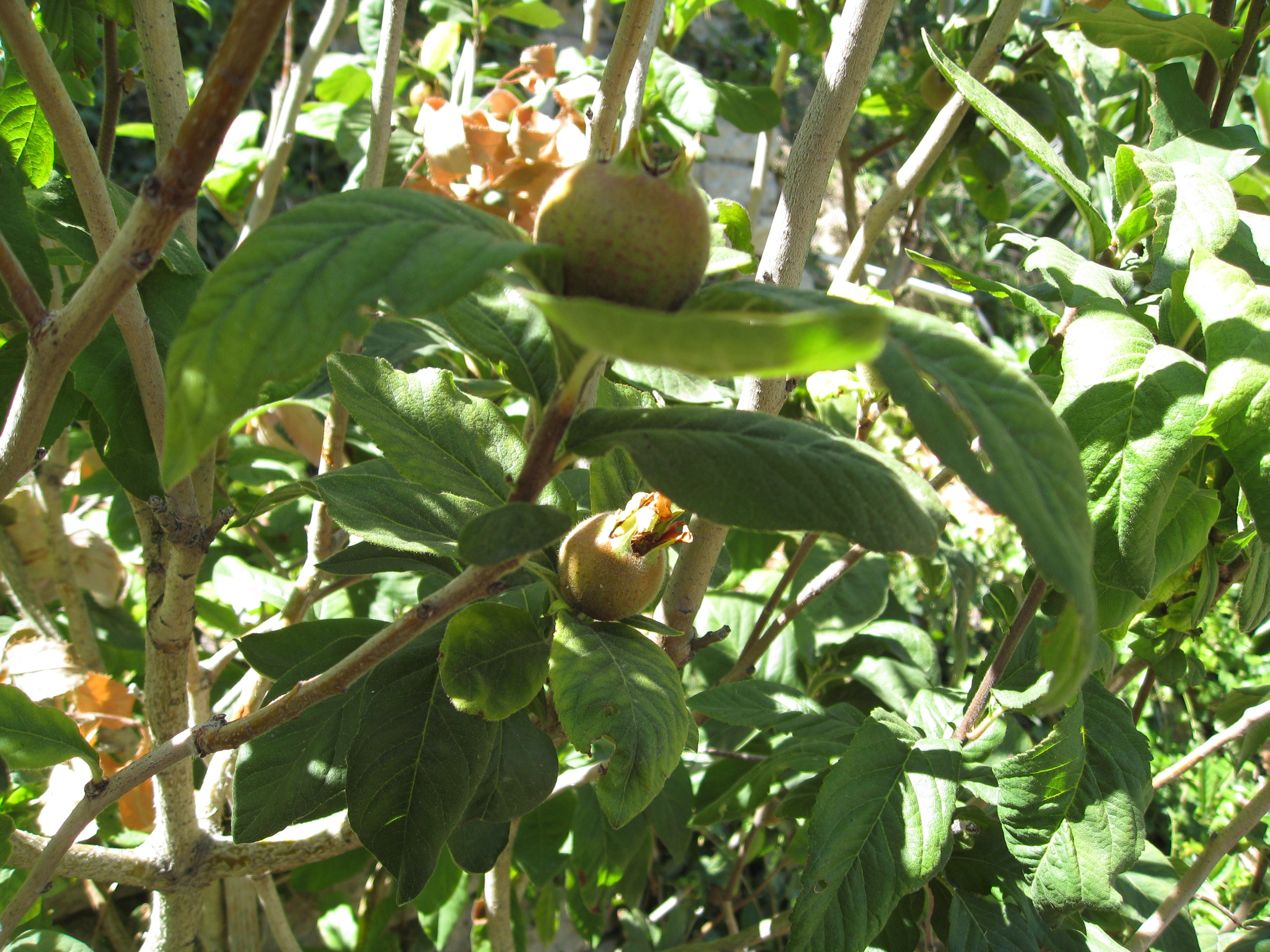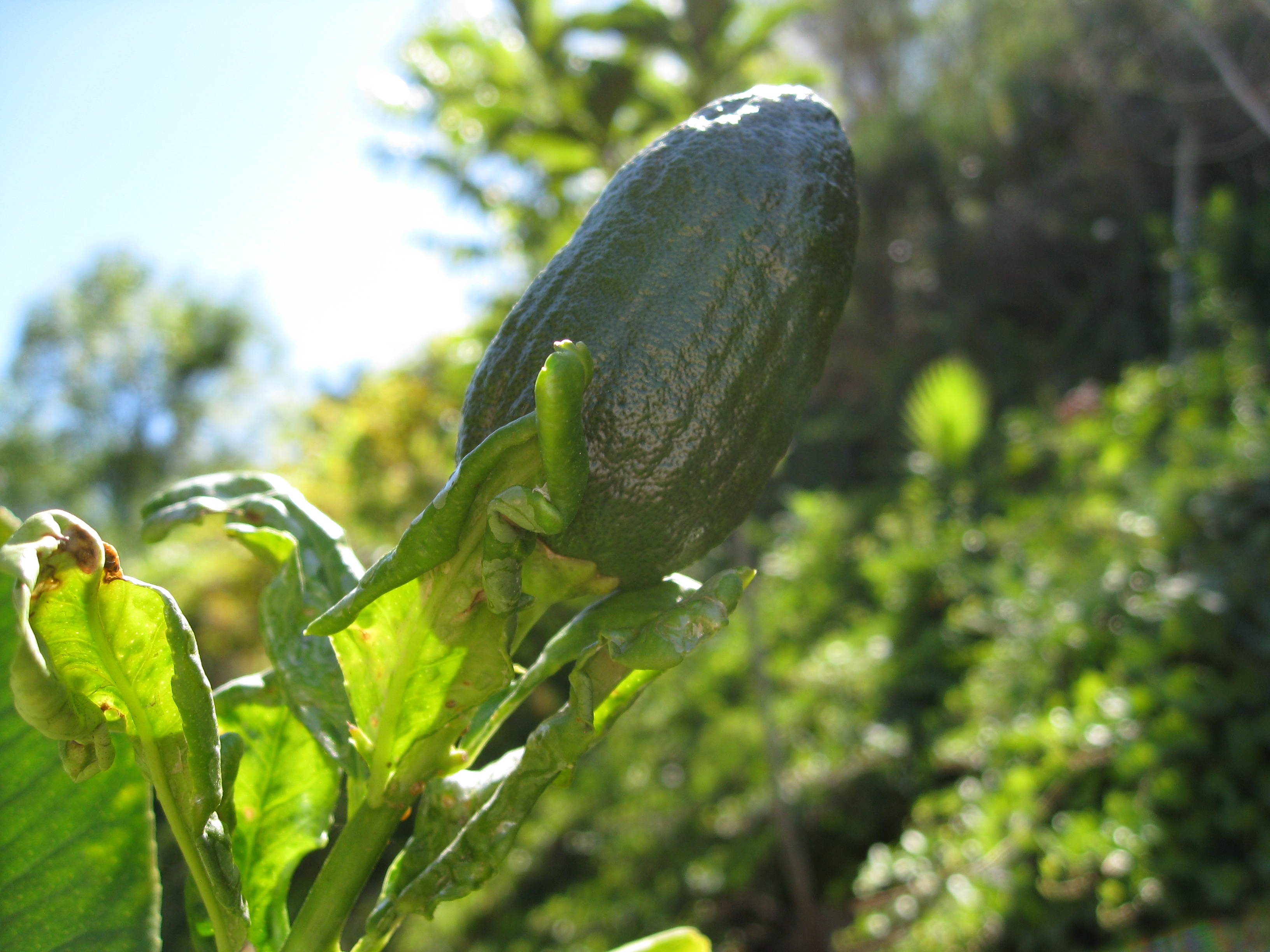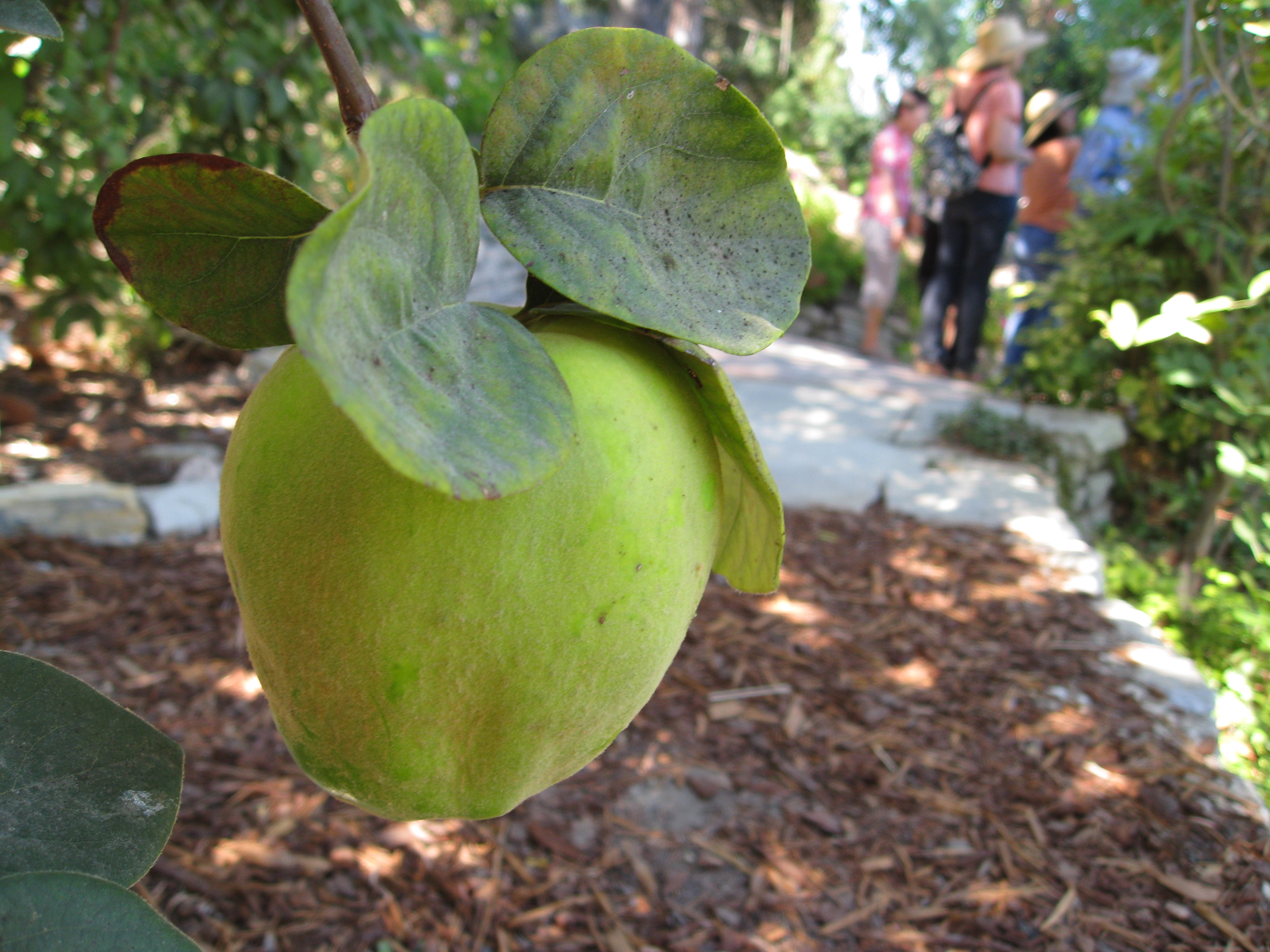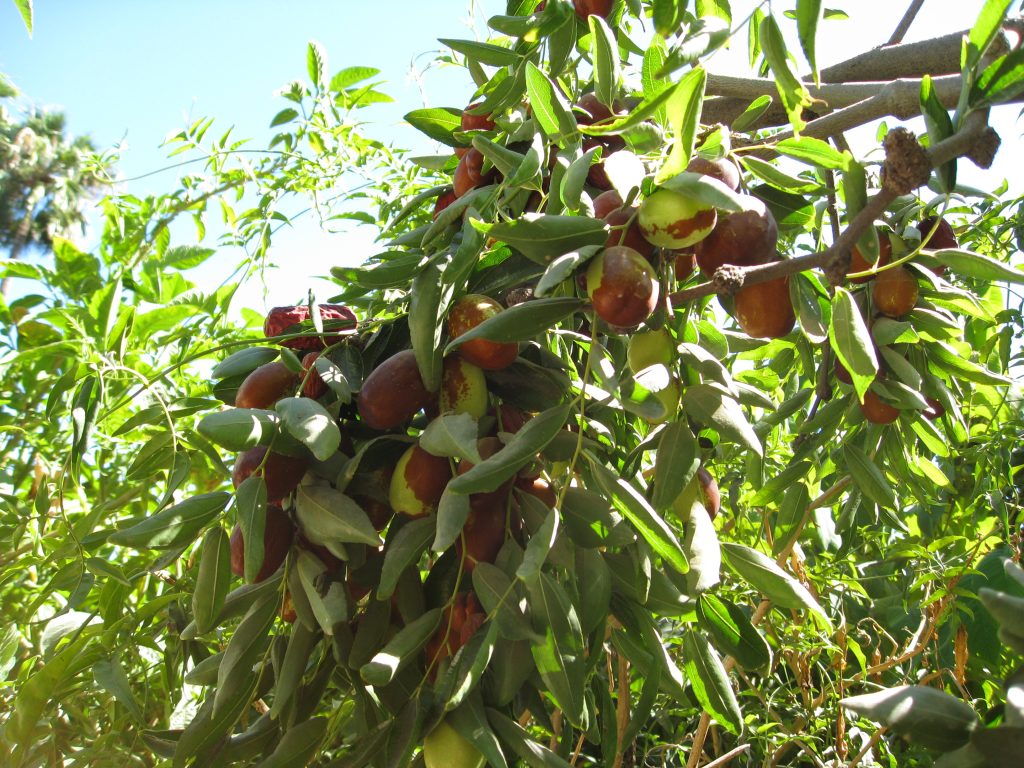 We passed a small vegetable bed full of tomato plants and a few corn stalks left over from a recent harvest. Clive has one full-time helper to keep up the garden and take care of the animals between them. They do it with jaw-dropping efficiency.
But wait, there's more! We encountered date palm trees (which are relatively new and may or may not fruit), bananas, and tilapia (in a tank, of course). Clive took us down to his grape vineyard, which was reminiscent of Tuscany: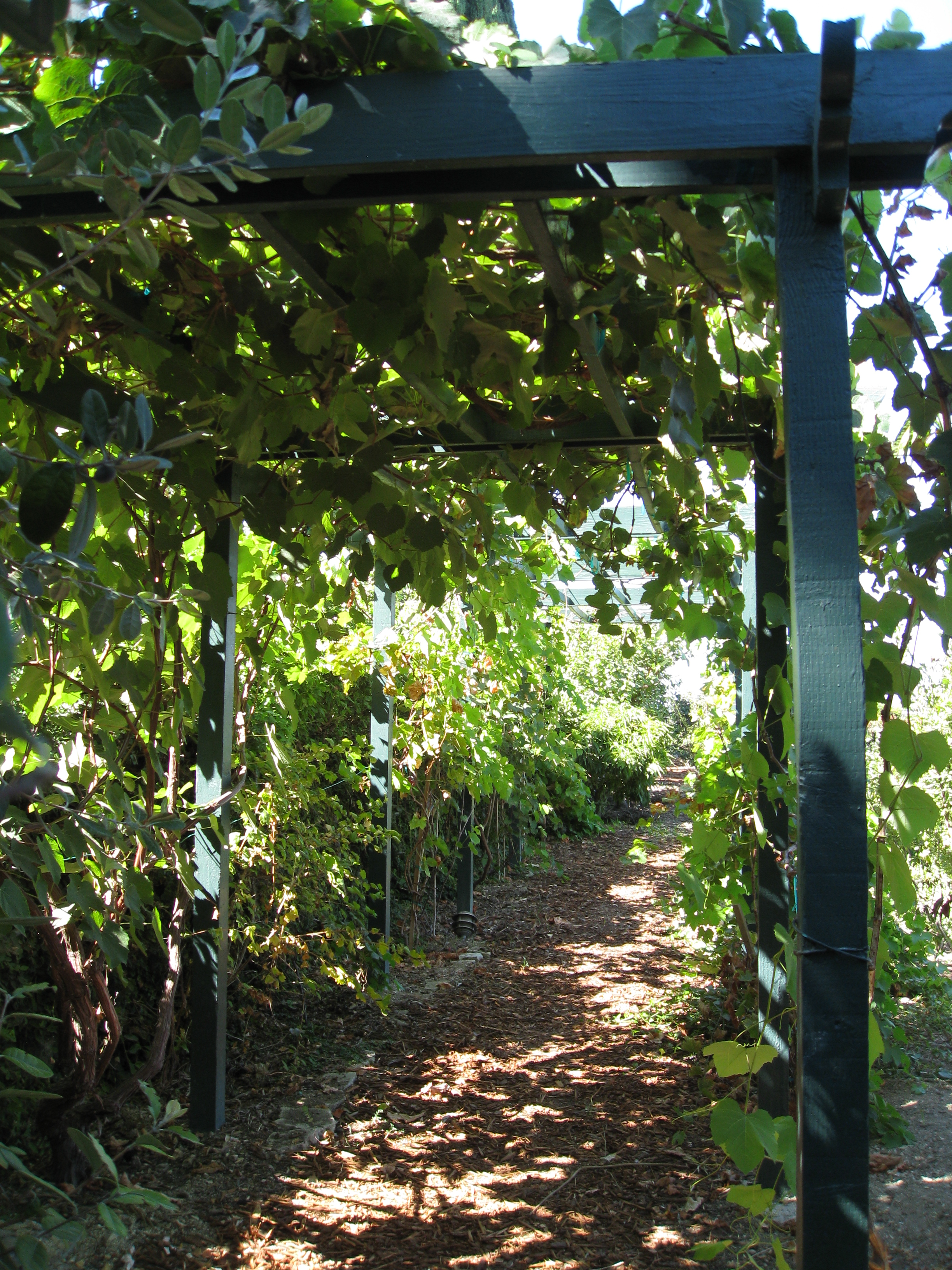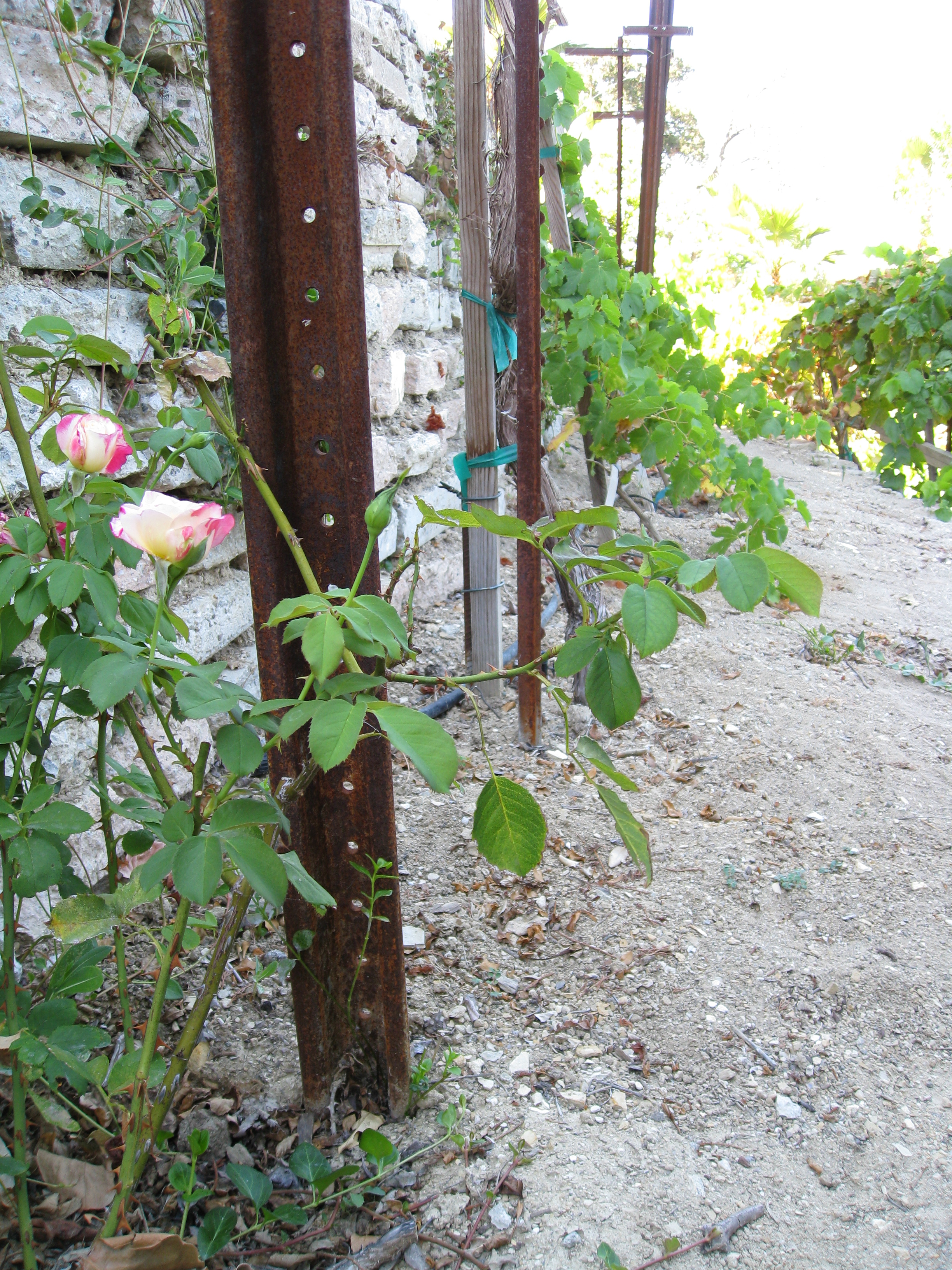 Did you know that allspice is made from the berries of an allspice tree, not a blend of spices? This is what a crushed leaf from the Allspice tree looks like: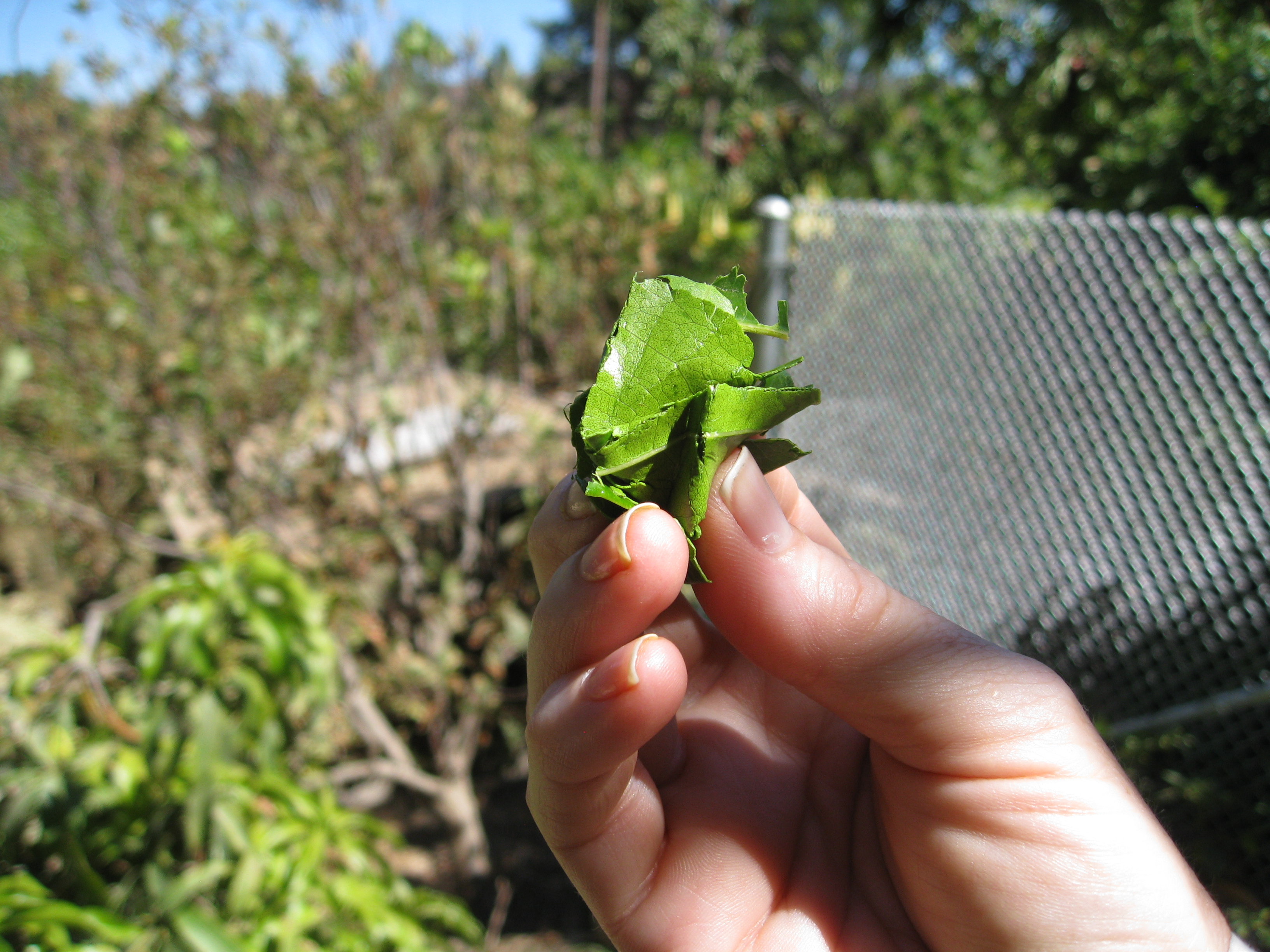 Some other things we saw: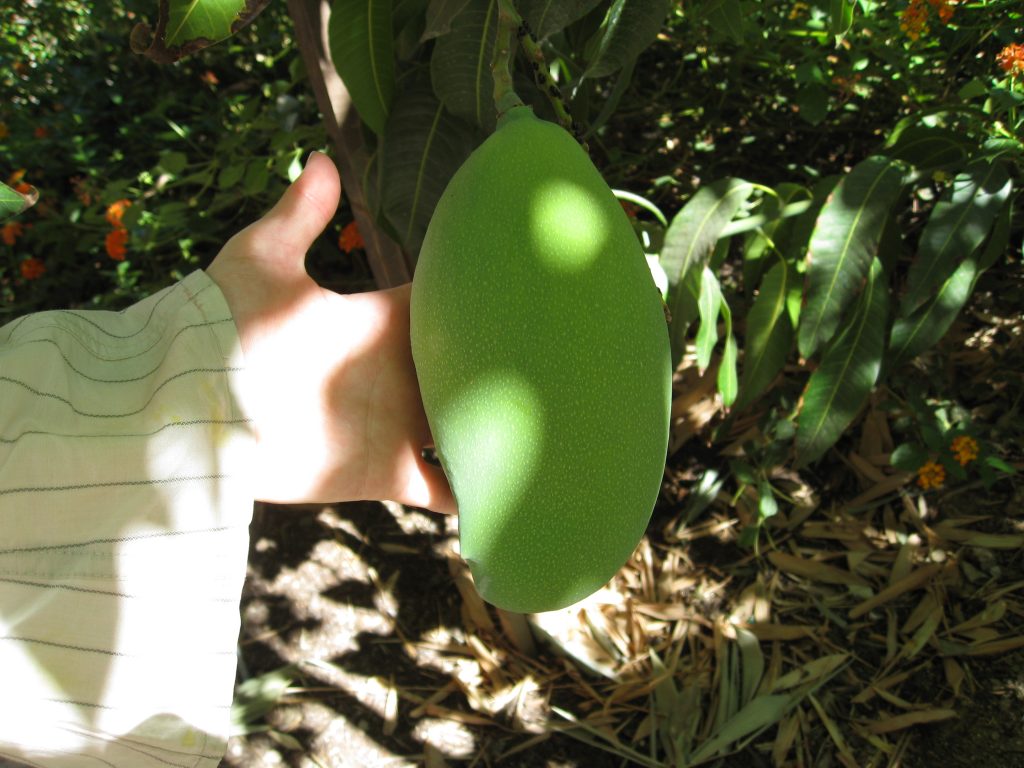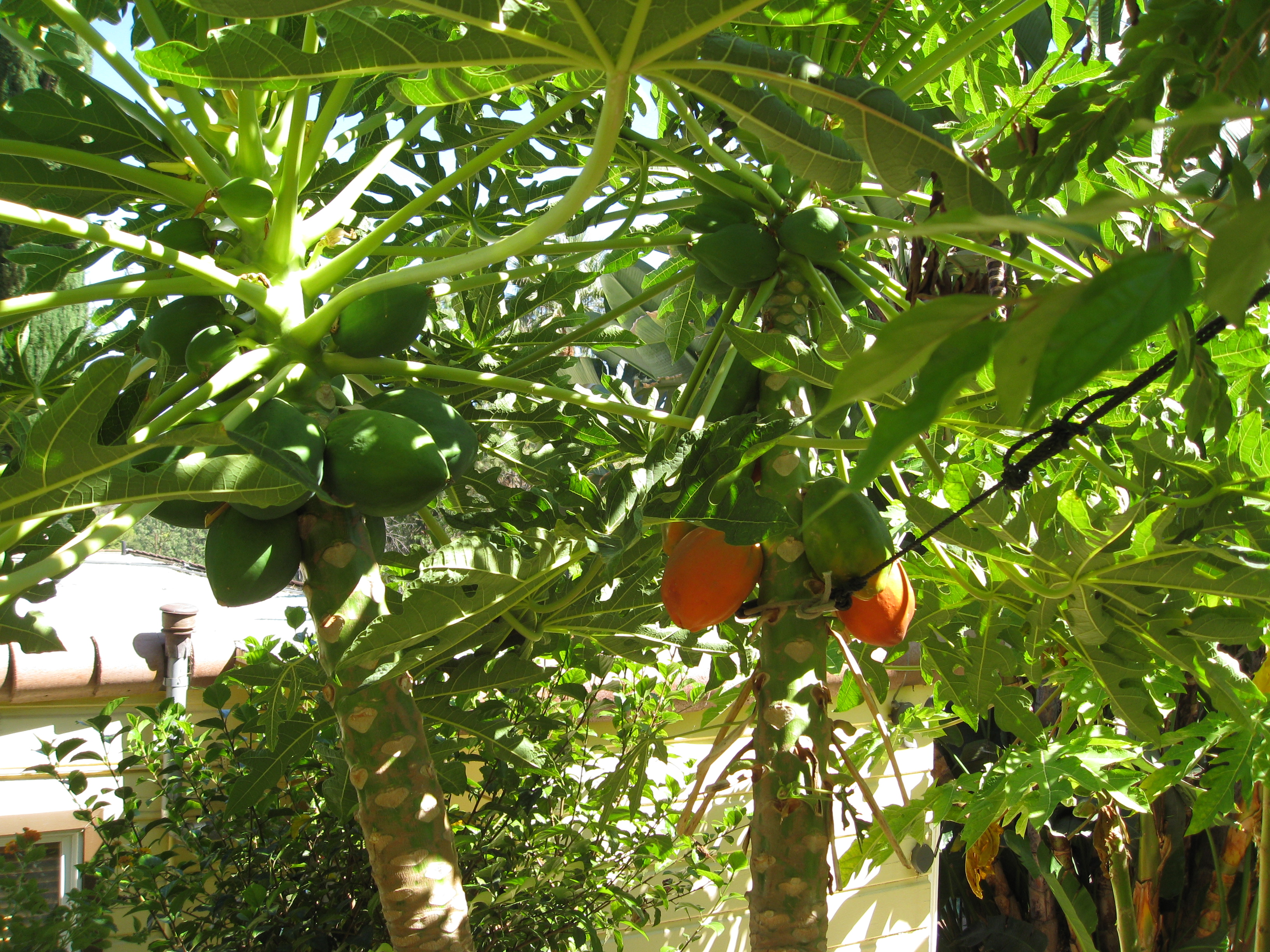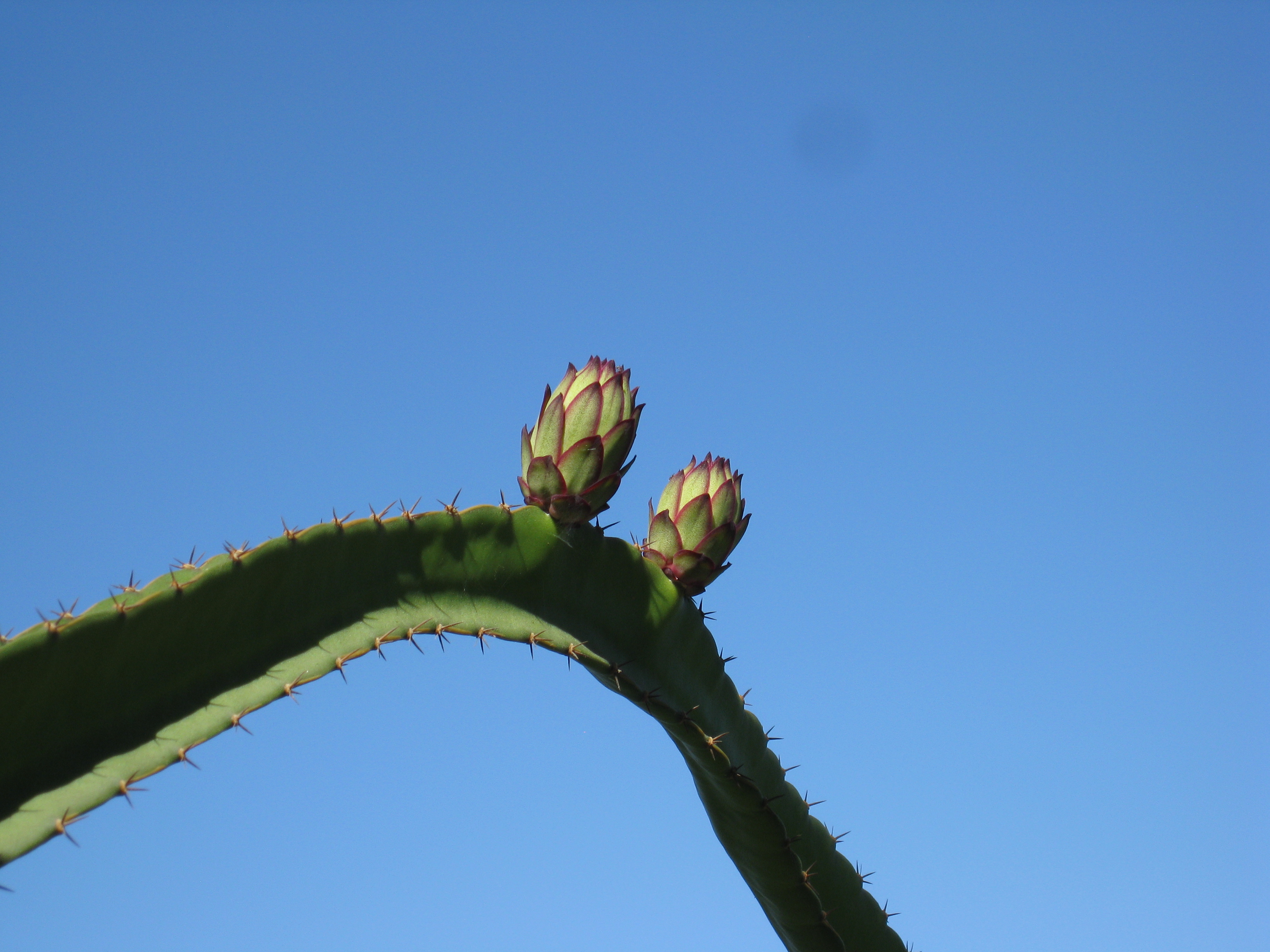 One nifty trick we learned: Clive's assistant, Max, found a way to solve the fly problem in the yard. He simply hung large plastic bags of water all over the place. Apparently the water reflects light in a way that confuses flies with those compound eyes. It worked like a charm.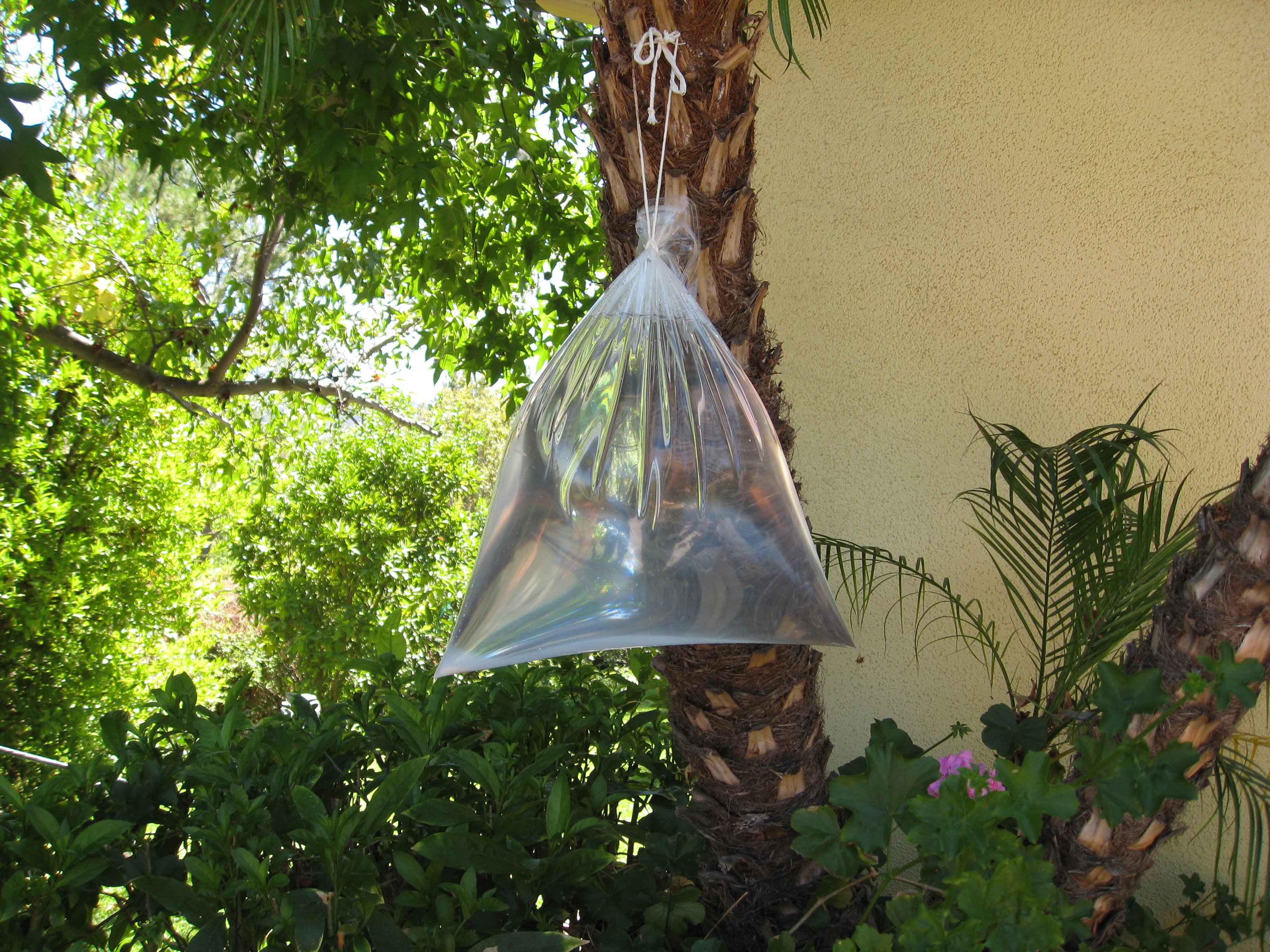 Finally, at the end of our tour, Clive showed us what I consider to be the most impressive part of the farm: a 5,000 gallon graywater system.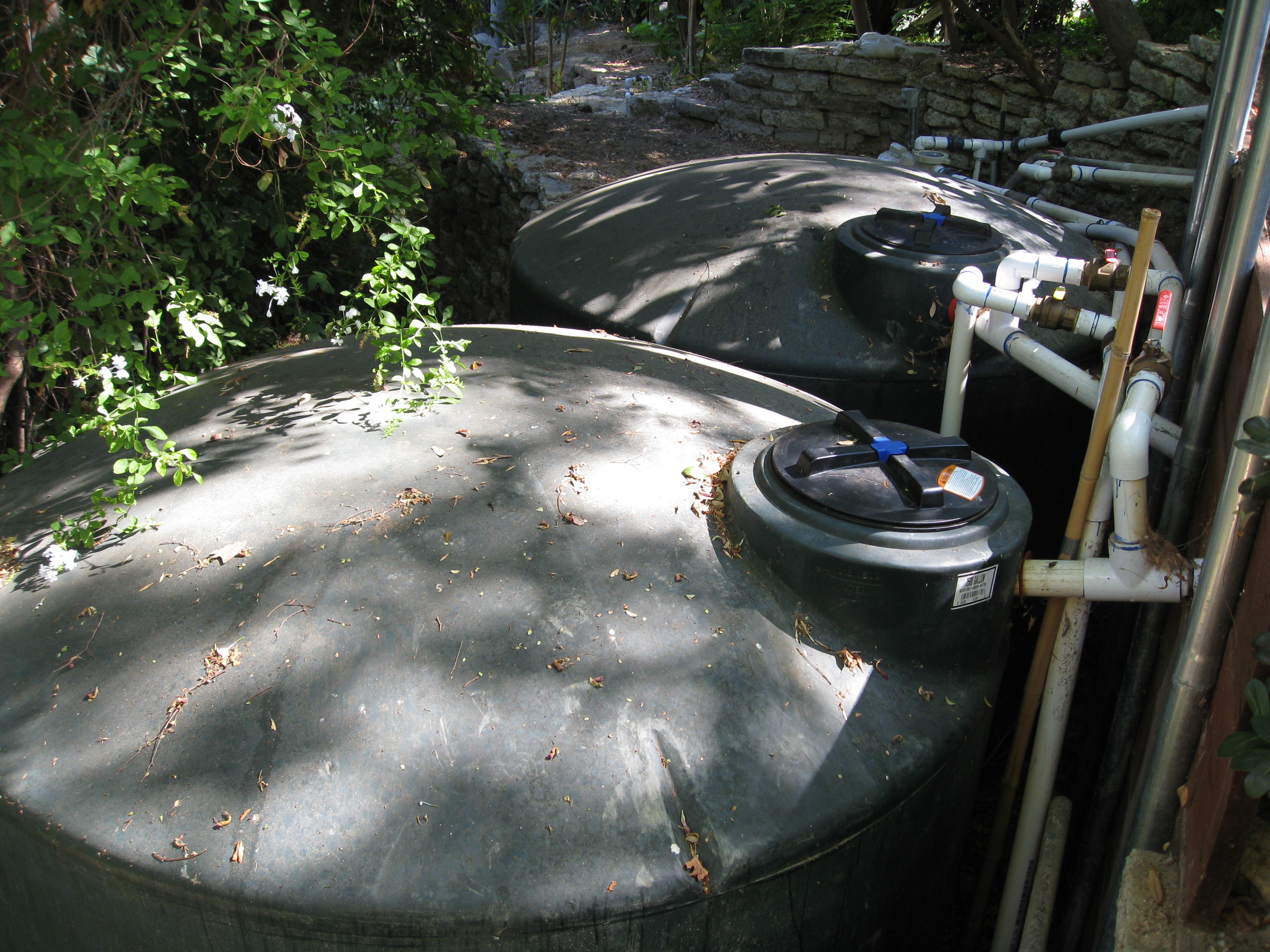 Clive installed a drain catchment system that funnels runoff from the neighbor's excessive water usage that runs down the street to these tanks. He also collects rainwater from the driveway through cutouts. A pool pump forces the water up through the drip irrigation system (they open the valves manually when needed) for many of the trees on the property. To combat mosquitoes, he added mosquito fish to the tanks. Problem solved. Even in this drought (no rain for months) these tanks are both full.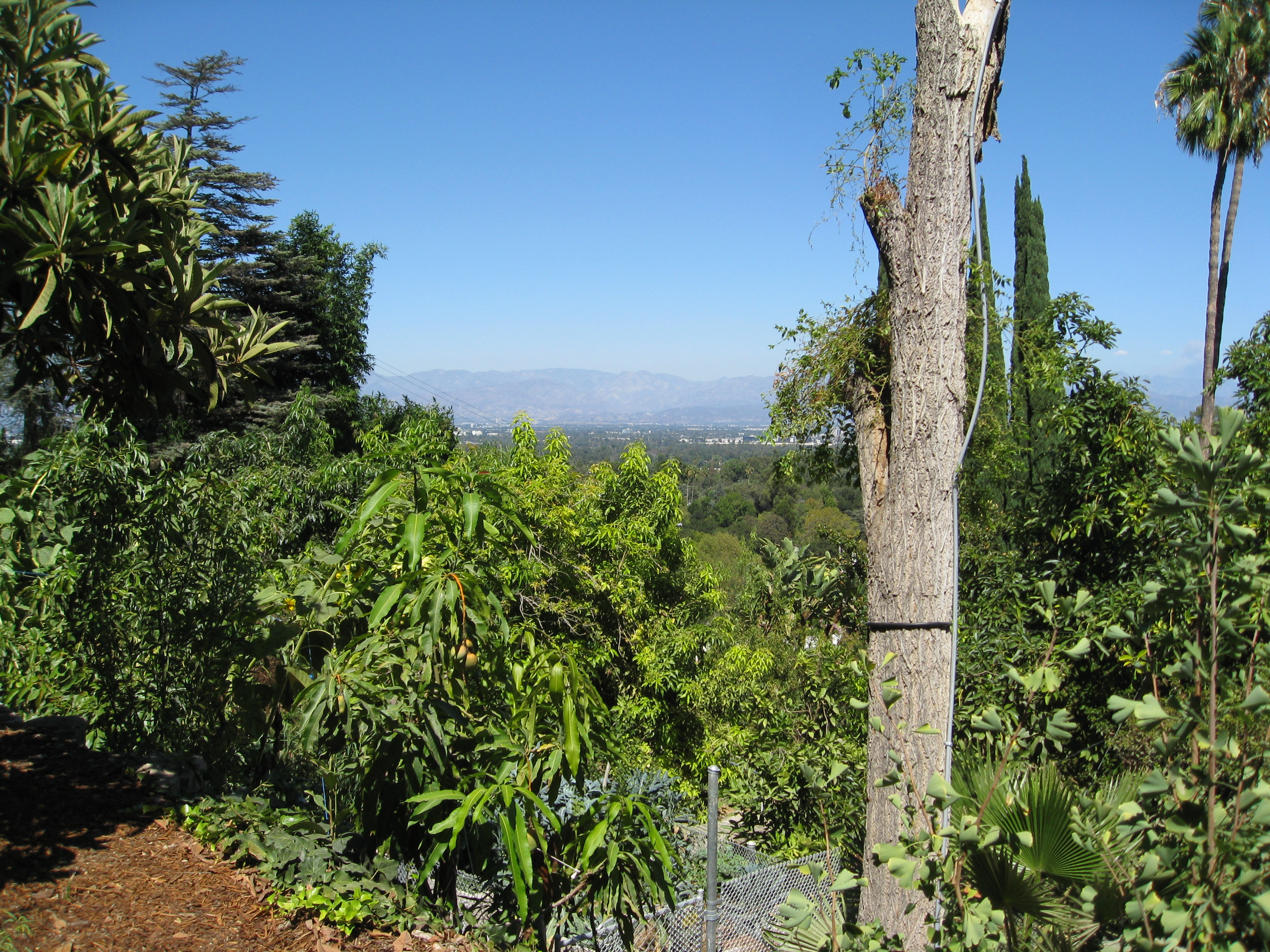 It's hard to imagine all that fits within the gates of Little Farm. Sure, we'd all like to have more land, but this field trip was inspiring; motivation to make use of the space we have, no matter the size.
To read more about Clive's adventures with Little Farm, read this article from Tribe Magazine.