A couple in Santa Monica, CA had trouble growing veggies in their partial-shade, in-ground garden. They wanted to expand and revamp for a better gardening experience. We collaborated to design what I'm calling a winged garden.
The space sits amid tall buildings and towering trees. Sun is limited so we needed to focus full-sun crops in the sunniest part of the new design. The homeowners had an idea what they wanted, but they needed help bringing it to life.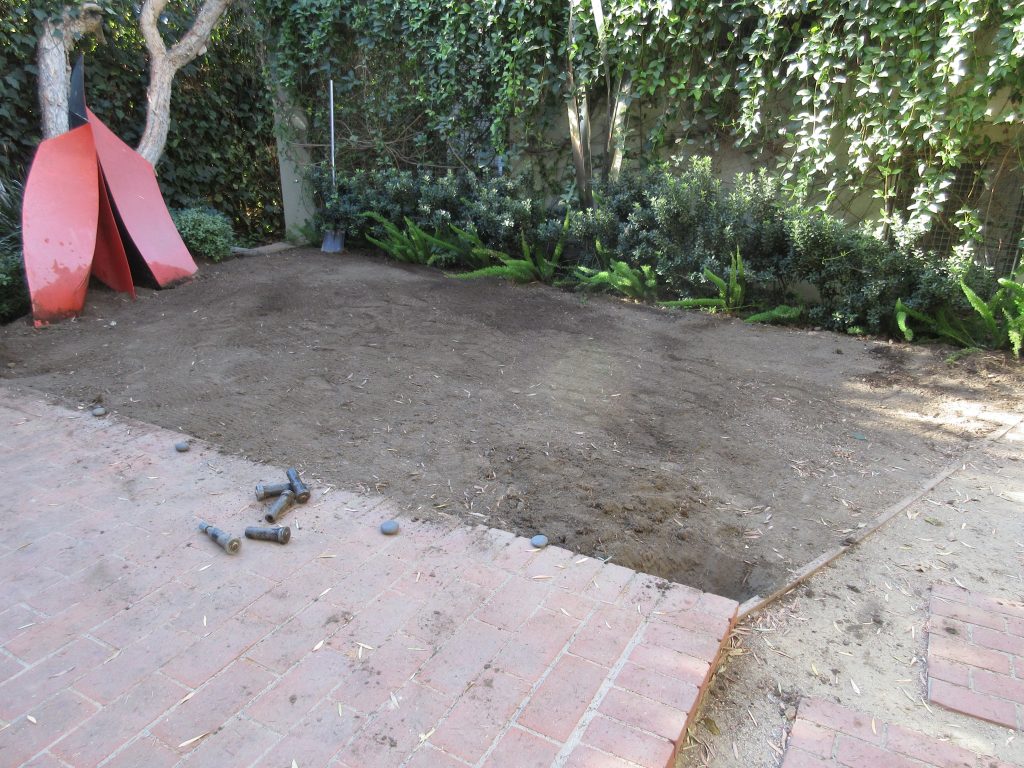 The old garden was a small patch in the middle of the yard, surrounded by hardware cloth to keep critters out. We cleared and leveled the space, capped most of the irrigation, and readied the land for new growth.
The New Design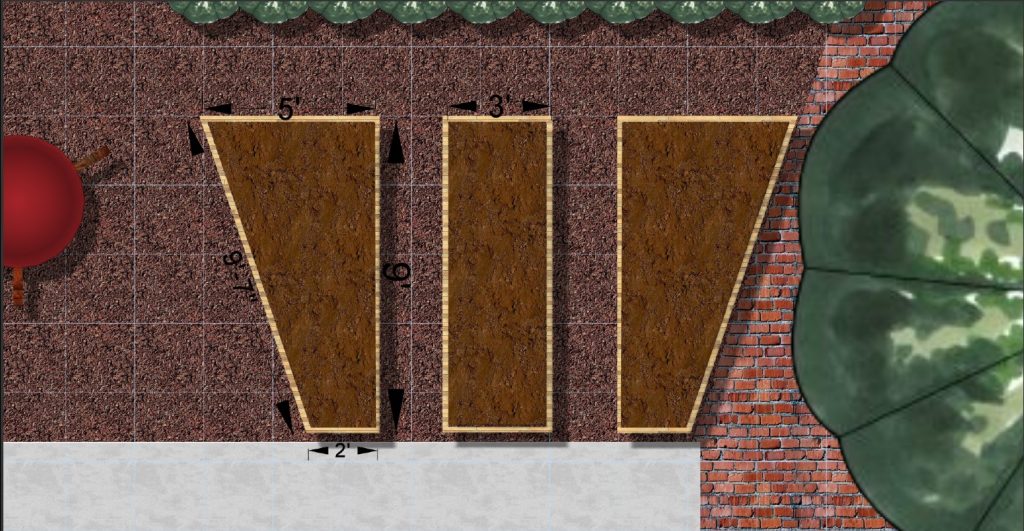 The center bed is 3'x9′ and the "wings" are 2′ wide on the short side, 5′ on the long side. The design allows for easy access all the way around so they don't have to step inside.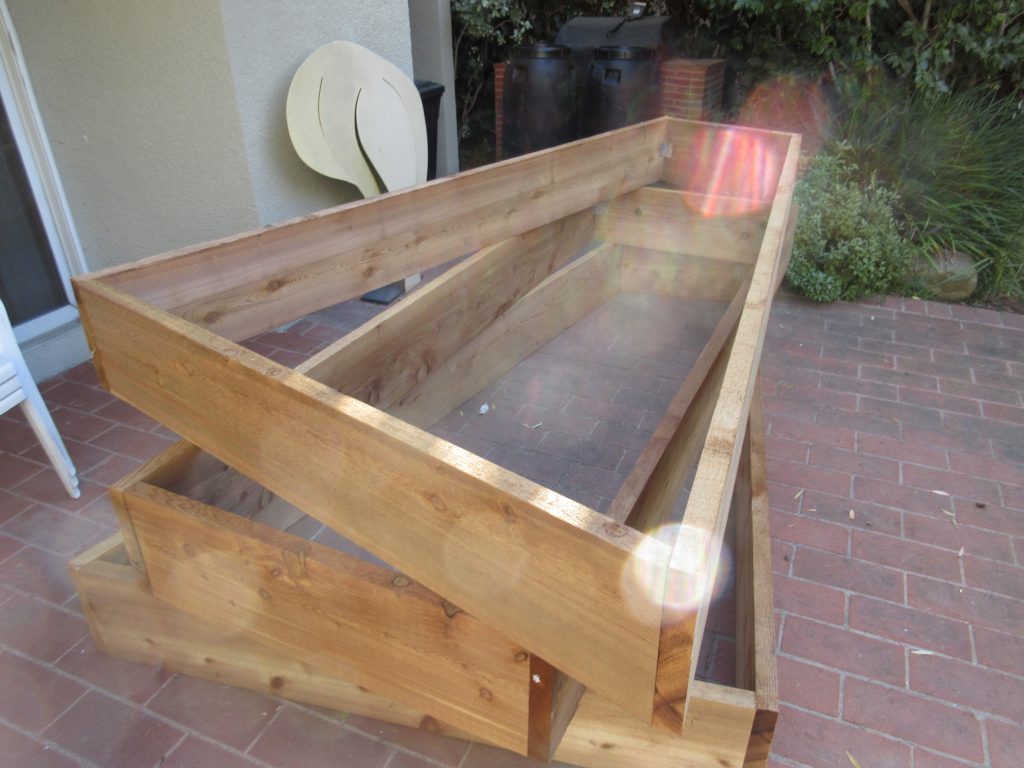 Once placed, leveled, filled with soil and set up with drip irrigation, we were ready to plant. The homeowners were excited to get their new garden planted ahead of our first rain storm.
We planted brassicas, alliums, salad greens, and root veggies heading into cool weather. For added color, we lined the widest side of each bed with flowers. The center bed is herbs (including mint in a pot as a focal point), interspersed with flower bulbs that will delight in late winter / early spring.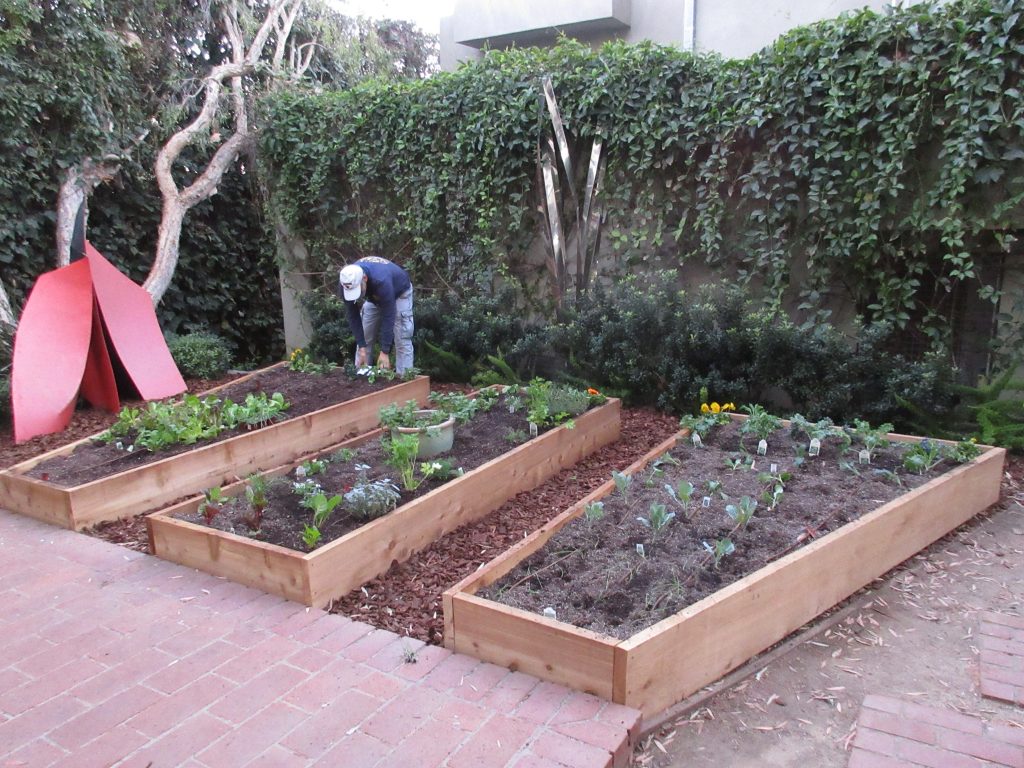 For plant layout, we concentrated salad greens and root veggies in the shadier (left) bed, while pushing brassicas to the northern sunny area (on right). That will ensure full production of all crops.
The homeowners wanted mulch between beds of the winged garden to keep weeds down, and keep moisture in the soil. Come winter, this garden will produce kale, broccoli, Romanesco, onions, shallots, carrots, turnips, parsnips, Swiss chard, lettuces, arugula, herbs and more.
Want to get other design ideas for your next garden? Type "Garden Design" in the Search box and find ideas like these.
UPDATE: The homeowner just sent in a photo of the garden grown in. "We've really been enjoying the garden."