Strawberries are in season and the garden is dripping with them.  We took the opportunity to use the harvest to make a delicious cobbler that was easy to assemble in under 10 minutes. 
The recipe comes from Vegetarian Times magazine, and use non-hydrogenated vegetable shortening in order to make it vegan.  We used butter instead, since I had it on hand.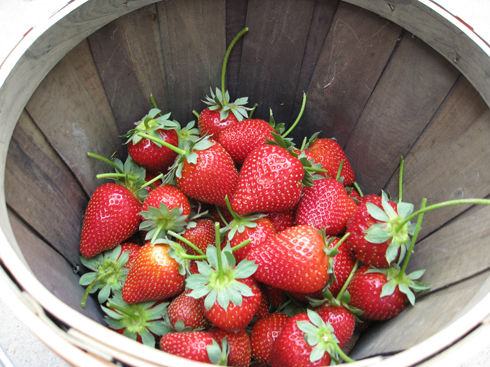 Strawberry harvest
Strawberry Cobbler – Vegetarian Times Magazine May/June 2010
Serves 6
Serve this delicately sweet dessert warm or at room temperature, or cover, and refrigerate up to two days.
6 cups fresh strawberries, halved

¾ cup sugar, divided (we used organic evaporated cane juice)

½ cup plus 2 Tbs. flour, divided  (We used rice flour to make it Gluten-Free)


1 Tbs. lemon juice

⅛ tsp. baking powder (make sure it's labeled Gluten-Free)


⅛ tsp. baking soda

⅛ tsp. salt

3 ½ Tbs. nonhydrogenated vegetable shortening (we used butter)

1. Preheat oven to 375°F. Coat 11 x 7-inch baking dish with cooking spray.
2. Toss together strawberries, 1/2 cup plus 2 Tbs. sugar, 2 Tbs. flour,
and lemon juice in bowl. Transfer to prepared baking dish.
3. Whisk together remaining 1/2 cup flour, remaining 2 Tbs. sugar,
baking powder, baking soda, and salt in separate bowl. Add shortening,
and mix well with fork until mixture is crumbly. Stir in 1/2 cup water.
Spread over strawberry mixture. Bake 20 to 30 minutes, or until browned
and bubbly. Let stand 10 minutes before serving.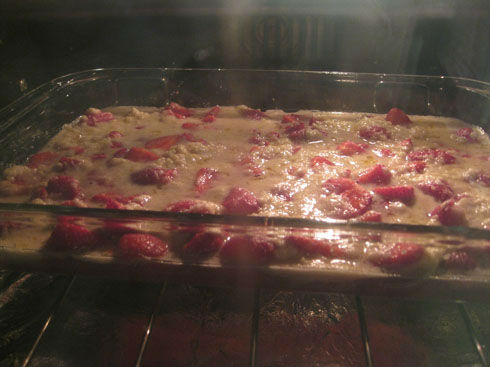 The crumble mixture looks very runny when mixed with a 1/2 cup water, but don't despair.  It's firms up in the oven.  Feel free to tweak the crumble recipe to make it more crumbly, perhaps with less water.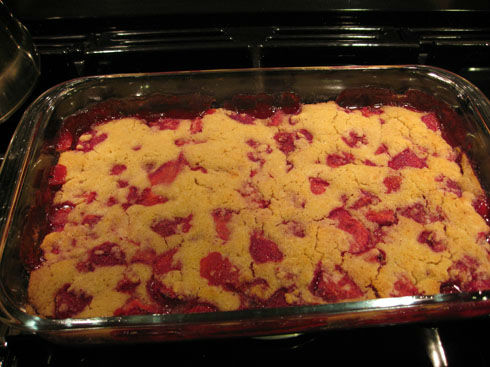 It's hard not to eat it straight out of the pan.  Try to restrain yourself. 
This recipe is easy enough to make while you're making dinner. Then it's ready by the time you're in the mood for dessert.
Hey gardenerds – what's your favorite way of using strawberries this summer?  Post your ideas here.