Awhile back, we started planting a special blend of legumes, grasses and greens from Peaceful Valley Farm for our hens to forage, and we wrote about it in June. The day of truth came when the mix had grown tall enough to give to the ladies.
Would the chickens like it? Would they eat it? Would they ignore it? Here's what we found out: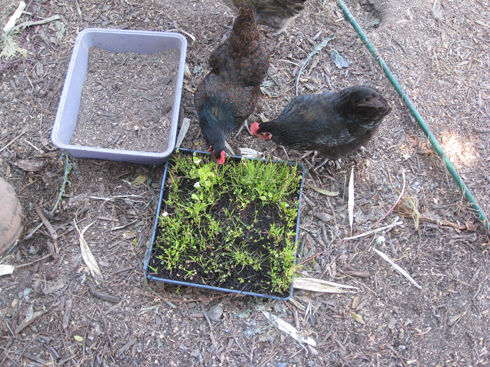 The seed mix didn't germinate as thickly as we would have liked. But that didn't stop the gals from looking on in wonder. One by one, they drew nearer to check out the mysterious gift.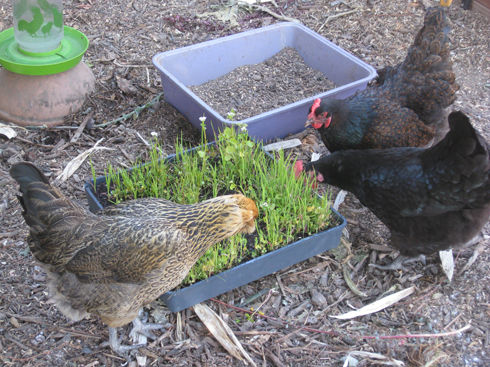 Biddy, the Black Australorp on the right, is the food tester of the group. If she says it's okay, the rest go for it. She gave the "beaks-up" and they dove in.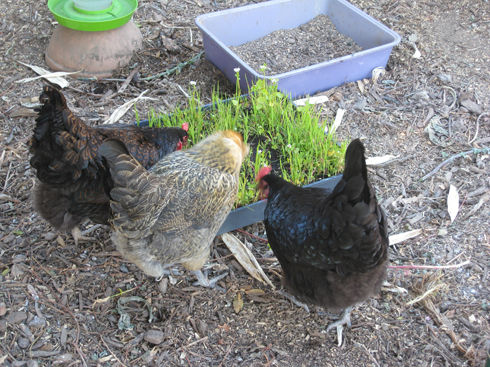 It only took about half an hour before the tray had been almost entirely excavated of soil and all that remained were wisps of sprouts strewn about the yard. We didn't expect that. I guess we'll have to plant more flats, more often.
In the meanwhile, they are being feed Bagrada bug-infested kale and over-ripe cantaloupe that ripened while we were away on vacation. At least someone is putting it to good use.
Hey chicken keepers: do you plant forage mix for your hens? Any suggestions to share here?