Our largest Turf Removal Rebate project to date involved eliminating 3,000 square feet of lawn in a big front yard and parkway in Beverlywood. The owners wanted to reduce their water bill and make their front yard an inviting place for kids to play, while providing native habitat for birds and pollinators. These were big changes for the neighborhood, as a quick drive around the block would prove. Every house had a lawn. This was going to be big.
This corner lot was originally planted with traditional plants like boxwoods, roses, daisies and lavenders. The homeowners wanted more color and fewer thirsty plants in their new design.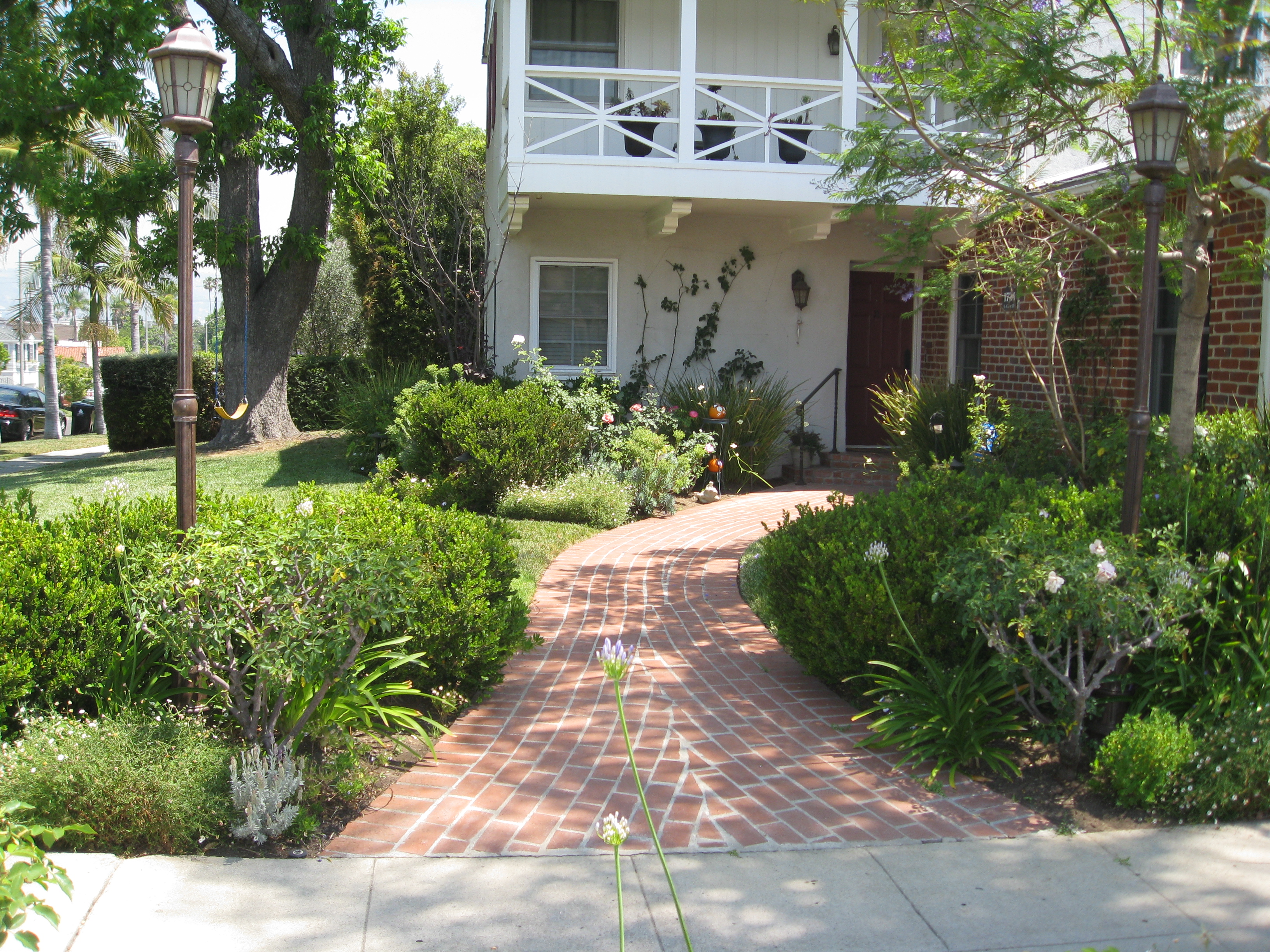 The property boasts a beautiful, productive pecan tree (the squirrels eat the entire harvest each year, but the owners don't mind) with a swing for neighborhood kids.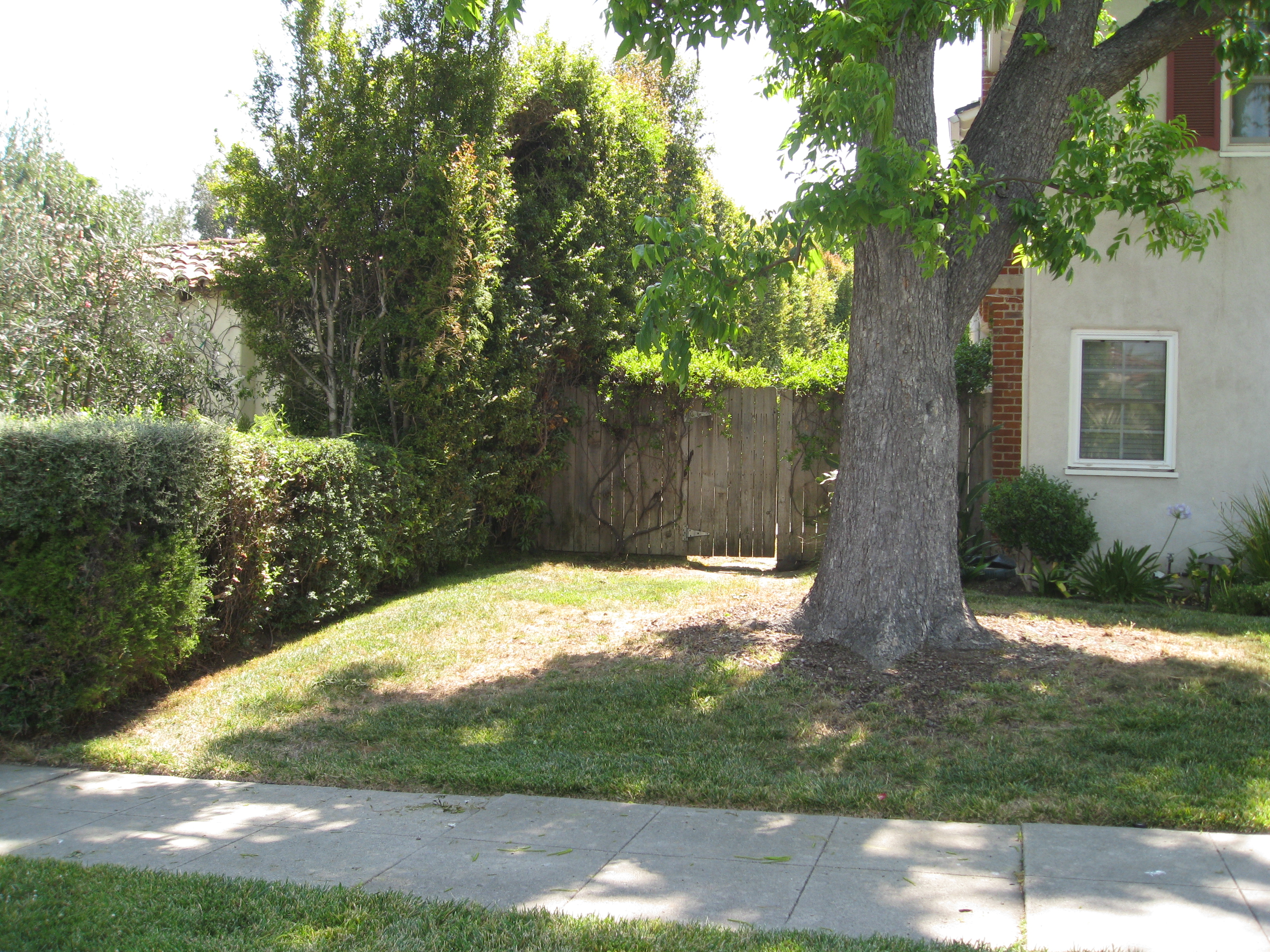 We made plans to create new pathways and a new seating area out front, and designed space for a few fruit trees the owner had in pots. The owner also wanted to capture water on site for the new raised bed vegetable garden we were about to install.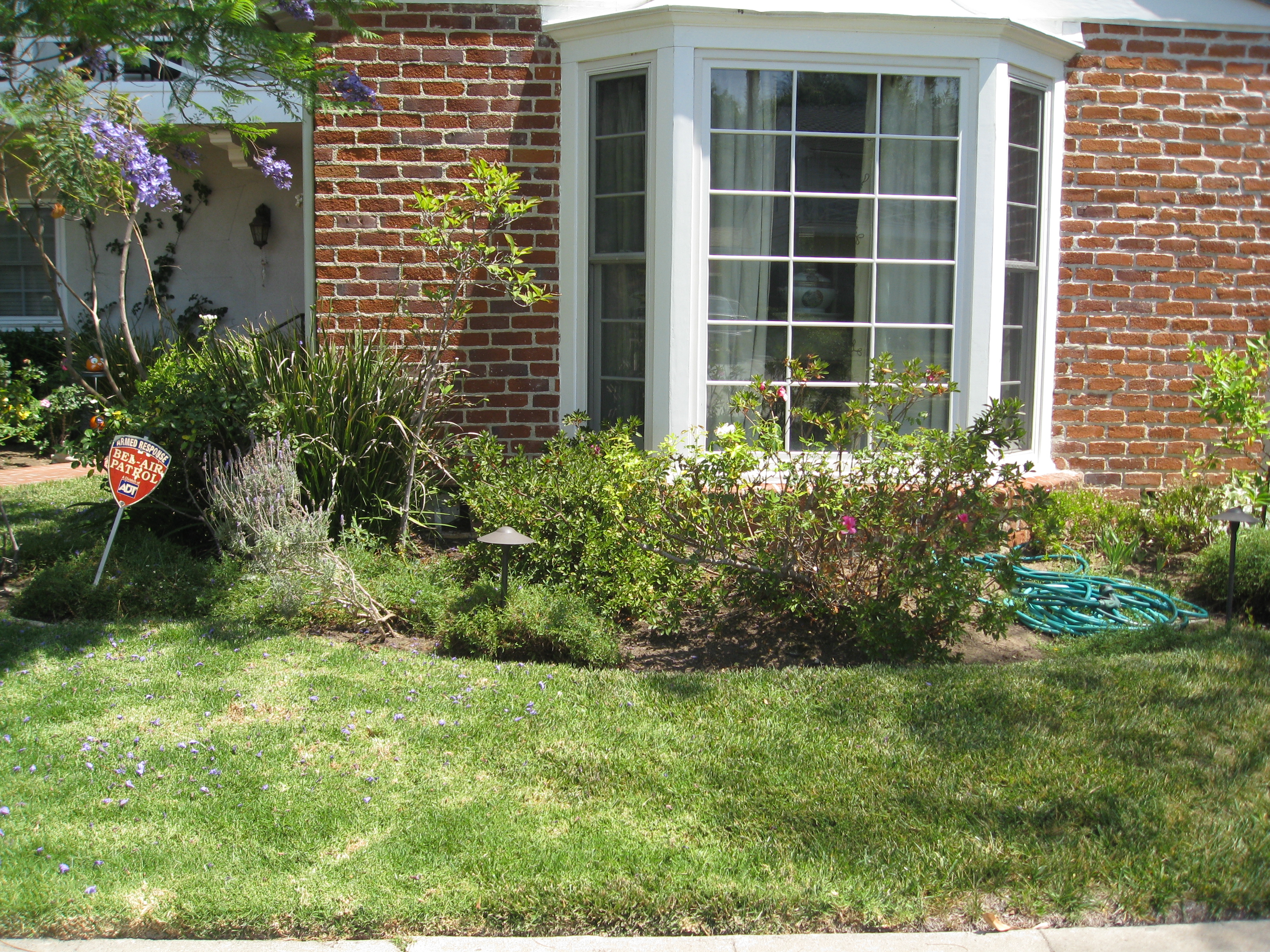 Grass would be replaced with drought-tolerant dymondia and creeping thyme. 2 new rain barrels would be added as well.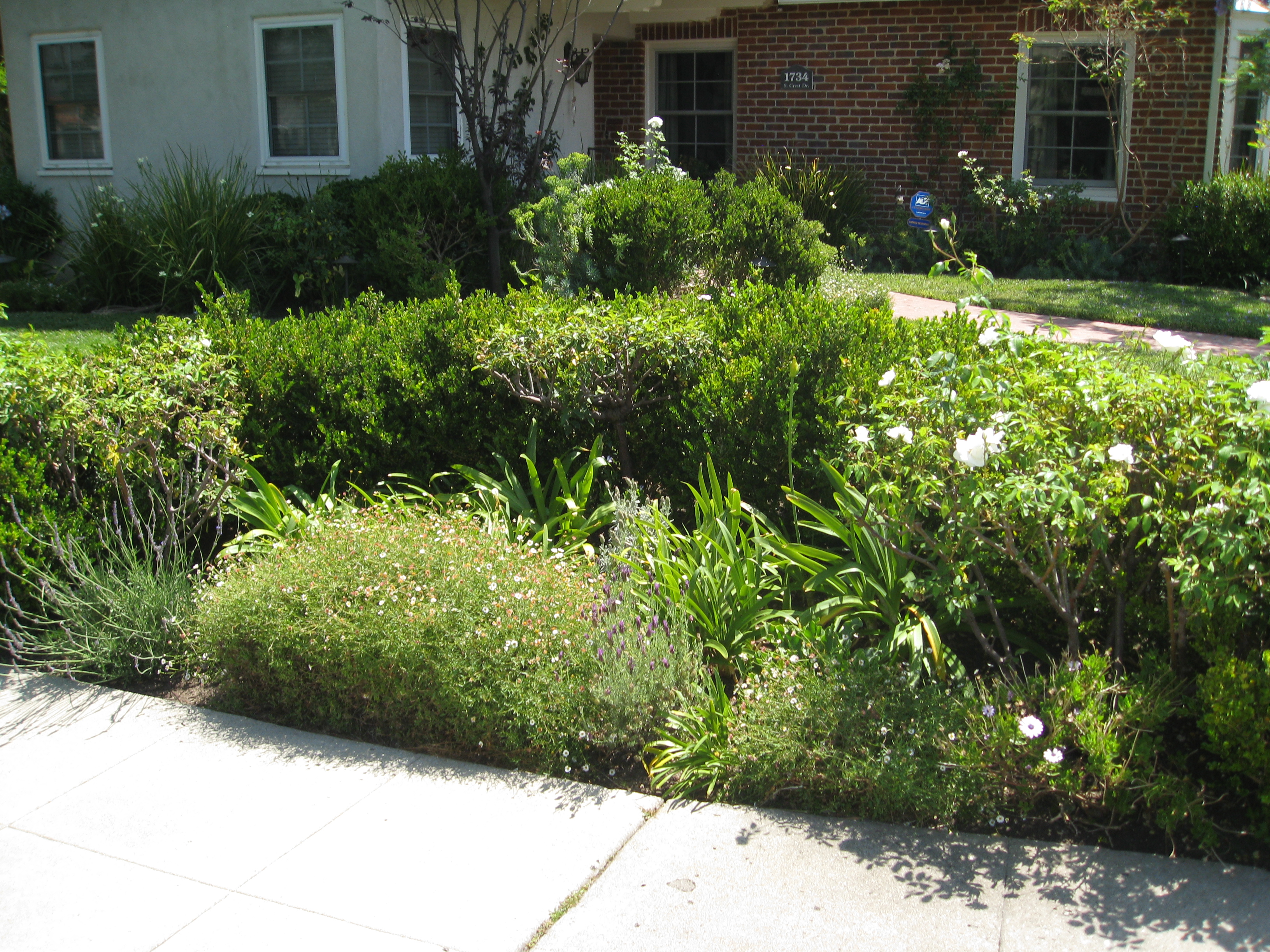 Demolition took more than a week; digging out 3,000 sq. ft. of old thatched crabgrass was a challenge, but in the end, the new landscape was worth the effort. We planned to reuse some of the plants, but replaced most of them with natives and drought-tolerant options.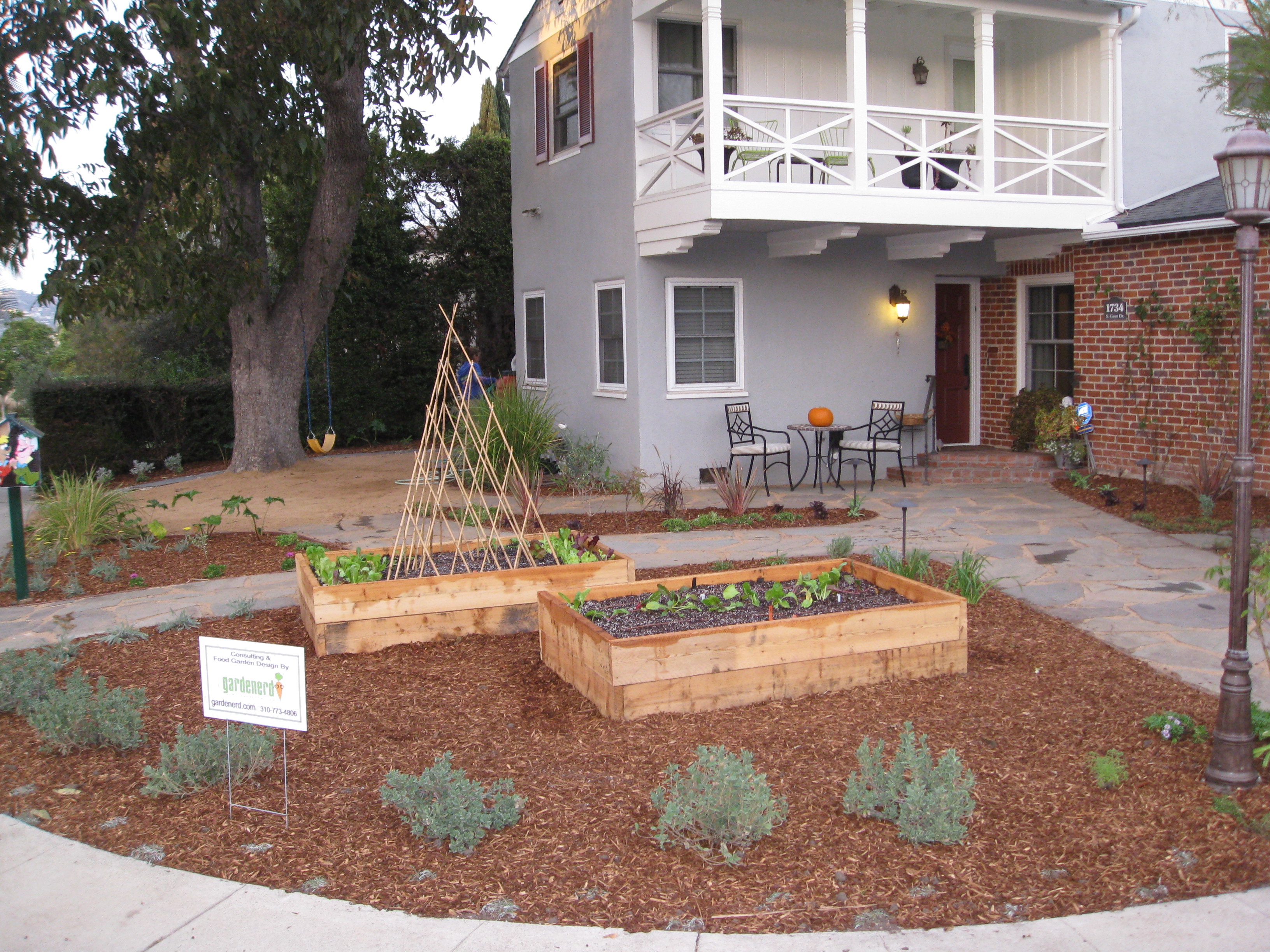 The finished product had every neighbor stopping by to see what was new. Vegetable beds are front and center, while native rock roses (a variety that only grows to 24″ tall) will offer a colorful border. Lavender, yarrow, day lilies, lilac verbena, seaside daisies and dymondia will fill in over time to create a lush landscape.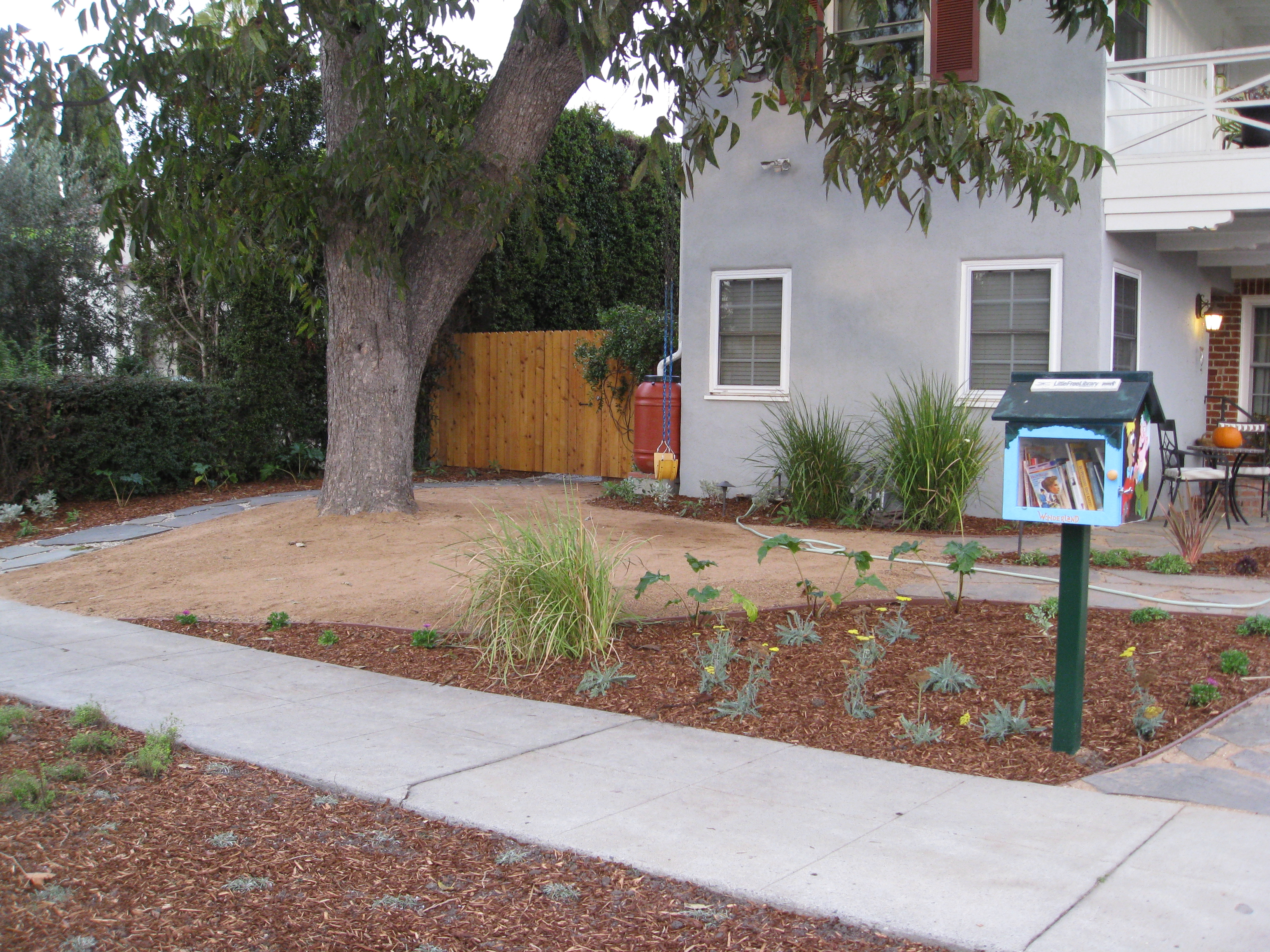 The existing tree swing now has a pathway around a matilija poppy (finally, a Los Angeles garden large enough to fit one of these!), more yarrow, acanthus, African and seaside daisies, and some repurposed butterfly irises. The shady spot north of the pecan tree is the new home of native penstemon, California bush anemone, red buckwheat, hummingbird sage, and more acanthus.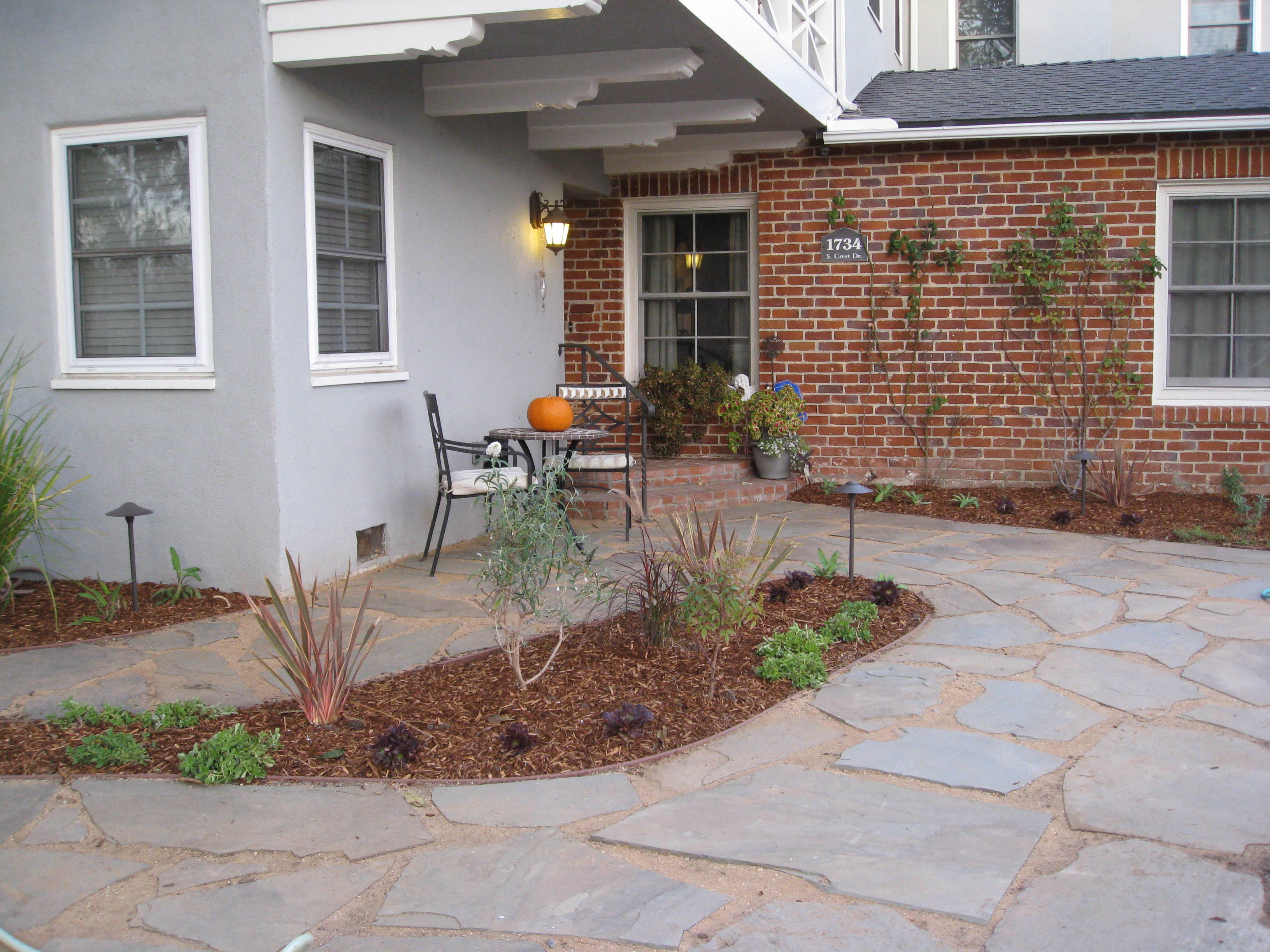 We replaced a sick ornamental plum tree that was planted too close to the house with an "island" of colorful reds, purples and russets that will be a focal point once this grows in. Rainbow flax, white buddleia, heavenly bamboo, purple fountain grass, purple aeonium, sedum "autumn joy" and fox tail agave will accent the home's brick facade.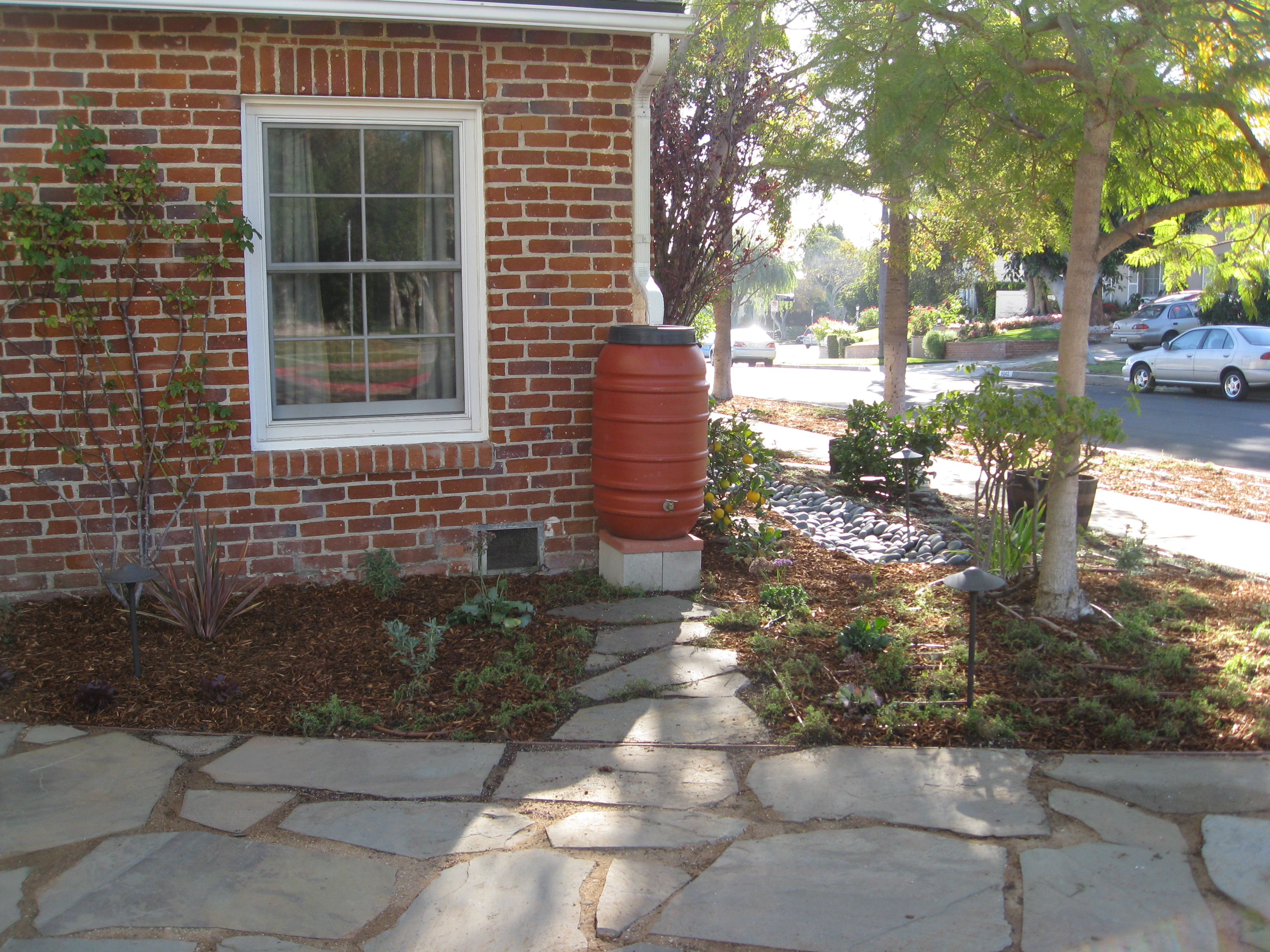 Along the path to the front door, we added Cleveland sages, sea lavender, and California fuchsia, purple aeonium, and rainbow flax to go with the existing climbing roses against the  house. Creeping thyme will create a lush blanket under the existing Jacaranda tree.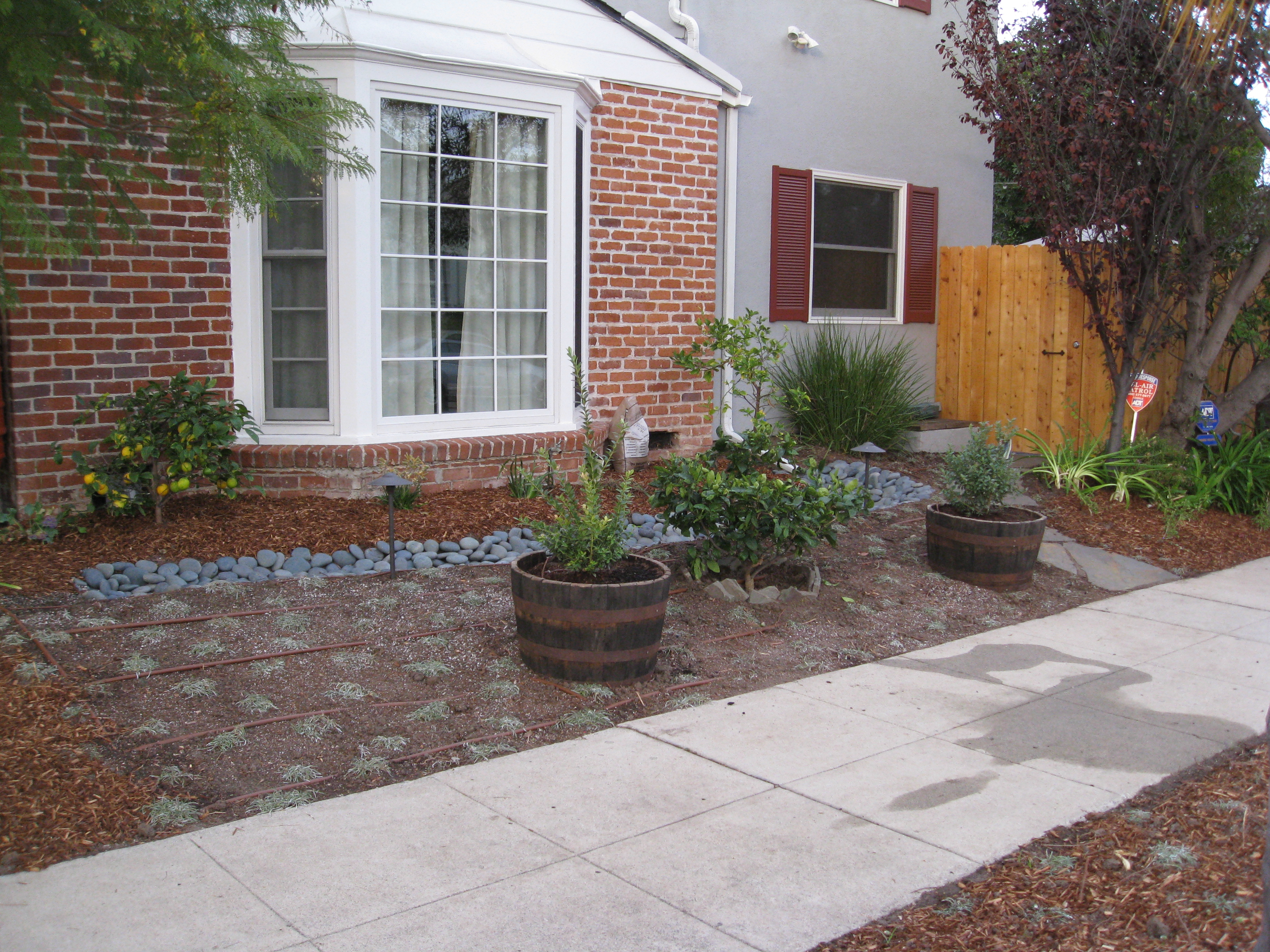 Rounding the corner, the new bioswale diverts rain several feet away from the house, down a path between 3 fruit trees, with kangaroo paw in three colors under the bay window. Dymonida surrounds the new plantings bordered by creeping ceanothus (just out of frame to the left), more Cleveland sage, lantana, and others.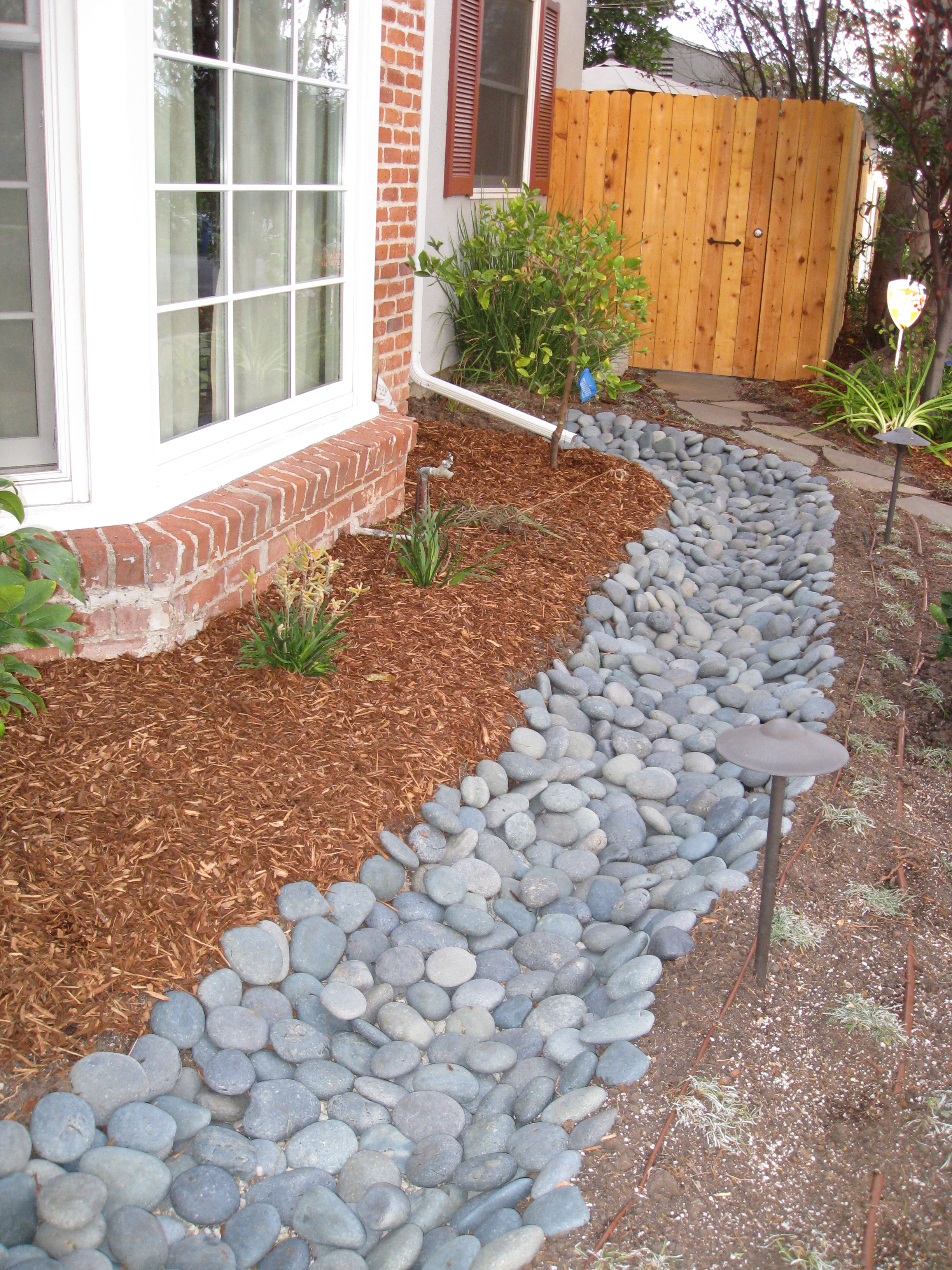 A 16″ trench was filled with gravel, then layered with decorative large river rocks. This makes it possible to walk across the bioswale with sure footing if needed. We extended the downspout to reach the beginning to the bioswale.
Drip irrigation was used throughout, and mulch covers bare soil to keep weeding to a minimum. As these plants grow in, the neighborhood will experience a wash of colors, as well as visits from birds and pollinators. The homeowners were delighted with their new garden and the community it has already begun to build.