A great question came in this week to Ask Gardenerd:
"It's Yvette from Mar Vista!!! I have a BURNING QUESTION!!! We have a big big rainbow eucalyptus tree in our front yard that is causing big, big problems with our raised beds…the roots (mostly small tangly ones) keep invading and stealing all the water and nutrients from them and we had a horrible harvest…we want to put in a root barrier but we don't know anything about it. Might you have some tips for us? XXXOOOOOOOOOOOOO"
Yvette, your problem is unfortunately a common one. We plant our gardens, then nearby trees discover it and move in, lacing our garden beds with a thatch of fine root hairs that prevent our veggies from thriving. It becomes almost impossible to dig and our plants suffer lack of water and nutrients, just as you said. What to do?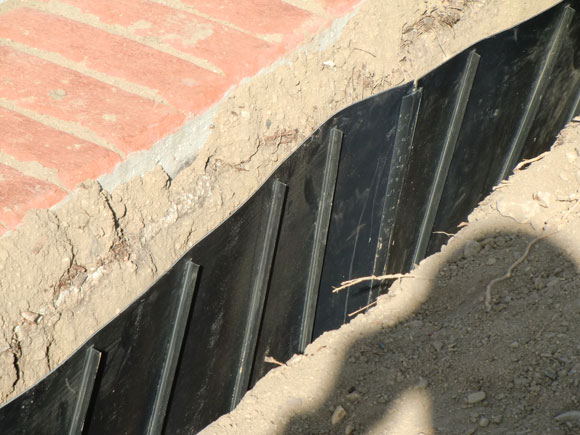 Image provided by Villarootbarrier.com
Here are a couple of options, both require some work:
1) Install a vertical root barrier – this is the most effective option (pictured above) because it's a physical deep barrier that forces roots down instead of out. Installing it around the drip line (the outer edge of the canopy) will prevent further infiltration. It requires a 2-3 foot deep trench, but it's what I recommend if you can afford to do it. Companies like Deep Root offer materials and installation, or perhaps your regular gardener can do it with supplies from a local hardware store. Installation is basically this: dig a trench, place the root barrier vertically, backfill the trench.
2) Install horizontal barriers under each bed – this is also effective, because it stops the roots from stealing from your plants, but it may wear out over time. This is one of those things that would be best done before the beds were installed, but in a pinch you can do it after. Here's how it goes:
Remove all soil from inside the raised beds (if already installed). If you can flip the raised beds over, do it. Use screws and washers to secure 1/2″ hardware cloth to the underside of the raised bed.
Then install a layer of weed fabric over the hardware cloth (a staple gun will do the trick). The weed fabric prevents roots from getting through, and the hardware cloth prevents roots from pushing the weed fabric up (if you were able to flip your raised beds over for installation, the weed fabric would be installed on top of the hardware cloth, then when you flip the bed back over, it would be on the bottom, touching soil). If your beds are affixed to the soil and flipping them is not an option, install the weed fabric underneath the hardware cloth inside the beds. It will still help.
Weed fabric may wear out over time or tear if you dig deep in your beds (maybe now is a good time to adopt a no-till method?), but it's better than plastic lining because it allows water to flow through. Those tree roots will still get some water, but they won't interfere with your veggies and herbs.
Happily Ever After…maybe
These options allow your tree and garden beds to live in harmony, with well-defined boundaries. If neither of these options work for you, then there is option #3) make a plan to dig out the roots every 2 years or so and start fresh.
I hope this helps, Yvette! Keep us posted on what you decide to do.
BTW folks – Yvette is a fantastic photographer in the Los Angeles area. Check out her work and hire her for your next event/project.