As the winter growing season is winding down, we've already planted some spring crops, and planned out the summer crops. There's still one important thing to do, however, before we move on to spring: appreciate winter's bounty.
Even though we can see what's growing above ground, there's an element of surprise when harvesting root crops like carrots, parsnips and potatoes (okay – it's a tuber, not a root crop).  Students always ask me how they will know when to pick their root vegetables.  I tell them to run their index finger around the base of the stem to feel the diameter of the veggie, then pull it when it reaches 1 inch in diameter or more.
The finger test works, but you'll never know what size that parsnip really is until you actually pull it out of the ground.  Here's what I found today: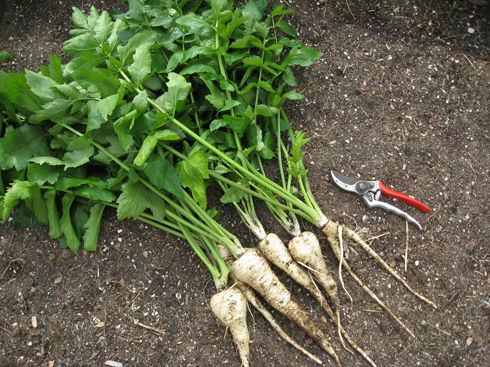 Some big, fat parsnips and a few mutants next to a pair of Felco pruners
In addition to parsnips, I have been harvesting a few other garden delights this winter: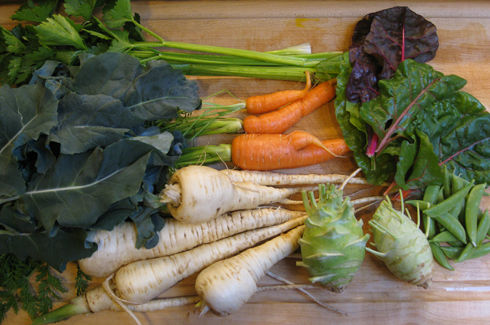 Clockwise from the top right: Rainbow Swiss chard, sugar snap peas – a rare sight indoors, kohlrabi, parsnips, Cavolo Broccolo a Getti di Napoli, Utah celery and a few mutant carrots.
Not shown: 3 kinds of broccoli, dry Christmas lima beans (yes, still going from last summer), and a few of the first spears of asparagus.
The strange thing about growing in Southern California is that our winter is like spring most everywhere else.  After all the rain we've been having, and a recent pruning/deadheading, the herbs and flowers have really taken off.  By late spring, they'll be withered and dry, so now is the time to enjoy them: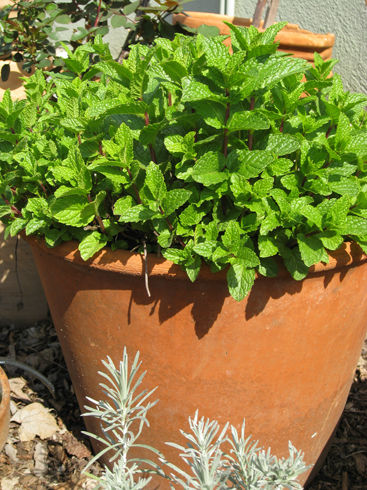 Happy mint in a pot with curry plant in the foreground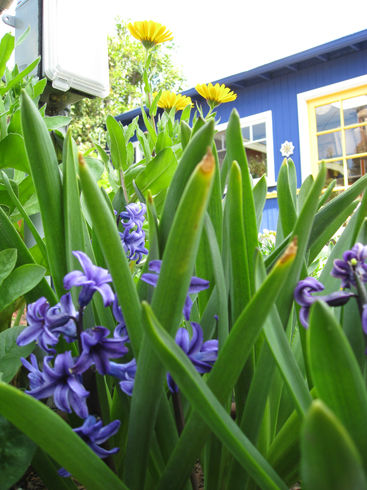 Hyacinth and beneficial insectaries like calendula, California poppies, cosmos
and echium vulgare (not shown) attract bees to the garden
The garden may be winding down, but it's still active and fruitful.  What have you been picking this winter?  Post your harvest here.