I had the pleasure of arranging a visit to Ocean View Farms organic community garden for a group of innovative folks who are working to solve several issues at once: food waste, food deserts, soil fertility, and carbon loss. What's the solution? Compost, of course. Will Allen, of Growing Power in Milwaukee, Wisconsin, led the group and the discussions that followed the tour.
The event was sponsored and organized by The Community and Regional Food Systems Project, The Growing Experience, UC Cooperative Extension-Los Angeles County, and the Los Angeles Food Policy Council. Each of these organizations is tackling the issues, and it was an honor to have this collective of great minds on site to tour the Ocean View Farms' composting operation.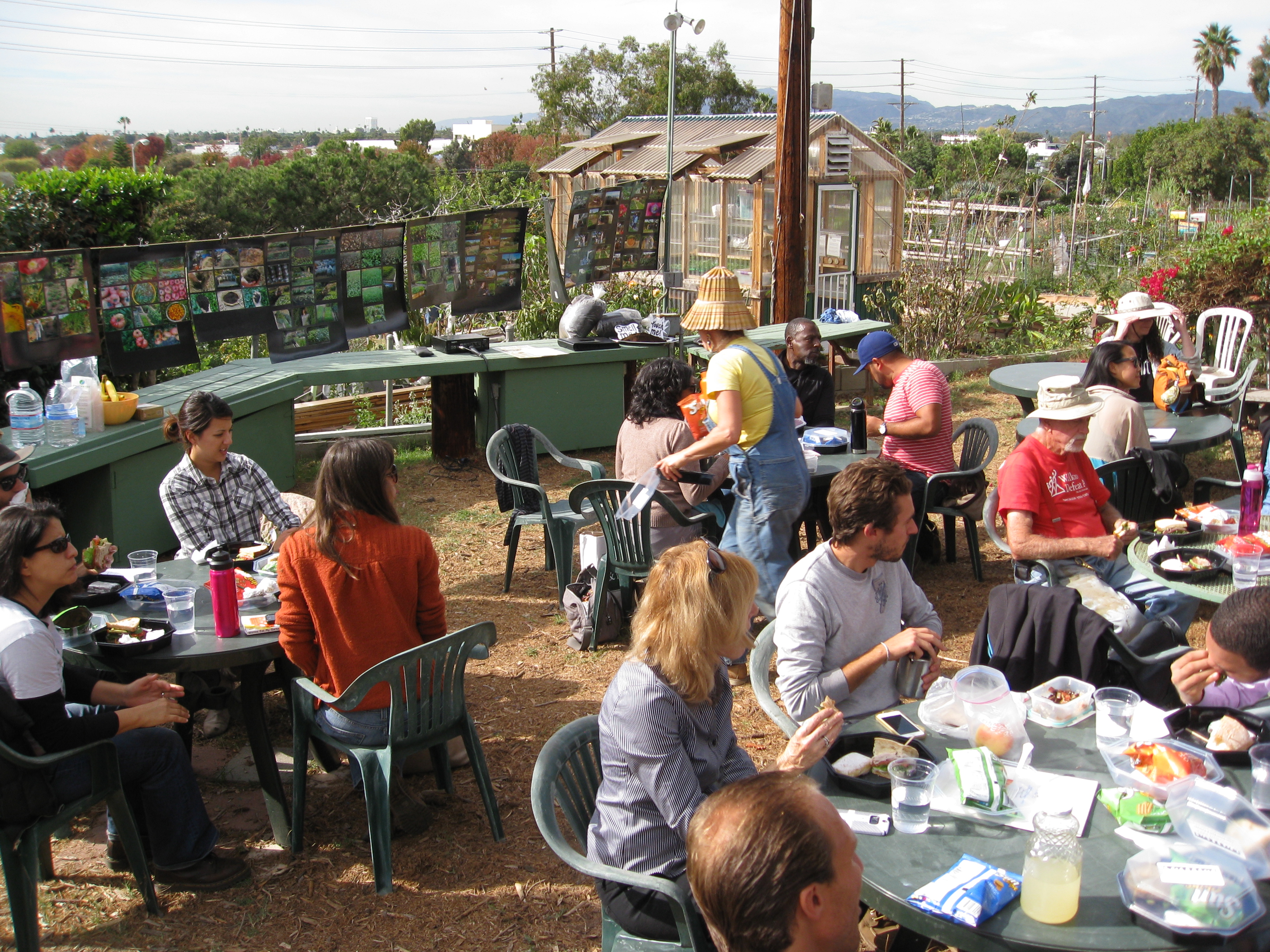 The group was amazed at how large Ocean View Farms (OVF) was. 6 acres of open space with 500 plots in the middle of the Westside. That morning the crew had toured a composting facility in Long Beach and the chatter among guests seemed to follow a theme: How to create food-growing-quality compost and make it widely available.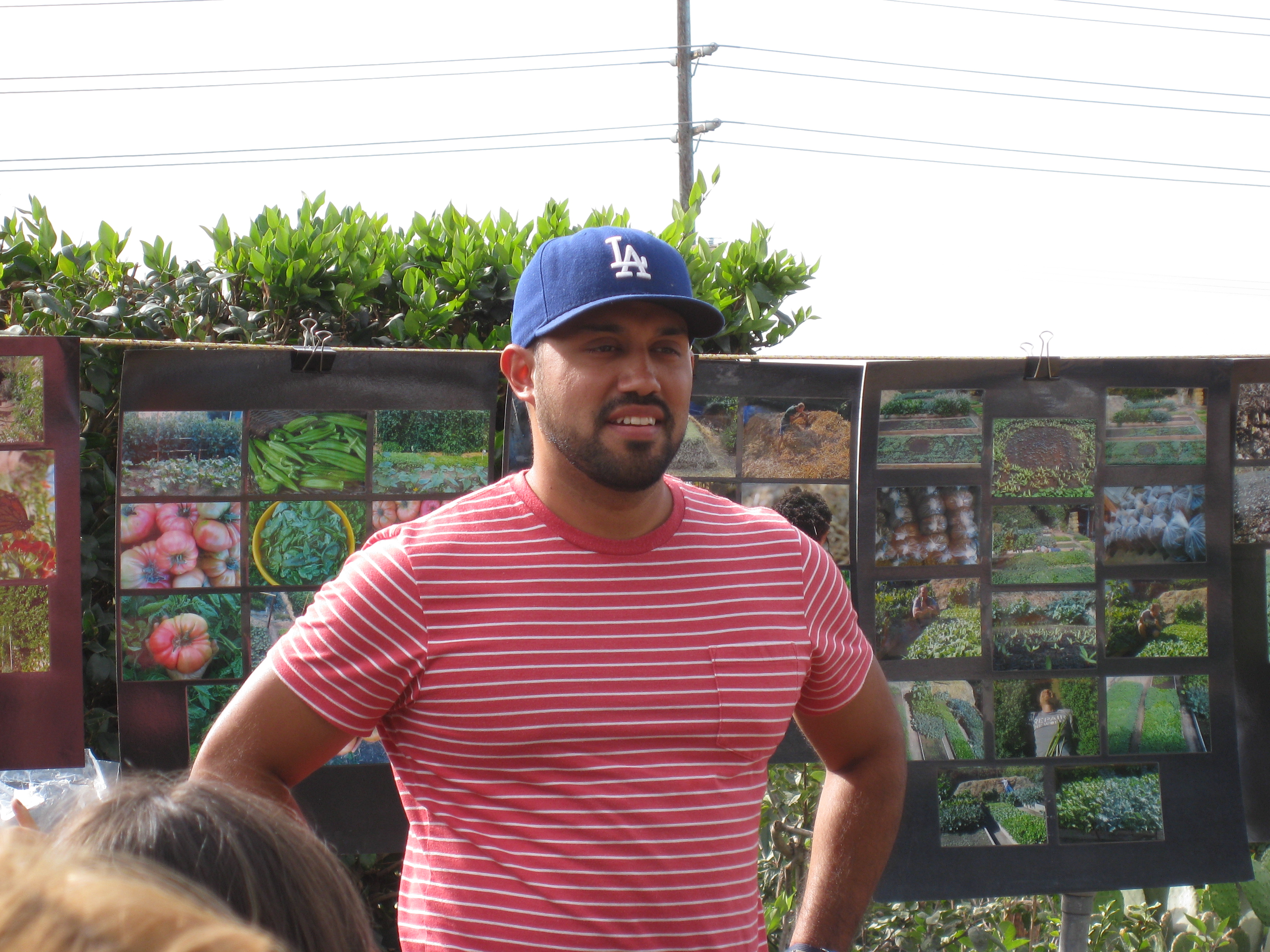 A presentation from Michael Martinez of L.A. Compost started off the discussion. L.A. Compost is a service where Michael and his crew deliver empty 5 gallon buckets to customers and pick up their full buckets. The buckets contain kitchen scraps, the perfect nitrogen-rich ingredient for compost. Michael is working to expand the program to restaurants and broader areas of Los Angeles.
Questions that arose: where do we find land to process all this food waste (remember, 40% of food waste comes from us as consumers)?  How do we create the infrastructure to transport food waste from homes to composting facilities? Apparently there are laws preventing the average Joe from doing such a thing. Did you know that?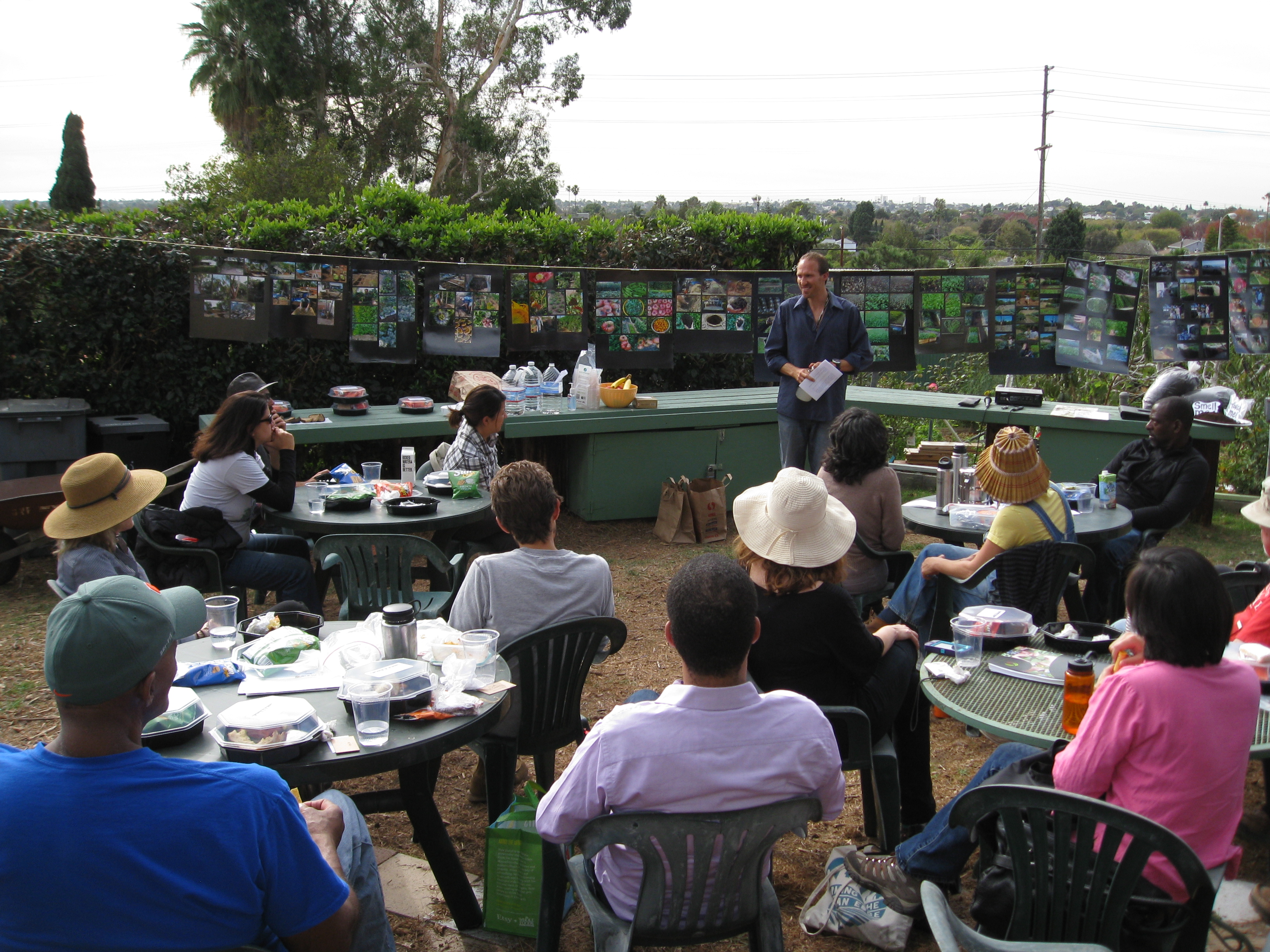 Next up, Steven Wynbrandt shared his knowledge of biodynamic composting and told his story of how he turned the backyard of his childhood home into a vibrant biodynamic farm, growing beyond-organic produce for local restaurants and producing tons of top-quality compost. He's one guy doing a big job, and this could be expanded in places all over the country if we put our heads together.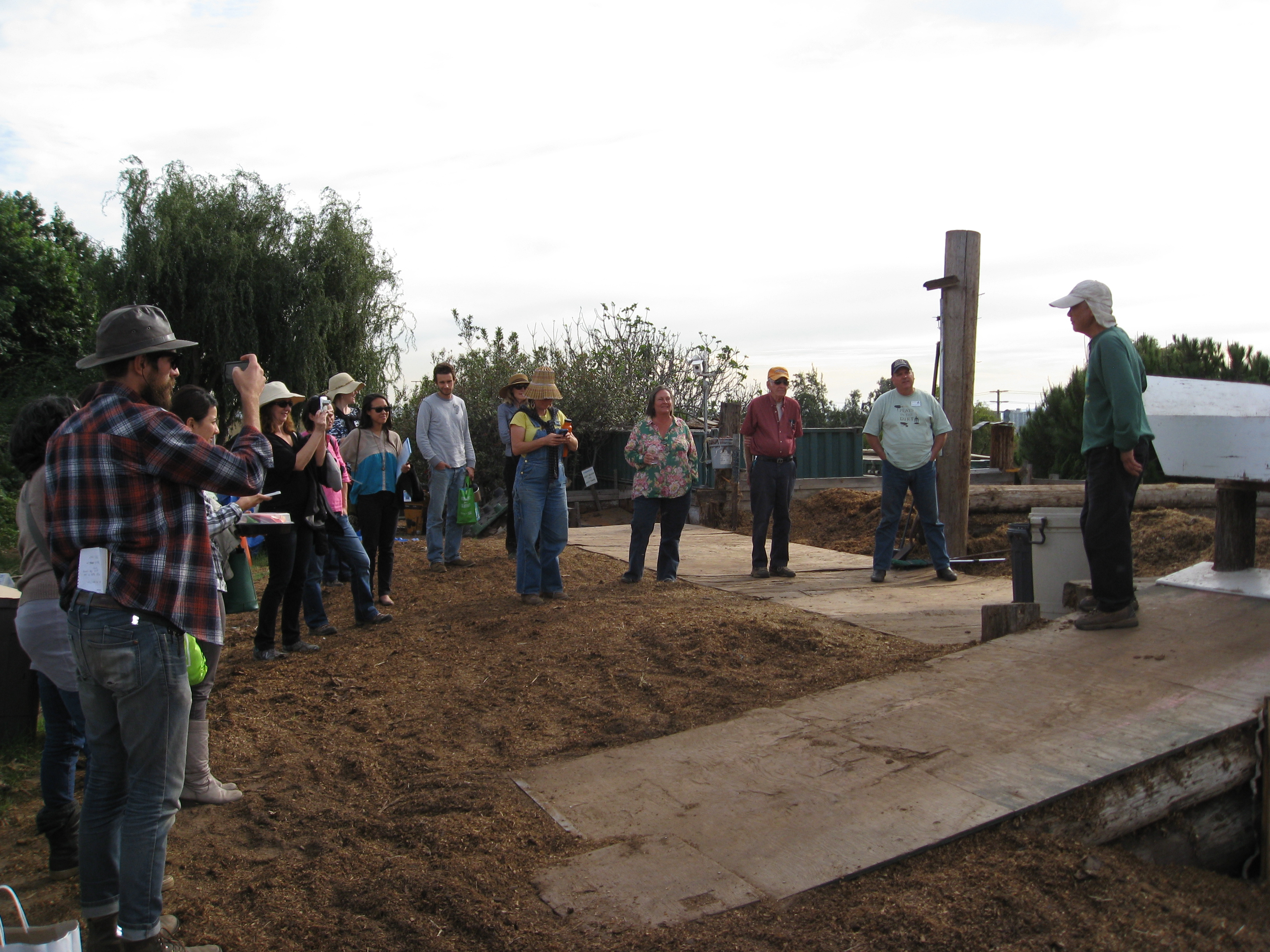 Then, Warren (pictured standing on the ramp at the right) showed guests the process by which OVF makes compost, starting with shredding stable waste into a uniform-textured product before composting.
Some gardeners use this shredded manure straight in their garden after it has been composted for a few months. But the rest is taken down the hill to the compost facility.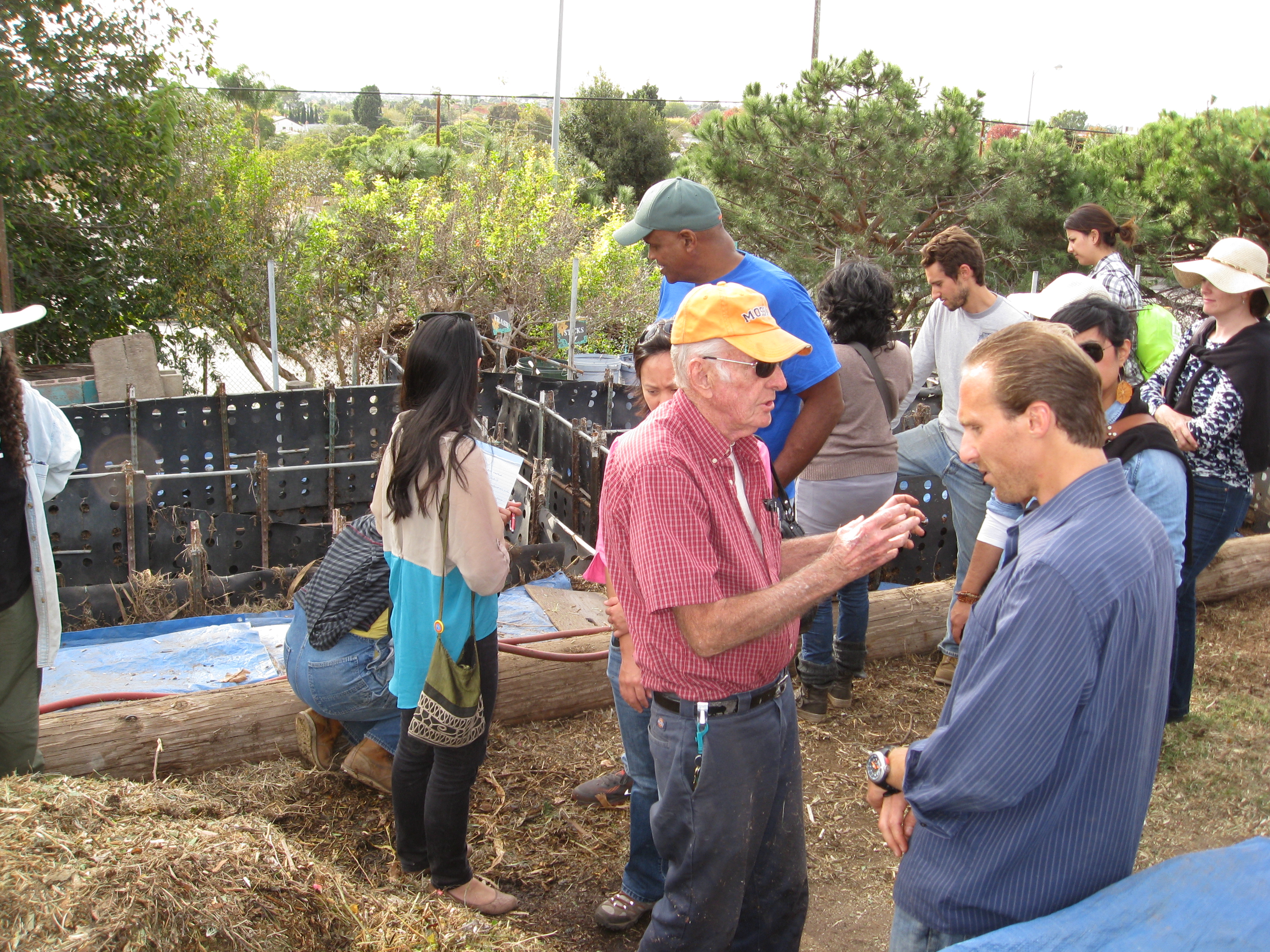 OVF has a series of troughs constructed from flexible material that allows volunteers to build up to 12 compost piles at once in a small space. The garden waste is shredded and combined with the shredded stable waste, watered well and turned when it reaches peak temperature. Garden members are welcome to take as much as they want when a fresh pile opens for distribution.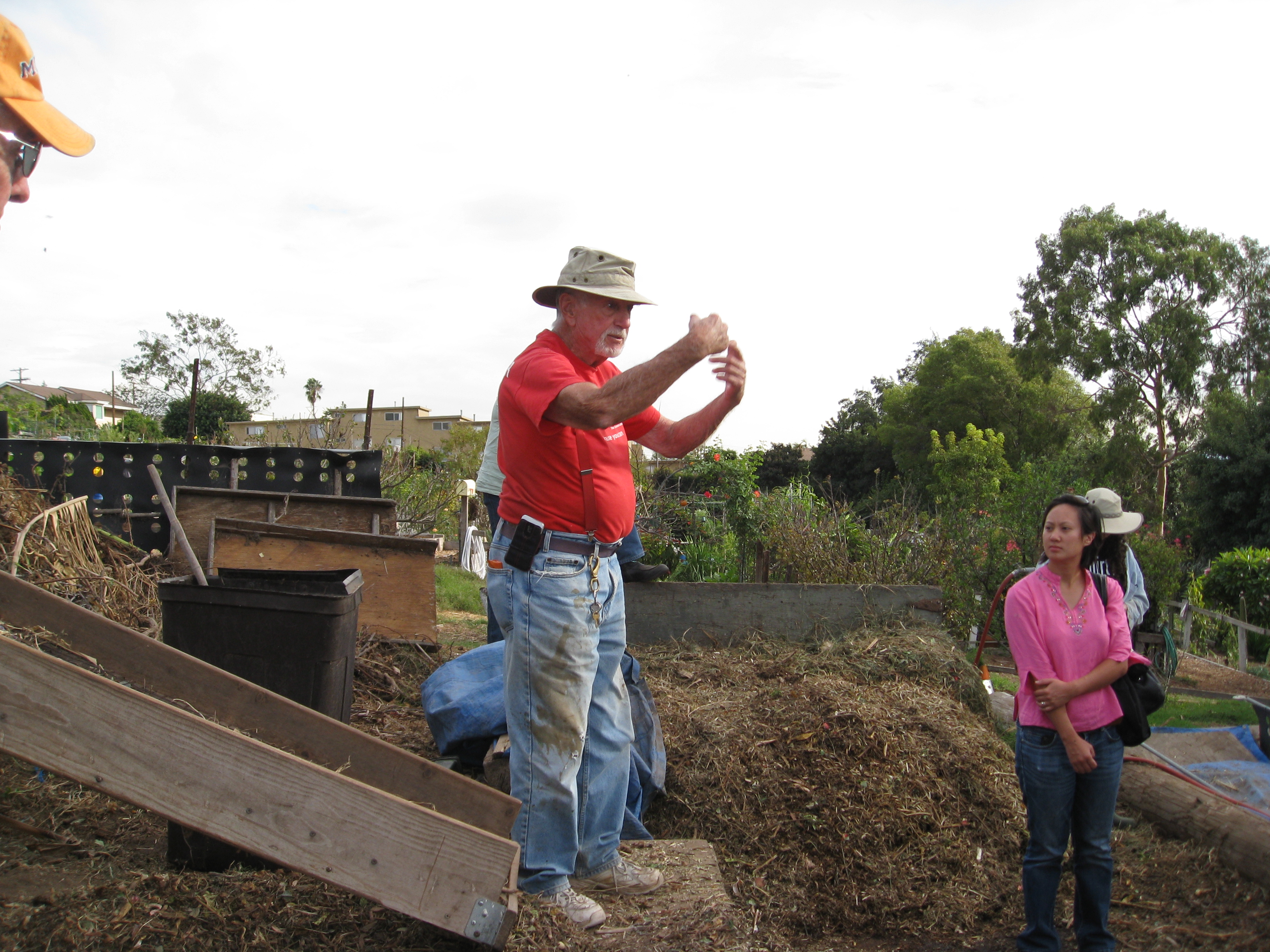 OVF has 2 shredders for chipping and shredding garden waste (biomass, we should say instead, because nothing goes to waste). Volunteers gather one day per week to shred material, and on a different day they build compost piles.
Will Allen pointed out how great it was that OVF's composting operation was primarily being run by senior citizens. As a community, we need to find meaningful work for all our members, and composting (we think) is among the highest and most noble causes. It captures carbon in soils, it builds soil structure and increases soil fertility, it brings life to us, in the end, through nurturing plants to fruition. Wouldn't it be amazing if we could create thousands of jobs turning garbage into gardeners gold?