It's that time of year when gardens are looking their best and neighborhood garden tours abound.  Here in Los Angeles, we finished up our own participation in the Mar Vista Green Garden Showcase and last weekend we set out on foot to explore the homes on the Venice Garden Tour.  Here is our quick photo review:
Ever since the Venice Garden Tour combined with the Venice Home Tour, the focus has been split between architecture and landscaping.  Being more partial to landscaping and particularly to edible landscaping, the Tour did not have as much to offer as this veggie gardener would like.  However, there were still plenty of eye-catching sights to see, which did the job of "filling the well" for another year.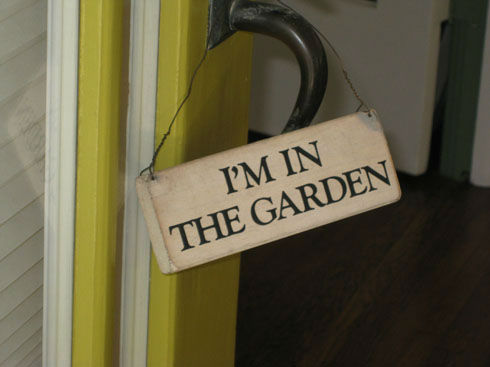 This sign, which hung on the front door of one home, is on my wish list for all the times people have come by the house and found me "not at home".
Before our official tour began, we spied this wonderful display of artichokes in a rather large parkway.  It was abundance in extreme: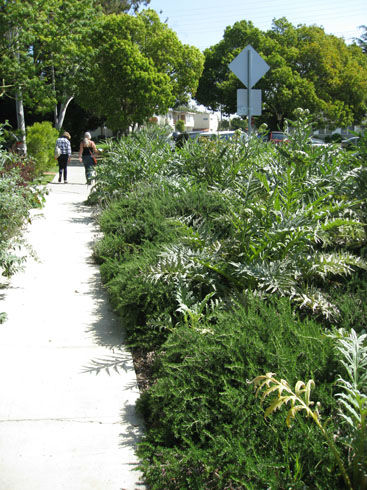 About 10 feet deep, this parkway was filled with artichokes and rosemary.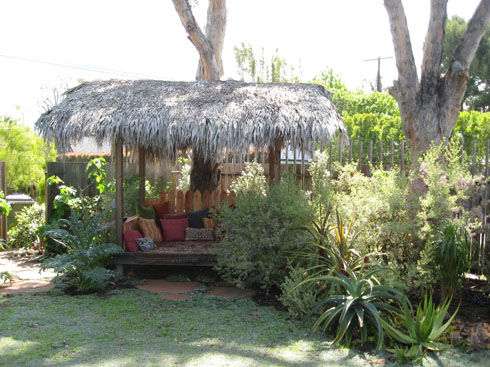 A backyard oasis
This house had a "lawn" of dymondia (drought tolerant) with artichokes, agaves and many other cheery plants, but the focal point was this day bed with room for three or four to rest under the canopy amongst a plethora of pillows.  Perfect for reading on a summer day.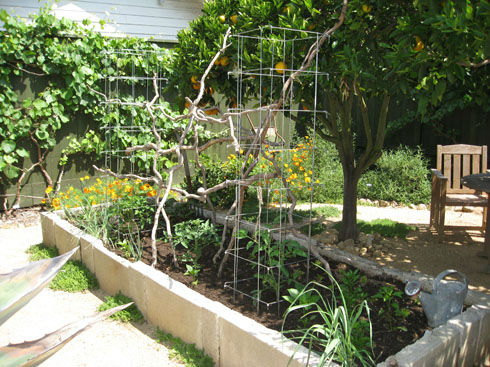 Twigs as trellis. Interesting concept.
We visited this house with a stone raised bed for veggies and beautiful fruit trees and native flowers (note the nasturtiums and poppies in the background).  The idea of using thick branches as a trellis for tomatoes and other climbing veggies made us pause to observe.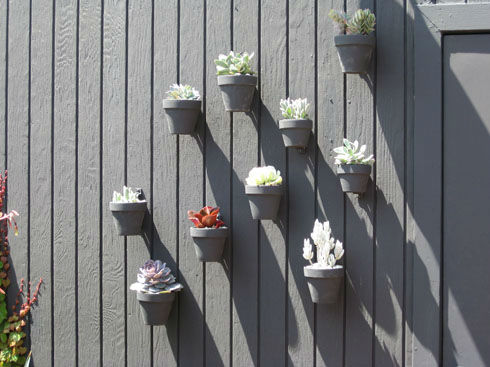 A succulent wall
This homeowner was on site to answer questions about the house.  We liked that he chose to paint the terra cotta pots to match the house.  He said that it brought out the colors of the succulents more.  A really nice visual on an otherwise bare wall.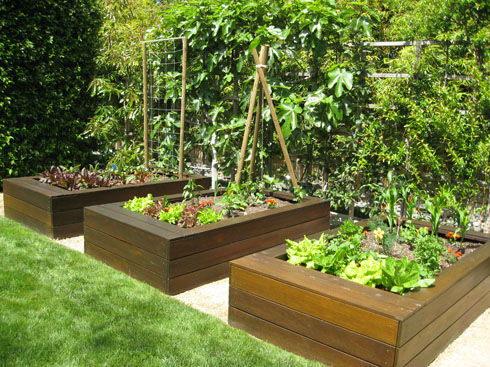 A modern home with stained raised beds to match
We liked these raised beds, set in decomposed granite, for their orderly appearance.  The use of tree supports posts as trellises means that they'll last for years.  Note the espaliered fig and pomegranate trees against the fence in the background.  Great use of small spaces!
Next up were two houses next door to each other – and actually residents of Mar Vista, not Venice. (YAY – locals!)  If you went on the Mar Vista Green Garden Showcase you would have seen these as well.  The first stop was Sheri Powell-Wolff's home (Compost Teana, our guest blogger earlier in April).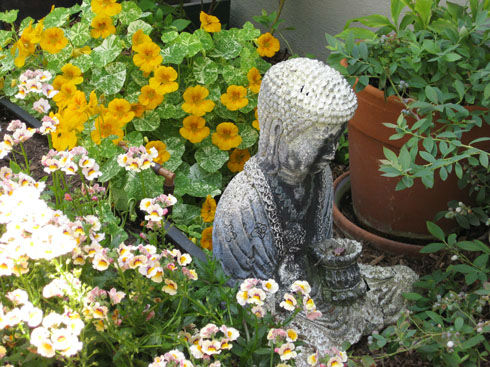 She has some beautiful raised beds, but this cluster of blueberries and nasturtiums surrounding a buddha made for such a lovely picture, I couldn't resist calling this photo The Blueberry Buddha.
In between Sheri's house and her neighbor were a group of pots showcasing vegetables: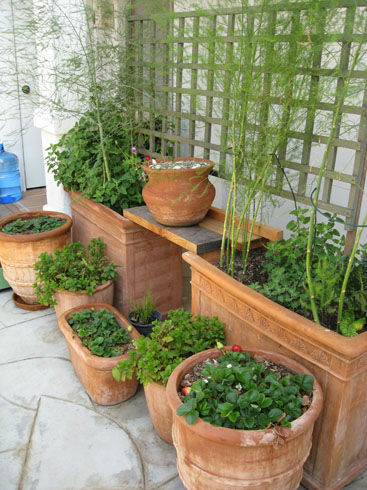 Asparagus, herbs and strawberries make this a stunning display
Next door, at Marilee Kuhlmann's house, plants were going nuts – there's no other way to put it.  Marilee's back yard featured several raised beds tucked among other features like fountains, hanging pots and small fruit trees: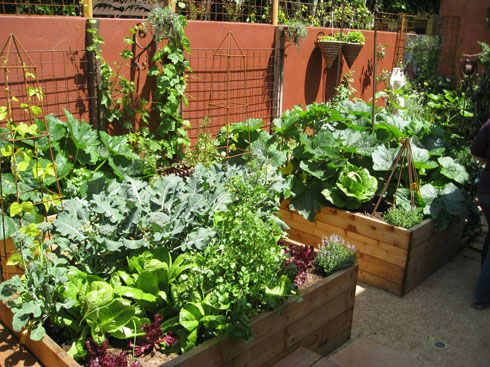 A wonderful example of small space gardening!
Marilee's front yard spilled out onto the sidewalk. There's no way you could walk by a not notice this: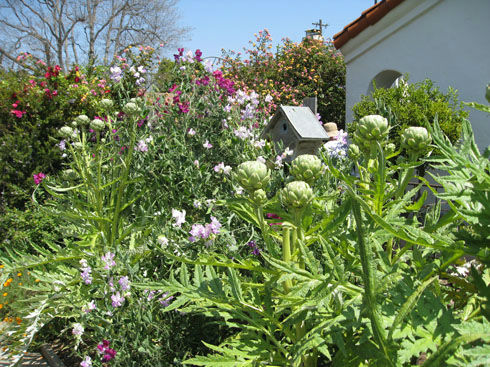 A little bird house nestles into blossoming sweet peas and artichokes going gangbusters.
But the house that completely took my breath away was impossible to photograph in its entirety.  It would be like trying to photograph the Grand Canyon with a one-step camera.  Photos just don't do it justice.  But I'll try: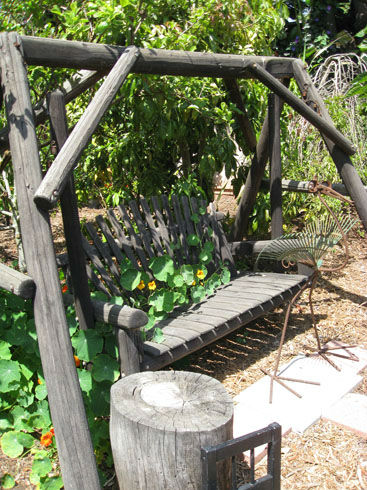 This swing, with nasturtiums poking through the back, could be considered the center point
in the garden.  The whimsical stork sculpture stood in front of the swing.
The yard was a true food forest.  Over 40 fruit trees mingled with vegetables, berries, grape vines and wildlife habitat made us stop in our tracks.  Then we started meandering through, as every good garden should invite us to do.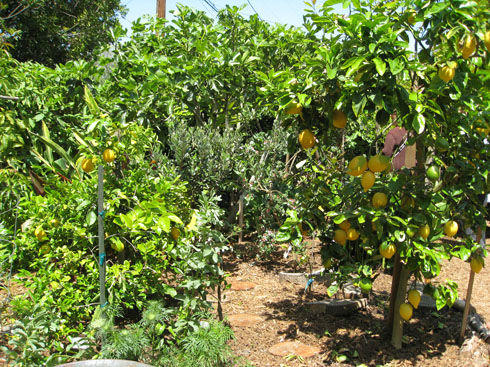 Lemon, orange, olive, and fig trees can be seen in this shot. It's just a fraction of the area covered with foliage.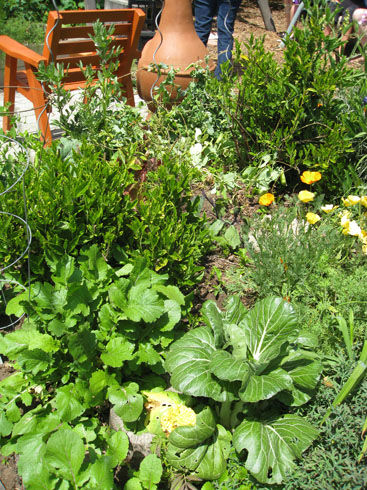 Bok choy shoulders up against arugula and poppies in front of a gardenia.
What impressed me most were the cherry trees.  I've been wanting to plant Minnie Royal and Royal Lee (they pollinate each other) varieties, but was hesitant since our climate requires trees with very low chill hours.  Lo and behold, here were successful specimens of those exact varieties in action before my very eyes.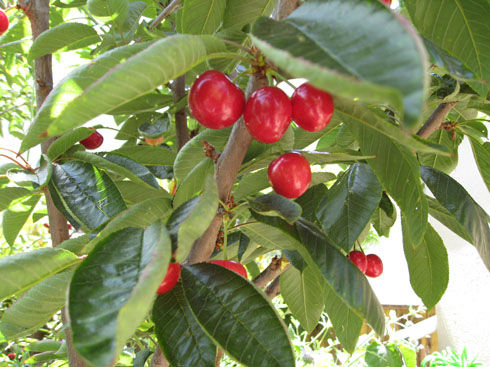 Picture perfect cherries
As with all things in Venice, there are many homes featuring art as well as a garden.  I will leave you with an appropriate sculpture that we found on a wall in one artists studio (image rotated for proper effect).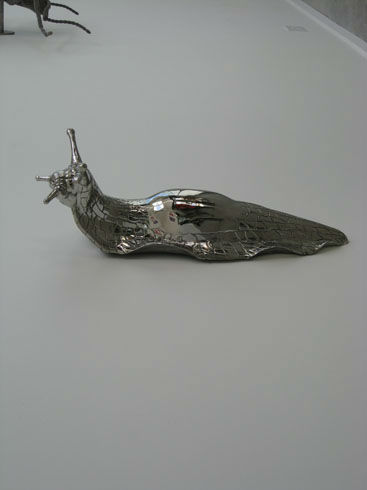 A chrome slug – about 2 1/2 feet long. Nice on the wall, not in the garden.
We finished the tour exhausted, but inspired.  Now to plant some tomatoes…