There is only so much room in the refrigerator, and Swiss Chard can take up a lot of that precious space.  Those bright colorful stems usually have to "go away" in order to fit a batch of chard into the vegetable drawer (which is fine with me, since I don't care for the stems anyway).  I recently found a recipe that uses up all that chard in a tasty pie that lasts for a few meals.
Whether you hate or love Martha Stewart, you have to admit that her empire comes up with great recipes.  This Swiss Chard Pie (see recipe below) uses 2 1/2 POUNDS of chard, which happened to be exactly what I had stuffed into a plastic grocery bag in the fridge.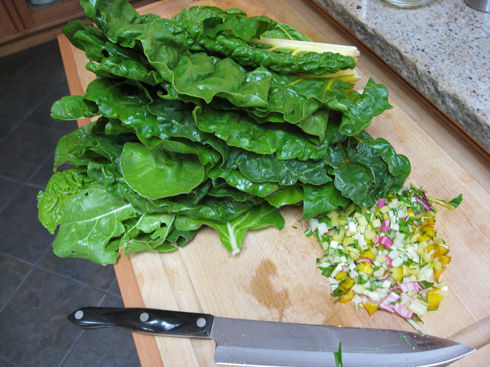 If you like the stems, which have a beet flavor, you'll have more on your cutting board than this.
The recipe is pretty straight forward.  Chop up the ingredients: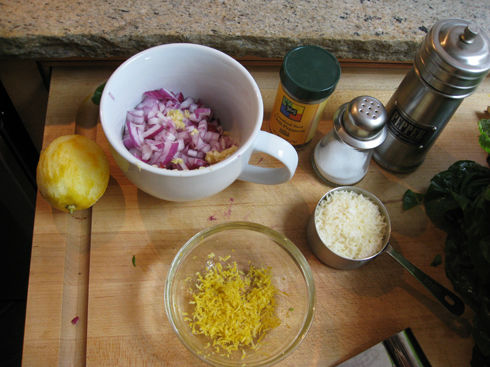 Lemon zest, chopped onion and garlic, grated Parmesan cheese, salt, pepper and red pepper flakes
Since the dough is made with olive oil, it's really easy to work with – no sticking!  Make a top and bottom crust and fit it into a pan.  I didn't have a round cake pan, so I used a square one. It worked out just fine.
Use a large stock pot to cook down the chard.  Chard starts out bulky, but gets smaller in no time. You'll need the room to stir and blend the ingredients together.  Turn the chard into the bottom pie crust: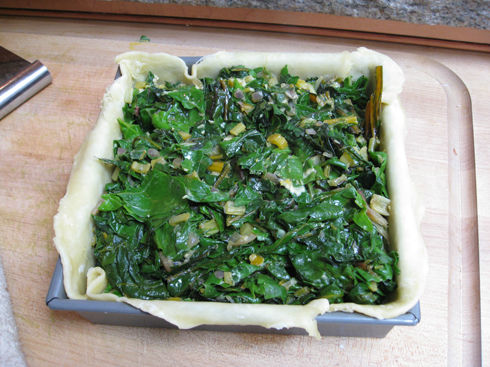 It almost doesn't need a top crust, it's so pretty. 
Fit the pie with the top crust, fold the edges over to close, and slash the top a few times for air flow.  The recipe recommends brushing with an egg wash, but I didn't have any eggs.  It still came out beautifully: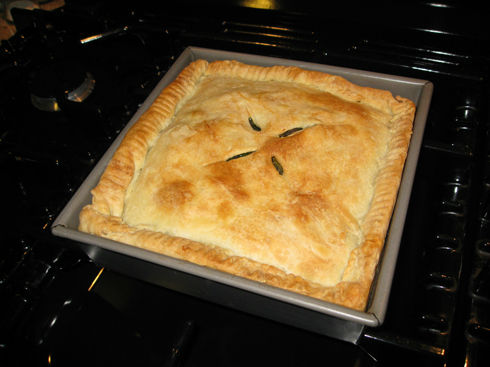 Warning, this recipe does not in any way disguise the flavor of Swiss chard.  It's delicious and very chard-y.
This recipe is all about the crust. It balances out the chard so well, and feels like a good old fashioned comfort meal.  Enjoy!
Swiss Chard Pie – Martha Stewart – serves 8
Ingredients
For the Olive Oil Dough

2 1/2 cups all-purpose flour
1/3 cup extra-virgin olive oil
1/2 cup cold water
3/4 teaspoon coarse salt

For the Swiss Chard Pie

2 tablespoons extra-virgin olive oil
1 medium red onion, cut into small dice
4 garlic cloves, minced
2 1/2 pounds Swiss chard, stems cut into small dice and leaves torn
3/4 teaspoon red-pepper flakes
Coarse salt and ground pepper
1/2 cup grated Parmesan
3 tablespoons all-purpose flour
Grated zest of 1 large lemon, plus 1 tablespoon fresh lemon juice
1 large egg yolk
Directions
Make the Olive Oil Dough

In a bowl, combine all-purpose flour, extra-virgin olive oil,
cold water, and coarse salt. Stir with a fork to combine, then turn out
onto a work surface and knead 1 minute. Cover dough with plastic wrap
and let rest at room temperature, 30 minutes.

Make the Swiss Chard Pie

In a large pot, heat oil over medium-high. Add onion and
garlic; cook until onion begins to soften, about 2 minutes. Add chard
stems and red-pepper flakes; cook until stems begin to soften, about 2
minutes.
Pack chard leaves into pot; season with salt and pepper.
Reduce heat to medium, cover, and cook until chard leaves wilt, about 4
minutes. Uncover and cook, stirring occasionally, until chard is soft,
about 4 minutes. Drain, pressing out as much liquid as possible. Place
chard mixture in a large bowl and toss with Parmesan, flour, lemon zest
and juice. Season with salt and pepper.
Roll two-thirds the dough to a 12 1/2-inch round; fit into an
8-inch round cake pan (2 inches deep). Fill bottom crust with chard
mixture. Roll remaining dough to a 9 1/2-inch round; place over filling.
Pinch edges of dough together and tuck in to seal; cut several vents
into center of pie. Combine yolk with 1 teaspoon water and brush over
dough, avoiding edge of pan. Freeze pie (see below).
To serve, preheat oven to 400, with rack in lowest position.
Bake frozen pie until crust is deep golden brown, about 1 1/2 hours.
If you are going to bake the pie immediately, don't freeze it, and reduce baking time to 40-45 minutes.  Serve warm or at room temperature.