They may look like lemons, but they taste just like cucumbers.  That's because they are cucumbers – lemon cucumbers.  These little unusual beauties are one of my favorite heirlooms to grow, and in recent years, we're starting to see them become more popular – to the point that the plants are being sold at nurseries.  Oh lemon cuc, you've made it to the big time!
I have to admit, my first few years trying to grow lemon cucumbers, or any cucumber at all, were disastrous.  The coastal weather would stunt the growth, then powdery mildew would consume the plant.  I'd get a few spindly vines no more than a foot tall, and a flower or two, and then the whole thing would die.  So sad (head hanging).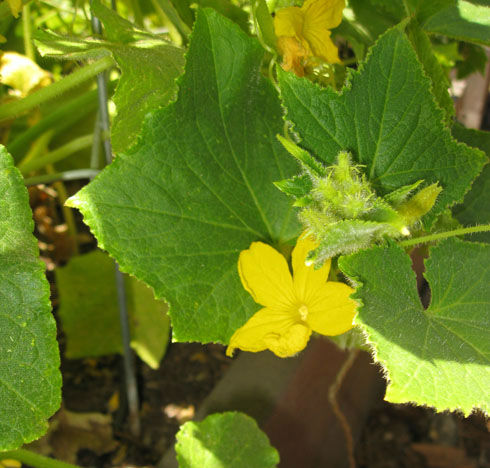 Lemon Cucumber vine with flowers and buds
The last couple of years have been different however. The cucumber gods have been smiling upon the garden, and we have already harvested our first sunny orb.  The difference?  I can't point to any one thing, but I think it's because I planted them out in the garden very early this year.  We had some warm weather before June Gloom set in, so there was considerable growth early on for the plants to take hold.  Here's what we did:
Start outdoors – Since members of the cucurbit family (including melons, squash and cucumbers) don't like to have their roots disturbed, we try to plant those seeds directly in the garden.  Some of the first round of sprouts died from damping off, so we replanted.  With some added compost to encourage rapid growth, those new sprouts did well.  Cucumbers prefer a pH between 6.0 and 7.0, and thrive best in temperatures between 65-75 degrees.
Give them a trellis – Cucumbers love to climb, so we put up a sturdy trellis
to grow up.  We alternate planting on both sides of the trellis so the weight will be balanced.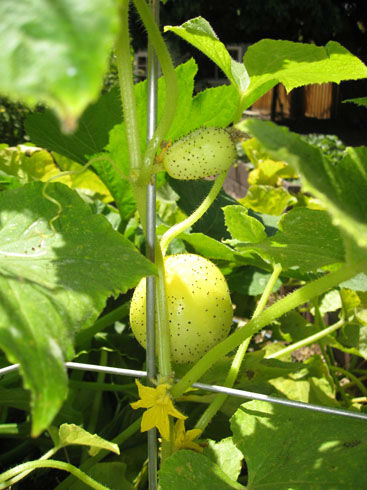 A baby and teenage lemon cucumber with spikes
Grow baby grow – We guide the vines around the trellis as they grow, and the cucumbers have been forming nicely.  The young cucumbers have little prickly spikes on the skin, which start to dull and fall away as the fruit matures.
Harvest – when the cucumbers have turned deep yellow and show lighter yellow stripes, they are ready to harvest.  Use gloves to rub the outside to remove any remaining prickly spikes.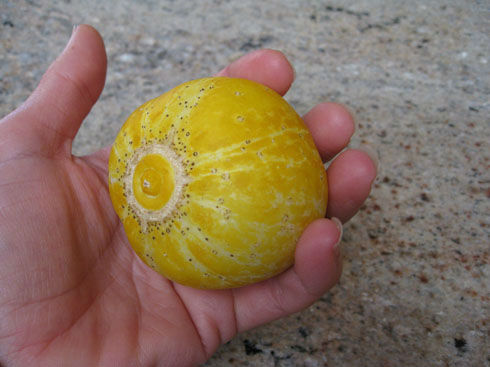 Ripe yellow lemon cucumber

Use as you would any cucumber.  My favorite use for them is in "spa water" – sliced with oranges in a pitcher of water.  It's amazingly refreshing and nurturing.