Our adventure in Ojai continue with the opening day of "u-pick" season at a local lavender farm.  New Oak Ranch hung balloons out on the road sign, inviting folks to come and pick a handful of fresh lavender for $5 a bunch.  The farm features 20 different varieties of lavender (mostly Grosso, Hidcote, Buena Vista, and Provence) but they also have Pixie tangerines, olives and walnuts.
The bees were hovering throughout the field and the friendly docents were present to inform us where to find the different lavenders.  They had a basket of pruners and a bag of twist-ties handy – a "bunch" is as much as will fit with a long twist-tie around it.  After inspecting the basket of pruners, I opted to run to the car and grab my trusty Felcos (such a nerd – I keep them in the car with me everywhere I go).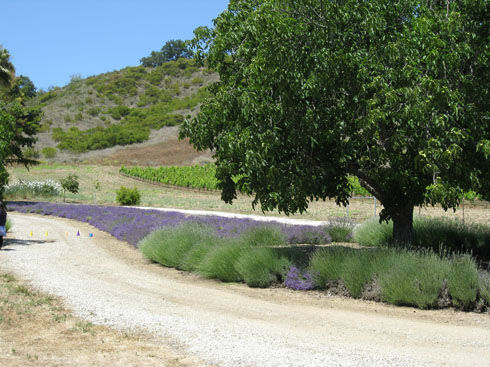 The driveway featured Grosso's deep purple blossoms.
One of the docents pointed out the gift table, and particularly the lavender recipe book.  I've had my experience cooking with lavender – it wasn't pretty.  I asked her how to properly remove the buds from the stems, because the last time I tried making lavender ice cream I must have done something wrong.  I removed the buds from the stem in such a way that it released all the camphor in the buds – resulting in an ice cream that strongly resembled Vicks Vapo Rub.
Without hesitation she said, "Oh – you need to use a lavender that doesn't have camphor in it – like Provence!"
Oh… you mean it matters?  It was like being given a free pass to intelligence.  Sometimes, with nerdiness comes naivete.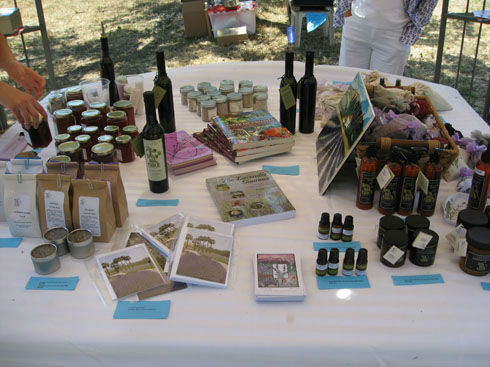 Gift table with lavender salts, teas, oils, and jams.  Note cards and a few books were offered.
The owners of the farm had lived in the Mediterranean on a sailboat for 6 years prior to life in Ojai and wrote a book about their travels.  Taste of Croatia by Karen Evenden was for sale on the table.  They were also selling lavender starts in several varieties.  Here's a breakdown of different lavenders: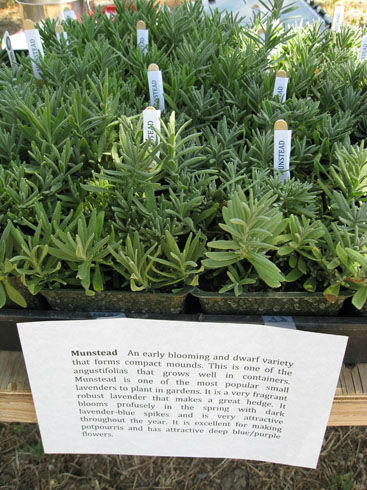 Munstead – great for making potpourri or using as a hedge.
French Lace (or Fernleaf/Pinnata/Jagged) – Lacy, trident-shaped flowers.  Grows well in pots.
Grosso – grown commercially for lavender oil production.  Excellent in dried bouquets.
Hidcote – named after Hidcote Castle.  A slow-grower, very popular lavender.  Considered to be the heartiest of English Lavenders.  Also edible.
Sweet Lavender – fast growing with mid-summer blue flowers.  Great fresh or dried.
Provence – also known as French Lavender.  Technically a lavendin.  Great in fresh bouquets and for culinary purposes.
English – native to France (huh?) and the western Mediterranean.  Used mostly as an essential oil, in cosmetics and for antiseptic properties.  Flowers can be made into a tea for medicinal purposes.
We picked one bunch of lavender (Provence, of course) and tied it together with our twist-tie.  It stank up the car in the best way possible for the rest of the trip.  Now it is hanging to dry before I attempt the Vapo Rub ice cream again. (fingers crossed)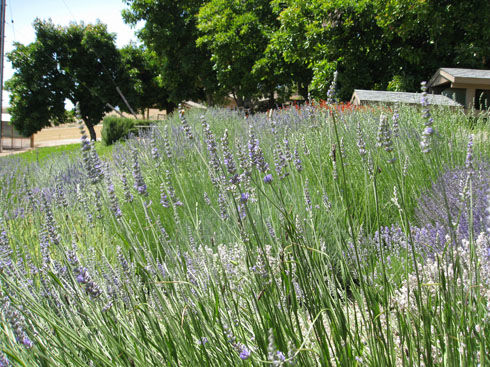 If you have any favorite ways of using lavender (in cooking or otherwise) share it with us here.